PDFs are the lifeblood of many companies. For businesses that send and receive a large amount of legal documents or other forms, PDFs are much more secure and professional looking than other document types.
What are the top 10 best free PDF editors in 2018
PDFelement
FormSwift
Smallpdf
Inkscape
JotForm PDF Editor
PDF Pro
PDFescape
Sejda
PDF-XChange Editor
ApowerPDF
Unlike other document editor tools, PDFs can only be edited by the creator or those with a password, and information such as how recently the document was edited (and by whom) is hidden. However, sometimes you only need to create a PDF every once in a while, not every day, so you don't want to invest in dedicated PDF software. That's when free PDF editors come in handy.
PDFs are images of documents rather than editable text files, so to edit a PDF, one must use specific software. Most electronic signature software employ PDFs to create forms with specific editable fields for signatures, initials and other crucial information. With many of these PDF editors, you can create your own forms and include special fields for information, signatures or checkboxes.
Sometimes you just need to convert a file to or from PDF format or merge multiple PDFs into a single PDF. PDF editors can easily perform these functions without all the extraneous features of more robust design software. While PDFs are generally high-quality images and preferred by graphic designers, all that supplemental functionality is not always necessary. Free PDF editors are generally lightweight and can be operated within your browser — no downloads required.
Using a PDF editor, you can create legal documents, contracts, tax forms, brochures, presentations and more. While many advanced features are only included in licensed PDF software, free PDF editors contain a variety of useful tools for a casual or occasional user.
Though you (likely) won't be able to create the next Vogue or New York Times using a free PDF editor, you might be able to design and develop an excellent zine or newsletter.
---
| | | |
| --- | --- | --- |
| PDF Editor | Reviews | Star Rating |
| PDFelement | 246 | 4.6 |
| FormSwift | 5 | 4.6 |
| Smallpdf | 7 | 4.5 |
| Inkscape | 156 | 4.3 |
| JotForm PDF Editor | 2 | 4.0 |
| PDF Pro | 16 | 3.9 |
| PDFescape | 7 | 3.5 |
| Sejda | N/A | N/A |
| PDF-XChange Editor | N/A | N/A |
| ApowerPDF | N/A | N/A |
The list we've outlined here includes any document creation solution with an available free offering. It should be noted that this does not include products that are only free on a temporary basis, such as limited trial versions for new users. They may only support one user or one project, but they're truly free offerings. Scaling, however, will often require full investments.

These products alone have well over 400 validated user reviews on G2 Crowd as of June 16, 2018, and only represent a small portion of the 70-plus document creation software offerings listed on our platform. Whenever possible, the products are ranked by user satisfaction score.
Using reviews from real users, our list of free PDF editors is ordered by highest user satisfaction as of June 16, 2018 from an in-depth analyze of those reviews.
---
The best free PDF editors 2019
1. PDFelement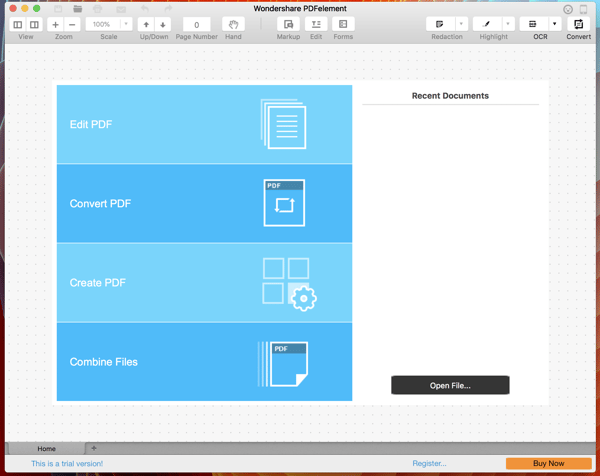 Image courtesy of Wondershare
PDFelement provides users with a wide variety of tools to create, edit, convert and sign PDFs. Users can create bookmarks to quickly locate points of interest, create fillable forms and export data into Excel, split or merge PDFs, convert PDFs to other file types, apply digital signatures and more.
Free option:
Free trial available for Mac and Windows

Free editor app for iOS; free reader and annotator app for Android
Paid option:
PDFelement Standard for Mac or Windows: $59.95

PDFelement Professional for Mac or Windows: $99.95
Features:
Create, edit and convert PDF files

Annotations and comments

Digital signatures

Watermarks, backgrounds, headers and footers

Templates
What users like:
"The user interface is really great, the tools it provides make it easy to work with any PDFs and it has really amazing OCR capabilities! I really love the drawing tools, it really helps me when reviewing documents and taking notes in class. Really simple to add quick pop-up style notes, simply double click!"
— PDFelement review by William C.
What users dislike:
"The conversion to Word tool, whilst improved, still struggles to provide a Word document that mirrors the PDF. The text seems to be slightly misaligned on each row, which can render the whole conversion unusable."
— PDFelement review by Nick L.
Recommendations to others considering the product:
"It is a great option for a company that doesn't have a primary need for a full suite of PDF software but wants it to work when you need it. It has all of the features even a more advanced user would need in a format that is not intimidating to the average user."
— PDFelement review by Kevin T.

---
2. FormSwift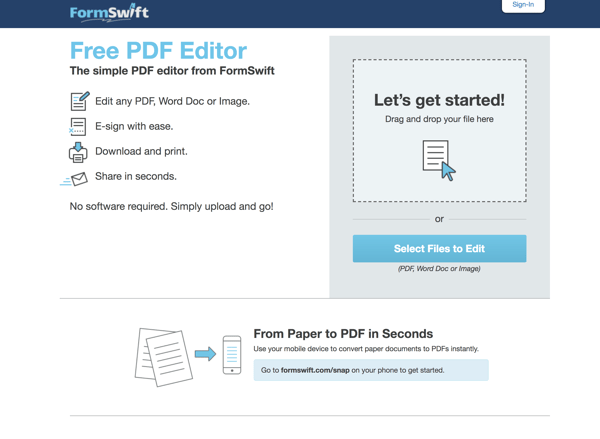 Image courtesy of FormSwift
Formswift is a free, cloud-based PDF editor that allows users to upload and edit a PDF within their browser. Users can add text, images, checkmarks and signatures within the editor before saving their PDF. Formswift also provides templates to easily create various business or legal documents.
Free option:
Paid option:
Monthly membership: $39.95/month

Annual membership: $89/year

Single document: $59
Features:
Electronic signatures

Document creation

Edit text, images, checkboxes and signatures

Document templates

Document sharing via email
What users like:
"It is a quick upload process and very easy to make changes to documents."
— FormSwift review by a user in accounting
What users dislike:
"The PDF editor feature is not ideal, and I have yet to find a PDF editor outside of Adobe Illustrator that easily and smoothly edits PDF documents. For example, erasing text does not delete text in the editor; it simply leaves a white space where previous text was. It does have limited value, for example, with adding components to a document such as an electronic signature (which it does quite nicely)."
— FormSwift review by a user in public policy
Recommendations for others using the product:
"FormSwift allows you to create test documents and browse the templates library for free, as well as provides additional resources that may be useful to businesses and professional, such as developing strategic plans. (FormSwift is a fee-based service — see the FAQ.) As with any software evaluation, if you can kick the tires, you should."
— FormSwift review by a user in public policy

---
3. Smallpdf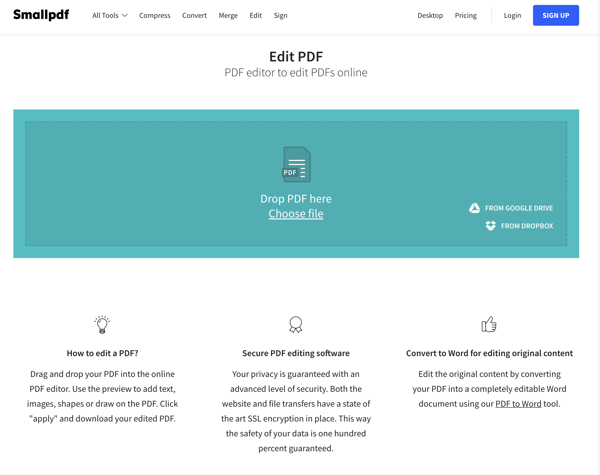 Image courtesy of Smallpdf
Smallpdf is a tool that allows users to convert files to and from PDF format, compress, split and merge PDFs, as well as edit PDFs. Users can utilize these features directly in a browser or download the browser extension or desktop version.
Free option:
Free to use basic features
Paid option:
Smallpdf Pro: $6/month or $48/year
Features:
Compress and convert PDFs

Split and merge PDFs

Edit, rotate and read PDFs

Convert PDFs to or from Word, Excel, Powerpoint or JPG

Electronic signatures
What users like:
"Smallpdf offers a big set of options to work with your PDF file, more than any other online app; with Smallpdf you can convert, compress, split and merge, edit your PDF files, convert from many formats like presentations, sheets and documents, and sign and unlock your files. All these options are very useful when you work in administration and manage a big amount of data, because you can save and edit your sheets in PDF format, and also sign and compress your files, making them more secure and light, making easier the exchange and the storge of the information."
— Smallpdf review by Bexy R.
What users dislike:
"They do not have an application for iOS or Android, which limits the use of the application to a desktop computer. The editing options are quite limited, you can not modify texts, figures or graphics, you can only apply simple changes to the documents."
—Smallpdf review by Xiomara Elena B.
Recommendations for others using the product:
"This is a great app to apply changes to your PDF files and to transform other files into PDF format. It works wonderfully in many aspects, but unfortunately is not available for Android or iOS and, nowadays, that is a big limitation."
— Smallpdf review by Rosa Yuraima R.

---
4. Inkscape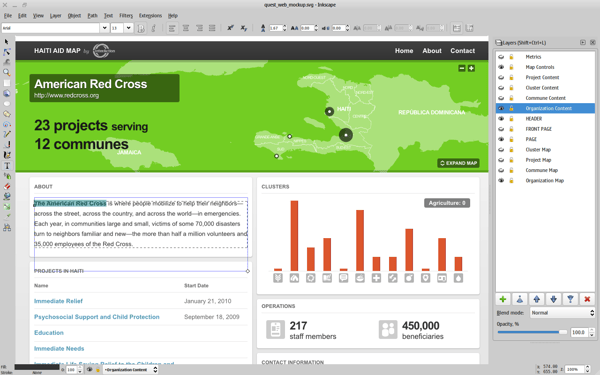 Image courtesy of Inkscape
Inkscape is a free and open-source design tool that includes drawing tools, vector graphics capabilities and text editing. Users can create a document and export it as a PDF, or import a PDF and edit it within the tool. Primarily used for image design, Inkscape is ideal for users who seek to add visual interest to their PDFs.
Free Option:
Paid Option:
Features:
Object creation (shape tools, text tools, drawing tools)

Object manipulation (layers, transformations, z-order operations)

Text support (multi-line text, fonts, kerning and linespacing, text on path, text in shape)

Multiple file formats supported (PNG, PDF, DXF, EPS and more)

Tutorial library (both official and community-created)
What users like:
"It allows for import and export in a wide range of formats. In some cases it works well as PDF editor."
— Inkscape review by Francesco S.
What users dislike:
"Right now, there is no easy way to create multi-page documents, but I believe they are going to implement this feature in next releases. If you want to create a PDF with more than one page, you have to do it by yourself."
— Inkscape review by Roberto D.
Recommendations to others considering the product:
"Working with multi-page documents is hard (PDF) as artboards are not supported. External software for merging pages is needed. User Interface is quite cluttered and non customizable. Some bugs in the line height settings when inserting type."
— Inkscape review by Elio Q.


---
5. JotForm PDF Editor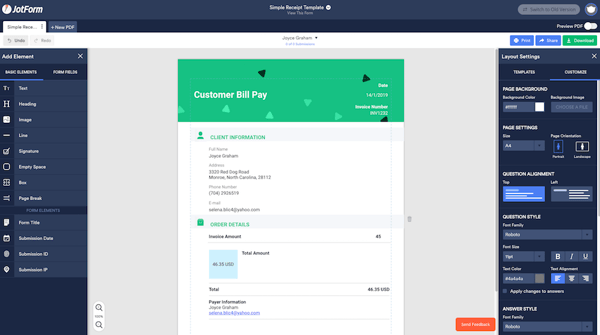 Image courtesy of JotForm
JotForm PDF Editor is a free PDF editing tool that allows individuals to turn collected online form response data into polished, professional-looking PDF documents.
JotForm PDF Editor offers full customization as well as hundreds of templates to choose from. They also create content around PDF documents, such as this handy guide on how to edit a PDF.
Free option:
JotForm PDF Editor is completely free
Paid option:
Features:
Drag and drop
Automated process
100+ templates
Full customization
Email, download, and print
Sync with integrations
Password protection
Fillable PDF forms
What users like:
"It really saves us time in presenting all the submissions in a finalised form. It was already possible to get the form submissions in PDF but the layout was quite limited. Now it's easy to shine!"
— JotForm PDF editor review by Anji D.

---
6. PDF Pro Editor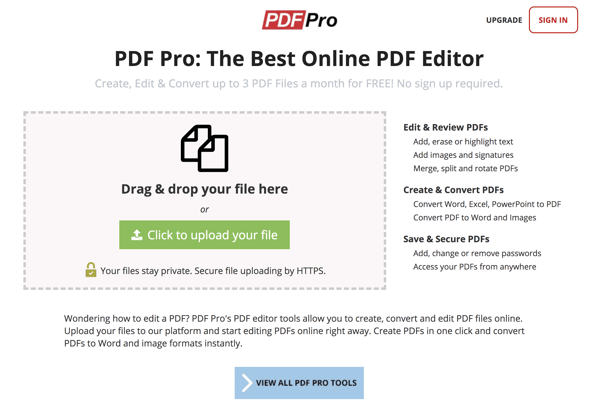 Image courtesy of PDF Pro
PDF Pro is an online PDF editor that works within a user's browser. Users can create, print or view a PDF file as well as edit, compress, extract, merge, sign or write on a PDF file. PDF Pro also offers several file conversion options for PDFs.
Free option:
Basic features are free for up to three files a month
Paid option:
$7.99/month or $47.88/year
Features:
Create, print, print to PDF and view PDFs

Edit, compress, merge, split and extract PDFs

Password protect PDFs

Electronic signatures

Convert PDFs to a variety of file types
What users like:
"This online application allows me to compress the size of my work documents to save them or send them by mail more easily. It is a tool with which I can create, edit and review any PDF file, I can add text, export, insert and modify tables and graphics and create forms necessary for the research work of my students.
"You also have the option to edit online for free, so I do not need to download them and occupy the space on my PC."
— PDF Pro review by Ana S.
What users dislike:
"Some of the functions are hidden and hard to find."
— PDF Pro review by Ariel C.
Recommendations for others using the product:
"With PDF Pro I was able to edit PDFs online, which is exactly the feature I was looking for. It's actually easier for me to use than Adobe PDF, believe it or not. I would recommend this product to users trying to find the same specific simplicity. I didn't even need to sign up for it to do what I needed it to do. I use PDFs for invoicing and charts, and this has worked very well. I don't have very many invoices, but when I do, and when I don't have any other software, this come in as a life saver."
— PDF Pro review by a user in information technology and services


---
7. PDFescape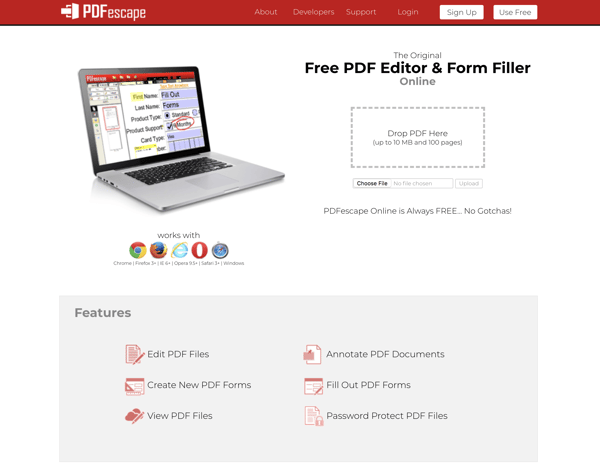 Image courtesy of PDFescape
PDFescape is a free online PDF editor, reader, form filler, form designer and annotator. All of these tools work in a browser, so no software needs to be downloaded. Users also can purchase a desktop version with similar functionalities.
Free option:
Free online version

Free desktop PDF viewer and converter
Paid option:
PDF Premium: $2.99/month billed annually, $5.99/month billed monthly

PDF Ultimate: $5.99/month billed annually, $8.99/month billed monthly
Features:
Annotate and mark up PDF files

Fill and save PDF files

Create basic PDF forms

Print to PDF

Edit PDFs online and download them
What users like:
"I like the ability to create and edit PDF files online. You can insert words, shapes and images. It also has an option that allows freehand drawings, as well as highlight some aspects within the text, cross out, underline and rotate the document. The insertion of comments is also possible with this software."
— PDFescape review by Cruzulys C.
What users dislike:
"This is a very easy-to-use application and the only disadvantage is that it requires an internet connection for updates and editing documents. Documents protected with a password can not be edited with this editor."
— PDFescape review by Jose Manuel A.
Recommendations to others considering the product:
"If you need to edit and download a PDF QUICK then PDFescape is your go to. If you are looking to add measures of creativity and edit a document more, then there are other options that will help more."
— PDFescape review by a user


---
8. Sejda
Image courtesy of Sejda

Sejda is a PDF editor available as a G Suite add-on for Google Drive. Users can edit PDF documents by adding text or images, editing existing text, including annotation and drawing shapes. There is also an electronic signature feature.
Free option:
Free add-on to the G Suite
Paid option:
Features:
Split PDFs

Add text and images

Edit existing text

Whiteout, strikethrough and underlining tools

Annotations

Draw shapes

---
9. PDF-XChange Editor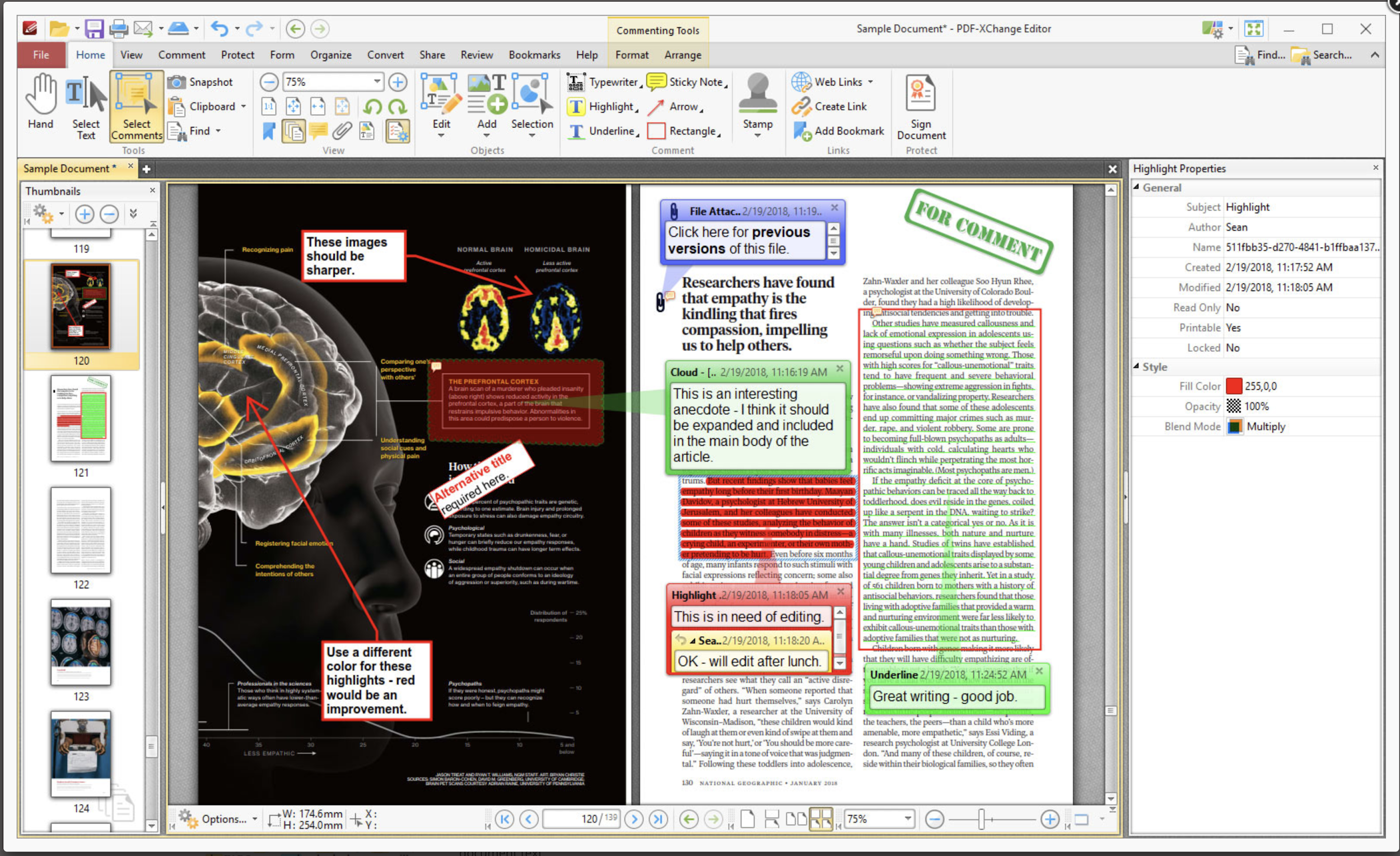 Image courtesy of Tracker Software Products
PDF-XChange Editor is a free PDF editor with viewing, editing, annotating, OCR and electronic signature features. Users can create PDF files from scanned documents, images, text files, markdown files and more.
Free option:
Free to download and use PDF-XChange Editor
Paid option:
PDF-XChange Editor: $43.50

PDF-XChange Editor Plus: $54.50
Features:
Edit, comment and annotate PDFs

Create and remove weblinks

Spell check documents

Add text and images

Drawing tools

Email documents

Print, split and merge PDFs

---
10. ApowerPDF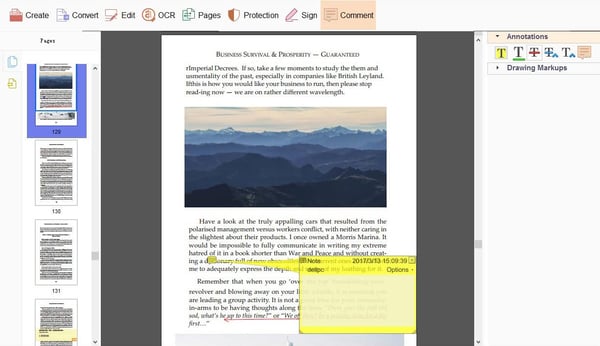 Image courtesy of ApowerPDF
ApowerPDF has an online version and a desktop version with slightly different functionalities. The online version contains basic editing features as well as the ability to add text and images. Users also can also create PDF documents from scratch. The desktop version has many more features but requires purchase to use.
Free option:
Free online editor

Free trial for the desktop version
Paid option:
Personal license: $12.95/month, $39.95/year, $79.95 lifetime license

Business license: $49.95/year, $159.90 lifetime license
Features:
Edit PDFs, add text and images

Convert PDFs

Create PDFs

Merge and split PDFs

Annotate PDFs

---
Next steps for selecting the best free PDF editor
PDFs can go a long ways toward making you or your business look more professional. Next time you're updating your resume or writing a memo, consider converting it to a PDF for that extra level of polish.
With a free PDF editor, anyone can create professional-looking documents. Or maybe you just want to create the next big meme to rival "Is this a pigeon?" or "I don't feel so good," and have it look amazing (no judgment). Regardless of your intentions, free PDF editors provide a variety of tools to create and edit documents to elevate you and your business.
* Please note: Reviews may have been edited for spelling and grammar.