When it comes to last resorts, restarting your Mac has got to be one of them.
We've all had that sinking feeling of when it's time to wave the white flag of defeat and restart. And if not, consider yourself one of the lucky ones.
Restarting your Mac is easier than you may think, but if you aren't sure how to do so, keep reading to find out!
How to force restart a Mac
When your Mac isn't operating the way you need it to, there are two ways you can restart it in hopes that it turns back on and all is right in the world.
Force restart Mac keyboard shortcut
To force restart your Mac using a keyboard shortcut, hold down the Control + Command keys and the power button.
Let's cross our fingers and get started.
Option 1: Restart from the Apple menu
This option will work if your Mac isn't frozen. You'll know because you'll be able to move your mouse and all of your applications are responding. Simply navigate to the Apple menu by clicking the apple icon and choose Restart.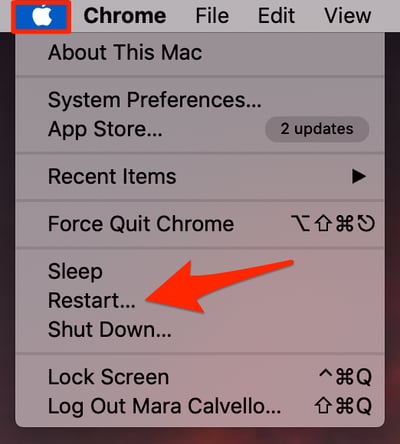 If you don't want to go through the hassle of re-opening all of your windows and tabs once your Mac turns back on, make sure to check the box that reopens them once powered back up.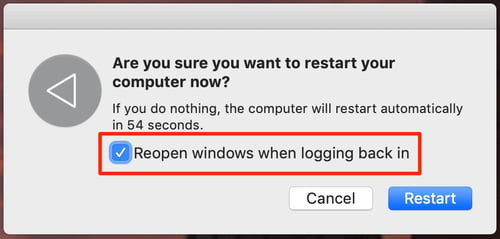 Once you click Restart from this pop-up, your Mac will turn off and turn back on again after a few seconds (be patient).
Option 2: Hold down the power button
If your Mac is frozen and you aren't able to move your mouse or use any applications, there is a keyboard command that allows you to force a restart.
There are two ways to do this. First, simply hold down the power button on your keyboard for a few seconds until your Mac automatically shuts down. Once it does, hold the power button down again to restart it.
If this method doesn't work, the second way to force a restart is to hold down the Control and Command key, in addition to the power button, which will force a restart.
Tip: If you're on an iMac and not a MacBook, the power button is located on the back instead of the keyboard.
Have you tried turning it off and on again?
The age old question that we ask each other when we're having tech issues. But sometimes, it's worth a shot as a potentially quick and easy fix.
Unsure why your Mac keeps freezing? You could be running low on storage, or you need to force quit your apps. Learn how to check the storage on your Mac to see if you can free up some space.