Are you wondering what you should have purchased or prepared prior to moving into your first apartment? Well you're in luck because I, a chronic mover, am here to help you.
I'm not sure why I've moved so much, and I certainly don't recommend it. But having had seven living situations in the past seven years, I feel like a qualified resource to help you know what to pack and what to purge.
Let's get started so you can get moving.
First apartment checklist
Your first apartment, whether alone, with roommates, or with a partner, is a very exciting experience. You're moving out and starting life on your own!
The downside? Independence is expensive, no matter which way you spin it. So in addition to saving up for the deposit and first month's rent, be sure you've saved up for the items on this checklist.
It goes without saying that every person is different, and this is a list of suggested items. If something in particular doesn't matter to you, or it doesn't matter to you right now, cross it off. But this list should help you get started in preparing to move out.
Note: If you're planning to live with other people, be sure to send this list to them and decide who is getting what shared items (shower curtain, kitchen knives) so you don't have doubles of everything that's shared.
Before Moving
Having the items on this list prior to move-in day will make it easier to unpack and get settled immediately!
1. Tool kit
Whether you're hanging stuff up or putting new furniture together, be sure you have even a basic toolkit. Your new Ikea dresser will not be upright without a screwdriver and corresponding screws (although most furniture does come with the nuts and bolts needed to put things together).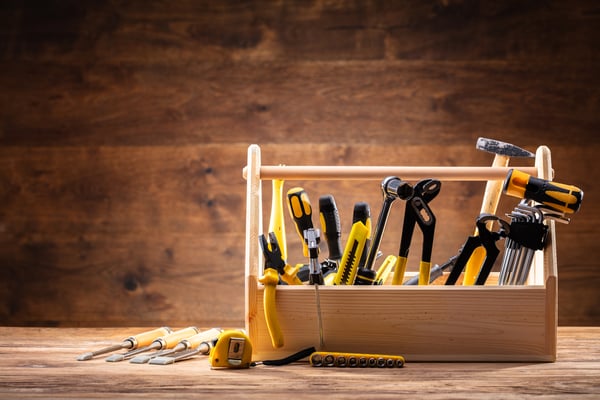 Even a basic toolkit of screwdriver, hammer, nails, and wall hooks will do. I recommend Command strips or hooks, as your apartment is likely a rental and these damage-free hanging solutions will keep you from getting your deposit revoked.
2. Ladder or step stool
When organizing a new home, you may have to reach up into places that are taller than you can reach. Come prepared with a ladder or step stool. I recommend only buying what you have room to store. For example, my New York apartment does not have a hall closet, so a ladder would be a poor choice, but a collapsible step stool would be more reasonable.
3. Toilet paper
While this is a bathroom item, it's also imperative you have it on day one. No one wants to take a break from move-in duties only to find out there's no TP! Get this set up on one of your first trips inside and you'll thank yourself later.
4. Extension cords
Come ready with a few extension cords, which you'll likely need for the wifi/TV setup, as well as for bedroom lamps and chargers.
Bedroom
The following are items I recommend you purchase for your bedroom.
5. Mattress
This doesn't have to be expensive; all three of my post high school mattresses have actually been hand-me-downs. Check Craigslist or head to a Mattress Firm during Labor Day weekend to find a good deal.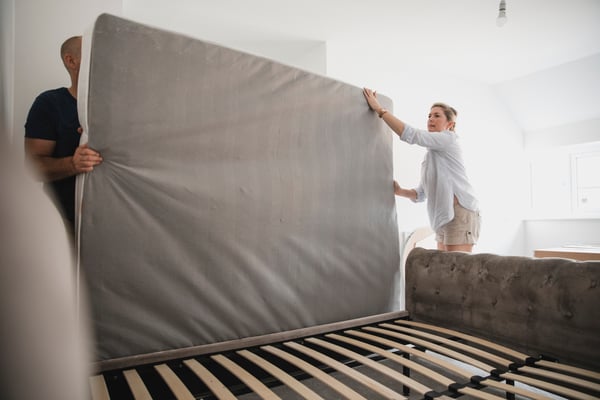 6. Mattress protector
Things happen. That's all I'll say. You don't want a new puppy accident or bad bout of food poisoning to send your mattress to the trash. Buy a mattress protector and your bed is sure to last longer .
7. Mattress topper
I bought a mattress topper from TJ Maxx in 2012 and any guests who have ever slept in my bed have told me it's the comfiest thing ever. It's the mattress topper, which makes my bed softer and, dare I say, perfect. Just something to consider.
8. Bedding
This means whatever it means to you. Quilt and fitted sheet, comforter set, duvet and duvet cover, complete sheet set, sleeping bag over a naked mattress (do not do this) — buy whatever combination of bedding materials is best for you. Bed Bath and Beyond, Home Goods, Target, or TJ Maxx/Marshall's are great places to get started if you're in the United States.
9. Pillows
Everyone has their perfect number. Be sure to buy the amount of pillows you want to sleep on, and any throw pillows you'd like to make your bedroom feel more customized.
10. Extra lighting
Overhead lighting is great if you like your home to feel like a gas station. I recommend buying a lamp or two so you have dimmer, more ambient lighting for waking up and winding down.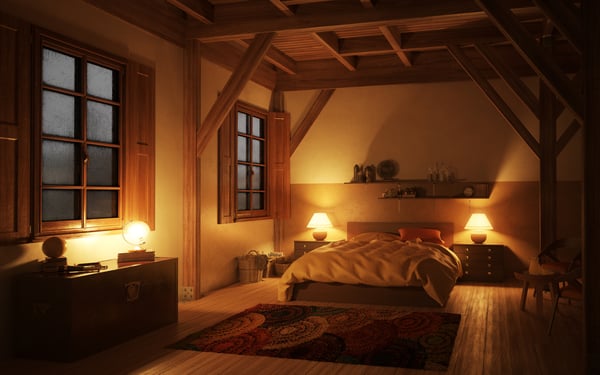 11. Dresser
Most of your clothes will hang in your closet (if you don't have a closet, consider purchasing a wardrobe or a Z-rack), but anything else can be folded up and fit into a dresser.
12. Decor
My personal favorite part of moving is being able to set up my room how I like it! Buy frames to hang up your favorite photos, or find a cool piece of art on Etsy.
13. Curtains and curtain rods
Pick out a set of curtains according to the amount of natural light you want to seep into your room. Blackout curtains will make your room resemble a cave, while other curtains will just help with the harshness of the sun.
If your place does not come with curtain rods, be sure to pick some up.
Living Area
The following items will really perk up your living space and make the new place feel like home. Consider investing in a few for the big move.
14. Seating
Seating doesn't have to be an expensive new sectional; it can be a used loveseat from your aunt, or the futon your older brother is giving away. Just be sure you have enough seating in your living area to fit all the people who live there, and maybe a few additional guests.
15. Mirror
Having a mirror on the wall in the living space will reflect any natural light peeping in and will make the space seem bigger. Not to mention it's just nice to have a place to check your hair one last time before heading out the door!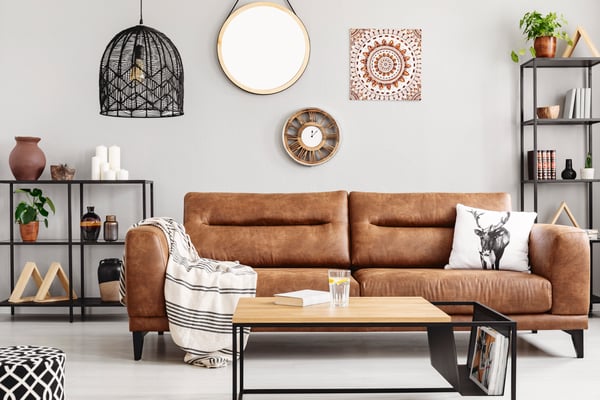 16. Curtains and curtain rods
If you have windows in your living area, grab some curtains. If your place does not come with curtain rods, be sure to pick some up.
17. Rug
A rug will help with the acoustics of a room, and give your feet a soft, warm place to land in the harsh winter months. Not to mention, it makes a room feel more complete.
18. Coffee table
A coffee table or ottoman is great for those nights when you want to enjoy your coffee or dinner in the living area.
19. Lighting
As with your bedroom, I'd recommend investing in a lamp or two in the living area. This will come in handy during movie nights. As a personal tip, my roommates and I often leave our living room lamp on so potential burglars/predators are aware someone is home. We figure the extra electricity we pay for is worth keeping our home safe.
20. TV
If you watch TV, have a TV. If you have a TV, you need a TV stand, or somewhere to put it. Simple as that!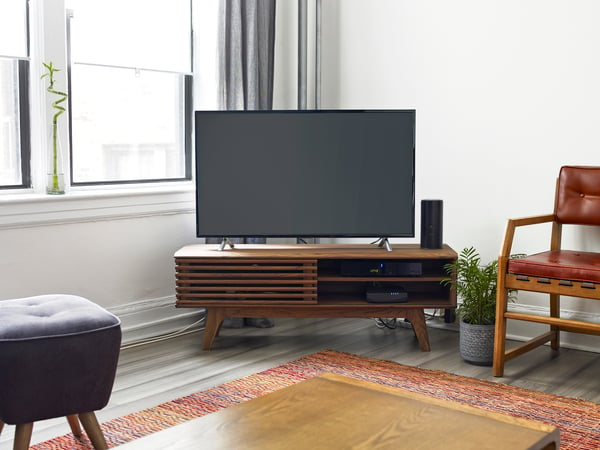 21. Decor
In my current apartment, I've done myself the favor of decorating slowly. Instead of rushing out to buy stuff to slap on the walls, I've perused my new city over time and only purchased things I felt belonged in my home. Do as you wish, but I recommend getting some decorations up in your living area so the walls don't seem so bare!
Kitchen
We're going to assume that your apartment comes with the essentials: fridge, stove, dishwasher (if you're lucky), and only go over the items might need in addition to those.
22. Dishes
This is a loaded item, as "dishes" can mean a few bowls and cups, or an entire baking/cooking/dining set. Again, buy what you want and think you'll use. These are just some examples:
Pots
Pans
Skillet
Wine glasses
Baking pans
Bowls
Plates
Cups
Utensils
To-go containers
Cooking knives
Spatulas
23. Drawer organizers
This is to separate the utensils inside the drawer so your spoons, knives and forks aren't all mixed up.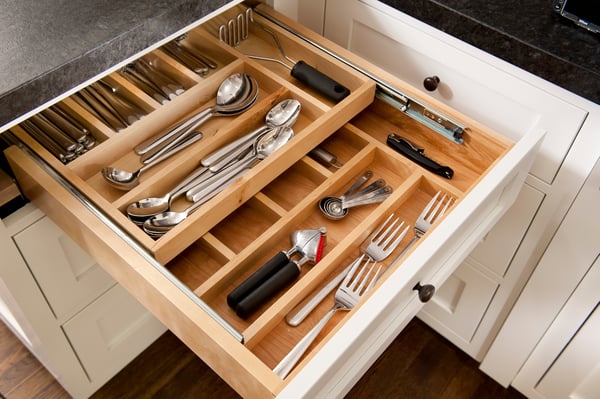 24. Coffee pot
If you drink coffee, buy a coffee pot of your liking. Mine is just a 12-cup Mr. Coffee, and ya know what? It gets the job done both for myself, and any guests that show up on my doorstep. (Just kidding; this is New York City - I don't have a doorstep.)
25. Toaster
A toaster is great for quick, filling snacks such as toast, bagels, or English muffins. You can also find these for pretty cheap!
26. Microwave
If you're on-the-go, or constantly piling up leftovers, get a microwave to heat up your food quickly. If this isn't important to you, use your oven to nuke old food.
27. Drying rack
If you don't have a dishwasher, you'll want a drying rack for hand-washed dishes. Even if you do have a dishwasher, it's nice to have a space for hand-wash only dishes to dry.
28. Dish towels
It's a good idea to keep a few tea towels around, either to dry your dishes, or dry your hands after you're done washing something. Just make sure to wash them regularly; there are a LOT of germs in a kitchen.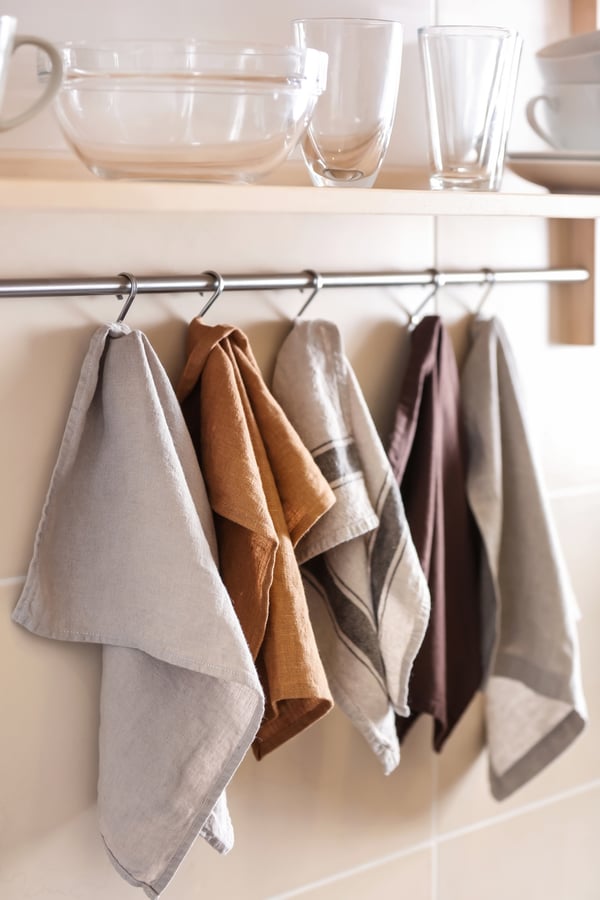 29. Kitchen table
Seems obvious, but I'm adding it here just so you don't forget!
30. Kitchen chairs
If you're on a budget, start with two. Otherwise, fill up the table with whatever will fit for the party size you think you'll be hosting!
Bathroom
The following items are my recommendations for your first bathroom. Keep in mind that we've already discussed toilet paper.
31. Plunger
You don't want to have to use a plunger, but you want one to be there for when you do need it. Maintenance doesn't always prioritize emergencies in the same way you would, so learn how to fix simple toilet clogs yourself.
32. Toilet bowl brush
This is a cleaning supply, but due to what it is, we keep ours in the bathroom. That way, no poo-poo germs are mixing with the supplies we use to clean our kitchen.
33. Shower curtain
A cute shower curtain from Target or your local department store can make a bathroom feel a little less drab!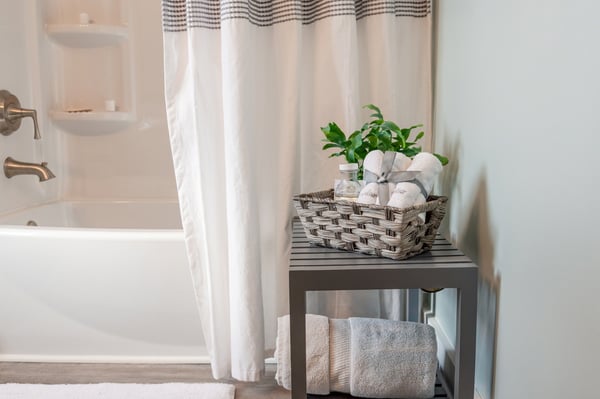 34. Shower liner
Some people don't believe in shower liners, but they're good for making sure shower water stays inside the shower, and keeping the curtain from getting moldy. You'll likely have to replace the liner every couple of months.
35. Soap dish or dispenser
If you're washing your hands in your bathroom, make sure you have a soap dish or dispenser to keep the soap in. You could also just use the dispenser the soap comes in, if you prefer.
36. Toothbrush holder
Your bathroom countertop is not as clean as you think it is. Get a toothbrush holder to avoid germs and illness.
37. Towels
Can't take a shower without a clean towel to wrap up in afterward!
38. Shower soap
This is up to you, but I recommend separate liquids for every activity: shampoo, conditioner, and body soap. Get shaving cream and razors if you shave, and have a rag or loofah on hand for lathering up.
39. Toothpaste
I recommend buying the two-in-one packs so you have more when you need it.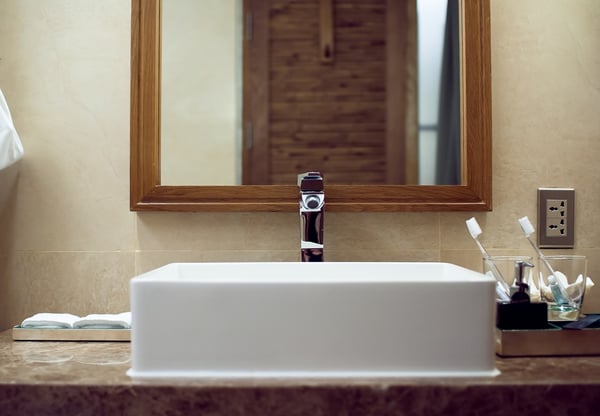 40. Face cleanser
If you don't yet have a face-wash routine, now is a great time to start.
Cleaning supplies
One thing about having your own place? It's yours to clean. But it's not all that bad when you have the right tools. Here are my recommendations for cleaning supplies to keep on hand.
41. Mop
We use a Swiffer Wet Jet, which works great on our hardwood floors.
42. Vacuum
My roommate invested in a nice vacuum and it has been a true joy. When choosing a vacuum, think about the types of floors you have and the types of dirt you accumulate. For example, a cat owner may want one that is good for removing cat hair.
43. Disinfecting wipes
Lysol wipes get used in abundance in our home, from countertop clean-off to wiping down chairs, tables and desks.
44. Window and mirror cleaner
For a streak-free shine!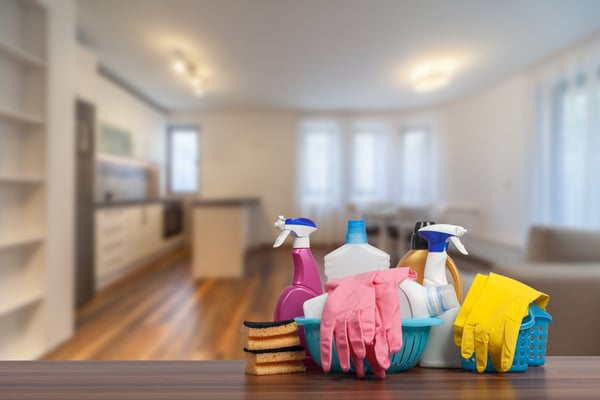 45. Sponges
We use an old-fashioned hand sponge for our dishes, but you can invest in whatever modern sponge technology you like.
46. Paper towels
We always keep paper towels around in case there are spills, and there are spills.
47. Gloves
Reusable rubber gloves are good for protecting your hands from chemicals on heavy cleaning days.
48. Shower cleaner
You'll need to rub all that nasty dirty off at some point. Have the right cleaner for the job.
49. Toilet bowl cleaner
Toilet bowls need their own type of cleaner; I do not advise going in there with a disinfecting wipe.
50. Detergent
Grab some laundry detergent in preparation of your first load. Laundry day comes quicker than you think!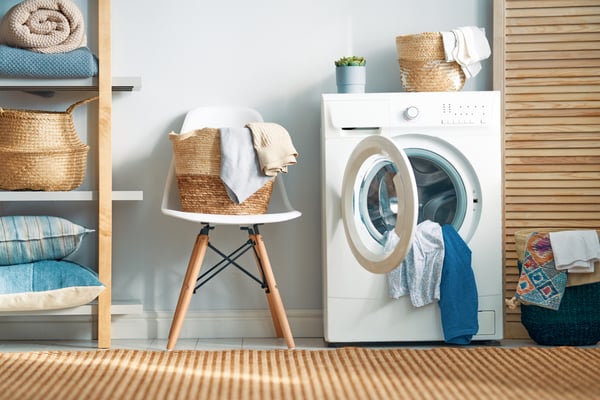 51. Hamper
Keep a hamper somewhere in the apartment (bathroom, bedroom closet) for dirty clothes and towels.
Outdoor Area
Not everyone is so lucky to have an outdoor patio or area associated with their rental, but if you are, here are some things to consider.
52. Chairs
Whether lawn chairs or adirondack seating, a few chairs are a great idea.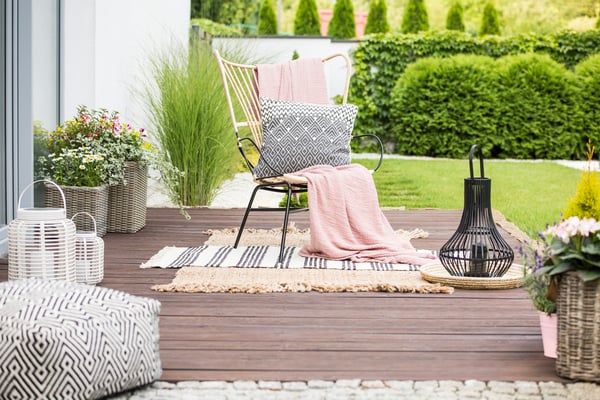 53. Grill
A grill is more of an "I've lived here for a year" gift, but if it's important to you and you have the money, go ahead!
Guest Accommodations
If you're in your first apartment, you may not be thinking about hosting guests yet. Rather, you're trying to get settled in. If you want to be prepared for an occasional visitor, the following are good considerations.
54. Air mattress
Even a simple twin is great to throw down on those unexpected nights when someone needs to crash.
55. Extra pillows
Keep a few extra pillows in a hall closet or inside a storage ottoman.
56. Extra sheets and blankets
Have clean sheets and blankets ready!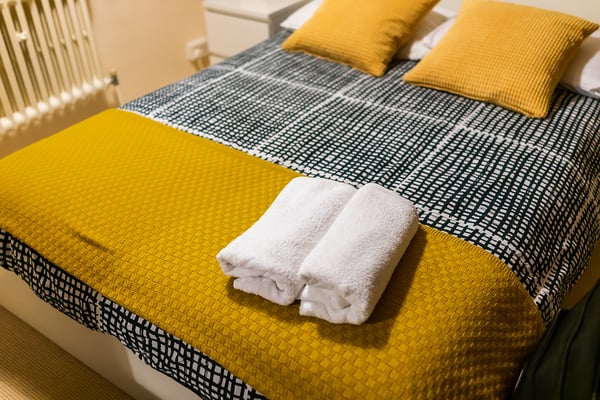 57. Extra towels
I keep all my towels in the same place, but I make sure to have enough for when guests visit.
Miscellaneous
I surveyed my colleagues and here are the extras they think you might want to have around.
58. Plants
Plants are known to reduce allergens and decrease the impact of seasonal depression. If you can invest in even one succulent, you're more likely to have a happy living space!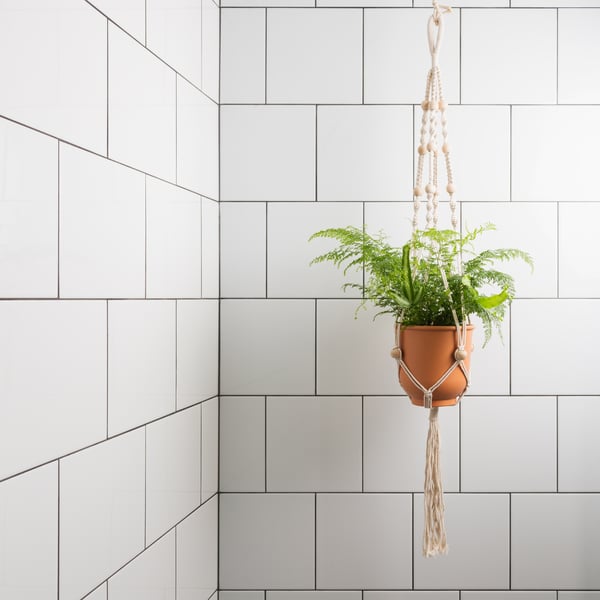 59. Organizing tools
If you find it's hard to stay organized with what you have, invest in some organizing solutions. Examples of these are: shoe racks, clothing bags for seasonal storage, hanging racks in your closet, jewelry organizers, etc.
60. Locks
If you live with other people and would rather be safe until you get to know them, try and find some locks that are compatible with your doors and/or furniture.
All checked off
Phew, we did it. That was a lot of stuff, and I'm sure there's a lot that I missed. It's hard to get to it all when people have different preferences and the comforts they prefer! I'm confident I gave you a pretty good start, and that you're quick enough to figure out the extras you may need along the way. So get packing, it's time to move!
Want to figure out what your monthly savings should be with the addition of all of your new bills? Check out our savings calculator.