Terrific financial management is behind every successful business.
Therefore, becoming a financial manager doesn't make you just another cog in the machine – instead, you're an extremely important factor for not one, but multiple areas of the business. You can't just be "okay" at this job.
You have to excel. (Ha).
Financial manager job description
Financial managers have quite a bit of responsibility on their shoulders, as they are responsible for the financial well-being of an entire organization. They'll often advise executives in making large decisions that will affect the organization.
What is a financial manager?
A financial manager is someone who is responsible for an organization's financial state of being. They are accountable for producing financial reports such as balance sheets and income statements, advising executives on financial decisions, and projecting for future spending and earning.
Because of the enormous responsibility that they have, financial managers need to be equipped with a large set of skills, which they should be able to execute throughout their day-to-day. This article will outline the steps you'll need to take toward success.
Preparing to become a financial manager
Becoming a financial manager calls for quite a bit of preparation. Most entry-level careers in finance require a degree, specialized skills, and additional training. This section will cover what you can do to prepare for a career as a financial manager.
Educational requirements
At minimum, most financial managers begin by earning a bachelor's degree in finance, accounting, economics, or business administration. However, many of those who earn their bachelor's go on to earn their master's degree in finance, economics, or business administration and continue to receive training in order to further their knowledge and skill set.
Additional training
Certifications and licenses aren't required to become a financial advisor, but why would you pass up an opportunity to better market yourself on your resume? Certifications and licenses help you prove to your interviewers and potential employers that you've not only taken the right classes, but passed them with flying colors.
Note the word "manager" in the title. Oftentimes, financial managers aren't the only ones with their hands in the pool of money – they're managing others too. This means that financial managers, either on the job or prior, should be receiving people management training.
Skills for becoming a financial manager
As financial managers move through their courses in their bachelors or masters program, all while earning certifications, they'll notice that the skillset they're collecting includes, but is not limited to:
Analytical thinking
Financial managers are often working to assist executives in their decision making process, meaning that they're required to think about any and all options and possibilities before advising.
Mathematical skills
Financial managers are working with large sums of money, requiring that their mathematical skills be polished. Simple addition and subtraction won't do the trick here; algebraic knowledge is necessary, too. As well as understanding formulas, it may be helpful to understand international finance as well as a variety of financial documents in order to communicate effectively with C-suite executives.
Communication skills
Speaking of communicating with C-suite executives, financial managers must know how to communicate the complicated formulas and documents effectively and clearly to those who don't necessarily look at those things every day – including those executives.
Detail orientation
There's no room for mistakes when you're a financial manager. While a typo as a content marketer can pass under the radar of a manager without impacting the company in the slightest, a typo in a spreadsheet can send the company underground. Precision and attentiveness isn't optional, here.
Organizational skills
Similar to the requirement of detail oriented-ness, organizational skills are also not optional for financial managers. There isn't just one number or equation that financial managers are dealing with. Therefore, keeping documents and papers organized is essential in order to do their job effectively.
Financial manager responsibilities
As stated above, financial managers are responsible for managing the finances of an entire organization. Yet, the job is more than just working in spreadsheets; you'll need a combination of hard and soft skills to see success.
Typically, financial managers are to be held accountable for:
Preparing financial statements like income statements and balance sheets, business activity reports, and estimates for what's to come in the future
Ensure that legal requirements of financial details are being met
Supervise and manage employees who participate in budgeting and financial reporting
Analyze trends in the market in order to maximize profits and find opportunities to expand
Assist management in making financial decisions
Review financial reports and strategize ways to reduce overall costs
NOTE: A great place to start looking at reductions in cost is to take a peek at your software spend. With a FREE G2 Track account, you can start tracking employee spending and saving on SaaS.
These responsibilities are listed as fairly general, and it's important to know that not all financial managers are doing the same thing.
Financial manager career paths
There are many different types of financial managers that do some or all of the things listed above, in addition to more niche responsibilities. As you progress in your career, there are several tracks you can specialize in:
Cash managers are responsible for monitoring and controlling the cash flow and to determine whether or not it's meeting the company's needs.
Credit managers oversee the company's credit business by setting credit-rating criteria, determining credit ceilings, and monitoring collections accounts that owe money.
Controllers oversee the preparation of financial reports that both summarize and predict the position of the organization in terms of finance. This means overseeing and organizing income statements, balance sheets, and any analysis of future expenses or earnings. Controllers also oversee the accounting, auditing, and budgeting departments.
Insurance managers decide how best to prevent a company's losses by obtaining insurance that will protect them against risks that could result in a lawsuit.
Risk managers work to strategize ways that financial loss can be limited as well as controlling the company's exposure to financial risk.
Treasurers direct the budget of the organization to ensure that budgets are hitting financial goals. Treasurers oversee the investment of funds and strategize how to raise capital (by issuing stocks, bonds, or otherwise). Treasurers are also responsible for developing financial plans for mergers and acquisitions.
Financial manager salary
Financial managers are rarely a part time job, and some work more than 40 hours per week. In May of 2018, the median salary for a financial manager was $127,990, while the lowest 10% earned less than $67,620, and the highest 10% earned more than $208,000.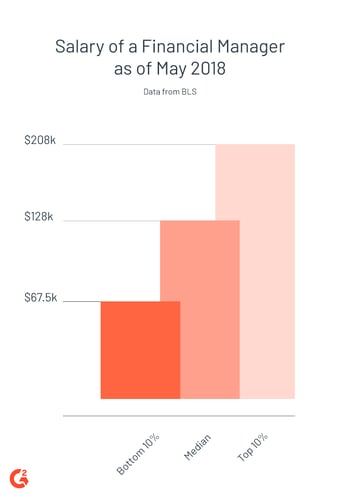 It's all about the money
Financial management isn't for the weak of heart. It takes years of preparation and studying as well as sharpening a skillset that's both technical and practical so that you can manage both people and the finances that keep a business afloat.
Not sure if you're ready to become a financial manager of an entire corporation? Learn more about small business finance.