So much of our daily lives have become digital.
Whether it's our social media presence or how we access content, almost all of it can be done online. So much can be digitally shared with others that it's no wonder that file sharing has become easier and more popular across all industries.
What is file sharing?
File sharing is the act of sharing digital media from one device to another. This private or public distribution of files often have different sharing privileges and can be accessed from anywhere in the world.
The act of file sharing certainly isn't anything new. We've been digitally sharing files since the floppy disk was invented by Alan Shugart in 1967. What is new about file sharing is the way we go about it and the rate in which files are shared.
It can be done in just a few clicks, and there's no limit as to what we can share with others – or how often. In fact, it's easier than ever.
Types of file sharing
There are four main kinds of file sharing methods that you can go with. Which one you choose is going to depend on the type of files you're sharing and how much security or protection the data that is being shared requires.
1. File transfer protocol programs
One of the most common ways to share a file is through a file transfer protocol program (FTP). This method transfers files between a computer and a server over the internet and is typically used to transfer large files or large amounts of data between multiple stakeholders.
Users of this method can gain access to the files shared from a specific FTP server site. These sites either offer public file sharing or the ability to view or download files by having a specific password.
FTP is usually used for file transfer of business documents or business data, nothing that includes specific financial or health information. As an example, webmaster teams use FTP to transfer web pages, web application files, and images to their web server.
If your business is looking for a way to share more secure files and documents, utilize managed file transfer software, which is built on FTP technology.
2. Peer-to-peer networks
To share a file using peer-to-peer networks, you'll need to have computer hardware and software to communicate without the need for a central server. Essentially, files are located on one's computer and then shared with someone else, who can be on an entirely different server.
An example would be instant messaging services or social media applications, like Slack or Facebook Messenger. Sending and sharing files as attachments in emails also falls under this type of file sharing.
3. Removable storage media
One of the original ways to share a file was with removable media, which is anything that can be removed from a device or a computer. Once a file is transferred onto the media from their device, it can be physically handed over and shared to whomever they'd like to share the file with.
Examples of removable storage media are memory sticks, memory cards, floppy disks, and removable hard drives.
4. Online file sharing services
When you're sharing files or storing data on the internet for personal or professional use, go with online file sharing services, also sometimes called cloud content collaboration software.
This type works when one user uploads a photo, written document, spreadsheet, or PDF to an online platform that allows others to download and access these files on the same platform. There's also the feature of setting accessibility permissions that include privileges like reading, viewing, or editing the file.
Examples of this type of file sharing method would be Dropbox or Google Drive.
Related: Discover more about cloud storage, the features they have to offer, and the key differences between Google Drive and Dropbox.
Risks of file sharing
Like anything that has to do with technology and what we use the internet for, there are a few risks involved.
Copyright laws: While there are legal ways to share and download files, some websites have come under fire for sharing music and videos illegally.

Plus, since musicians make royalties from sales that come from the purchasing of their music, some of these sites also infringe on certain copyright laws. It's best to avoid sharing copyrighted material without the permission of the owner.
Potential viruses: It's best to be careful when downloading a file from the internet, especially if it's from someone you may not know. Certain files could contain spyware or malware, which can slow down or crash your device.
Before downloading music or other files, especially free files, make sure you have a good antivirus or firewall software installed to protect your personal information against unwanted visitors within your network.

Benefits of file sharing
Even with the risks listed above, file sharing has many benefits, as long as you're doing it safely.
Cost-effective: More often than note, sharing a file is free, making it an attractive option for those on a budget.
Efficient: Depending on the type of file sharing you choose, it's often a quick and efficient way to send another person a file. As technology advances, even large files are becoming faster to download.
Access anywhere: Depending on the type of file sharing service you use, you can access the files you need any time, from anywhere, on any device.
Collaboration: If using cloud content collaboration software, it's simple to edit and make comments on files, which makes working with team members easy.
When asking for feedback around file sharing, John Donnachie of ClydeBank Media had to say: "Since we have a distributed remote team, we use file sharing tools a lot."
"Managing documents that require input and comments from multiple team members would get out of hand quickly if we were relying on email attachments."

John Donnachie
Co-founder, ClydeBank Media
He went on to share, "Microsoft Word's integration into OneDrive is a fantastic way to share files internally, and sharing externally to the organization is pretty straightforward as well."
File sharing software
As you research the right file sharing software for you and your needs, consider who you'll be sharing these files with and what information they'll contain.
Below you'll find file sharing software broken down into two categories: sensitive data and general or personal data.
File sharing software for sensitive data
When sharing a file that includes sensitive information, like health records or bank statements, you're going to want to use managed file transfer (MFT) software, as these tools offer the secure exchange and delivery of data across a network. They're designed to add management and security features to protect and scale the delivery of data and files.
* Below are the top five leading managed file transfer software solutions from G2's Spring 2020 Grid® Report. Reviews may be edited for clarity.
1. GoAnywhere MFT
GoAnywhere MFT is a managed file transfer software which streamlines, secures, and automates critical file transfers through a centralized enterprise-level solution. It provides centralized control with extensive security settings, detailed audit trails, and helps process information from files into XML, EDI, CSV, and JSON databases.
Beyond securing data transfers, GoAnywhere MFT seamlessly works with applications you use every day, such as EDI and cloud integration.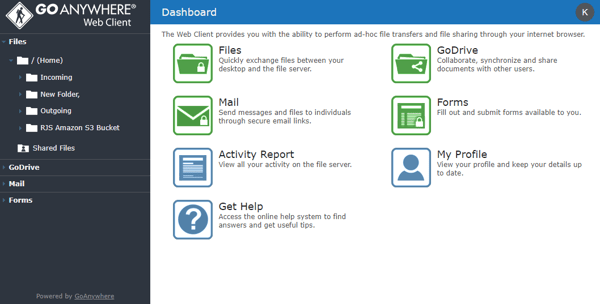 What users like:
"The admin portal is a really concise way to handle all of my managed file transfer needs. Projects, monitors, logs, and encryption vaults are all at my fingertips and easily accessible. The stability and ease of use was very helpful as a newcomer to the IT space.
We have seen a drastic improvement in the number of transmission errors or dropped connections compared to our free to use software. Support has been beyond excellent. Upgrades have been seamless. I couldn't be happier with this product and will push to have this at any company I'm associated with."
- GoAnywhere MFT Review, Joshua R.
What users dislike:
"It doesn't have a drag-and-drop interface. Compared to other software, it can be a bit difficult to get a good overview of what the job is doing. The other problem has been the quality of technical support. It's also very easy to stump the technicians with relatively simple questions."
- GoAnywhere MFT Review, Stewart L.
2. GlobalSCAPE Enhanced File Transfer
GlobalSCAPE Enhanced File Transfer (EFT) is a powerful managed file transfer solution on the market designed to meet the demands of the global enterprise. GlobalSCAPE's managed file transfer platform allows users to securely transfer, integrate, and transform data between people, systems, and applications.

What users like:
"GlobalSCAPE is a one-stop shop for managed file transfer services. It allows the monitoring of folders and custom triggers for transmitting files to a location. File transfers can also be scheduled, which is a great feature.
With the addition of the Advanced Workflow Module, administrators have the additional ability to create complex workflows that connect to cloud resources, modify or concatenate files and examine file data to make decisions on manipulation or transmission."
- GlobalSCAPE Enhanced File Transfer Review, Daniel L.
What users dislike:
"The one aspect that I don't like is how general some of the errors are. You can see where the job breaks down by having an email send-and-stop process, however it just tells you which step it breaks down on.
I wish the error codes in the logs told you more about the issue that caused it. It can be difficult to see if it is on the local or remote side because of this. Also, if the resources on the server get over-utilized, you can get a main loop broken error, which will cause random events to fail and become inactive."
- GlobalSCAPE Enhanced File Transfer Review, Logan M.
3. AWS Transfer for SFTP
AWS Transfer for SFTP is a fully managed service that enables the transfer of files directly into and out of Amazon S3 using the Secure File Transfer Protocol (SFTP). AWS Transfer helps users seamlessly migrate file transfer workflows to AWS by integrating with existing authentication systems, and providing DNS routing with Amazon Route 53. With data in Amazon S3, it can be used with AWS services for processing, analytics, machine learning, and archiving.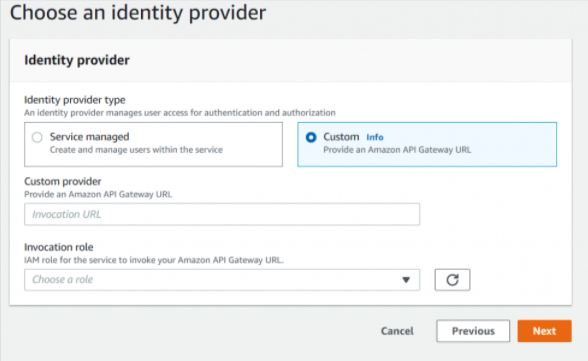 What users like:
"SFTP Transfer for SFTP provides the ability to have uploads and downloads directly from S3 buckets. It's a perfect tool for integrations, while maintaining certificates and high availability. Plus, it requires no infrastructure."
- AWS Transfer for SFTP Review, Michael S.
What users dislike:
"Set up isn't very easy, so you need to know what you're doing. They could make the set up easier to complete by adding hints and tips during the process. This threw me off a little bit."
- AWS Transfer for SFTP Review, Patrick J.
4. Cleo Integration Cloud
Cleo Integration Cloud (CIC) is a cloud-based integration platform, purpose-built to design, build, operate, and optimize critical ecosystem integration processes.
The CIC platform brings end-to-end integration visibility across EDI, non-EDI, and API integrations that gives technical and business users the confidence to rapidly onboard trading partners, enable integration between applications, and accelerate revenue-generating business processes.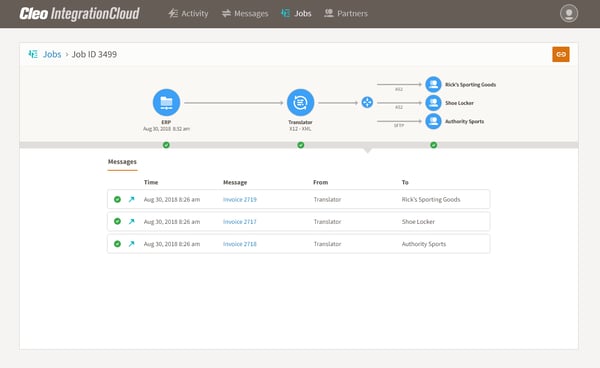 What users like:
"It is great for managing the data of all the projects and the web in an easy manner. The Harmony version provides an easy and effective way to move data across networks and offers the most effective communication. It also offers seamless data transfer without any hassles."
- Cleo Integration Cloud Review, Rajan A.
What users dislike:
"Employee authentication sometimes delays customer or supplier contact, it should be easier and faster."
- Cleo Integration Cloud Review, Andrea F.
5. ipswitch MOVEit
ipswitch MOVEit Managed File Transfer software is used by thousands of organizations around the world to provide complete visibility and control over file transfer activities. It assures the reliability of core business processes and the secure and compliant transfer of sensitive data between partners, customers, users, and systems.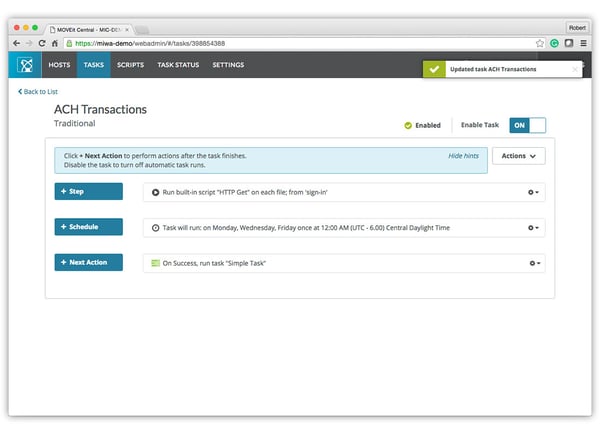 What users like:
"The software was easy for me to set up and create rules for transferring files. By using MOVEit Automation and MOVEit Transfer, we were able to set up a secure file transfer system that met our customer's needs. The documentation to set up and troubleshoot MOVEit Automation and Transfer are also very useful and easily accessible online."
- ipswitch MOVEit Review, Devon G.
What users dislike:
"Limited administrative reporting and some of what is available is very cumbersome as well. Missing a few key administrative functions, like a mass update of an email across all alerts."
- ipswitch MOVEit Review, Jonathan D.
File sharing software for general data
When you're sharing a Word document, PDF, spreadsheet, media, or anything else for personal use, you'd likely want to use cloud content collaboration software. They allow users to easily store, share, create, collaborate on, and find content within the system and are available from multiple types of devices.
* Below are the top five leading cloud content collaboration solutions from G2's Spring 2020 Grid® Report. Reviews may be edited for clarity.
1. Dropbox
Dropbox is a cloud-based file storage and collaboration platform designed for the modern workspace to reduce busywork, so you can focus on the things that matter. It brings your files together, in one central place. They're easy to find and safely synced across all your devices so you can access them any time, anywhere.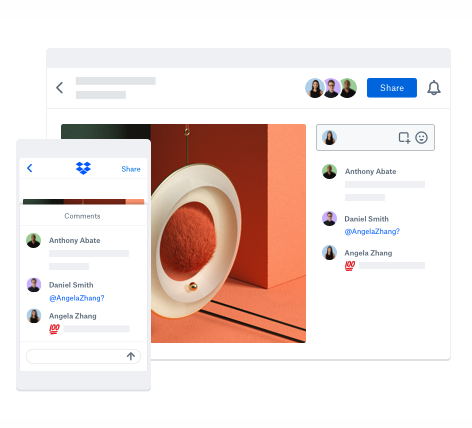 What users like:
"I love having the ability to access my important information at nearly any time. I can't say how many times I've needed something and didn't have my computer available, but I have my phone and I can get to my information.
Also, I have shared folders with several people and it makes things so much simpler by having one document, in one place, that can be updated and accessed by everyone that needs it."
- Dropbox Review, Lisa S.
What users dislike:
"I wish the download buttons were more evident, the fact that you have to click on the three dots and dropdown to enable downloads is a bit of an inconvenience when sharing documents with people who are less familiar with the software. I think after so many years of being on the market it would be helpful if new users weren't so misled into having to download the software to their computers.
I have a considerable amount of negative feedback from clients who are overwhelmed at the thought of having to download the product. Initial onboarding for non-savvy users is cumbersome."
- Dropbox Review, Jen L.
2. Dropbox Business
Dropbox Business is a cloud-based file storage and collaboration platform designed for the modern workspace to reduce busywork, so you can focus on the things that matter. Dropbox Business helps your company grow without limits while you maintain complete control over important company information and user activity.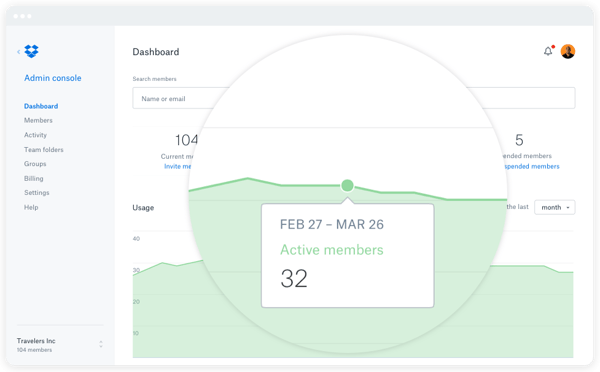 What users like:
"One of the best things we like about Dropbox Business is its capability to store unlimited data and that it always keeps track of changes, so that looking for the right file could never be an issue. We have accomplished various projects through this tool by transferring the data across various platforms, due to its integration with a number of tools like Trello, Microsoft, etc.
Dropbox has helped us to manage our schedule of working effectively. I would say it is the most safest place for my important data."
- Dropbox Business Review, Jamie F.
What users dislike:
"Cons may include its expensive nature. But after becoming familiar with its features, we then come to know that it deserves this price. Another con is that while uploading large files, it sometimes badly affects the performance of your network. but it happens very rarely."
- Dropbox Business Review, Lindsay M.
3. Microsoft OneDrive
Users of Microsoft OneDrive can easily store and access files from all devices, share files and collaborate on documents with anyone, and quickly find files from personalized search results powered by the intelligence of the Microsoft Graph. It will also keep company data protected with advanced encryption, compliance, and security features.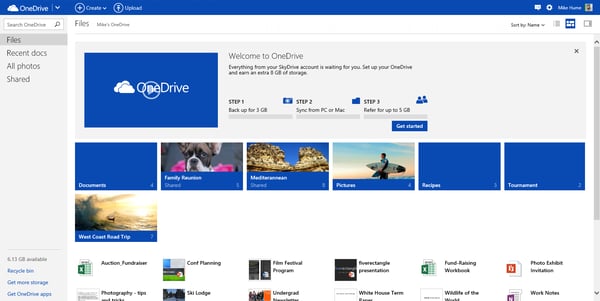 What users like:
"OneDrive is a very safe and simple tool to use. It is included in the Microsoft 365 suite, which is ideal because this integration makes it easier for us to share our files and thus make collaborative work much easier. Its synchronization application is available for macOS, iOS, Android, and Windows operating systems, the latter being the one with the greatest benefits."
- Microsoft OneDrive Review, Carlos C.
What users dislike:
"The space you initially get will work fine for a typical user, but for our users who have pictures and videos and other files that space can become limited. To add more space it can get costly so we find ourselves using external drives to store large data and ensure we aren't going over our quota. I would like to see Microsoft make the pricing for additional space a little less."
- Microsoft OneDrive Review, Christopher K.
4. Box
Users of Box can sync, share, and collaborate on all types of files, anywhere, on any device - but that's just the beginning. You can choose where to store your data, manage your encryption keys, and set workflows to automate content-based processes. You can also assign custom metadata tags to content, watermark sensitive content, and set file retention or legal hold policies.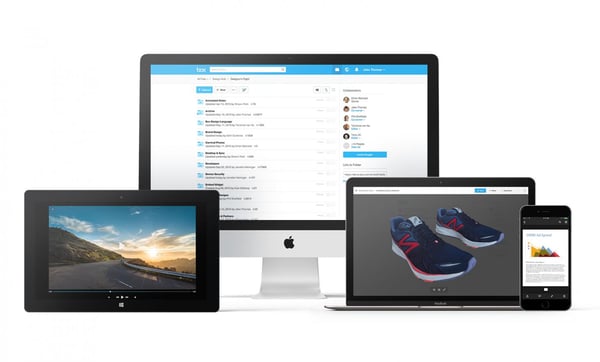 What users like:
"The biggest advantage of Box is that it helps us in posting huge amounts of content that can be easily viewed and edited by other parties whenever they want. It lets us perform several tasks with less effort and less time. It has all outstanding capabilities that come up in the availability of enough space in order to archive documents by ensuring sufficient protection in the cloud."
- Box Review, Susan M.
What users dislike:
"No free plan is available and I think this does not build the customer trust in the application. A free trial version should be available so that before spending money one could have a better idea of its features and basic program."
- Box Review, Sarah C.
5. Google Drive
With Google Drive, users can store, sync, and share files easily -- all in one place. Files can be accessed anytime and anywhere from your desktop or mobile device. There are also shared Drives to store your team's work in secure, easy-to-manage shared spaces. Any files added to shared drives are owned collectively by the team, so everyone stays up to date.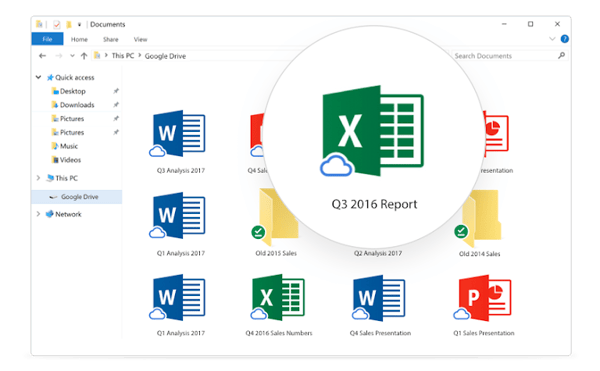 What users like:
"One of the things that I love about Google Drive is that it's extremely simple to use, an aspect that is ideal for any type of software. It also allows you to upload different types of files and offers a free version with 15 GB of storage space.
This represents a space quite acceptable for its cost, and that is sufficient for user needs. Similarly, if you need more space, you can choose to cancel a payment option and obtain more storage space."
- Google Drive Review, Stiffani R.
What users dislike:
"There is not much that I dislike about Google Drive. Sometimes there are issues when transferring documents from Google Docs to Google Drive or when you are trying to get something from a Google Doc transitioned into a Word Doc file or PDF. There can sometimes be some confusion on how to turn that Google Doc into a Word Doc or PDF without losing the formatting of the document."
- Google Drive Review, Val V.
Sharing is caring
Whether it's confidential business data or photos from your family's vacation, file sharing can be done in just a few seconds.
While sharing files can be beneficial for your social, professional, or even personal aspirations, it's important to keep in mind that you should always consider the security risks involved. You don't want any of your personal data falling into the wrong hands.
Discover how you can transfer files from PC to PC in just a few clicks!