Whenever someone mentions Costco, all I think about are the free food samples.
Walking around the store, there are dozens of food stands set up cooking and giving away food samples. But they're not just giving it away: they're demoing how to cook it, explaining why it's a great product with quick facts and tips, and mainly, persuading the customers to buy it.
This is a textbook example of field marketing.
What is field marketing?
Field marketing is a branch of marketing in which companies put their products in front of potential customers "out in the field" in public locations, retail locations, events, college campuses, etc. Field marketers carry out initiatives that can include demos, direct sales, and promotions.
Like Costco, many businesses use field marketing as part of their marketing campaigns and find success when they're able to demonstrate the use of their product or service right in front of the customer's eyes. In this article, we'll discuss what field marketing is, why it's important, and several types of field marketing campaigns.
Feel free to jump ahead to the section of your choosing:
The importance of field marketing
Retailers that employ field marketers
Types of field marketing campaigns
Field marketing: a closer look
In the digital age, social media marketing is often regarded as the norm. People purchase goods online with the click of a button, subscribe to services that deliver meals straight to their door, and increasingly avoid shopping malls and commercial retail stores as much as they can.
Although it may seem like a marketer should be focusing all of their time on social media campaigns, there is still a huge benefit to incorporating field marketing into a marketing strategy. Let's talk about why field marketing is important and how it's remained relevant today.
The importance of field marketing
When field marketers are "out in the field" at various retail locations, the work allows them to make a deeper connection with their customers. Instead of a customer seeing a product on the shelf as they walk through the store and thinking about if they should buy it, the shopper can see how the product is used, prepared, and how it brings value to their life with field marketing demos.
Not all field marketing is demonstrating in-store or handing out food samples in Costco.
For some businesses, field marketing refers to gathering a group of salespeople who go out and meet with potential customers face to face or even organizing a street promotions team to hand out flyers and coupons in public.
Field marketing work ranges from sampling and carrying out promotions, distributing products, to hosting special pop-up events in-store or in a rented space.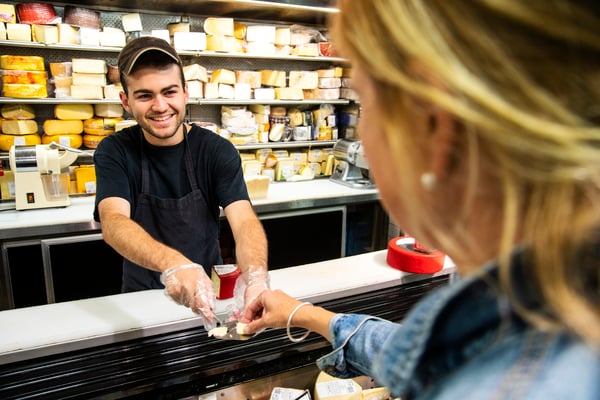 The reasons why marketers use field marketing vary from company to company, but a few goals can include general brand awareness, increased engagement with local buying communities, and a spike in sales in targeted locations.
TIP: Another way to build brand awareness is through a review platform. Claim your profile on G2 to harness the community there and gain valuable insights from your customers.
Retailers that employ field marketers
Although it may seem like the entire world has converted to focus on digital marketing, the vast majority of companies around the world typically implement some type of field marketing into their campaigns in order to make a more personal connection with their audience when promoting a specific product or service or even to promote an entire brand.
Some of the most common types of retailers that use field marketing in their selling strategy can include:
Food and beverage
Home goods, cleaning products, and appliances
Pharmaceuticals
Health and beauty
Convenience stores, department stores, and grocers
Telecommunication providers and mobile sellers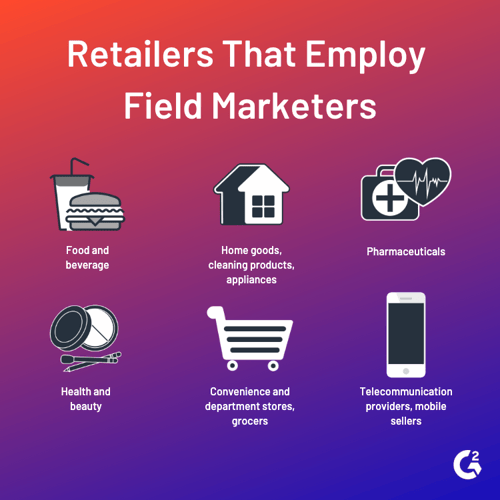 Types of field marketing campaigns
There are a variety of different field marketing campaigns that companies can use. Some of the most widely recognized methods include the following:
Direct selling
This marketing method is one of the most commonly used campaigns by companies and brands. It entails brand representatives making sales to customers at the point of interaction in-store.



This method is often matched with product demonstrations and relies heavily on ceasing the opportunity to push the product directly after the customer has tried it. Direct selling can also appear in promotional stands at events or at pop-up shops.
Guerilla marketing
Companies use the term "guerilla marketing" when referring to campaigns that often target customers in ways they may not expect. Guerilla marketing is highly creative and will most likely take place in highly-populated locations. Newer companies may utilize this tactic because it's typically low budget but full of creativity, imagination, and energy.
Guerilla marketing often comes in the form of small but mighty street teams, promoting a product, service, or event while out on the street. The team may hand out free tickets, coupons, or dress up to entice potential customers to buy a product or attend a show.
Retail audits
Although we've stressed that field marketing relies on face-to-face interaction, not all campaigns are customer-facing. Some companies may organize a team to travel to retailers and audit the way their products are presented or displayed in-store. When a team conducts a retail audit, the field team takes note of how their products, promotional materials, and signage are presented on the shelves or throughout various retail locations.
Conducting a retail audit has two major benefits to a marketing team. First, they provide marketing managers with insight into how effective their display is in different stores. Second, after assessing the retail audit, brands have the opportunity to fix whatever they deem unacceptable and increase the effectiveness of their in-store marketing efforts.
Time to play the field
At the end of the day, it may seem like marketers are leaning on the internet and digital marketing, especially when you see how people are purchasing everyday items. Physical selling can come off as an outdated attempt at selling, but most companies still utilize field marketing.
Field marketing allows companies to see their customers in person and make a connection with them that online marketing simply doesn't achieve. When a field marketing campaign is executed well, it's memorable to the customer and lets companies collect data about their campaigns instantly instead of waiting for the results and analytics of a social campaign.
After all, who could pass up a free food sample?
Want to learn more about field marketing? Get familiar with the field marketing manager job description and start planning your next campaign today.