From the FTC to Amazon, and even Jimmy Fallon, everyone's talking about fake reviews.
Customer reviews are one of the most common ways consumers make purchase decisions. As demonstrated in a 2017 study by the Spiegel Research Center, displaying reviews can increase conversion rates by 270 percent.
How can you tell if a review is fake?
They have typos and poor grammar
They're generic and not specific
The reviewer has reviewed many products
The review is very short
See if others have found the review helpful
Check for reviews with verified purchases
Avoid overly positive reviews
Check the reviewer's profile picture
Use free online tools to identify fake reviews
Recognizing the strength reviews have to fuel sales, some (extremely unethical) individuals have decided to undermine reviews, diminishing the exact reason they hold value.
Here we'll cover how to spot a fake review, the latest news on the FTC's landmark reviews, then breakdown the latest business epidemic,
Feel free to jump to the following sections:
9 tips to help you identify fake reviews
Here at G2 Crowd, every review is verified by an actual person, not a machine, to ensure it's legitimacy. Given the crusade against these false claims, as employees we take personal offense to reading fake reviews on any platform.
Here are eight steps you can use to guard yourself against fake reviews on any website.
1. Fake reviews often have typos and broken English
Here's an example of someone on Twitter begging for reviews, and offering free items in return:


Whenever I see a review that reflects that level of grammar, I move on to the next product. If a product can't earn enough legitimate reviews from real users, I'm left wondering what's wrong with it -- there has to be something actual customers have to say they don't want me to know!
2. They're generic and overly positive
When someone makes a business of writing fake reviews, they don't have time to be specific. When you see generic claims that could apply to any product ("This product did exactly what it promised!"), keep reading to find a better review, like this one: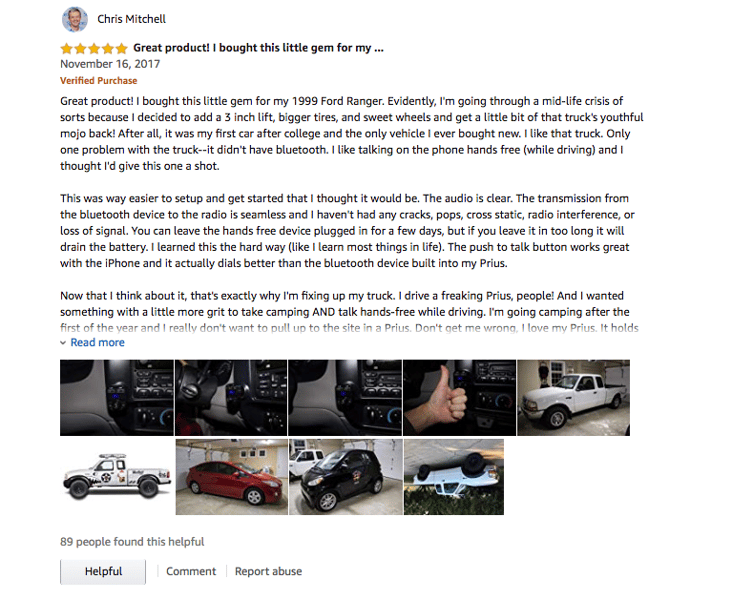 The pictures are an added way to ensure credibility.
In addition, remember that the people who get paid to write reviews are incentivized to write positive reviews, as demonstrated by the FTC's claims. Take care if you see too many reviews that don't mention any drawbacks. (Let's face it, no one, and almost no thing, is perfect!)
3. See how many reviews the person has written
If someone has posted hundreds of reviews in one day, buyers should without a doubt beware.
There are some people who have time to write hundreds of reviews. These people are often recognized as experts and influencers. For example, if you see someone with a badge stating they are a "top contributor," you can trust their reviews are genuine.
Here you can see someone on Yelp who has written 179 reviews, shared 200 photos, and is part of the Yelp Elite Squad, "A community of Yelp's most avid writers, photographers, and adventurers."

However, there comes a point when one person can only write so many reviews -- unless it is their source of income. It is especially concerning if one person writes hundreds of views within a short time period.
4. Consider the the review length
People write long reviews when they have used the product -- they have an experience, and, as a result, specific details to share.
That specific information often relates to the how, when, or why of a product's use. It has the storytelling element, such as this review that mentions "it even survived going on two airplane trips with TSA handling."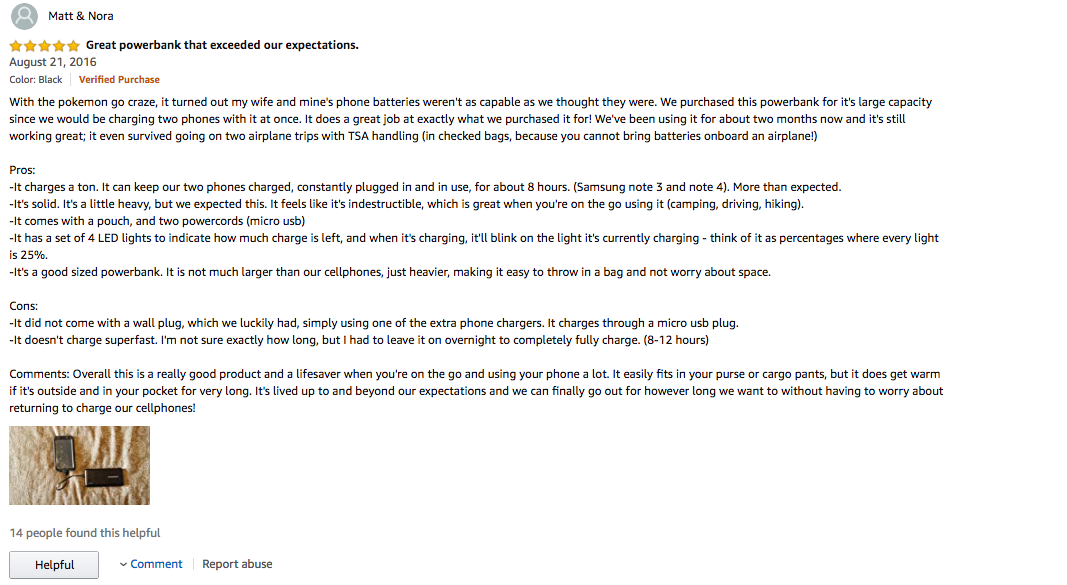 5.Find review feedback: Helpful reviews are upvoted and authentic
So reviews are all about giving feedback, right? Knowing how much reviews help consumers cross from the consideration to purchase stage, companies who show reviews will give the option to answer "Was this review helpful to you?"
For example, when shopping for online cosmetics at Ulta, you can give a thumbs up, thumbs down, or even flag a review if you spot a red flag.

Amazon takes it a step further. Not only can you mark a review as helpful, you can also share a comment. For example, this review for a pet travel carrier has 27 comments, and 1,027 people found it helpful.

Yelp also fights fake reviews with feedback opportunities that give a bit of personality, marking a review useful, funny, or cool.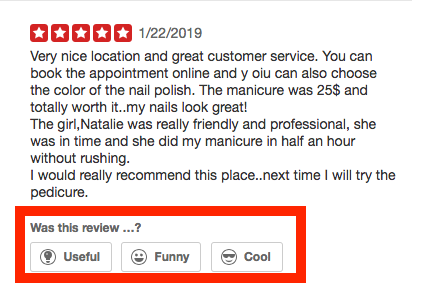 6. Check for reviews with verified purchases
A verified review is more likely to be legitimate.
Reviews are marked as "verified" when the company can prove the individual has used the product. For example, imagine I buy a pair of headphones through Amazon. When I write a review, it will be marked as a "verified purchase."

Reviews for services, such as those on Yelp, don't offer the same ability to track online purchases. However, you can still look for "check-ins" on Yelp, which demonstrate the person's presence at the location.

Reviews that aren't verified can still hold value. For example, imagine I buy bluetooth headphones at Target. I see the product on Amazon, and decide to write a review. Even though my review is real, it won't say "verified reviewer."
A verified purchase is just one of several ways to check for a fake review. They can still get tricky though.
Take a look at this verified review for mascara on Ulta: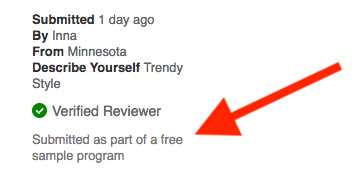 Ulta has faith the person legitimately used the product. However, the review was submitted as part of a free sample program. The mascara wasn't paid for, they got it for free.
And, with a bit of scrolling, you'll notice that every review was written as part of a free sample program. Some of the reviews even say "I received this product complimentary for reviewing purposes." (A sentence you will often see on Amazon, too.)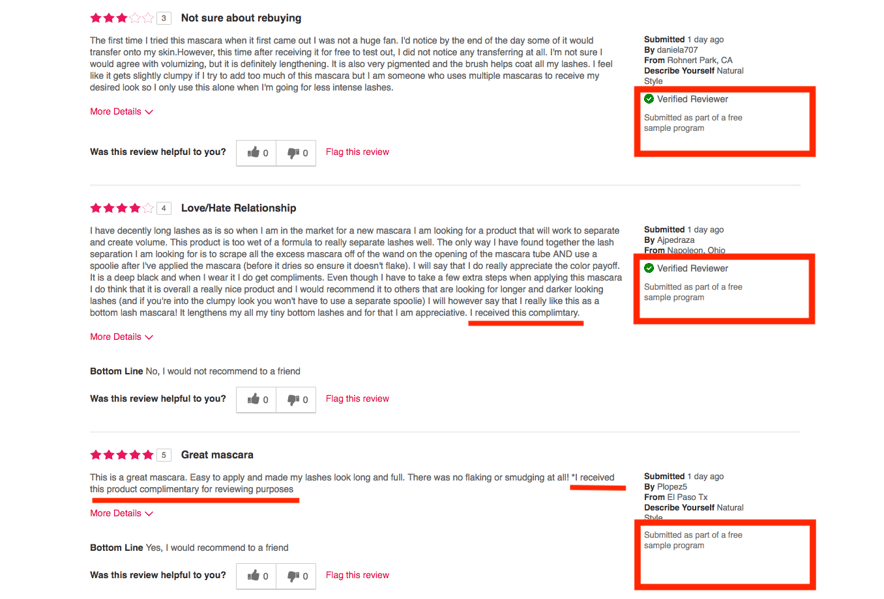 This doesn't mean the review is fake. However, when you see examples like this one, keep an eye out for bias. Some people may feel compelled to write a positive review in exchange for free items. Plus, scammers will purposely write positive reviews to get more freebies.
Which leads to our next point...
7. Stay away from overly-positive reviews
Let's follow up on the idea biased reviews. It's true; someone can receive a free product or service and still write a positive review.
Here is a review for the same mascara just mentioned:

For example, Just because a review was written in exchange for a product, In the same way, beware of a sudden increase in five-star reviews.
While this review was part of a free sample program, it has three stars, not five, and shares both positive and negative aspects. Personally, this is a review I trust.
Here is another example of a trustworthy review from Best Buy on wireless Beats headphones: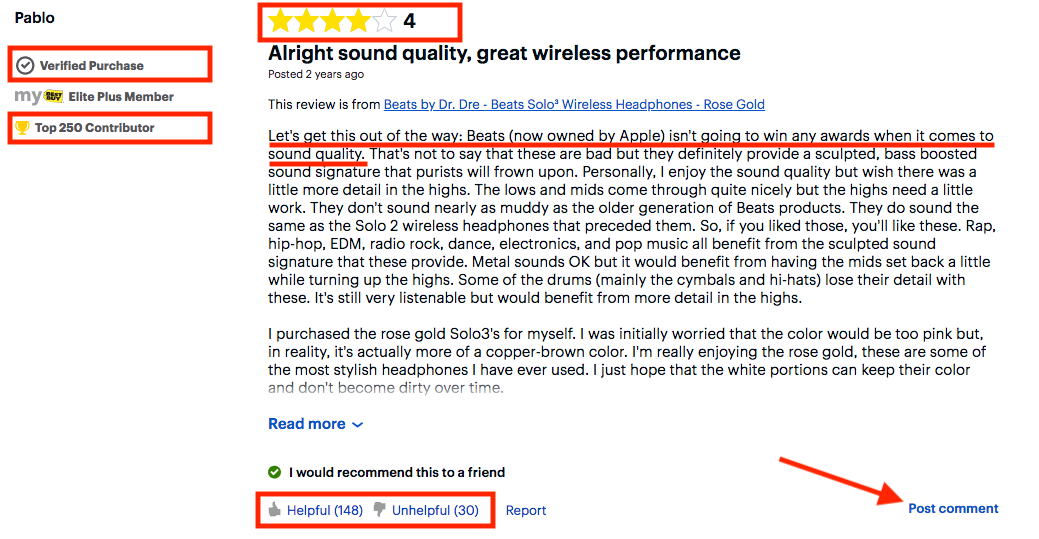 Here's a few reasons I trust the review by Pablo:
The review is four stars -- when people pay for reviews, they usually want a perfect rating in exchange for their "investment"
The title and the review itself share both the negatives as well as positive feedback
The review goes into specific details
It is a verified purchase
Best Buy recognizes this person as a "Top 250 Contributor"
Notice that I can also post a comment in response to Pablo's review.
8. Check the reviewer's profile picture
As shared by Jason Brown, who runs reviewfraud.org, many fake reviewers use celebrity images by accident. As quoted in NBC News, he states, "What they'll do is they'll create their account, do a Google search for headshots and when they're doing that to add it to their account, they'll get famous people by mistake."
So if that reviewer's profile picture looks like a certain celebrity you know, don't give much weight to their review.
With the rise of technology, there's one more way you can determine how trustworthy a review is -- utilizing tools on the internet.
9. Use free online tools to identify couterfeit reviews
There is one other way to track fake reviews. Tired of being duped into false promises, some companies have been created for the sole purpose of helping consumers source what is legitimate.
When you don't have time to follow the steps above, these websites can help.
An example is fakespot.com. Simply enter the URL, and Fakespot will use a type of artificial intelligence to analyze how legitimate the review is.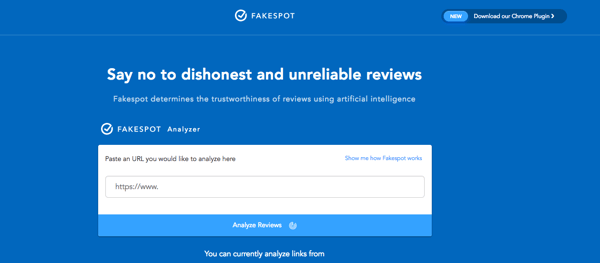 The platform works with a number of major review platforms and retailers, including Amazon, Best Buy, Sephora, Wal-Mart, Trip Advisor, and Yelp.
Another platform made to analyze the trustworthiness of reviews on Amazon is ReviewMeta.

Whether you are a consumer or a company selling your product and services, no one is a fan of fake reviews. (No one ethical, that is.)
The FTC cracks down on fake Amazon reviews
While fake reviews have been an issue for years, it's not just consumers and companies fighting back. The FTC's inaugural 2019 case against fake reviews is a historical breakthrough recognizing the impact fake reviews have on buyers.
To understand the epidemic of fake reviews, consider that the FTC's announcement made Jimmy Fallon's opening monologue. (Signs of noteworthy news: It makes late-night talk shows.)
Jimmy shared his advice on spotting fake reviews: "For instance, here's a pair of Apple AirPods. The fake review says, "These have amazing sound quality and great battery life! The real review says, "These are expensive Q-Tips that you'll lose instantly."

So who can people thank for the FTC taking action? The defendant, Cure Encapsulations Inc., owned by Naftula Jacobwitz, sells weight loss supplements. (I know, right? Of all the industries who could commit fake reviews, weight-loss pills are found to be guilty. Who would have guessed?)
On February 26, 2019, the Federal Trade Commission released a statement announcing its first case "Challenging fake paid reviews on an independent retail website."
What is a fake review?
A fake review is a review written by someone who has not actually used the product or service. They can be written by friends, family, or employees of the company. Fake reviews are also generated by bots and companies who pay individuals to write fraudulent reviews. Companies get fake positive reviews to increase sales, or source negative reviews on other company's to bring down their competitors.
While Amazon has been fighting fake reviews for years (more info below), the FTC's legal action proves that fake reviews are now being taken seriously not just by companies and consumers, but also by the government.
FTC's complaint against Cure Encapsulations accuses the weight loss brand of paying third-party websites to write dozens of Amazon fake reviews for the Garcinia Cambogia supplement.
Examples of the statements from these inaccurate reviews include it being a "powerful appetite" that "Literally BLOCKS FAT from forming." (Proof to use caution when writing in all-caps.)
In total, Naftula Jacobwitz is accused of requesting 30 reviews with a minimum of a 4.3 out of 5 star rating in exchange for $1,000.
One of the reviews believed to be contrived states: "At first I was skeptical about purchasing these since they aren't exactly cheap supplements, but I can tell you that these supplements really do work, and I based my purchase off of findings and research. I have lost 10 pounds in the first week of using these. I will definitely be recommending this to my family and friends."
Andrew Smith, the FTC's Drector of Bureau of Consumer Protection, shared their commitment to protect consumers in a statement, saying, "When a company buys fake reviews to inflate its Amazon ratings, it hurts both shoppers and companies that play by the rules."
The settlement includes a 12.8 million dollar fine; with $50,000 to be paid immediately. The remainder depends on the revenue the Cure Encapsulations has made based on the possibility of inaccurate financials.
How Amazon is fighting fake reviews
While Amazon takes plenty of blame for fake reviews, their innovation in creating this form of user-generated content isn't to be blamed.
Amazon wants to continue helping consumers find reviews that are legitimate and trustworthy. In a February 2018 statement to CBS MoneyWatch, the company said "even one inauthentic review is too many."
In fact, as detailed in the below video, "Amazon cracks down on fake reviews," the company has been fighting them for years.

In 2015 alone Amazon sued more than 1,000 people for "misleading Amazon's customers" with the "fake reviews of products."
Consider that these words, from an Amazon statement going back to April of 2016, still reign true today: "To help eliminate the incentives to engage in reviews abuse, we will continue to pursue legal action against the root cause of reviews abuse — the sellers and manufacturers who create the demand for fraudulent services — as well as the ecosystem of individuals and organizations who supply fraudulent reviews in exchange for compensation."
There's no doubt that the war on fake reviews is an ongoing battle, but Amazon continues taking steps against it.
On February 28, 2019, the day after the FTC's case, Amazon announced "Project Zero," a new initiative that gives brands the ability to remove counterfeit product listings. Currently Project Zero is an invite-only program for those who "Maintain a high bar for accuracy in order to maintain their Project Zero privileges."
The project also includes an automated protection system to eliminate fraudulent reviews.
Companies who want to participate in Project Zero can join the waiting list here.
How other marketplaces are fighting fake reviews
Just like fake news, fake reviews are all around you -- you'll find them on plenty of other companies, too.
Yelp has also been fighting the war on fake reviews for years now. In August 2013, Yelp filed a lawsuit against a San Diego law firm, McMillan Law Group. (It's never a good sign when it's the law firm getting sued.) alleging the company's employees "pretend to be clients and review their own employer as Yelp.
Yelp provides itself with providing trusted information for the community, and often takes less-drastic action to fight for authenticity. For example, companies caught with fake reviews can find themselves with a ranking penalty, the loss of the ability to advertise, removing a listing, and even removal from the platform entirely.
According to Fakespot (more on the review-checking company in a moment), 52 percent of reviews on Walmart are believed to be fake. That's a whopping one-in-two.
Best-Buy has also been in the news for fraudulent reviews thanks to Huawei. Yet, that's exactly what Huawei did. Running a competition on its Facebook page, Huawei posted in a Facebook, offering people the chance to win the new Mate 10 Pro mobile phone, in exchange for a review of that exact phone on Best Buy.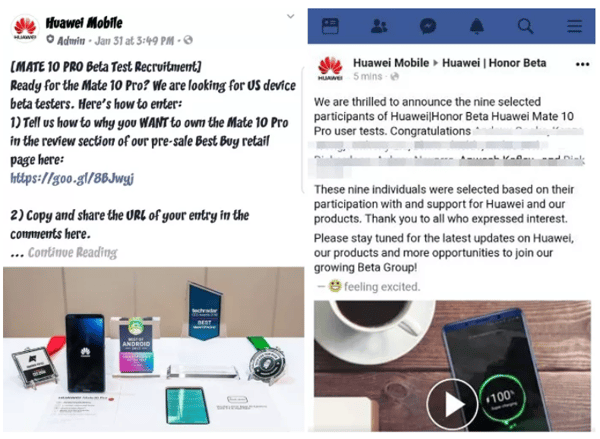 Image source: 9to5Google
Let's state the obvious here: it's pretty difficult to write a review for a product that:
You are entering to win, and therefore do not yet have
Has not even been released yet
How many reviews are fake?
Smart consumers know how reviews can help their purchase decision, and read them regularly. In fact, 94 percent of customers read online reviews, and 72 percent of customers don't take action until they have read customer reviews.
But with all of that time reading reviews, some of those deceptive reviews start to stand out.
According to a BrightLocal Study, 79 percent of consumers know that they've spotted a fake review.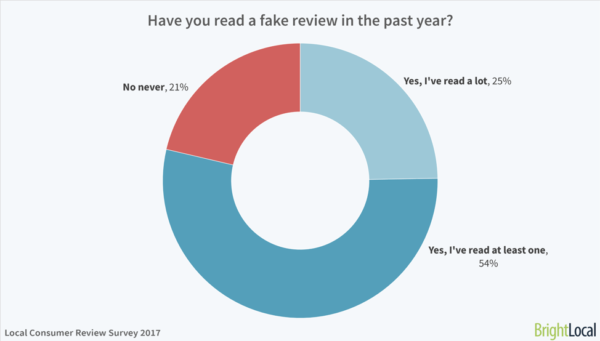 Image source: Brightlocal
The problem is, while some fake reviews are obvious, they don't all stand out. In the same study, 84% of people admitted they can't always diagnose when reviews are fake.
By understanding how companies get fake reviews, you can (as we'll cover in the next section), recognize when a review should not be trusted.
Where do fake reviews come from?
An NBC News Investigation demonstrated that it is possible for a new company to purchase hundreds of positive reviews within days.
So, how fake reviews have come to be such an epidemic? There are multiple sources that produce these inauthentic product claims.
"Review farms," or the companies who profit by hiring people to write fake reviews, are one of the biggest culprits. One example is amazonverfieidreviews.com (creative name, right?), who is cited in the FTC's February 26 news release. In its complaint, the FTC alleges "That website offered Amazon sellers the ability to 'Push your product towards the top!' using 'verified' product reviews that will 'help your product rank better in the internal search engine,'"
For another example, simply type the #reviews into Twitter, and you'll see gems such as this appear: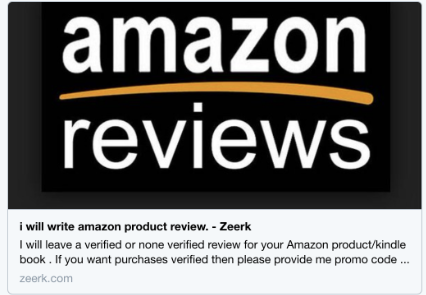 Those are the exact people Amazon and the FTC are fighting against. (Apparently, this person would also benefit from a lesson in punctuation.)
Technology is another source to be thanked for fake reviews. In fact, computer-generated reviews are the source of the majority of inauthentic reviews on Amazon: "We estimate more than 90 percent of inauthentic reviews are computer generated, and we use machine learning technology to analyze all incoming and existing reviews 24/7 and block or remove inauthentic reviews."
Company employees, friends, and family members have also been known to write fake reviews to support sales of their own product. Even Facebook is believed to be guilty of this. In January 2019, New York Times reporter Kevin Roose noticed multiple five-star reviews for the Facebook Portal that appeared to be written by employees.
How to get legitimate (ethical!) reviews
If you're a company who wants to build a marketing strategy with customer reviews, you should by no means shy away from them.
Reviews still hold immense power. B2B consumer reviews also have an impact: 92 percent of B2B buyers are more likely to purchase a product or service after reading a trusted review. Plus, you can create content from reviews that establish credibility and grow brand awareness.
TIP: Increase your sales with authentic reviews
Join companies like yours connecting to millions of people researching which B2B software or service to buy on G2. Creating your profile is free and takes just five minutes.
Hopefully, by now you've figured out the No. 1 rule: Never pay someone to write a review. Remember that by definition a review comes from the consumer: If you're paying someone, it is really a deceptive advertisement masquerading as a review.
Whether you want to get software reviews or build your presence on other B2C platforms such as Yelp and TripAdvisor, there are plenty of ways to get real customer reviews.
For example, send a follow-up email after purchase, asking the user to share their feedback. Up to 80 percent of reviews are the result of these follow-up emails. I've received emails requesting a review from companies of every size, including major chains, such as the clothing store Express, and individuals running a store on Etsy.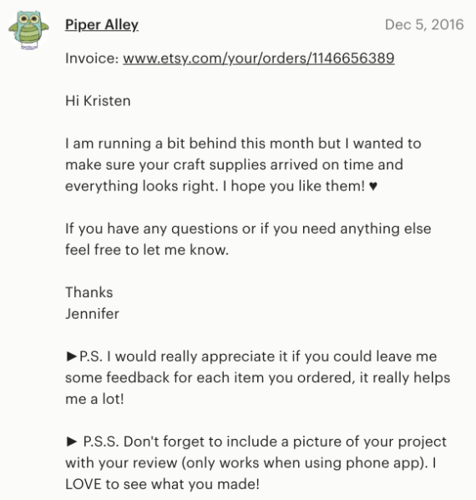 Whether it's a sticker on the door, text on an in-store pamphlet, or CTA on a receipt, utilize in-store opportunities to request reviews.
In the world of B2B, ask your customer success and sales team to ask customers for reviews during 1:1 conversations.
Don't forget about social media, too!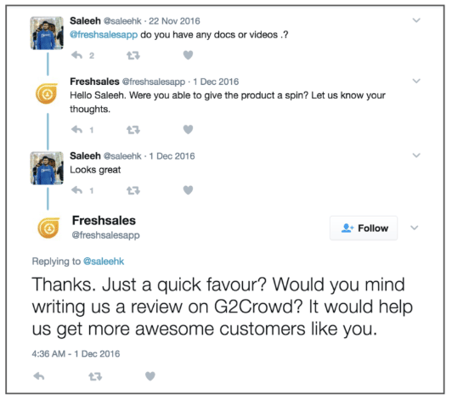 Any channel you use in your marketing efforts can also be used to request reviews. And, the people who see your outreach and take the time to write a review are showing about they care about your brand.
This can lead to a positive effect: According to the the Spiegel Research Center study, mentioned early, brands who send their customers a direct link to submit a review can expect their average star rating to increase.
A note on negative reviews
When sourcing legitimate reviews, you can't guarantee they will all be positive. But, if you get a negative review -- relax! It's okay!
As the customer review statistics prove, you actually increase credibility this way. As stated by the Spiegel Research center, the likelihood for purchase based on reviews actually peaks with a star rating of 4.0 -- 4.7. After that, the closer you get the 5 stars, the more the chance of a sale goes down.
And, if you respond to negative reviews, you'll show that you are listening to your customers, and you are eager to make improvement based on their feedback.
Don't let fake reviews get you down: Real reviews work
Whether you are a buyer reading reviews to fuel your purchase decision, or you are a company using reviews to establish credibility and increase sales, reviews are still an incredibly valuable tool.
If you are a business executing reviews, keep working to get those real reviews from real customers. In addition to increasing your sales, credibility, and brand awareness, they have other benefits. For example, reviews can affect recruiting for your business and impact SEO. Reviews are believed to make up over 13 percent of how Google and other search engines rank local search results.
If you're looking to increase sales, fight the scams and schemes with real reviews. The impact and credibility from your actual customers will go further than anything fake!
Start getting software or service B2B reviews now with your free G2 profile.