Facebook app's younger and smaller cousin, Facebook Lite, has officially made its mark and continues to gain popularly.
The app was originally launched in 2015 for people living in developing and emerging countries who had limited internet availability and data usage. In under nine months, it reached 100 million users.
Nine months appears to be the magic number for Facebook's junior-sized social media app.
Launched in the US (and additional more-developed markets) in March 2018, the Android app has again hit a landmark in nine month's time: 1 billion downloads.
That number of Facebook Lite downloads totaling over 1 billion can currently be seen on the Google Play Store: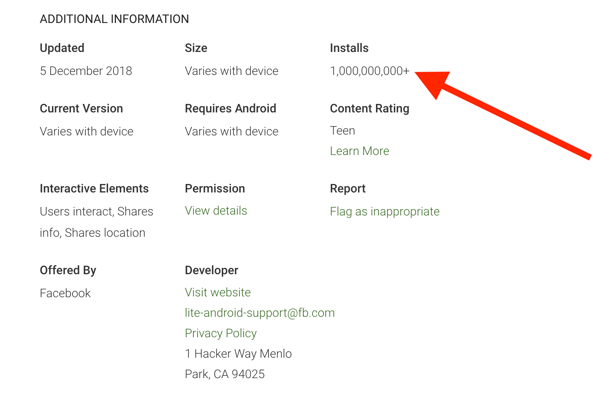 Along with the news relating to the number of users, on December 5, an update to Facebook Lite gave users of Messenger Lite an experience much closer to that of the full Messenger app.
Facebook Lite for 2019
Before delving into the recent updates, let's take a moment to look at what Facebook Lite is, and how it compares to the full-fledged Facebook app.
What is Facebook Lite?
Facebook Lite is an app by Facebook which includes similar features with less technical requirements. Android users with limited data, poor connections, or older phones can still enjoy using Facebook to connect with friends, family, and businesses through their phone.
Users of Facebook Lite will find themselves with longer battery usage (compared to the normal app) while saving on data and internal phone storage.
The app is less than 1.28 megabytes, giving it a quicker download and start-up time than the full Facebook app, which is 67 megabytes.
What makes the number of downloads even more impressive is that Facebook Lite is only available for Android users. (Unless you happen to live in Turkey, where testing began on Facebook Lite for iOS in October 2018.)
How to use Facebook Lite
Ready to join the 1 billion other Android users loving the lighter side of Facebook? Here's how to do just that.
To use Facebook Lite, go to the Google Play Store on your Android and download the app.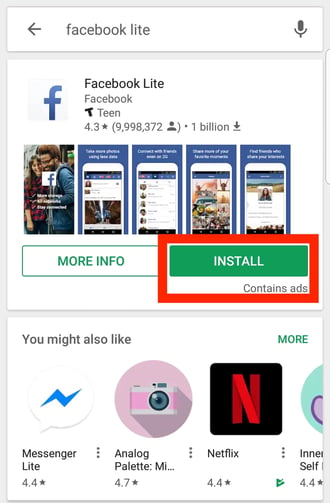 Open the app once the download is finished, and log in to your account.
If you've already logged in to the regular Facebook app on your phone, good news! You'll see a button pop up with your Facebook username; simply click that blue button.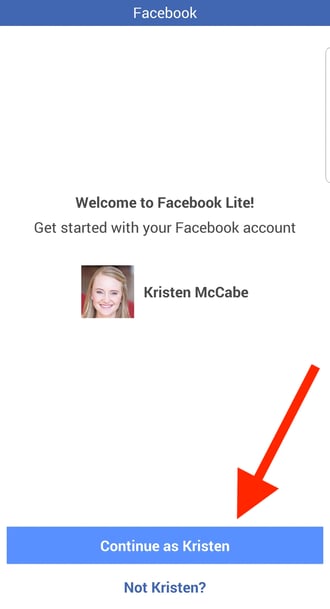 Once you've logged in to the app, you're ready to put it to use. Chat with friends, watch videos, upload pictures, and more, even when you're worried about your mobile data usage. (You know, like those times when you're uploading and watching hundreds of YouTube pet videos.)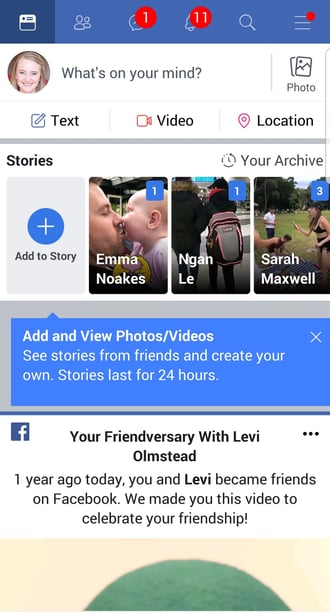 You'll be happy to find your user experience closely parallels that of the regular app.
Here, you can see that sharing a status (or post) looks almost exactly the same as creating a post on the full app. Each item on the top navigation menu (labeled in white) also provides a similar experience.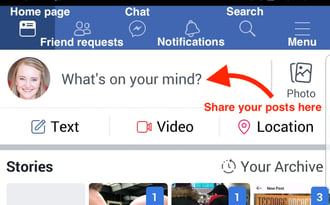 Facebook Messenger Lite for 2019
With the announcement of 1 billion downloads came an update to Messenger Lite.
Thanks to the newest updates, Android users can now experience many of the same features available on the full-fledged version of Facebook Messenger.
If you don't already have the full Facebook Messenger app on your phone, download the Messenger Lite app.
Once you've downloaded either version, you can easily access Messenger Lite through the Facebook Lite app by clicking on the chat icon: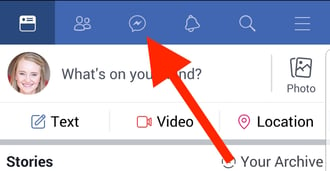 Then, go ahead and chat with friends while enjoying these upgraded features!
Messenger Lite Updates
There are three major December 2018 updates to Messenger Lite, all guaranteed to make you enjoy this app much more than the previous version.
1. Animated GIFs
In the past you could receive GIFs on Messenger Lite, but they were not animated. (And really, if it's not animated, why bother posting a GIF on Facebook at all?)
Facebook Lite can now send and receive animated GIFs by using a third-party keyboard, such as the Google keyboard.
2. Customize Messenger Lite Conversations
If you've used Facebook Messenger, you may be familiar with updating your chat settings to custom colors beyond the standard Facebook blue.
You now have the same opportunity in Messenger Lite. In both Messenger Lite and the full app, you can change the text color, chat emoji, or chat name.
Everyone involved in the conversation will see the updates you've made.


To change the chat color, emoji, or name, go to the relevant chat. Then, in the upper-right corner, tap the info button.


On the next screen that appears, you'll see information for the individual or group you are chatting with.
As notated in the red box, here you can change the color, chat emoji, or give someone a nickname.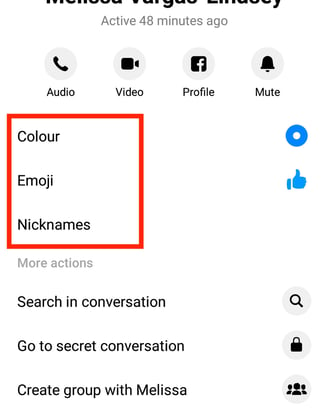 Clicking the "Color" button will bring up the following potential chat shades set by Facebook: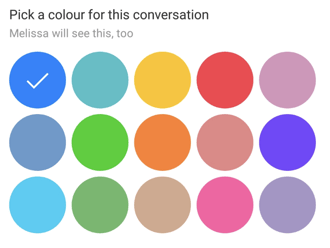 3. Share files, pictures, video, and audio
One of the most common uses of Facebook messenger is sharing pictures and other forms of content, both audio and visual. Now, be it pictures, videos, or other forms of content, such as audio files, you can share your files through Messenger Lite.
To do so, open your desired chat. Then, click on the + symbol in the lower left corner.


From there, give the app permission to access your files. Then, choose the folder (such as "images" from your phone's gallery) with the file you want to share. Find and tap on your desired image, and hit send.
Additional Messenger Lite Updates: Video calling
The ability to video call through Facebook Lite was announced earlier in March 2018. This is such a major capability, it's worth mentioning again a few months later.
According to the official Facebook newsroom, video calling was added because "having lower bandwidth or an older Android phone shouldn't mean you can't chat face-to-face live with the people you care about most."
To video chat on Messenger Lite, open a conversation with the person you'd like to call. Then, in the upper-right corner, click on the video icon.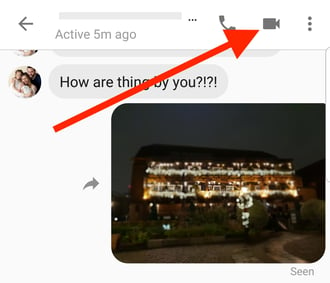 The other person's app, be it Facebook Messenger or Messenger Lite, will then begin ringing. (Fingers crossed the person is there and answers!)
---
How do updates to Facebook affect you?
Facebook is always updating the platform to improve customer satisfaction. Are you a fan of the changes? How have they affected your social media marketing? Share your insights and expertise with others working to stay up-to-date on this ever-changing platform.