Facebook is getting into the banking business?!
Silicon Valley and Wall Street unite! These two industries typically stay in their own lanes, until now.
First the Apple Card, now this… Yesterday, June 18, 2019, Facebook announced its plans to launch Libra – "a simple global currency and financial infrastructure that empowers billions of people." In short, Facebook's lofty project will attempt to bring cryptocurrency to the masses.
What is Facebook's Libra cryptocurrency?
Libra is a global currency designed for the digital world. Expected to launch in 2020, the new cryptocurrency is powered by blockchain technology. The long-awaited project sets out to allow users to shop with and send the currency via Facebook-owned apps, such as Messenger, WhatsApp, and Instagram, as well as other potential merchants like Uber, Spotify, and Mastercard.
Here are a few quick reasons why Facebook feels that Libra is the future.

Of 7 billion people in the world, 1.7 billion are unbanked.
A typical cross-border payment takes 3-5 business days.
On average, it costs 7% to send money internationally.
85% of global transactions use cash.
U.S. retail businesses lose about $40 billion annually due to the theft of cash.
The unbanked pay an average of $4 higher fees per month for cash access.
At the outset, the goal is to give everyone access to the financial services they need. This, in turn, would have a big impact on the global economy.
Adding $3.7 trillion to developing economies would create 95 million jobs.
Improve people's income earning potential by 20%.
Reduce extreme poverty by 22%.
But what does that mean for the future of money? Or better yet, the economy as a whole? In order to look forward, let's take a step back.
What is a cryptocurrency?
A cryptocurrency is a digital currency. Cryptocurrencies, such as bitcoin and Ethereum, typically use a blockchain to regulate and verify the transfer of funds.
Cryptocurrencies aren't new – Bitcoin launched in 2009, way before its peak popularity in 2017. According to Coinbase's pricing index, if you were one of its early champions, a $100 investment before its public debut would have been worth over $6.5 million at its all-time high price. However, cryptocurrency is a highly volatile rollercoaster. That same $100 investment today would be worth roughly $3.1 million today (which is actually up 140% since the start of the year).
Right around the same time that Bitcoin had its big boom, there was a lot of buzz around cryptocurrency and what it meant for the economy. Since then, the concept has fallen off the radars of most everyday consumers. It will be interesting to see what Facebook's new venture means for the crypto-space in general.
How does Libra work?
Facebook projects that consumers will be able to make purchases and transfer funds as early as 2020. The goal is to make Libra available to everyone – that is, those with a smartphone.
Moving money around the world should be as easy and cheap as sending a text message. No matter where you live, what you do, or how much you earn. - Facebook
The Libra infrastructure is mobile and stable, plus transactions will be fast and secure.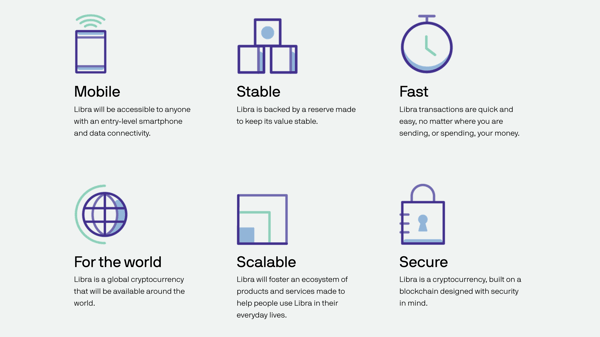 How to buy Libra
Facebook has not yet released exactly how consumers will buy Libra. However, it is believed that the cryptocurrency will be available through Messenger and WhatsApp.
A Libra is one unit of the Libra cryptocurrency, represented by this symbol: ≋. The value of Libra should, for the most part, remain stable. When a user cashes in a dollar, the money goes into the Libra Reserve, the equivalent in Libra is minted, and given in exchange. When someone cashes out, the Libra they return is then destroyed. That means that 100% of Libra everywhere is always circulating in the global economy – maintaining its value.
The Libra Association
It's important to note that Facebook won't have total control over the new offering. Instead, it will be governed by an independent organization comprised of up to 100 representatives from other companies and nonprofits.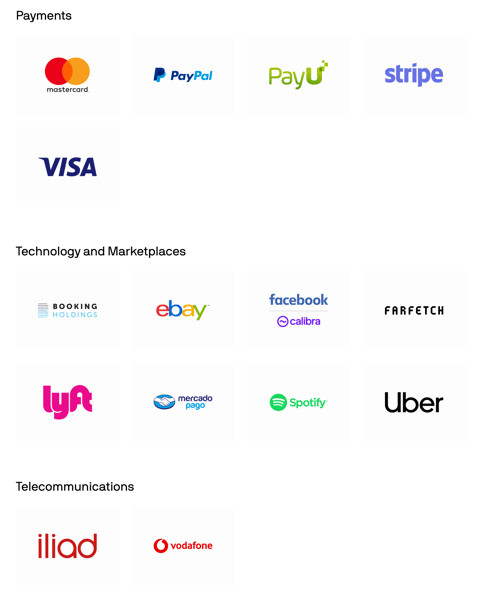 The Libra blockchain isn't truly decentralized – other popular blockchains such as the bitcoin blockchain or the Ethereum blockchain are open. This just means that the founding members of the Libra association will have exclusive access to the ledger of transactions.
TIP: Read more about how blockchain security works, plus the technology's potential business implications.
Facebook does plan to make Libra "truly open" for its users and other merchants, most likely through a public-facing application programming interface (API). Baby steps…
To ensure that Libra is truly open and always operates in the best interest of its users, our ambition is for the Libra network to become permissionless. The challenge is that as of today we do not believe that there is a proven solution that can deliver the scale, stability, and security needed to support billions of people and transactions across the globe through a permissionless network. One of the association's directives will be to work with the community to research and implement this transition, which will begin within five years of the public launch of the Libra Blockchain and ecosystem. - Facebook
Bitcoin and Ethereum weren't properly built to scale so quickly, which is why their prices are susceptible to the massive ups and downs that we've seen in the past few years. Facebook is trying to change that, engineering Libra to be more similar to PayPal. That's where its Calibra wallet comes in.
What is Calibra?
Calibra is Facebook's digital wallet that will allow people to use the Libra cryptocurrency. With its targeting launch in 2020, Calibra will be accessible through Messenger and WhatsApp, as well as a standalone app.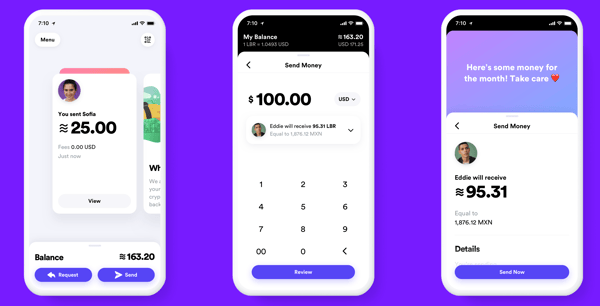 There are other cryptocurrency wallets available to securely store and manage blockchain assets and various cryptocurrencies. With this technology, users can spend, receive, and trade digital currency. Some of these wallets can only support a single cryptocurrency.
New kid on the block
As the launch date gets closer, more details will start to unfold about how the new Libra cryptocurrency will work, and how we will work it into our daily lives.
For now, learn more about cryptocurrency mining and the tools you'll need to start creating new cryptocurrency.