They say you can't judge a (Face)book by its cover (photo).
While that sentiment may hold true for literature, it likely won't for your Facebook business page. That's right; potential customers are judging your brand based on the picture you have at the top of your profile.
Why wouldn't they? Your cover photo sits right at the top of the page, is significantly larger than your profile, and, did we mention, it's at the top of your page?
You get it.
Your Facebook cover photo, often referred to as your banner image, is the most eye-catching feature on your organization's Facebook page. In fact, it covers nearly a quarter of the screen! When executed well, it can represent your brand, draw in your viewer, and compel them to explore your site more. For those reasons, it's essential that you create and upload your cover photo with these best practices in mind.
Facebook cover photo size
Desktop: 820 pixels wide by 312 pixels tall.
Mobile: 640 pixels wide by 312 pixels tall.
For both: 820 pixels wide by 462 pixels tall.
The minimum size is 400 pixels tall by 150 pixels wide.
Facebook cover photo size: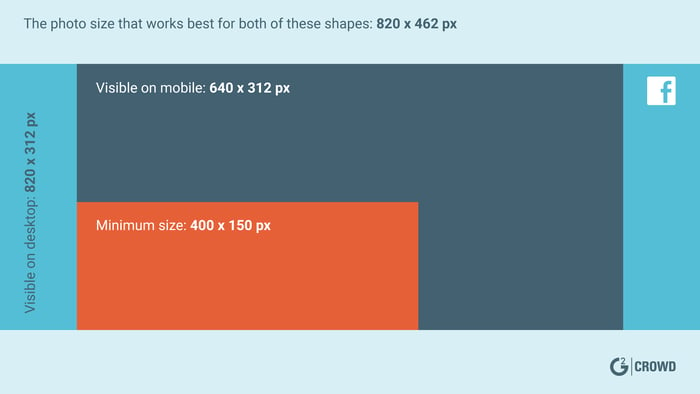 Understanding Facebook cover photo size
What's there to understand, you ask?
Your Facebook cover photo size is more than just the length and width of your image. It's the defining factor in whether your audiences will continue to engage with your Facebook page or head somewhere else.
This is because, depending on what platform your audience views your Facebook profile, they'll see the image differently.
When viewed from a desktop computer, your Facebook cover photo displays at 820 pixels wide by 312 pixels tall. When viewed from a mobile device, it will display at 630 pixels wide by 312 pixels tall.
Let me stress that these are two different shapes. When viewed on a desktop, the image appears much wider – think the shape of a billboard you'd see while driving on the highway. On the other hand, the mobile display of your image will not cut so much off the top and bottom of the picture.
When selecting an image, be sure you choose a picture that will be well-represented on both desktop and mobile. The photo size that works well for both shapes is 820 pixels wide by 462 pixels tall.
If you don't have an image that fits the exact size parameters, don't worry! We have a hack for you. Facebook features a "reposition" tool that will let you upload a photo taller than the suggested 462 pixels and move it up or down, depending on what you would like featured. This can be a helpful hint if you have an image you're set on that doesn't fit the size restrictions.
Additionally, it's interesting to note that Facebook now allows its cover photos to take on a whole immersive experience - Facebook 360 photos, which are a sort of panoramic photo option. However, only personal accounts - not business pages - can take advantage of this.
Facebook cover photo size on Desktop:

Facebook cover photo size on mobile:
If you opt to include a cover photo with text on it, this size difference is especially important to consider. You'll need to position your text on the image so that it doesn't get cut off when you switch devices.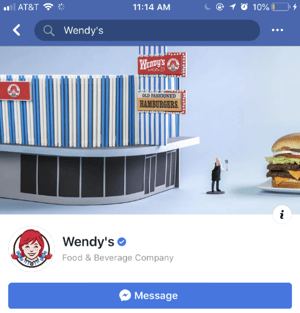 Now that you have an understanding of the basics, we can dive into what really matters – how to make sure your cover photo helps set your brand apart from your competitors.
Best practices for Facebook cover photos
While understanding the correct size for your Facebook cover photo is important, it's not the end-all-be-all. What really matters is the content. Does it draw the audience in? Does it encourage a specific action?
The content is key. That's why we've compiled these nine best practices to keep in mind when you're selecting your Facebook cover photo.
1. Test out a Facebook cover video
In a recent innovation, Facebook offered businesses the ability to upload a cover video in place of a cover photo. This is not only an exciting opportunity, but an especially good option for brands and marketers that may be more video-inclined.
You can upload a video that fits Facebook's size parameters by saving the video file at 820 pixels wide by 312 pixels tall to your desktop. Then, you can upload it in the same way you would add a new cover photo to your page.
However, you don't want to go crazy. Whether you choose a video or a photo, keep in mind the best practices below. If you do select a video, you'll want to choose one that is relatively simple. Consider an option that shares more about your business and helps you tell a longer story, like a culture video featuring your employees or a film that explains your offering. Facebook will support cover videos that are between 20-to-90 seconds long.
While you may be inclined to use up that entire time, remember this: the longer a viewer is watching your video, the less time they're scrolling through the other posts and content that fills your page. Remember that our attention spans are fleeting. If your cover video is more than 60 seconds long, somebody may not finish viewing it before they move on to another task.
2. Represent your business
Remember when we said you couldn't judge a (Face)book by its cover (photo)? That's not exactly true when it comes to social media. I'd be willing to bet that your cover photo is the first thing grabbing your audience's attention when they get to your page.
For that reason, you should be sure that the photo you choose embodies your brand. Think of it this way – if somebody lands on your Facebook page and doesn't immediately know what organization it represents, you're doing it wrong.
Consider using a team picture, your most recent advertisement, or even a video that takes a deeper dive into your company's unique culture, a recent product launch, an award you've won, and more!
Related: Want to tag team members in your Facebook cover photo? Learn how to tag someone someone on Facebook!
If you're a smaller business without any of the above, you may consider using a free stock photo that relates to your business model. If you do go this direction, consider finding a stock image that doesn't come with restrictions on whether or not you can apply any edits. Then, add your company name, logo, or slogan. The thing about free stock photos is that they're, well, free, and that means anybody can use them. Increase the chances that your page viewers don't see a repeat by customizing the image to fit your business.
TIP: Stock photos are a great resource but may not always be appropriate for representing your brand. Check out this list of the weirdest stock photos on the web so you know what not to do.
3. Try to stay visual
Okay – this is a big one. It is a cover photo, remember?
Facebook used to have a rule that said only 20 percent of your cover photo could be made up of text. This was to keep users from getting overly promotional on their pictures and ensure that Facebook maintained its vital functionality as a social network.
While Facebook has since removed that rule, we have to tell you to tread cautiously. Using some text on your cover photo can be a significant enhancement, but you still don't want it text heavy. In almost every situation, visuals are both more informative and engaging.
If you do opt to use some text on your photo, don't hit publish before you double check the preview on both a mobile device and a desktop. Because the cover photo displays differently on desktop and mobile, it's essential to ensure that your viewers can still read the text clearly, no matter the method they use to visit your page.
4. Abide by Facebook's cover photo guidelines
This just about goes without saying, but we can't write a guide to Facebook cover photos without it.
When uploading an image, be sure that it abides by Facebook's cover photo guidelines. Remember that your cover photo or video is public. That's right – it can be viewed by anybody, even if they stumble across your business page by accident! The last thing you want to do is have your page get reported because you didn't keep Facebook's guidelines in mind.
Your Facebook cover photo can't be deceptive, misleading, or infringe on a copyright. If you create your own photo, you should be in the clear for that last one. However, if you are opting to use a stock image, read up on the copyrights before you go live.
While you should read all of Facebook's guidelines before beginning your Facebook marketing strategy, definitely check out the cover photo-specific guidelines here.
5. Consider mobile users
Did you know that more than 70 percent of Facebook's user base accesses the social network from their mobile devices?
That's right! We can no longer disregard mobile users. If you do, you're missing out on a critical opportunity. Remember that on mobile, a much larger portion of your cover photo is blocked out. This is because both your profile picture and your page name are on top of the cover photo, as opposed to appearing next to it like on a desktop.
When selecting an image, be sure that it appears properly on both mobile and desktop versions of your profile. Your mobile users will thank you.
6. Facebook cover photo size matters
If you want your cover photo to deliver intended results, it should be in line with the size guidelines we mentioned earlier. As a reminder, that's 820 pixels wide by 312 pixels tall on a desktop, and 640 pixels wide by 312 pixels tall on mobile.
This may seem like a minuscule detail, but designing and creating a unique image, only to have it warp or stretch when uploaded because it's not the right size, is a massive waste of time and resources. When you don't optimize your Facebook cover photo for the unique size guidelines and upload it anyway, it will probably negatively affect how it looks. If the photo you choose to use is too small, it will stretch to fit, making it blurry. On the other hand, if it's too large, it will crop it to fit. This may work, but it also may mean your viewers are missing out on a valuable piece of the picture (literally).
When you're designing a unique cover photo, you should keep the dimensions in the back of your mind from start-to-finish. This way, you'll end up with a Facebook-specific image that draws your audience in naturally.
7. Ensure your cover photo matches your brand guidelines
I'd be willing to bet your brand has a specific set of colors, fonts, images, and general features that are unique to its style guidelines. Most brands do! These guidelines ensure that the content produced is consistent across the board, no matter which department or professional it may come from.
Your social media profiles are an extension of your brand. While the profiles may not be a part of your organization's website, it's still essential that the content they feature abides by your brand's guidelines. That means your cover photo should feature the same font and color scheme as the rest of your organization's collateral.
Not only does this connect your Facebook page back to your organization, but it also increases brand recognition and draws in your current and loyal customers.
8. Right-align the objects in your cover photo
This sounds nit-picky, but I promise, it's well worth it!
By right aligning the focal point of your cover photo, whether it's a person, text, your product, or more, you're making your Facebook profile more balanced. Because the profile picture is on the left, a right-aligned cover photo is easier to consume for viewers.
Additionally, by right-aligning your cover photo, you can draw extra attention to the call-to-action (CTA) button that sits lower-right to the cover photo. When the viewer's eye is naturally drawn in that direction, they may be more likely to interact with the CTA and complete a certain action.
9. Change your cover photo based on different promotions
Your cover photo is probably the first thing visitors see when they land on your brand's Facebook page. That means it offers an excellent opportunity to show off your different brand campaigns or advertising initiatives.
If there's a massive sale coming up or you're launching a new version of your most popular product, consider designing a unique image to set as your cover photo. You can also change your cover photo to represent different times of the year (back to school, summertime, etc.) or fit in with various holidays.
Not only will this make your cover photo more relevant to viewers, but it will ensure your cover photo stays fresh, as it will change often. Consider testing our various cover photos and see if they lead to an increase in followers or engagement. You can also use the button that sits below your cover photo to test out various CTAs and analyze the results.
Facebook cover photo mistakes to avoid
Of course, we can't tell you Facebook cover photo best practices if we don't include some tips on what not to do. In this section, we'll highlight some common mistakes marketers make when selecting and publishing their Facebook cover photos. Lucky for you, these are easily avoidable!
Too much text
Just because Facebook removed the restriction on how much text you can include on your picture doesn't mean you should go nuts. When you have an exciting new promotion you're showing off in your cover photo, it's natural to want to include every single detail. Try to refrain from doing so. Too much text can be distracting. Your cover photo is just that – a photo. Save the compelling text for where it matters: your Facebook updates and statuses.
Not branding your photo
Your cover photo takes up nearly a quarter of the space on your Facebook profile. That means when users come to your company's page, they should immediately be able to identify your brand based on your banner image alone.
Subtle branding will make a big difference. Even if your image doesn't explicitly say your brand's name, using recognizable colors or patterns can be a small feature that goes a long way with brand affinity.
Not using your logo wisely
Branding can make a big difference. That said, using your logo for both your profile picture and your cover photo is going way overboard. And, because your profile picture should always be your logo, you'll have to explore other options when it comes to your banner image.
If you want to have a small logo in the corner of your cover photo, go for it. Your logo simply shouldn't be the only part of your cover photo.
Now that you have a good understanding of what to do and what not to do let's take a look at some organizations that excel when it comes to selecting an eye-catching Facebook cover photo.
Information Privacy
Remember that if you ever feel as though you or your company's information is being compromised, the best course of action is to change your Facebook password.
Facebook cover photo examples
When it comes to Facebook cover photos, there are some social media marketing professionals that really just get it. The following brands feature stellar Facebook cover photos that draw you in and make you want to learn more.
LinkedIn
As our first example, we'll take a look at LinkedIn, a social networking platform for professionals. There are a few stand out aspects of its cover photo. The first of which is that the image subtly uses its logo in a way that flows with the rest of the picture. Additionally, the text, "in it to do what I love," appeals to the viewers' emotions.
However, my favorite part of this image is LinkedIn's clever placement of the main subject: the man in the hat. When you look at him, your eyes naturally follow his legs downward – right to the button that encourages viewers to use the LinkedIn app. If that isn't a well-done call-to-action, then I don't know what is.

Netflix
The movie streaming service opted to use a cover video as its Facebook banner. The flick is a teaser for the most recent season of its original show, "Orange is the New Black," which just recently premiered. It's obvious that the video was made specifically for Netflix's Facebook cover photo, as it features the characters of the show sitting on a bus (that happens to be the perfect size). Not only is this an excellent example of a cover video, but it shows how you can adjust your banner to feature a timely campaign or marketing initiative. I've included a screen capture below, but to see it live, check out Netflix's official Facebook page here.

Target
Target is the perfect example of a brand tying in its well-known colors and patterns to create a unique, and totally recognizable, cover photo. If I showed you this picture and didn't tell you what brand it came from, would you still be able to guess correctly? I bet you would. That is exactly what we want.

Your Facebook cover photo is an extension of your brand
Now that you have an understanding of your Facebook cover photo size and best practices, it's time to take what you've learned and put it into action! Remember that your Facebook cover photo is an extension of your brand. It should be eye-catching, colorful, and represent your organization.