What are the benefits of event marketing? Well, that's a little bit like asking what you want for dessert!
It varies from person to person. You might like super-sweet chocolate cake while your best friend prefers a citrus lemon pie. What you want out of your dessert and your event can both vary. But whatever you seek, the result should be rewarding!
Of the many potential benefits offered by events, some of the main reasons marketers (and the executives who dictate their budgets!) favor this strategy are:
After learning the basics of event marketing, let's start with the first benefit, sales. Many consider this to be the most important, as increasing ROI is the ultimate goal of any event marketing strategy!
1. Sales and Event Marketing
Given the purpose of marketing is to sell a product or service, it makes sense that events help do just that! Whether your company is B2B or B2C, being there in person gives you the opportunity to establish human relationships.
This definitely impacts conversions rates (the number of sales), especially since customers can ask you their questions right then and there. By ensuring you staff events with knowledgeable employees, you can give yourself the best chance of closing more deals.
Measuring the sales at your event is an easy way to directly track the ROI of your event marketing efforts.
TIP: Build your brand and maximize your event benefits with event marketing software.
2. Growing Your Database and Leads
Even if a prospect doesn't immediately convert at an event, there is the opportunity to add them to your database. They will become a lead, who you can nurture through the sales process. This is especially true for B2B marketers. (Learn more about leads in my Ultimate Guide to B2B Marketing!)
A study by the Exhibit and Event Marketers Association and the CMO Council found that trade shows and events are used for that exact purpose: 64% of respondents used events for new prospects and business opportunities, and 63% used them for lead sourcing.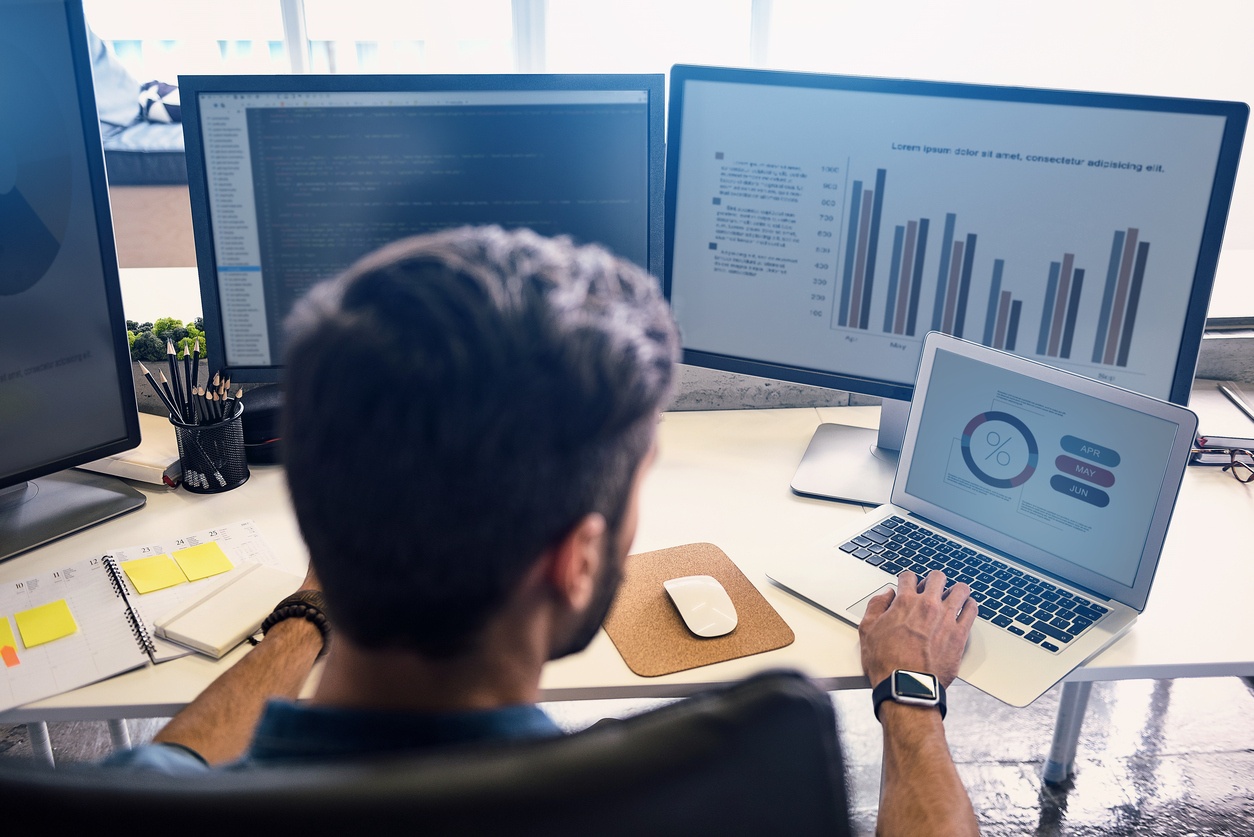 There are a number of ways you may get someone's email address. You could be sponsoring an event, and someone visits your trade-show booth or enters a competition you are running. If you are hosting the event, you will get people's email addresses when they register.
You can use those email addresses to build relationships which will lead to future sales, whether your company is B2B or B2C. Just be sure you follow any regulations when you collect people's data. Regulations may require the attendee's consent before adding them to your email list.
Tracking the number of leads and new contacts in your database is another number which is easy to measure in relation to event marketing. Go into your event with a specific goal of how many leads or new contacts you hope to attract at the event.
3. Increasing Brand Awareness Through Events
Events are a great way to get customers and prospects to discover you. By hosting an activity (be it educational or just plain fun), you are giving people the opportunity to interact with your brand. For a B2C company selling soft drinks, you may sponsor a summer festival and give out free samples. Consumers discover your brand and how much they love your product!
Even though they don't sell food, insurance company Humana sponsored Taste of Chicago, the largest food festival in the country. Its booth offered giveaways (If only I could remember where I put that green toothbrush…), a chance to interact with local celebrities, and low-calorie options to those who didn't want Chicago hot dogs and deep dish pizza. (Which is probably not many people in Chicago, but I'm sure any vegans in attendance appreciated Humana!)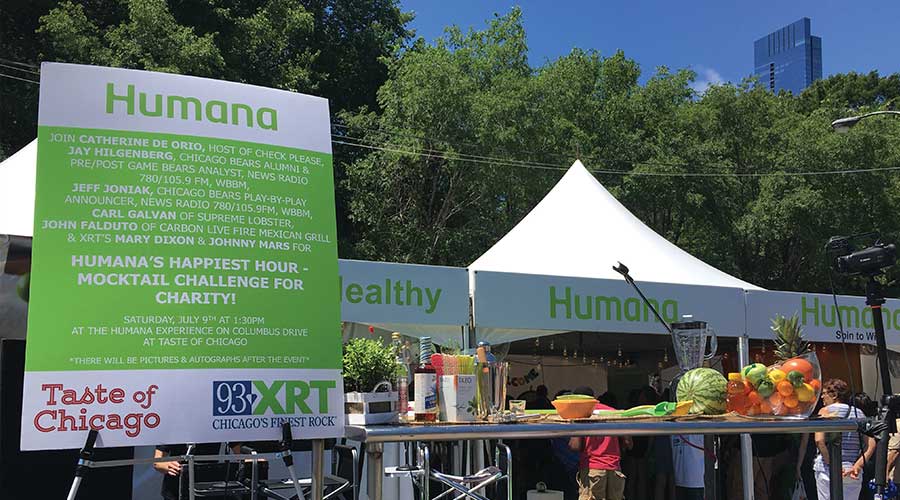 The company used the event to get people interacting with its brand. Not many individuals are excited to talk insurance. But getting freebies and seeing celebrities got people coming to them.
In addition, this shows how events can get media coverage. Humana's healthy food options were covered by the Chicago media, and won the company an "A for Effort" distinction in the Chicago Tribune's "Golden Spork" awards for their nutritious offerings.
A B2B company may also increase brand awareness by organizing a conference with influential speakers. These "influencers" tell their social media followers about speaking engagements, and, as a result, your brand! In addition, these individuals often bring in media coverage. Who doesn't love free publicity?!
TIP: Maximize brand awareness before, during, and after the event by integrating event promotion with social media management software.
Events can also grow awareness through attendees' social media profiles. Say a guest named Sarah posts a picture of your event to her Twitter profile. In her post, she mentions your company and tags you. Your brand has now been exposed to an entirely new audience: her network. Now imagine if 20, 50, or more attendees post about your event. It's easy to see how the exposure grows!
Measuring the press coverage surrounding your event is a great way to quantify your event's success. Don't forget to look at social media interaction as well - how many times was your event or brand mentioned? Did you have an event hashtag, and if so how often was it used? Look for anything you can find to measure, and then do so!
4. Building Brand Affinity.
(AKA - Happy Feelings Related to Your Company!)
If you host an event that exceeds attendee expectations, people will remember it. Creating an experience that people remember will also make them remember your brand.
In 2017 I attended conferences hosted by MarketingProfs and the Content Marketing Institute. I loved both of them, and will be sharing examples from both throughout this post. I not only had positive interactions with both brands; I also have happy memories.
Memories aren't created from reading an eBook or watching a webinar! The experiences make me eager to interact with both brands more – I want to relive the excitement of their events.
I have also developed trust in both companies. The high-quality speakers, valuable knowledge, and inspiration all give credibility to the communications they send me.
Brand affinity can also increase when company sponsor events for charities. People are then able to associate the brand with a cause they care about. Maybe you care about poverty in your local community, the 663 million people in need of clean drinking water worldwide, mental health, Alzheimer's disease, or any number of worthy causes.
When a company cares about the same thing you do, it's a lot easier to care about a company. Especially if you are in an industry where your competitors have similar products and pricing, and have market presence. Events can provide a human element that consumers (you know, the actual human beings we market to) find relatable.
Brand affinity relates to loyalty – we are much more likely to remain a customer with brands that we like and trust!
While brand affinity can be hard to measure in relation to your specific events, there have been plenty of studies showing its benefits.
Customer Thermometer polled 1,000 Americans regarding brand loyalty emotions, and found that the top emotions people feel when are were connected to a brand are interest in the brand, trust, and optimism.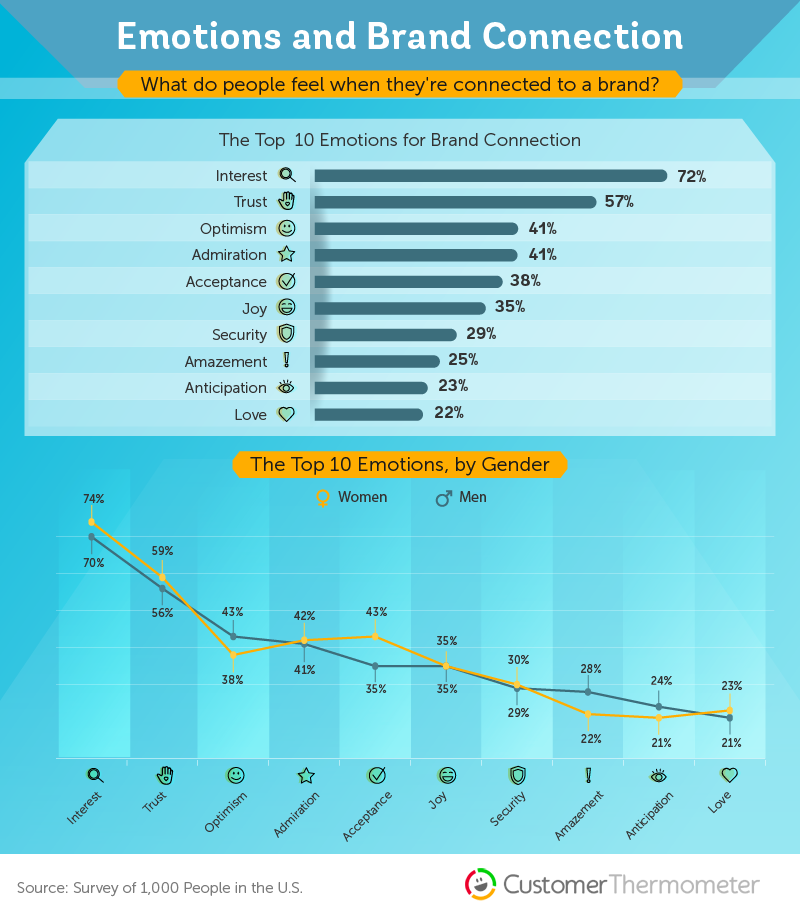 Image Source: Customer Thermometer
It is much easier to sell your product, (either at your event or following it) when prospects are interested and trust you!
Stay ahead of your competition with daily marketing insights from G2.
Don't worry, we will only send you the good stuff.
5. Establishing and Growing Relationships
Given the fact that effective event marketing relies heavily on face-to-face communication, it makes sense that this is where relationships are built.
Seth Godin, author, marketer, and entrepreneur, said it best: "People do not buy goods and services. They buy relations, stories, and magic."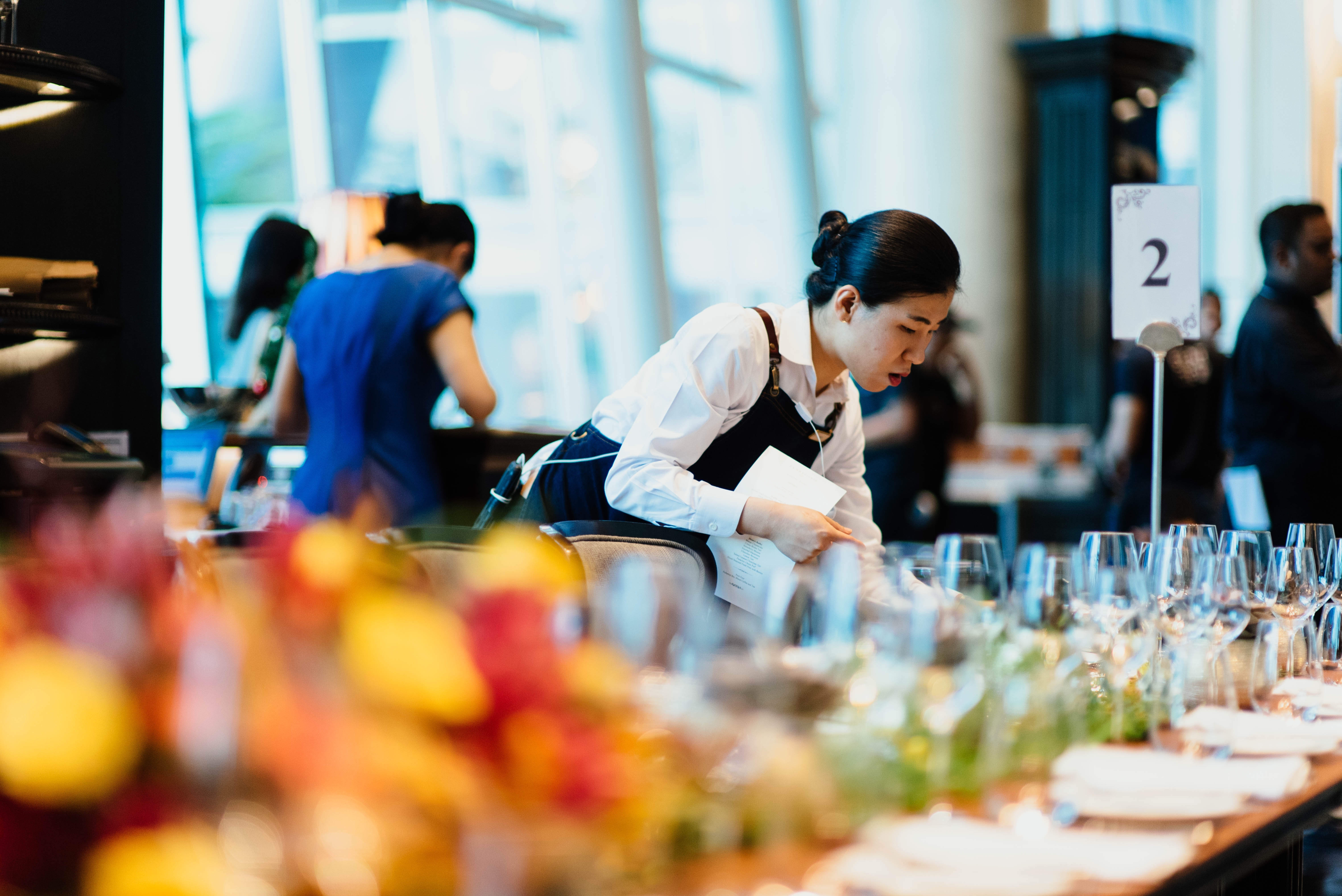 Events are the place to build those relations, tell your stories, and create that magic.
Relationship building is especially helpful for B2B marketers supporting a sales team. An interpersonal connection can be the first step to both renewals and new customers. After all, aren't you more likely to take a call from someone you have: 1) Actually met in person, and 2) Enjoyed speaking with?
Some events are exclusive to a company's decision-makers at a major prospect company. Alternatively, invitees could be current customers who you want to show your appreciation to or renew their contracts. Holding an event for your top clients shows that you both recognize and value their business. And happy customers mean returning customers, which will increase retention rates.
6. Thought Leadership and Credibility through Events
By hosting an educational event, you establish that you not only know what you are doing, you know so much you can teach others.
Any time you offer a class, or other career development, you are showing you have something to teach others. Congratulations – you have established your place as a thought leader!
Many events will feature a speaker you have contracted, rather than an executive at your own company. In this case, you are still displaying your thought leadership.

The person speaking is an influencer; they are leading industry news and trends. Aligning yourself shows that you are also a leader – you know what's happening in your industry, and you want to share that value with customers and prospects.
Working with an influencer is a positive reflection on you and your brand. After all, your business was smart enough to get that speaker!
In closing…

The benefits of event marketing are far-reaching. They provide you with the opportunity to grow your company's awareness, sales and positioning through valuable face-to-face relationships. In addition, you can grow your presence digitally through social media and press coverage.
Understanding the benefits of event marketing is essential to choosing your goal, and which type of event you would like to host.
Now it's time for Chapter Three: The Top Ten Types of Events utilized in event marketing.
Otherwise, feel free to jump ahead to Chapter Four, How to Start Planning Your Event. This chapter looks at the first steps in How to Plan an Event, and kicks off with a deeper dive into event goals. Then, in Chapter Five, we'll dive into Event Promotion.
Or, check out my other articles relating to event marketing strategy and execution: