The digital age is littered with malicious data breaches. How exactly are people working towards preventing future attacks? The answer is ethical hacking.
Ethical hacking is a popular career choice for many people that are either thinking about a cybersecurity job for the first time, looking for a career change, or are already in a professional IT setting. Consequently, businesses are employing more and more ethical hackers and there is a rising trend for people that want professional, ethical hacking training.
If you want to start or build your career in ethical hacking, here is everything that you need to know that will help you along this path.
What is ethical hacking?
Ethical hacking is the practice of locating vulnerabilities and weaknesses in information systems and computers by duplicating the actions and intent of malicious hackers who seek to bypass security and search for gaps in systems that can be exploited.
Understanding ethical hacking
The drive behind ethical hacking is to improve security systems and to eliminate or mitigate potential attacks. Some of the critical rules that must be obeyed for hacking to be deemed as ethical include:
Written or express permission to examine a network with the intent of identifying potential risk
Respect for the organization or individual that is being probed
Informing the organization, hardware manufacturer, and software developer of any vulnerabilities or weaknesses found
Closing out any vulnerabilities or weaknesses that can be exploited by someone else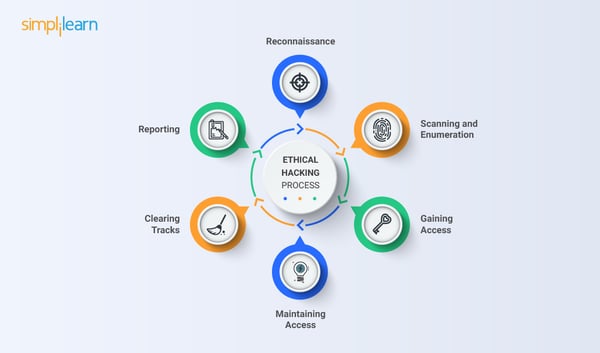 Why is Ethical Hacking needed?
The demand for ethical hacking is higher than ever before and is predicted to keep rising for the foreseeable future due to the following reasons:
Improving the sophistication of ransomware
The number of attacks and the complexity of cyber-attacks is on the rise. In 2016, businesses fell victim to ransomware attacks every 40 seconds. In 2019, this number reduced to 14 seconds. By 2021, the attacks will increase in a shorter time-span of 11 seconds according to Cybersecurity Ventures. The loss and damage caused by ransomware in 2017 were at $5 billion which was a 15X increase from 2015. In 2019, it is now at $11.5 billion, and it is predicted to increase to $20 billion by 2021.
These numbers demonstrate the dire need companies face to protect themselves from hacking and cyber-attacks. The need can be fulfilled by having access to ethical hacking talents to counter attacks, mitigate attacks, and prevent any damage from ever taking place.
Inconsistent security patching and the increased adoption of cloud computing
As companies increasingly adopt cloud computing due to its numerous benefits, so does the potential for security threats also increase. The technology is growing with a rapid pace of innovation to the extent that current security experts cannot keep pace with the innovation. As a result, security patching is inconsistent at best, and at worst, never done at all. The massive and consistent change means that the number of ways to exploit cloud computing services is growing. Ethical hacking, so far, is the best response to these threats since it allows experts with the same mindset as malicious hackers to protect organizations and individuals.
Preparedness for attacks
Even with the best security compliance, companies still face consistent attacks. In fact, according to Accenture, companies should not rely on compliance alone and should additionally enhance their security profile by undertaking extreme pressure testing to identify weaknesses and vulnerabilities in their systems. The best bet for organizations today is to rely on both security compliance measures as well as a strong cybersecurity foundation built on a team of ethical hackers to reduce the impact of cybercrime. Additionally, investing in breakthrough innovations, including artificial intelligence and analytics, to enhance the scale and the effectiveness of cybersecurity, is crucial.'
Related: Expand your knowledge, and your vocabulary, with our list of 70+ must-know cyber security terms and their definitions!
Roles and responsibilities of an Ethical Hacker
Some of the different roles and responsibilities of an ethical hacker according to the various ethical hacking personas are as follows:
Defender
Responsibility
To maintain, support, and administer the security of networks, data, and systems.
Proficiencies
Threat mindset
Judgment
Collaboration
Skills and knowledge
Security architecture
Security tools administration
Infrastructure security
Security risk management
Typical roles
Security administrator
Systems security analyst
Firefighter
Responsibility
To identify, analyze, and mitigate threats to data, networks and internal systems.
Proficiencies
Threat mindset
Critical thinking
Judgment
Agility
Skills and knowledge
Infrastructure security
Security incident management
IT administration
Security tools administration
Typical roles
Security operations center manager
Cyber incident responder
Cyber-analyst
Vulnerability analyst
Security engineer
Hacker
Responsibility
To conduct specialized deception and threat detection activities.
To identify and mitigate cybersecurity risks
Proficiencies
Critical thinking
Threat mindset
Ethical impact
Creativity
Skills and knowledge
Computer forensics
Infrastructure security
Typical roles
Threat hunter
Cyber operator
Sleuth
Responsibility
Investigates cybersecurity events or crimes related to systems, networks, and digital evidence
Proficiencies
Critical thinking
Threat mindset
Ethical impact
Social awareness
Skills and knowledge
Security incident management
Computer forensics
Typical roles
Scientist
Responsibility
To perform specialized analysis of security information, cryptographic, and threat intelligence, and to improve security posture
Proficiencies
Threat mindset
Critical thinking
Quantitative
Skills and knowledge
Data science
Intelligence analysis
Cryptography
Typical roles
Cyber analytics manager
Threat intelligence analyst
Advisor
Responsibility
To advise on the concept, design, and building of secure networks and systems
Proficiencies
Communication
Critical thinking
Influence
Quantitative
Skills and knowledge
Security risk management
Policy, legal, regulatory
Business acumen
Security architecture
Typical roles
Security risk analyst
Security architect
Application security analyst
The Strategist
Responsibility
To provide cybersecurity direction, advocacy, and management.
Proficiencies
Communication
Leadership
Influence
Ethical impact
Skills and knowledge
Security architecture
Security risk management
Policy, legal, regulatory
Business acumen
Typical roles
Cyber communications analyst
Cyber policy analyst
Cyber strategy analyst
Chief information security officer
Cyber program/product manager
How to become an Ethical Hacker
There isn't a single path to becoming an ethical hacker. Several factors including personal preferences, current skill set, character traits, current job, and rank, etc. all factor in a person's own path towards becoming an ethical hacker.
However, it is recommended that certain skills be at the forefront of anyone's training towards becoming an ethical hacker or cybersecurity expert. These skills include:
Advanced malware prevention
Intrusion detection
Incident handling and response
Cloud computing/virtualization
Security information and event management (SIEM)
Application security development
Audit and compliance
Access/identity management
Firewall/IDS/IPS skills
Analytics and intelligence
Social skills
If you are in a specific industry that requires ethical hacking skills, some domain knowledge of the industry will also be quite useful. Some of the industries that commonly hire ethical hackers include:
Government (Defense and Non-defense)
Consulting/Professional Services
Banking/Finance/Insurance
Information Technology/Management
These industries constantly have to deal with sensitive information and consequently have to protect themselves by hiring ethical hackers to fend off any security threats.
Considering all of the above, a recommended path towards becoming an ethical hacker is as follows:
Understand the different hacking personas.
Zero-in on a particular industry that interests you.
Analyze the necessary requirements to become an ethical hacker in that industry
Evaluate your strengths, weaknesses, and interests and gain some programming skills
Learn the UNIX operating system as well as Windows and Mac OS.
Take a professional course and get certified
Do some personal computer lab experimentation to understand hacking in real environments
Read and consume news and information about hacking
Decide on a specific location you prefer to work and a few alternatives as well.
Network with the hacker community by sharing technical ideas and information
Salary prospects
The average salary of penetration ethical hackers varies across countries, cities, companies, roles, and years of experience. Those with credentials such as the CEH Certification or Certified Ethical Hacker qualification will tend to get better salaries than those without any certification. Furthermore, trends show that the wages are set to increase in the foreseeable future as more and more companies seek to employ or hire the services of an ethical hacker.
With that said, here is a sample of the salaries that you can expect in the United States of America.
Average CEH salary: $90K
By employer
Booz, Allen, and Hamilton: $67,470 - $101,389
U.S. Army: $32,133 - $86,327
U.S. Air Force (USAF): $49,029 - $81,490
General Dynamics Information Technology Inc: $59,045 - $104,805
Lockheed Martin Corp: $69,043 - $113,000
By city
Washington, District of Columbia: $67,000 - $126,121
New York, New York: $50,143 - $124,608
San Antonio, Texas: $51,456 - $90,999
Atlanta, Georgia: $49,550 - $110,936
San Diego, California: $76,754 - $121,694
Becoming an ethical hacker is an excellent career path for anyone that is thinking about a long-term career in cybersecurity and the IT industry. There is a lot of demand for ethical hackers and cybersecurity experts which means that employers are ready to pay handsomely any individual with the right skills and certifications. If you are thinking of such a career path, go ahead boldly because there is nothing for you to lose.
Interested in learning more about cybersecurity? Check out these cybersecurity trends of 2019!