The world has become a complex place over the past decade.
The radical interconnectivity afforded by new technology has allowed for entire new forms of business to spring into existence seemingly overnight.
Because of this, software has become a crucial element for humans to organize their lives and excel, both personally and professionally, in an environment that is more complicated and competitive than ever before.
One of the amazing parts of this "fourth industrial revolution" is that there is a software solution for nearly any issue under the sun.
What is the difference between CRM and ERP?
CRM and ERP software primarily differ based on what part of a business they focus on. CRM software is geared towards customer-facing elements like marketing or sales while ERP functions as a central data-hub for all the back-of-house operations that make the organization tick.
However, with so much choice comes an ever-present risk of selecting the wrong software. While this might seem to be a minor issue at first glance (after all, isn't the point of our current industrial age that we're able to get whatever software we need?), the time and resources required to access and optimize most of these solutions is only to be underestimated at the peril of the buyer.
CRM software is one of the most widely used solutions by businesses, providing incomparable value to organizations looking to connect with their customers in a strategic, systematic way.
No less valuable but far more niche, ERP software is also considered by many businesses to be an essential tool when it comes to managing the variety of workflows and operations that constitute modern production and professional service organizations.
Oftentimes, a growing organization will need to make the crucial decision as to what software will best suit their needs and help them remain competitive as they scale into bigger and better markets.
How does CRM work?
A customer relationship management system (CRM) is a widely-used solution for business of all sizes that need to interact with existing customers, potential leads, and new prospects. These tools are designed to enable the mutually beneficial relationships that exist at the core of good business.
CRM tools enable businesses to reach more customers with their solutions all the while helping customers to find a product or service that will meet their particular needs and affording them a personalized buying experience to boot.
Customer relationship management systems can be conceptualized as both a tool that can enable a company's sales pipeline to function at optimal efficiency as well as a method of sales and marketing in its own right. Even the most bare bones CRM tool will have numerous datasets to help the software draw conclusions about a customer based on their history with the business in order to rank the potential pipeline of new business. This will help you find places where well-spent effort from both marketing and/or sales can make the difference and close a deal.
CRM applications
While the main goal of CRM systems is fairly simple, these tools have a wide range of functions to help your organization reach their objectives. The applications that help supercharge your business can be divided into three rough categories: current customer data, lead qualification, and sales enablement.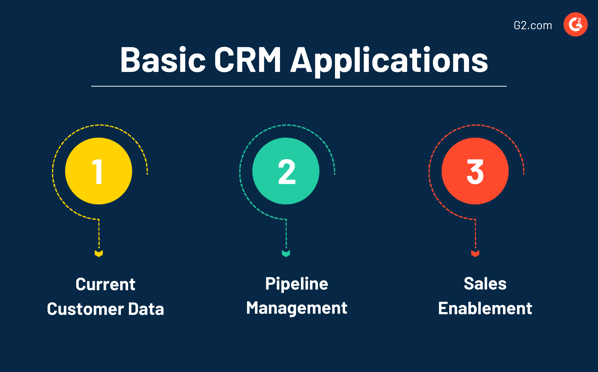 Current customer data
The most straightforward aspect of CRM applications comes in the form of collecting current customer data.
The method of current acquisition for current customers
Successful selling methods of sales reps
Length of time for each step in the sales process
Most preferred channels of communications for clients
Which goods and services have been purchases by which clients
What personal details about current clients may have influenced their purchasing decisions
This aspect of CRM software will allow you to increase retention among your clients and accounts by continuously sculpting a portrait of what elements of your product, service, or organization resonate positively and negatively with your current customers. This can help you adjust your processes accordingly.
CRMs form databases with this and other information to give you the most accurate, actionable insights to forecast your future performance.
Pipeline management
In addition to data on current clients, CRM systems offer powerful options for managing the ever-important marketing-to-sales pipeline and nurturing relationships with potential clients through their buyer journey.
CRM software doesn't automate every process in the buyer's journey (the human touch is still an essential element, after all), but it does support each of the following elements of the pipeline to some degree:
Lead qualification
Sales forecasting
Early sales proposal
Quote generation
Contract generation
Team members such as business development representatives (BDRs) can use CRMs to translate their early interactions with prospects into a full 360-degree profile to help the sales team drive smarter selling decisions. This also has the added benefit of giving sales reps immediate insight into the client's persona and history with their brand when it comes time for them to begin the process of making a deal.
Sales enablement
The third and final element of CRM systems is a touch more nebulous than the preceding two, and comes in the form of sales enablement.
The tools mentioned before all serve one driving purpose: setting up your sales team for success by over-supporting them with data, insights, and tools to help them close the most deals they can.
Just a few of these benefits include:
Increasing the ability of sales rep's to close deals through efficient processes and best practices
Utilizing proactive renewal and referral management to increase revenue
Improving relationships with prospects and existing customers through easy-to-access information allowing for superior support
Enabling sales management to to easily identify high or low performing territories or team members
Using all three of these elements of CRM allows you to paint a detailed portrait of your customers, current and future. This is a critical way to generate an understanding of them as people: their habits, traits, wants, and needs. These will come to determine how you can best create a beneficial relationship with them.
The more information and data you have about your customers, the better you will be able to create a positive buying experience and ultimately drive sales. All the information gathered on historical sales, customer interactions, and prospect leads is stored in a CRM.
These systems make incredible assets for any customer-facing department such as sales, marketing, or customer success. If an employee has even topical interactions with current and potential clients, they should have access to your company's CRM system.
How does ERP work?
ERP software, an acronym for enterprise resource planning, is another wide-reaching tool that uses data to provide powerful insights that can help galvanize transformational changes across every department of an organization. Choosing the best ERP tool for your business is a crucial step, so make sure you're making the best decision.
ERP software functions as a central data hub to help coordinate myriad workflows, best practices, and financial infrastructures that comprise the different departments of the modern corporation.
While they have been traditionally used by enterprise-level manufacturing industries, the rise of software as a service (SaaS) business models and the cloud as a method for deployment of these otherwise prohibitively expensive tools has lowered the bar for investment to the point that mid-market and small business owners are able to use them without breaking the bank.
ERP uses
While every company will ultimately have to tailor their specific uses of ERP systems to fit their particular industry and organizational needs, there are more than a few different benefits of ERP that are relevant across the board.
Regardless of your particular circumstances, ERP systems can help you:
Consolidate financial information to ensure accurate forecasting and eliminate data siloing
Track the various costs associated with doing business, from office rent to the procurement of raw materials and employee benefits and salaries. This is an excellent way to help streamline your spending and reduce bloat that could be dragging down your company's growth
Identify bottlenecks in the various workflows and business processes that make up your organization, and gain insight into how best to increase operational efficiency
Avoid errors arising from misinformation and lack of communication between departments by having a single source of truth for all internal insights
Stay compliant with laws and regulations through built-in features to help reduce time spent ensuring regulatory demands are met.
One of the best ways to conceptualize an ERP system is to think of it like the human body. The accounting and financial data acts as a 'backbone' that supports the rest of the organizational body. The lifeblood of a company, its internal data, is then disseminated from this and used to vitalize the other departments and workflows throughout the organization.
Features of ERP
The features available to users of ERP systems can vary widely depending on the specific demands of the industry in which they are situated.
For example, a food production business is going to have many different needs than a management consulting firm. Despite this, however, these two disparate organizations will still need the basic "glue" of information management provided by an ERP, which is why they will still need to seek a solution under this particular software umbrella.
These features can be broken up into two general categories: back office, which includes departments such as sales, marketing, and accounting, and operations functions like procurement and production.
Back office
ERP software has grown out of manufacturing-based businesses and is still somewhat oriented toward business operations, hence the designation of sales functionality being labeled as "back office". That said, the crucial elements of these departments have become just as fleshed out as their manufacturing and production counterparts and have become powerful, standalone tools in their own right.
Most ERP systems include a degree of functionality for the following departments:
Accounting
Sales management
Human resources
Purchasing
Analytics suites
Each of these departments have their own unique perspective on the overall business that can translate to crucial insights for the development of overall strategy.
For example, data from sales representatives can give insight into the wants and needs of current clients and prospects alike. With the interconnectivity afforded by ERP, this knowledge can be made readily available to the rest of the company and be integrated into future product plans or marketing campaigns.
Operations
While accounting functionality might be the current backbone of ERP software, the integration of operations modules is still a crucial function for building the ever-important central data hub that makes ERP systems so valuable.
Generally, tools will include modules of varying complexity for the following business processes:
Project management
Production
Inventory and warehouse management
Supply chain management
These departments might seem to be somewhat autonomous, but having them integrated with the back offices functionality and connected through the financial lifeblood of a company increases the precision with which they can be calibrated to consumer demand, market trends, and other changes as they arise.
More recently, the various modules in both operations and back office parts of ERP software have become highly customizable depending on the type of ERP system your company is interested in. Some, offered by industry titans such as Oracle, come in complete packages known as "best-of-breed ERPs" that can do a bit of everything, but may have a higher price tag attached.
Other ERP vendors, particularly smaller developers of industry-specific systems, have begun to offer ERP tools with specific parts that can be purchased individually and matched with other systems or entirely other software altogether.
Which is right for your business: ERP or CRM?
While both ERP and CRM software offer incredibly powerful, data-driven insights for many forms of business, it's crucial to take some time to consider the merits of each solution for your particular organizations and needs.
The core difference between these two software solutions is in the type of data used to generate business insights. CRM software turns external input regarding current clients and prospective customers into insights intended to directly guide the actions of sales. From broad strategy to granular decision, the knowledge afforded by CRM is inherently client-centric and looks towards the world around it for insight.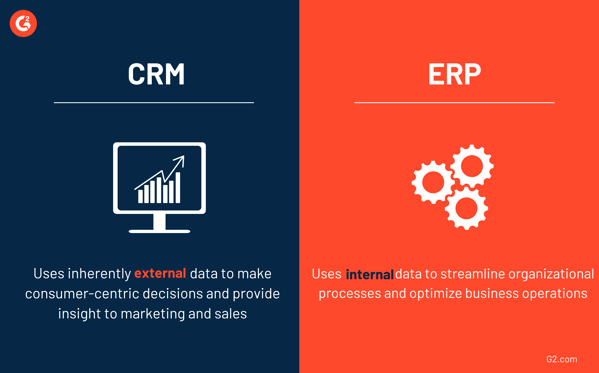 ERP software, on the other hand, uses internal data that fundamentally stems from the financial lifeblood of a company. It uses this information to streamline your company's workflow, optimize business operations, and integrate otherwise siloed departments into a single source of truth.
ERP systems can also make use of external data in much the same way that a CRM system can, but it is only a small part of the overall structure. CRM software has many more features that are tuned specifically to this type of insight and should be used over an ERP system in almost every instance if this is the sort of analysis your organization needs.
The broad benefits your company could receive are also defined by this data structure. While we've already discussed the minutiae of each software, you should be asking yourself which of the following would better serve your business:
If you need to increase your sales volume, CRM is the way to go. If you need to create best practices for business operations and optimize operations, ERP software would be more worth your time.
Despite these rules of thumb, it's sometimes necessary to take a deeper dive into what these particular solutions can bring to the table in order to help the discerning software buyer make the best decision possible.
Of course, beyond the information listed here, it's important to consider the insights of people who are using the software already. A platform like G2 uses verified reviews of real users to help build profiles of the best software on the market in order to help you make the best decision possible for your business.
Signs you need a CRM system
When it comes to making the decision to purchase a major piece of software like a CRM tool, you need to make sure it fits the needs of your business.
You might need a CRM if...
You can't retain customers. It's far more difficult and costly to gain new customers than it is to retain the loyalty of your existing base, to say nothing of the flexibility it affords you in terms of financial forecasting
Your sales baseline is low
The information on your company's goods or services is siloed and customer-facing departments such as marketing and sales don't have up-to-date data on prospective and current customers (or can't keep abreast of developments in your organization's goods or services)
Your sales process is disorganized and prevents your sales leadership from developing an effective strategy around promising regions or accounts
You're serious about entering a period of growth and need to find a way to hyper-charge your revenue
If you answered 'yes' to some of these questions, chances are you need to buy a CRM system to help scale your sales capabilities and maximize your marketing. This will enable you to transform your organization's customer experience and ultimately help drive more promising prospects down your pipeline.
Signs you need an ERP system
If the hypotheticals above don't speak to your unique problems, or they do but there's more you need to account for, it might be worth look at an ERP system if...
You're spending more than you should on business operations
Data silos are preventing your business from quickly and accurately reacting to customer demand and market trends
Your organization is having trouble managing risk or staying compliant with industry-specific regulations
You're serious about growing your business into new regions or industries
You want to save time and money by identifying the most efficient workflows and best practices across your industry and organization
With ERP, accounting is the name of the game. If you have an issue related to your business finances or need to the end to end operations of your business to achieve a more optimal performance, ERP is the best tool for the job.
Integrated CRM and ERP
At the end of the day, it's perfectly acceptable – common, in fact – to purchase both software solutions and integrate them into one powerful system. While it's not necessary to solve your business issues or optimize your financial lifeblood, integrating a CRM and ERP system can provide numerous benefits when it comes time to overhaul your company's IT infrastructure.
Like when deciding any major software purchase, the first thing you need to ask yourself if your particular organization needs to use both software at the same time:
If your company is large enough to need integration between you sales and accounting departments
If reaction to consumer needs is a necessary part of developing products and services to help make your organization's offerings more appealing to your target clients
If you are already using numerous systems to manage your business and need to reduce the bloat in your tech stack
Related: Wondering if this last hypothetical relates to you? G2 Track makes it easy to understand your tech stack and adjust accordingly to save time and money.
Luckily, the option to integrate a full CRM and ERP solution is easier than ever thanks to the developments in cloud computing and remote software deployment.
For example, it's quite common to find companies that use an industry-specific ERP to manage their unique challenges while at the same time making use of a powerful CRM system to help figure out how best to tailor their business to increase their sales pipeline and drive the overall growth of the organization.
Only the best
Finding the best software for your organization is one of the most important aspects of keeping your business up-to-date in the digital age. CRM and ERP software are both powerful tools to help drive growth and increase the overall profitability of any business.
Understanding the uses of each, and when it's appropriate to have both, can go a long way toward solving whatever problem you may be facing.
Looking for insight on how your new piece of CRM software is performing? Make sure to track the 14 most important sales KPIs to wow your company leadership!