So you want to be the next big thing?

Since getting noticed is half the battle, create the appropriate PR materials and showcase your talents to the music industry with an Electronic Press Kit, or EPK.

What is an Electronic Press Kit?
An Electronic Press Kit (EPK) is a resume or CV for music artists. It's designed to provide labels, agents, music supervisors, venue talent, buyers and the media with essential information to understand who you are as an artist so that you can get noticed, land a gig and/or make connections.
The most professional way to tell your story is through an EPK. Individuals in the music industry review hundreds of EPKs a day, so making one that stands out and tells people why they should care about your music is crucial to your success.
Good news is we have all the tools and insights to help you take your first steps toward getting discovered.
Feel free to skip ahead to specific topics within Electronic Press Kits (EPK):
Why do you need an EPK?
Make your first impression a lasting one with an EPK.
Gathering all of your details as an artist and putting them in one place for music professionals to review makes their job easier, and your chances of making a connection greater. Unless you're trying to recreate a "Where's Waldo?" hunt for your information, crafting the perfect EPK will help you prove that you were born to be famous.
What to include in your Electronic Press Kit
Now before jumping into creating your EPK, collect all aspects of your brand. Yes, I said brand. It may feel strange to consider yourself, or your bandmates, part of a brand, but the goal here is to deliver a whole package deal, just like a media kit. And crafting a cohesive brand look and feel is what makes an EPK successful.
Music
Biography
Branding
Music videos
Embedded links
Press and testimonials
Tour dates
Contact details
I understand that this list may seem overwhelming, but once you tell your story the possibility of achieving your personal goals will skyrocket. Plus, we have more details below to help!
Creating your EPK
You know what an EPK is, why you need one and what the components of one are, but now comes the hardest part, actually putting everything together. Once you get going, it will get easier, and luckily there are several websites that offer tools to help you piece together the details of who you are as an artist.
EPK Template
If you're more of a visual learner, here's a template to give you an idea of what your finished EPK should look like.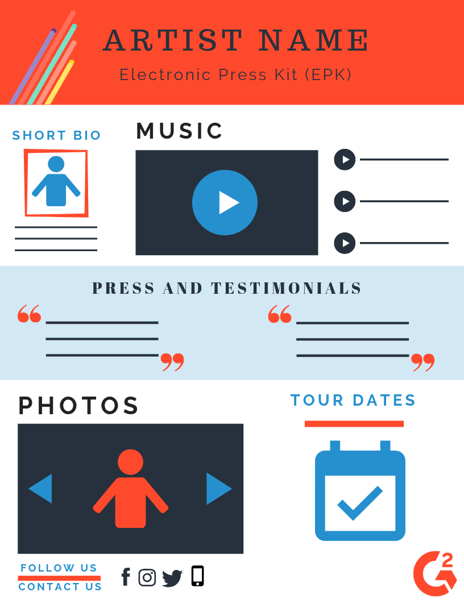 EPK templates and tools
These resources provide EPK templates and tools to help guide your process:
See, we've got your back and if you're still looking for more information we'll dive into what each component entails.
How to make an EPK
Include these elements in your EPK and you'll be one step closer to the Grammy stage, or maybe just booking a gig.
Music
This is, of course, the most obvious and important aspect of your EPK. But the order in which you list your songs matters too. Be sure to place the song that is most well-received by your fan base first. You can determine this by analyzing your stream history or purchase history. Furthermore, export the highest quality MP3, preferably 320 kbps. Music professionals will likely listen to 1-3 songs at a maximum.
Biography
Make two separate bios— one long and one short. The shorter of the two will be your elevator pitch. It should cover your musical career highlights and/or notable moments, whatever you feel will capture the audiences' attention. Your short bio should be no more than three sentences, so sell yourself and make readers yearn for more.
Your longer bio is your background story that will paint a clearer picture of who you really are and why you should matter to the reader. Avoid being long-winded and unclear, instead, make your bio so captivating and concise that your audience wants to be your best friend— or at least not X out.
To get you started, we suggest beginning with the most important information like your name and where you're from. Then, define your sound very clearly. If you're having issues talking about yourself, have multiple people edit your bio, or take it one step further and hire a music writer.
Branding
Every aspect of your EPK makes up your brand. From the album art to the logo, you're taking the audience through a branded journey so that they can recognize you in the cluttered world of information. Go on an internal quest to search for your identity— ask yourself— who you are, who is your audience and how you want to make people feel.
Photos
Photos help tell your story and give your readers an idea of what kind of artist you are. Band photos are different from live photos, but both should be included in your EPK as hi-res (300 dpi) and lo-res (72 dpi) versions, and maximum 600 pixels wide.
Do not add iPhone and Android photos to your EPK. If a professional photo shoot isn't in the budget, be scrappy and recruit some talented friends with a nice camera to capture you/your band. Not only will these photos be used in your EPK, if the press picks up your music they'll likely pull a photo from this section.
Album art
If you haven't designed a cover for your album, have no fear. As I've said many times, ensure your design aligns with the brand look and feel for which you're promoting.
Not everyone is a graphic designer, so if you are having troubles making your own album cover, use the best graphic design software for you.
Music logo
If you don't already have a music logo, now's the time to make one. And the good news is there are many tools to help you create an impactful and memorable logo. Check out logo design software and save everything as a scalable vector for press or vendors to use while promoting your music.
Music videos
What better way to tell a story than in video form? If you've had the privilege of having either a gig recorded or even better, a music video made, include it in your EPK. A video is especially useful because it can show your personality, your stage presence and most importantly, what you'll look, feel and sound like if they decide to book you. A compelling music video seals the deal.
Embedded links
Before adding links to your EPK, look them over to make sure your social media presence aligns with the branding of your EPK. All of these things work together to tell your story and if the story seems disjointed, it will scare off potential connections.
Social media links (Twitter, Instagram, Facebook, LinkedIn, YouTube, etc.)

Your official website

Where your music lives (Soundcloud, iTunes, Spotify, Apple Music, etc.)
Press and testimonials
If you've already been featured in news or have reviews about your music, then you're ahead of the game. Include short, meaningful quotes from reviews and any news coverage about you/your band. This will make you look extremely credible and increase interest. If you haven't been covered yet, don't worry! Your EPK will help make that possible.
Tour dates
When are your upcoming shows? List your current schedule so that music professionals can check you out themselves, promote your gigs or book around your current schedule. Already all booked up? Congrats! Now take this opportunity to show how popular you/your band really are. Tip: If you're touring with another brand as a partnership, create an event press release to publicize the event further.
Contact details
Let's continue making everything as easy as possible for whoever the reader may be and provide them with how to get in touch with you. If your manager handles your marketing and communications, include these contact details instead.
EPK example
If you are still not convinced that you need an EPK to advance your music career, here is undeniable proof that having one is imperative. Kendrick Lamar had one, and although not currently up-to-date, it proves that EPKs really, really work.
Take a bow
You did it! You learned what an EPK is and how to make one. We wish you the best of luck on your path to success and hope to see you on the Billboard Top 100 in the future.
Make your public relations strategy even stronger by learning how to write a press release and all the details that make up a boilerplate.