A grocery store with no labels; streets with no signs; hotels with no room numbers.
Sounds like a nightmare.
Luckily, nightmares aren't real. In this case, the illusion is shattered thanks to environmental graphic design.
What is environmental graphic design?
Environmental graphic design is the graphic elements included in environmental design as a whole. Environmental design, sometimes interchangeable with the term experiential design, involves designing everyday surroundings in a way that can engage people with the space. Environmental design combines graphic design, architecture, interior design, landscape design and industrial design to create something much more than a setting: a location. Environmental design has the ability to make the space more informative, easier to navigate, and more memorable for its visitors.
Environmental graphic design is nothing new; painting stories onto the walls of caves is one of the earliest forms. Today, environmental graphic design is still used to tell stories, only in a more complex manner. It can answer existential questions like: Where are you heading? What are you looking for? Where are you now? Who are we? Who are you?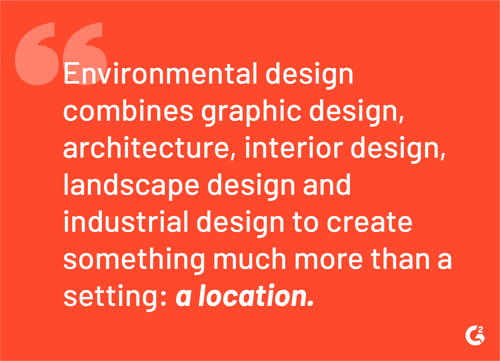 The better those stories are designed, communicated, and understood, the better job the designer has done.
5 types of environmental graphic design
Environmental design merges graphic, architectural, landscape, industrial, and interior design. Because of this, environmental graphic designers need experience not just graphic design, but also architecture. This is so that they can not only have a good understanding of design elements like visual hierarchy and color, but are also able to comprehend industrial design proposals and have the ability to read architectural blueprints effectively.
Today, a lot of the designs we once had to print in order to share are now digitally available thanks to building design and building information modeling (BIM) software. BIM software allows environmental designers to create 2D and 3D drawings and models of their ideas and has the capability to be shared between all involved parties such as architects, engineers, landscape architects, graphic designers, and clients.
Environmental graphic design can be applied to a multitude of different venues to make the visitor's experience more productive and exciting. The following are just a few of the areas in which experiential and environmental graphic designers dabble:
Wayfinding systems
Exhibition
Interactive experiences
Public installation
Placemaking and identity
1. Wayfinding systems
Wayfinding systems are just what they sound like: systems to help people find their way; the systems have been defined as spatial problem solving. The job of the person designing a wayfinding system is to inform the person in the environment of their current location, their desired location, and how to get from one to the other.
Wayfinding is helpful to have anywhere, but is absolutely crucial to have in places like hospitals, offices, parking garages, and big cities for those who have a little time for bleisure. While it could be as simple as labelling rooms or floors as "1, 2, 3, 4", the job of an experiential designers is to make the experience a little more unique.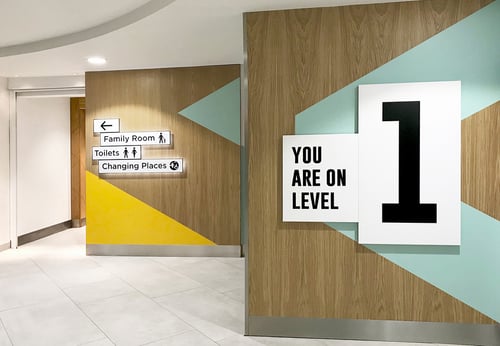 Source: Adam Parker
2. Exhibition
For some, learning can be boring. Whether you're at a museum, a heritage park, or a trade show, there's never any promise that your socks will be knocked off. But when they are, it's a real treat.
Exhibition design is a form of environmental and experiential design that relays information to viewers of the exhibit through architecture, graphic design, interaction design, lighting and audio, and technology. It's the job of this type of designer to use these elements and create an environment that tells a story effectively and attractively.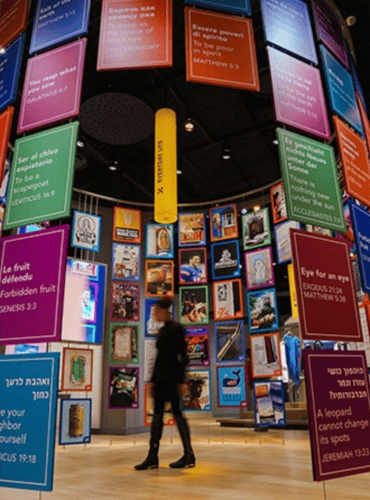 Source: Impact of the Bible, Museum of the Bible, Washington, D.C.
These designs could be a single display, like they would be at a trade show, or can be spun throughout an entire building, like there are in a museum. These spaces can be designed to be looked at from behind a piece of glass, but where's the experience in that?
3. Interactive experiences
This type of environmental design really takes UX to another level; it focuses on user engagement with an entire physical space. Points within a room are designed to educate, prompt, and inspire those who interact with it. These points, called touchpoints, are created to connect users with the ideas behind the environment they're in.
Interactive experience design is inherently a more physical and digital medium than other types of environmental design. Instead of having to appreciate this design from afar, these displays are designed to be touched.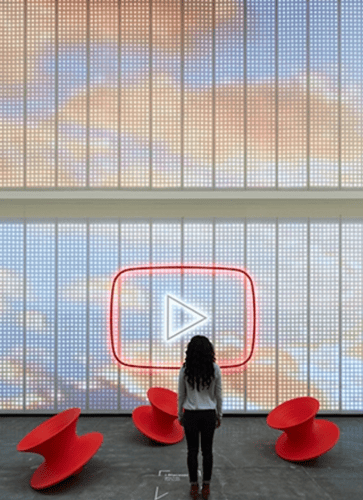 Source: YouTube
Designers who participate in the plans of developing an interactive experience have to be extremely well-versed in user-based research so that their designs can be accessible to as wide an audience as possible: elderly, disabled, and people from foreign countries can be included in this potentially universal and inclusive medium if enough effort is put in; that's what a successful design looks like.
4. Public installation
While museums and conferences often have entree fees, public installations are designed for us to gawk at 24/7, free of charge.
When designed correctly, public installations can be unbelievable experiential marketing opportunities. They can also be designed to show of the distinctiveness of a location in a geographical or historical context. These installations can be anything from heart-warming to heart-wrenching, temporary and permanent.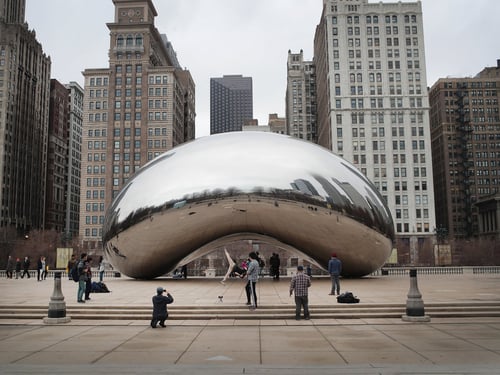 Source: Chicago
They make us laugh, they help us to remember, they ask us to think, and they create wonder. Public installation designs aren't made to be forgotten.
5. Placemaking and identity
Placemaking and identity environmental graphic design heavily incorporates one aspect of wayfinding: you are here.
Placemaking and identity environmental graphic design completely overhauls a space by using unique color, typography, pattern, and motion. It can transform education, transportation, retail, and corporate environments.
For example, Disneyland was once a 160-acre orange grove. And, not so long ago, G2 once looked like a call center. Take a look at what environmental graphic design is going to be doing for our new office space: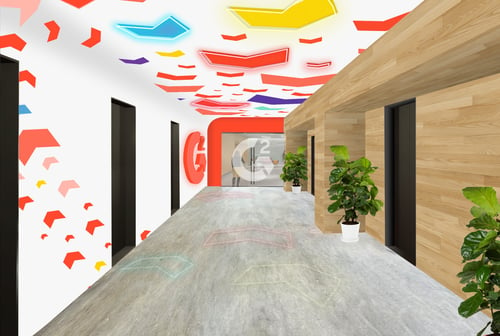 Source: G2
This type of design takes an enormous team to work together and design something spectacular; the input of the designer(s) is valued as much as the engineers, urban planners, developers, and clients. It's not easy to make the idea of a place come to life in a visual way, but when it's executed well, it's hard to look away.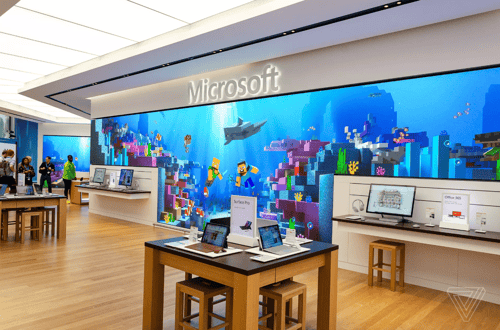 Source: Microsoft, The Verge, Synect
In places like offices, hospitals, and schools, placemaking and identity is often paired with wayfinding techniques so that visitors can find their way around while still thoroughly enjoying the brand.
Take a look around
Environmental graphic design hasn't been hiding, but you'll begin to really notice it now. It doesn't have to be as impressive as the examples above; even street signs are a form of environmental design. What makes it impressive is the experience that the environmental design gives to those who walk past it.
If you remember it, the designer has done their job.
Environmental design can make unforgettable experiences, and taking advantage of it in marketing has proven to be extremely successful. Read more about some great experiential marketing statistics.