Looking to translate your email marketing skills to a career, but don't know where to start?
From building a large email list to maximizing conversion rate, email marketing skills can be a huge asset to a company's marketing efforts.
But where can you best leverage these skills to enter a career? Does it have to be directly in the field of email marketing?
This guide to email marketing careers will dive into the types of roles you can enter as an email marketer. Let's get job searching!
Your guide to the types of email marketing careers
The growing field of email marketing is opening up plenty of opportunities for experts in this field to transmit their knowledge and skills to become key contributors to marketing departments. We'll explore jobs within the field of email marketing as well as how you can leverage your email marketing skills to foray into other tangential careers.
Jobs in email marketing
The field of email marketing is growing tremendously, as shown in these findings from Hubspot. As communication becomes more and more digitized, there is a growing work ecosystem surrounding a single, digital channel like email to reach current and potential customers.
The responsibilities in a standard email marketing career center on creating emails that recipients both open and engage with. To reach these goals, email marketers should have the ability to craft engaging subject lines, write persuasive copy, have an eye for effective email design, know how to grow and segment email lists, and read and analyze data to optimize promotions and open rates.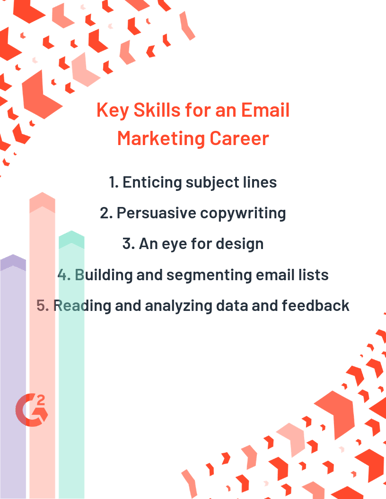 Salaries vary greatly in this field and can range from anywhere between $39,000-$70,000 annually. The median salary for an email marketer position is roughly $50,000. Moving up in the email marketing world can land you a job of an email marketing specialist or manager. Payscale sets the median email marketing manager salary at $67,473, with a range of $46,000-$91,000.
A career within the field of email marketing is the most natural way to leverage your email marketing skills and experience using email marketing software into a career. However, you are also able to use these skills in tangentially-related fields, as we'll explore below.

Careers outside of email marketing
Along with the tremendous amount of opportunities for careers within email marketing, there are also opportunities for careers that use email marketing skills and experience beyond being an email marketing specialist.
From an experience perspective, email marketing is the perfect microcosm of modern marketing. It requires expertise in multiple areas, targeting, messaging, analysis, and measurement. An email marketer will also have experience analyzing their work and finding areas where each campaign can improve, which is highly useful in evaluating any type of marketing campaign.
Marketing Consultant
A career as a marketing consultant is a seemingly natural transition from a career in email marketing to a job with a broader reach beyond the field. A marketing consultant generally works independently or as part of a consulting firm to provide insight on key marketing strategies. With how entrenched email marketing is as an element of most current marketing campaigns, having deep email marketing industry knowledge can provide a huge value to clients as a marketing consultant.
Digital Marketer
An easy way to widen the scope of your responsibilities while maintaining the use of your email marketing skills is as a digital marketer. The position can include any level of involvement on all digital campaigns, from email and display marketing to posting on social media platforms. Knowing how to work with email marketing data will be advantageous in this role as well, as similar metrics such as conversion rate and click rate translate easily to other digital campaigns.
Content Marketer
Like email marketing, content marketing is a relatively new field with space for you to innovate the way you are transmitting your brand's messaging to customers. Content marketing is a natural fit for anyone who enjoys the copywriting side of email marketing. If you can write clear, concise, and persuasive copy, leveraging this skill into longer content would highlight your skills and really let them shine in this role.
The relationship between email and content marketing doesn't stop there. Relevant content is easily insertable into any email newsletter and helps round out an email from a perspective of including items like calls-to-action, images, company updates, and industry-relevant articles. Writing content that you know will be included in an email newsletter is a perfect way to leverage your email marketing skills into a different aspect of your brand's marketing efforts.
CRM Manager
Email marketing experience is all about appealing directly to clients, taking data and feedback, and leveraging that into new marketing strategies to best maximize the effect your campaign has on customers. A Customer Relationship Management (CRM) Manager is a role where an email marketer could use these skills to leverage this experience to ensure clients have the best marketing strategy in place and are getting the value they need out of your product. Email marketers can use their experience assessing the value that customers seek out of messages and content and apply it to direct customer relationships in this role.
Getting started
Before you commit to searching for any of these positions, think about how you best want to use email marketing skills in a career and where that career can take you. Whether you want to go deep into email marketing to become a specialist or broaden your reach and apply principles of email marketing to other marketing professions, there is certainly a high demand for the skills of email marketers in today's job market.