People are always curious about what's trending.
We check LinkedIn, Twitter, and Facebook daily to learn about what's trending. If you aren't in on the latest news and trends, then you're behind.
In the world of e-commerce, things are constantly changing. From all the ways to build an e-commerce website to learning how to sell on Etsy and what to sell on Amazon, the e-commerce world is vast and dynamic.
What's trending in e-commerce?
Packaging materials
Mobile purchasing
Omnichannel
Special offers
Online experience & quick delivery
Virtual reality
Guided selling
Buy now, pay later
AR/VR
Voice search
FOMO
According to a new report from PipeCandy, there are between 2-3 million e-commerce companies in the world (not including China), and the USA and Canada make up over 1.3 million of those companies.
It can be difficult to stay in-the-know, so I asked eleven e-commerce experts about what they see trending in the industry and where the future of e-commerce is heading. Learn about and apply these trends to your current work, and you'll be sure to stand out from the clutter.
E-Commerce trends
Did you know that nearly two-thirds of Americans have bought something from Amazon?
Amazon statistics, like this, show how big e-commerce really is. People no longer go into physical stores as often to buy things. Instead, they hop online and browse until they find something to their liking. Since this is a fairly new concept, e-commerce professionals need to learn from each other in order to improve their businesses.
Exploring these trends will help you do just that.
Packaging materials
"One e-commerce trend that isn't always touched upon is the growing awareness over packaging materials and the waste that it creates. With the rise of online shopping, excessive packaging and packaging that isn't easily recycled is affecting our environment. For instance, 40 percent of plastics are used just once, and what's the largest market for plastics? Packaging.
More and more consumers as well as business owners are becoming aware of this and are seeking eco-friendly and sustainable options. The more we demand sustainable options, the better our impact on the environment. E-commerce is only going to continue to grow, so we should seek options that provide long term benefits in multiple ways."
- Saloni Doshi, CEO at EcoEnclose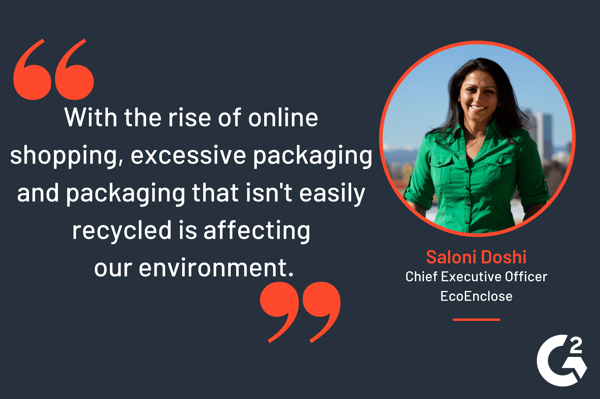 Mobile purchasing
"One of the biggest current trends in e-commerce is mobile purchasing (also known as m-commerce). As people become overwhelmingly reliant on their phones, they're also using them more for their buying needs.

Amazon is one of the platforms that's growing without any indication of slowing down. Aside from their great prices and shipping, the Amazon app is built into many smartphones, so people can't get away from it.

E-commerce professionals can keep up with the current trend by making their products easily accessible on cell phones. And investing in targeted ads is a great way for a company to reach its target audience."

- Nate Masterson, CMO at Maple Holisitics

TIP: Discover the best mobile e-commerce software to help provide better experience for customers who shop using their mobile devices.
Omnichannel
"Today, few retailers—both online and offline—are truly omnichannel. As consumers become even more connected to their devices and the technology around them, it will be increasingly important for e-commerce retailers to not just serve customers on individual channels but provide a customer experience that is seamless from channel to channel.
That's why we can expect the future of e-commerce to be cross-platform, cross-channel, and completely frictionless. E-commerce will no longer be limited to digital storefronts. Instead, it will be embedded in every consumer touchpoint and become an extension of daily consumer habits."
- Bart Mroz, Co-founder and CEO of SUMO Heavy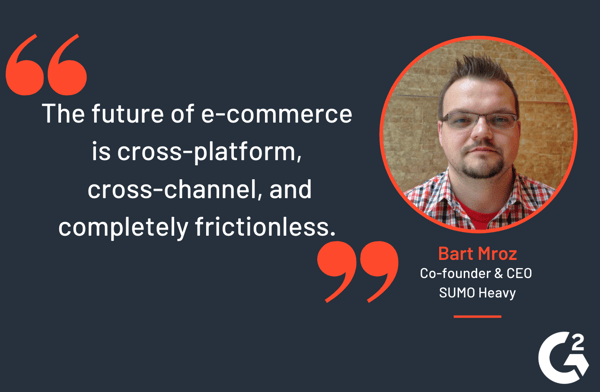 TIP: Find out how multichannel retail software can help your business sync up all your product data into a centralized place.
Special offers
"Instead of the regular store, sales funnels help guide a potential customer through to a sale. So you don't just drive traffic to an e-commerce site and hope they buy one of your products, you take them to a specific page that only talks about a particular product.
What the offer does here is that when you direct them to your page, you make an irresistible offer like giving a free eBook to get their email address (for re-marketing). After that, you ask them to buy a small product then up-sell them to buy a bigger product (always complimentary)."
- Khris Steven, Owner of Khris Digital
Online experience & quick delivery
"From now until 2025, we will see major steps towards how we as e-commerce owners or advertisers, on behalf of brands, showcase and deliver products to consumers.
Innovation has already begun through an increase in delivery speed and virtual product interaction as brands like Ray-Ban allows for you to virtually see how you'd look with your phone camera as it places your favorite frame on your face. Most recently, Shopify made an announcement that it will begin to build or purchase warehouses across the states and eventually abroad with hopes of bringing down both costs and time to get products to consumers faster. One thing is for sure, whether it's virtual or physical, things will only become more efficient.
If you're going to stay ahead in this game, you must be attending masterminds or mentor groups. There is too much content being created daily, and without a peer group to bounce ideas or validate what to tackle first, you'll be left spinning!"
- Nick Shackelford, Co-founder of Structured Social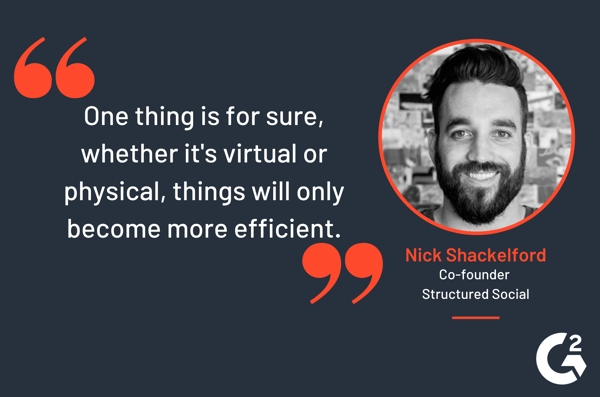 AR/VR
"One of the biggest trends for retailers is VR (Virtual reality). We are seeing more and more brands now allowing you to picture your products as you want them. Maybe it is a couch you want to purchase, and you want to see it in your living room. Maybe it is a piece of jewelry and you would like to see it on your actual finger. This is coming to more big brand sites, but due to the expense, you won't see this on smaller businesses for years to come."

- Jeff Moriarty, Marketing Manager at Tanzanite Jewelry Designs
Guided selling
"Guided selling helps humanize the user experience by quickly engaging the website visitors. It is especially helpful for expensive or complex products like smartphones or laptops. It works like a salesman who quickly approaches the customer and asks what they are looking for. The system recommends one or more products based on their answers. It creates a more personalized experience, and first-time consumers feel a lot more confident when buying these products."

- Sadi Khan, Digital Manager at Run Repeat

Buy now, pay later
"Buy now, pay later is a new type of payment method that I think e-commerce stores should pay attention to. It is similar to credit cards excluding the interest or fees. Customers can buy the product and pay for it over a certain number of installments."

- Stanley Tan, Digital Marketing Specialist at Selby's

Artificial intelligence
"Retailers of the future will master the art of blending online and offline shopping. This means seamlessly linking user behavior in the digital world with the physical world. Predictive analytics and AI are the best way to make the most out of every marketing dollar while also providing the end customer with the best experience and product selection that they are looking for. A personalized offering on a mass scale that is available on-demand is the trifecta of retail perfection of the future."
- Slisha Kankariya, CMO at With Clarity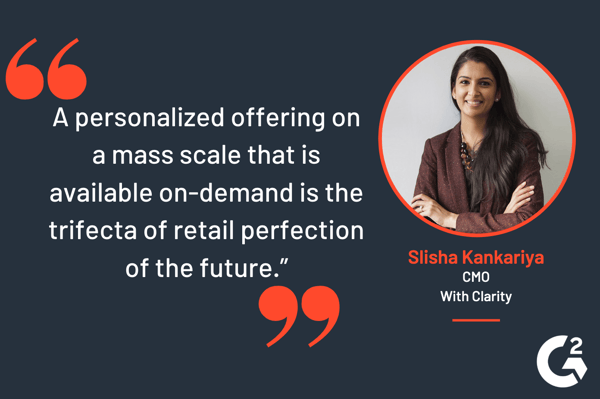 Voice search
"Voice search is all the rage right now, with various experts making their predictions on it. To keep up with the trends, companies need to optimize for rich snippets for text search, which also bodes well in showing the first results for voice search.

The buy now buttons prominent on websites and social media sites such as Instagram have proved popular. You will be able to register your bank card and bank details on your cell phone and home devices like Google Home, Alexa & Amazon. After a voice search, you will be able to purchase and order delivery with a simple buy now vocal command. Game changer for e-commerce."

- Brett Downes, SEO Specialist at DFY Links & HQ SEO

FOMO
"Fewer sales, more FOMO. Sales are a big part of e-commerce, but many brands don't leverage the opportunity in the right way. We try to entice customers to act quickly on our sales by offering them for a very limited time only (usually only 24 hours) and tapping into the customers' fear of missing out. By running sales only occasionally and for a short period of time, it encourages customers to move fast when a sale is active, but the sales are infrequent enough that customers aren't encouraged to wait for a sale when a product catches their attention."

- Elad Burko, Founder and CEO of Paperwallet

Take notes
The future of e-commerce is bright. Stay on top of the trends of the industry so you can be part of its massive growth.
Want to make some money selling on the world's largest e-commerce company? Learn how to sell on Amazon in only seven simple steps.