If you're familiar with e-commerce, you've likely heard the term drop shipping thrown around. But the name "drop shipping" isn't immediately descriptive of what it means.

What is drop shipping?
Drop shipping is an e-commerce business model that eliminates the need for warehouses or inventory procurement. The customer purchases an item from a business' website, and the order is sent to the drop shipper (who owns the inventory and the means of fulfillment), who then ships the order directly to the customer.
Benefits of drop shipping
Drop shipping provides e-commerce businesses with the means to stock inventory and fulfill orders without also maintaining a typical supply chain or warehouse to hold inventory. Customers place an order through the business' website, and that order is then fulfilled by the drop shipping company.
In many cases, drop shipping software can help set up a drop shipping business quickly and easily. By providing the means to set up an e-commerce website and a direct link to a drop shipping company, users can get started within a matter of hours. That's the main appeal of drop shipping: Low overhead and quick setup require very little capital and time to get started.
As mentioned above, drop shipping is appealing because of the low cost needed to get started and the short timeframe required to get up and running. Through bypassing the traditional supply chain, an individual can create an entire e-commerce business within a few days as opposed to a few months. And, theoretically, someone could run a drop shipping business from anywhere with an internet connection, be it your home office or resort hotel room.
Consider: A traditional business requires designing a product, finding a manufacturer, storing products in a warehouse or other repository, setting up a storefront or e-commerce store to sell the product, and then shipping the product to the customer or the storefront. A drop shipping business simply needs a digital storefront and a connection to a drop shipper to get started. The entire business can be run from a single laptop with one employee if necessary, which is appealing to a lot of small-business owners.
The main attraction, however, is the low overhead required. Aside from the funds needed to set up a website and maintain it (including marketing efforts), inventory is only purchased by the business when a customer makes a purchase. In many cases, drop shippers will apply custom labels to products before shipping them, so a business can have control over their own branding.
The business is often required to make a minimum purchase to offer certain products (the drop shippers, after all, must make sure it is worth their while). But purchasing wholesale is often much less expensive than the alternative, which is why businesses are using drop shipping in the first place. This often makes margins tight, which is one of the downsides of drop shipping: Businesses trade smaller margins for speed and efficiency.
For hints on how to maximize your benefit from drop shipping, check out our drop shipping tips.
Drop shipping software examples
Once you know what drop shipping is and decide it's the right method for your business, the next step is finding a drop shipping platform to use. While there are a variety of ways to do this, the simplest is to find drop shipping software that fits your needs. Here are some examples that have been highly rated for user satisfaction on G2.*
TIP: Discover the best e-commerce platform for your business needs. Learn how you can build and manage your own digital storefront with the right software.
Oberlo
Oberlo integrates directly and exclusively with Shopify for a seamless experience. Oberlo's marketplace of products from a variety of suppliers makes it easy to add products to a Shopify store and ship them directly to customers.
Product statistics help business owners make informed decisions when choosing which items to include in their stores, as well as displaying how reliable the products' suppliers are.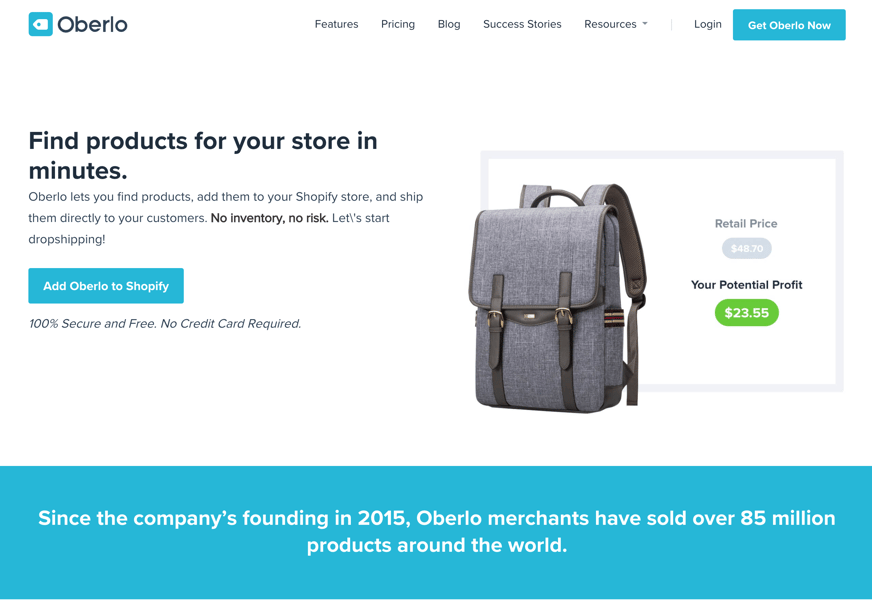 Image courtesy of Oblerlo
Pricing
Starter: Free (up to 500 products)
Basic: $29.90/month with all the features of Starter accounts, plus up to 10,000 products
Pro: $79.90/month with all the features of Starter and Basic, accounts plus up to 30,000 products
What users like
"Before I found about about Oberlo, it would take over several hours to launch products as well as extra time fulfilling customer orders constantly copying and pasting. Thanks to Oberlo, everything is seamless, and you can import/launch products onto your e-commerce [store] within seconds, saving countless hours."
— Oberlo review by Peter Michael Y.
"This is the most simple drop shipping platform I have come across. Oberlo allows anybody and anybody with a Shopify website to start drop shipping with very little learning curve involved."
— Oberlo review by Andrew G.
Volusion
Volusion is an e-commerce website builder that includes drop shipping features to make it easy to create an online store. Volusion works with a variety of suppliers to provide a wide range of products to sell, and there is no integration required to get started.
Image courtesy of Volusion
Pricing
Personal: $29/month
Professional: $79/month, plus abandoned cart reports
Startup: $179/month, plus third-party gateways
Business: $299/month, plus traffic growth consultation
What users like
"The Volusion platform makes it possible for us to do both regular retail sales on our site and process wholesale dropship orders for our internet partners that feature our products."
— Volusion review by Alan M.
"The dashboard is thorough and the software was complete and straightforward to use. I can see where I can have people posting efficiently and reliably. Volusion is e-commerce posting software that makes it easy to connect with advertising and makes posting high volumes of items efficient and understandable. Personnel with any experience understand it and have no special problems with it."
— Volusion review by David B.
AliDropship
AliDropship is a WordPress plugin that integrates directly with AliExpress, Alibaba's online marketplace. It is also compatible with WooCommerce, an e-commerce platform that also integrates with WordPress. Users can either build their own store or have the service customize a store for them. With over 1,000 suppliers, AliDropship provides a wide range of products to choose from.
Image courtesy of AliDropship
Pricing
$89 one-time payment for the WordPress plugin
What users like
"Two versions of these plugins for one payment: the original is the AliDropship that comes with its own built-in themes and a Woo version that is only compatible with WooCommerce themes. Since I like WooCommerce and the flexibility it provides, I chose the Woo version. Also, they have a very good guide on how to start with dropshipping, what niche to choose, and everything about how to find good suppliers on AliExpress. Moreover, I became an AliDropship forum member — it's a very active community where you can get help, ask questions and see other users' experience."
— AliDropship review by Yusuf K.
"You simply browse and choose the products you want to add from AliExpress and once you have made your choices, just click a button and they are auto-imported to your webstore. You can then customize the products as you wish (or leave them as they are) and apply custom formulas to set your profit margins. The beauty is that the profit margins stay consistent with the price automatically, and adjust if the price is adjusted by the supplier. In addition, the products are auto-updated/removed in line with the suppliers' updates on AliExpress. This feature alone saves a huge amount of time and effort in monitoring your products to ensure they are up to date."
— AliDropship review by Konstantin P.
For more information on how to set up your own drop shipping business, learn how to start a drop shipping business in 2019.
*Reviews have been edited for spelling, grammar, punctuation, and clarity.