Recruiting, hiring and managing a diverse workplace is essential for businesses to sustain their competitive advantage.
As we highlighted recently in a compilation of essential HR statistics for 2019, 67 percent of candidates want to join a diverse team. Meanwhile, companies in the top quartile for gender, racial and ethnic diversity are more likely to experience financial returns above the national medians for their industries.

It has been shown time and time again that diverse workforces help to increase profitability. Companies that look beyond the "culture fit" to focus on "culture add" will reap the rewards of a rich company culture.

For companies to thrive, "diversity and inclusion" will need to become as commonplace as "annual revenue" and "market share."
Diversity in the workplace
What is diversity in the workplace?
Diversity in the workplace refers to businesses, sectors or industries employing the full spectrum of qualified talent — from entry-level positions through management and the C suite — and creating a workplace culture of inclusion, respect and understanding.
To achieve diversity throughout the entire workforce, companies must intentionally recruit, hire and retain talent that is diverse in background, education and experience. These factors have an impact on an individual's understanding of the world and are shaped by their race, gender, age, culture, religious and political beliefs, socioeconomic background, geographic location, sexual orientation, citizenship status, mental and physical conditions, and so on. When companies employ a diverse workforce, they benefit from the full spectrum of ideas, talent and creativity.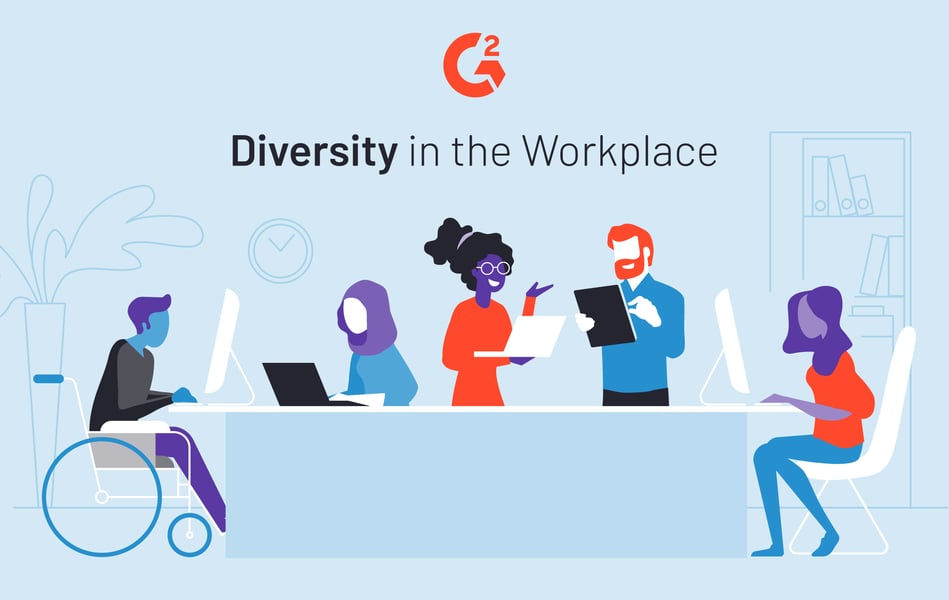 Diversity and inclusion in the workplace
Inclusion is not the same as diversity. Hiring myriad candidates will not positively impact the company if these candidates are not properly embraced by their new workplace. Inclusion occurs when all employees feel a sense of engagement and belonging.

Creating a diverse workforce doesn't just happen. Diversity must first be introduced as an integral part of a company's mission statement, then further defined in the company or employee handbook and finally be fully realized through program and process implementation.

Fostering diversity in the workplace requires complete buy-in across the entire company, from HR personnel, recruiters and hiring managers focusing on diversifying the talent pool to upper management learning how to quell their personal unconscious biases so that employee engagement improves across their teams. Creating a culture of diversity, inclusion and engagement necessitates that everyone is included, everyone participates, and everyone strives toward hitting the goal.
---
Why is diversity in the workplace important?
Increasingly, tech companies are making their diversity efforts and numbers public. Google, Amazon, Microsoft, Uber, Intel, Salesforce and Facebook are a few of the companies that provide their annual EEO-1 forms online. Companies must submit these federally mandated diversity forms to the government every year.

This information provides a baseline for industry-wide comparisons that help determine how companies perform based on the criteria of race, gender and job category. Some companies are choosing to provide their own diversity reports in addition to publishing their EEO-1 forms.

Two tech companies, Oracle and Palantir, recently created a stir because they refused to make their EEO-1 forms public. They claimed that their diversity numbers are trade secrets, but it was later revealed that they feared losing current and potential talent to more diverse competitors. That threat is very real.

Candidates want to work for companies that value their talent and provide paths for career growth. If they consider applying at a company but do not see themselves reflected in entry-level, management or executive roles, they will look elsewhere. With unemployment rates at an all-time low, it is a candidate's market in many fields.
Related: Tech companies have a history of being male-dominated. Women in tech continue to close the gender gap, but there's still a long way to go. Learn more.

It's no secret that top candidates want to work for companies that are welcoming and inclusive. Companies choosing to provide their diversity data are at least acknowledging the problem. But candidates don't need to rely on diversity reports alone. They can simply search through company staff pages on a website or scan LinkedIn for current employees. So, companies beware — you cannot hide your lack of diversity in plain sight.
Benefits of diversity in the workplace

Employing workers from myriad backgrounds creates a workplace culture of varied talents, skills and experiences. Employees and businesses alike reap the rewards of an improved workplace culture and enhanced employee experience, as well as a healthy bottom line.

Diversity in the workplace helps to improve employee creativity and engagement, enhance company brand and reputation, and increase productivity and profits, all while reducing absenteeism, presenteeism and turnover rates.
---
How to achieve diversity and inclusion in the workplace?
This process will look different for every company, but it is essential to stress that real change occurs when diversity and inclusion become part and parcel of a business' mission. It cannot be just another nice-to-have goal. Diversity must be at the core of a business' center as a driving force.

The following is not an exhaustive guide of how to achieve diversity but a list of solutions to get you started down the path toward building a diverse workforce.
Recruiting
Businesses, HR professionals, recruiters and hiring managers can use diversity recruiting software to design recruiting initiatives that drive diversity and inclusion. Each tool provides a unique variety of features, including creating and distributing unbiased job descriptions, removing unconscious bias during the recruiting and interviewing process, managing and tracking qualified candidates, and redacting candidate information.
Diversity and inclusion consultants are experts at helping companies assess their current diversity numbers and devise strategies to implement and manage a diversity and inclusion program.
Job description management software can help businesses and HR personnel create and manage job descriptions. These solutions provide tools to optimize job descriptions to reach the most candidates, and also provide tools to reduce exclusive language that might prohibit qualified candidates from applying for open positions, making hiring international employees easier.
Remove unconscious bias from the recruiting and interviewing process. And if you're not sure which questions are inappropriate to ask during an interview, review our reminder of what constitutes illegal interview questions.
Diversity training
All employees, not just those engaged in the hiring process, should understand the benefits of a diverse workplace and the company's goal of improving diversity. There is a lot of talk about diversity in the workplace, and with that comes a lot of skepticism too. Employees need to understand that improving diversity is not just about quotas or brand image.
HR personnel, training professionals and managers should begin with thorough onboarding to help new employees quickly familiarize themselves with the company, their new colleagues and their job. This will help set new employees off on the right, inclusive, foot — improving their engagement, productivity and retention. When they see a clear path for engagement and advancement, they are more likely to become members of the community.
Training eLearning solutions provide companies with methods for training their employees on topics such as unconscious bias, diversity and inclusion or sexual harassment training, to name a few.
Mentoring programs are a great way to help new and longer-term employees alike build close working relationships. Not only can mentoring help advance new employees' careers, but both mentors and mentees will benefit from getting to know each other. Mentoring programs can create new colleague partnerships or help to build new friendships.
Diversity goal performance
During the offboarding process, HR personnel and managers can use exit interview management software to collect pertinent data about why team members are leaving. Since employee exits relate to employee engagement and issues of inclusion, this is an opportunity to learn from any mistakes and missteps along the way. This isn't just nice-to-have data, this is currency. This information provides actionable insights to help businesses continue to improve their diversity hiring processes. Change will be a constant in achieving a diverse workforce.
---
Diversity in the workplace: Next steps

Setting diversity goals that HR personnel, hiring managers and recruiters must meet will not only provide measurable, tangible results, but it will ensure that diversity is a part of every conversation.

Want to learn more? Check out these seven workplace innovation strategies to help you grow your business or the HR trends that encourage companies to diversify themselves and promote employee engagement.