How often do you touch a physical piece of mail?
In today's digital age, traditional direct mail is often times overlooked by more modern and digital advertising techniques. However, that doesn't mean that sending out tangible mail in your direct marketing campaign isn't worthwhile. If done right, it's not only effective in promoting your company, but it's memorable. Customers will likely remember it before remembering traditional advertising because direct marketing is more personal.
When you find a brochure, coupon, or personalized event invitation in your stack of mail, you are given something valuable rather than just another piece of mail that everyone else on your block also received. When a company knows its audience, they can target them much more effectively with direct marketing rather than investing in a billboard or an extensive social media campaign.
In this article, we'll discuss some of the most widely used direct marketing campaigns, why they're effective, and look at a few direct mail examples that wowed the world.
Feel free to click on the section you'd like to read:
Types of direct marketing campaigns
Text and email campaigns
Television infomercials
Direct mail marketing campaigns
5 incredible direct mail examples
Direct marketing examples: the top techniques
To provide context, let's define direct marketing. Direct marketing is a type of marketing that addresses customers through a variety of channels such as direct mail, email, texting, brochures, flyers, and target online ads. It's a more aggressive form of marketing and can help to expand a company's customer base all while completely eliminating the need for an advertising middleman.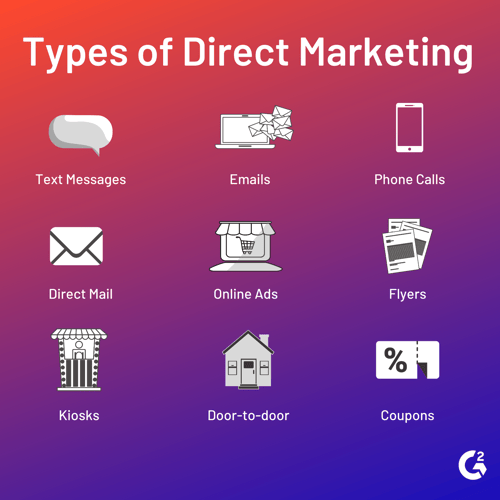 Types of direct marketing campaigns
Let's talk about the different types of direct marketing campaigns and why they are effective.
Text and email campaigns
Direct marketing campaigns centered around texts and emails are a surefire way to connect with your audience no matter if they're near or far. If you text out an announcement for an upcoming event or promotion, the consumer doesn't have to open a piece of mail at all. They receive the message on their phone and are much more likely to see it (and eventually attend your event or purchase your product).
Sending your customers emails is another great method when trying to get the word out about a new product, service, or event. Some believe it to be even more effective than a text campaign. While texting your customers is a good way to let them know about a sale or promotion, an email tends to be much more interactive.
Take this Drunk Elephant event invitation for example.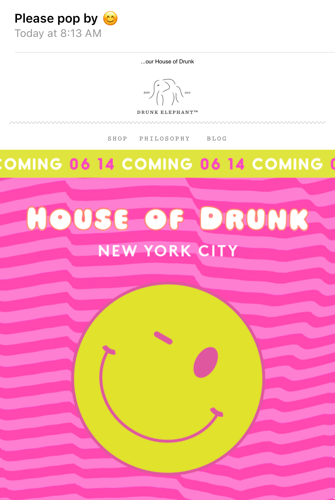 While a text uses copy to invite you, an email uses images to wow you. The colors, text, and playful imagery draws the consumer in more than a simple text would. For this example, the invitee may simply be inclined to attend because of the creativity that went into the invitation.
Reebok consistently uses email campaigns to alert their customers of new sales promotions.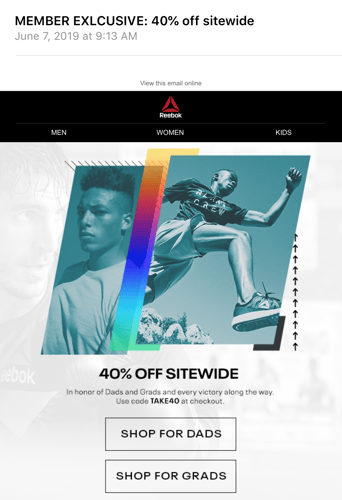 The large CTA buttons in the email are easy to find and make sense to the customer. The combination of a catchy headline, an interesting image, and a great sale helps Reebok increase the chance of their audience purchasing their products.
CTAs in emails are easy to implement, intuitively clickable, and help to direct customers to the checkout page. Combining all of these factors increases your chance of capturing a new customer and a new sale!
Although both text and email campaigns are great direct marketing examples, they are effective for different audiences. When marketing, try out a few methods and find one that resonates with your audience.
Check out our social media marketing hub to learn everything you need to know about social media, content creation, analytics, and current best practices.
Television infomercials
Although it's been around for decades, running infomercials on television continues to be a successful method of direct marketing. You can run infomercials on national or local television, but you'll be able to target your audience more accurately if you begin by running your ads locally.
If you're considering placing infomercial ads on TV, consider your audience. Are they young or old? Where do the majority live? For example, if your audience skews younger, select a time slot in the late afternoon or at night. Young kids and college students are at school during the day and running your infomercial at this time is money wasted.
Alternatively, if you're targeting an older audience, a later slot may work best. Think about your audience and their habits before contacting your local station and inquiring about infomercial rates.
Direct mail marketing campaigns
Direct mail marketing campaigns were one of the first methods used to target and sell to a company's customers. This method delivers your marketing message right to their door. Direct mail marketing is anything physical such as flyers, coupons, brochures, event invitations, or sales promotions.
Unlike social media, texts, or emails, direct mail can't be scrolled past or deleted. When someone receives a sales coupon in the mail, they're likely to hang onto it and keep it on their counter, in their cabinet, or in their drawer until they can use it. The physical aspect of direct mail is a key factor in how effective it is. The other digital methods may still be effective, but direct mail is one of the most effective ways to boost your company's brand awareness.
Learn everything you need to know about direct mail marketing by clicking the button below.
5 incredible direct mail examples
The more traditional forms of direct mail (coupons, brochures, etc.) are great, but what if you sent out something a bit more memorable? The following four direct mail campaigns wowed their audiences and proved very effective.
World Water Day campaign
To celebrate World Water Day, a mailer was sent around to a collection of companies as well as the press. To read the message on the card, the receiver would have to hold it under running water. This highlighted the importance of water, demonstrating how it is the source of all life and knowledge. The campaign was shared across social media platforms and increased the awareness of World Water Day.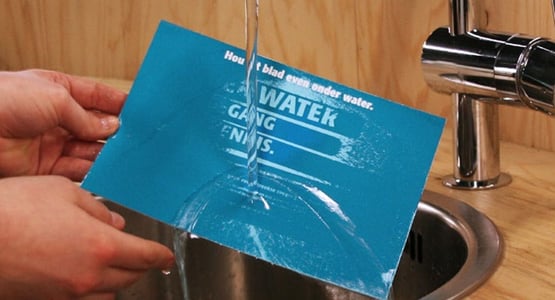 Source: World Water Day
Nestle's Kit Kat Chunky campaign
To promote their new Kit Kat Chunky chocolate bar, Nestle came up with a brilliant direct mail campaign - sending customers a free candy bar. The catch was that their chocolate bar couldn't be delivered because it was just too chunky to fit through the letterbox. The recipients could exchange their card in-store for a free Kit Kat Chunky bar.
This genius campaign was simple and to the point and because of it, Nestle saw a huge spike in sales. This campaign is a great example of how personalization can go a long way.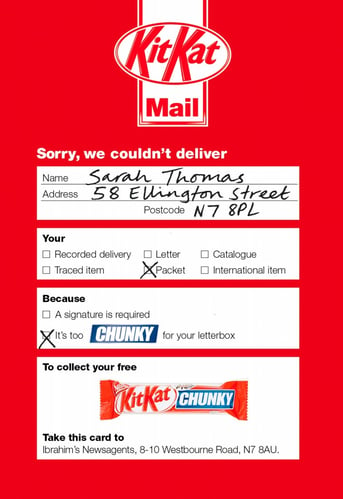 Source: Kit Kat
Earth Hour Candle campaign
The Earth HourCandle campaign was created especially for direct mail marketing. The campaign aimed to raise awareness about how much energy we waste when we leave the lights on overnight and encouraged the companies and businesses to turn off their office lights. The candle was sent to CEOs and industry leaders and when pulled out of the box, (cut out to resemble an office building) would imitate switching off the lights. It was a success with rates of the "switch off" going up by 260%.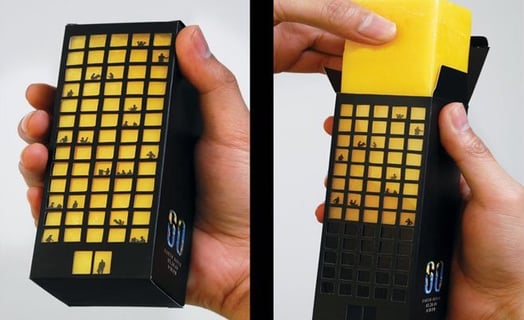 Source: Earth Hour
WVRST Sausage Party
To hype people up for WVRST's grand opening, the company created t-shirts and packaged them to resemble sausages (reflecting their own product). These t-shirts were sent out to bloggers, influencers, and food critics and when they would unwrap the butcher's paper, they found an invite to WVRST's sausage party.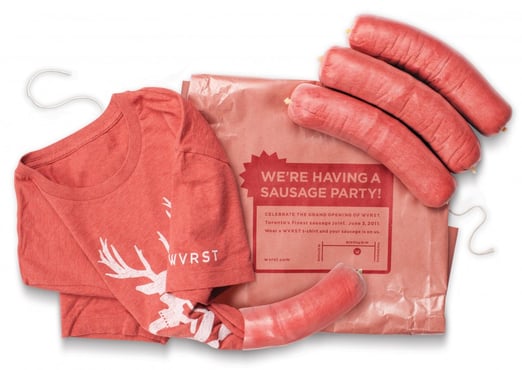 Source: WVRST
Schott Solar's 20-Year Warranty
Schott Solar, a solar panel manufacturer, claims that their panels will last for 20 years. The company sent out a 20-year warranty calendar to various industry leaders in the solar panel wholesale market. It's one of the most creative and effective direct mail campaigns, with a 60-centimeter calendar protruding from the wall. This campaign was visually hilarious but also incredibly literal.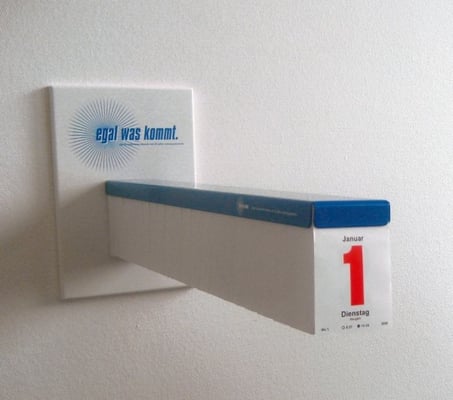 Source: Schott Solar
Your turn
Now that we've gone over a variety of direct marketing examples as well as some direct mail campaigns, you'll hopefully walk away with a few ideas your own company can use. No matter if you use one or a handful of direct marketing techniques, get creative and brainstorm ways you can stand out from the crowd. Marketing that pokes fun, gets people to laugh, and makes people think is always more memorable than traditional marketing. So get back to the drawing board and make something truly unique.
Interested in learning more about marketing? Click through to learn about content marketing and then look through our list of content marketing examples.