Your business is nothing without your customers.
In order to keep the lights on, your company needs to be able to engage, persuade, and maintain a steady amount of customers, all while providing a unique and personal experience.
While you could guess what your customers are interested in and how they respond to different forms of engagement, think of all of the customer data you have at your fingertips. Then, think about using customer analytics.
What are customer analytics?
Customer analytics are the process of collecting and analyzing customer data to make better future decisions for the success of a company. Customer analytics play an enormous role in predicting customer behavior, which can help marketing and sales departments make choices about the ways that they approach customers in the future.
It seems obvious to take the time to track these analytics. But the marketing metrics that many teams are keeping an eye on are only a fraction of the data available about their customers.
Below, we'll go over:
What can customer analytics do for your business?
Industries that benefit from customer analytics
How to prepare for the use of customer analytics
How to gather metrics for customer analytics
How to analyze your metrics for customer analytics
How to use customer analytics
Examples of brands leveraging customer analytics
Why customer analytics matter
Customer analytics are the use of data to further understand anything and everything about your customers, from how satisfied they are with your products to their buying behaviors.
It seems simple enough: collecting quality data about your customers leads to the use of powerful software solutions and the knowledge of intelligent people to produce analytics. Analytics lead to actionable insight; in turn, you get to make better decisions, resulting in more ROI.
Shannon Maloney, Director of Marketing at Soapbox, puts it simply:
"Customer analytics should be the cornerstone of any marketing campaign. There's no point trying to build brand awareness or increase sales if you have no idea who your customers are."
So why isn't everyone measuring these metrics?
Because data comes from almost everywhere, whether it's from the software you use, the notes you take, or the observations you make. In tandem, the analytics resulting from that data present the same issue: it takes a lot of critical thinking to understand the importance of, identify, and gather insights from customer analytics.
The importance of customer analytics is simple: the more you understand your customers, the better you'll be able to make decisions about the way you price your products, communicate with your customers, and work internally. The smarter the decisions you make, the more successful your business will be.
McKinsey's study shows that companies who leveraged customer analytics were almost twice as likely to outperform their competitors in terms of profit, sales, sales growth, and revenue.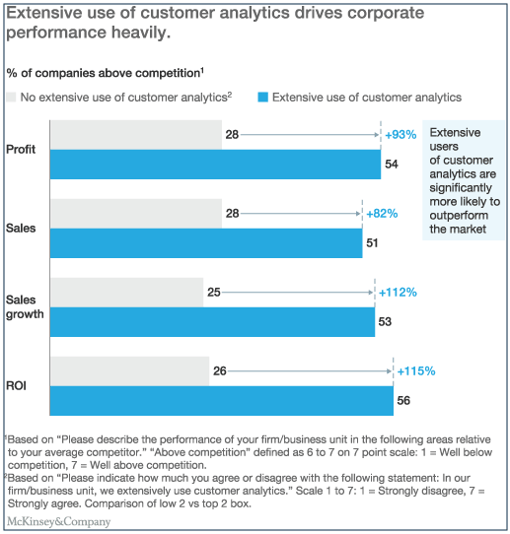 Source: McKinsey
If you invest your time digging into customer data, you'll not only be able to gain insights which may be able to help predict future interactions your customers will have with you, but also help shift your own strategy in regards to how you interact with them so that you can provide a more meaningful experience.
Today, consumers are experienced; they know what they want.
Eighty-five percent of consumers expect a seamless brand experience, want rapid responses, and desire support on the channel they feel is appropriate for them. Keep in mind: every customer is different.
How can a company possibly cater to all of the individual profiles that are brought to the table? By leveraging customer analytics.
What can customer analytics do for your business?
It often goes without saying that the knowledge you have about your customer can be the key to your business' success. The more information your business collects around your customers, the better you'll be able to handle obstacles that already exist, advance your current approaches, as well as predict and prepare for the future.
Below, we've laid out some of the value that customer analytics have the potential to provide.
Determine next-best-action
Knowing your customer segments like the back of your hand is great. Once you have all of that information, what do you do with it? Often, the details pulled from those segments are only enough to provide a blurred image of what steps marketers should be taking next.
Instead of taking educated guesses based on theories, customer analytics can tell you exactly where your customers are spending time online, when they're active, and indicate how you can best approach them to get the results you're looking for.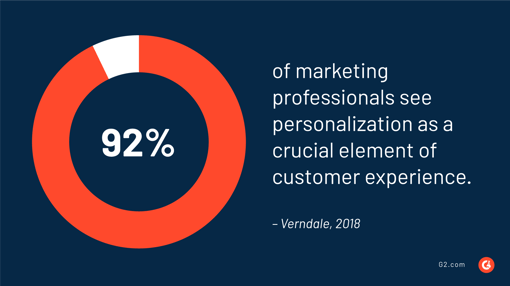 Reduce your churn rate
Nobody wants to lose a customer; not only is it disheartening, but it's expensive.
With customer analytics, your team can choose to pay attention to the signs of unhappy customers or entire market segments. By doing this, you're creating an opportunity for your team to develop the changes that are necessary and more appropriately adapt to those customers who you may be at risk of losing.
Improve customer engagement
Delivering one message to a diverse audience might work if you know each of those individuals is a loyal customer. Unfortunately, the odds of that happening aren't so common.
Instead, customer analytics can be leveraged to increase customer loyalty and response rates at the same time by contacting customers with offers and messages more catered to them.
Industries that benefit from customer analytics
Customer analytics can tell you more about your customers in the present so that you can determine how to better interact with them in the future. While customer analytics can benefit any industry, we've listed examples of some that can benefit the most, and how, below.
Retail
Being one of, if not the most customer-facing industry, there are infinite ways that retail can benefit from using customer analytics.
For example, marketers can use customer analytics to determine which platforms are most popular among segments, and then deliver personalized messages across those platforms to optimize the way they reach their customers as well as the offers they provide them with. Customer analytics can also help indicate customer preferences, which can assist product developers in their next projects.
Finance
Whether customers are applying for loans or planning money management techniques, banks are constantly working with people to better their futures. Because they deal with so many people, customer analytics can come in handy when it comes to improving customer service and interactions with customers.
In addition, customer analytics can help banks prevent issues that could arise in the future. For example, using customer analytics to determine characteristics that align with suspicious behavior can help professionals identify dangerous or suspicious behavior before it's too late.
User experience (UX) designers
Those who work in UX know that they should be doing nothing less than worshiping customer analytics. From determining which colors elicit a more positive reaction to which website layouts help improve the navigation experience, customer analytics heavily determine how UX designers do their jobs on a daily basis.
How to prepare for the use of customer analytics
Just like any other data, customer analytics can be leveraged to prove whether or not you're predicting something correctly, achieving goals, or preparing properly for the future.
From the top to the bottom of the sales funnel, customer analytics can help you answer the questions that managers and C-suite executives may have about those customers, as well as improve upon certain metrics so that you can better achieve your objectives.
"It is important for marketing leaders to begin with the questions in mind and build the analytics strategies to answer them. That is how the insights produced from analytics investments find their way into plans, strategies, and decisions."
- Oeuyown Kim, Portent
Examples of questions that customer analytics can answer:
Who are our best customers?
What are our customers' needs?
What is the best way to communicate with customers?
How do we customize our messaging to best fit our customers?
Which markets do we have room to grow in?
Finding the answers to these questions and others is the key to excelling as a business, but these answers aren't easy to find. Having the right tools to collect the data that holds those answers is the next step.
How to gather metrics for customer analytics
There are many different ways to gather the types of metrics that come through the door. In fact, any platform that your team uses to collect any kind of data (social media tools, website analytics, survey tools, review platforms) are all opportunities to track customer data.
DEFINITION: Metrics are the numbers you measure to determine performance, while analytics use metrics to help you make decisions as you move forward.
As you're collecting data, beware of vanity metrics. In order to avoid tracking vanity metrics, or numbers that will not help you make actionable business decisions in the future, ask yourself these questions:
Can this metric lead to a course of action or help make a decision?
Can we reproduce this metric purposely?
Is this metric reliable?
Below are a few examples of types of customer data that can be measured to help you gather insightful analytics as you get to know your customers a little better.
Transactional data is gathered through repeat purchases of services or products. This is often collected in retail businesses in which every purchase increases the strength of a relationship between a customer and a brand.
Customer behavior data can be gathered to learn more about how consumers use products and services so that businesses can make future decisions about how to improve customer experience. Customer behavior analytics results from data that can be collected in multiple ways, such as through research and surveys.
Web behavior data can be collected to keep tabs on every move a customer makes. From the source of the customer down to the amount of time they spend on a specific page, this data can assist a company in creating more relevant content, making pertinent recommendations, and delivering messages in a timely manner.
This data can be collected with marketing automation software, which is capable of tracking the customer journey via most major marketing efforts such as email marketing campaigns, website CTAs, and social media interactions.
Of course, the way that these methods are implemented is up to you and your team, the tools you're already using or willing to learn how to use, and the way that your company operates.
For example, Georges Benoliel, Co-Founder of Nestapple, says
"...we set up individual user tracking—even across multiple sites to capture the same user under the same user ID throughout the entire ecosystem."

No matter what information you choose to collect from your customers, one of the most important steps you should take is ensuring organization.
How to analyze the metrics
From these methods, it's easy to see how that data could quickly be misplaced, become disorganized, and ultimately be more confusing rather than clarifying.
The customer analytics you're depending on are as good as the data you're collecting. To keep this information as organized and straightforward as possible, knowing the data you want to collect and analyze and being conscious of how those different points will connect to one another is key.
Another reason that this data can become so confusing to collect is because of all of the different sources that are capable of collecting it. For the sake of having all data in one place, making it easier for all teams to view the same 360 degree view of your customer, investing in a customer data platform (CDP) would be wise.
CDPs are capable of fetching information from both online and offline sources and helping organizations use that data to predict next steps with a particular customer to lower churn rate.
When it comes to presenting this data, it's often best to avoid mile-long spreadsheets. Remember that there is both an art and a science to collecting data, and the same can be said about how you present it.
Data mining
The amount of data that companies have access to is overwhelming to think about. So overwhelming, in fact, that a term was devised to refer to the act of sifting through all of it.
Data mining allows anyone with complex data sets to quickly and easily uncover relevant insights using statistics, artificial intelligence, and machine learning. It is a faster and more convenient alternative to manually searching through it. The more complex the set, the more potential there is to uncover relevant insights.
Data visualization
Take some time to visualize all of that data in a logical and clear way. Graphs, charts, and even a colorful infographic can do the trick. Not only does this make the data more digestible overall, but seeing those numbers in a different perspective can help anyone call out trends and gaps, making that information accessible to more than just data scientists.
If you're struggling to pull patterns from a data set, consider investing in more advanced, AI-powered customer analytics tools. With this technology, patterns are not only called out, but marketers can also work with predictive analysis to foresee future outcomes and have systems recommend next steps based on each customer.
How to use customer analytics
Once you've identified the questions you'd like to be answered, collected the appropriate and relevant data, and visualized it to make the results easier to understand, it's time to put your findings into action.
"Customer analytics should be the cornerstone of any marketing campaign. There's no point trying to build brand awareness or increase sales if you have no idea who your customers are."
- Alice Corner, Venngage
What you do with your results is up to you and your team. Sometimes, it's obvious what action needs to be taken.
For example, let's suppose you're a small business investing in a social media presence on every platform. You find that less than 2% of your customers are present on Facebook, but the majority of your target audience is present on Twitter. You might conclude that the amount of time your social media manager invests in Facebook could be reduced so that more focus can be put into the platform that sees the most action.
But if you're looking to heavily invest in and interpret results on a continual basis with accuracy and detail, it may be best to have a UX/UI designer, data scientist, or product manager who is dedicated to the task. It will be this person's job to frame the customer data analysis in terms of overall business objectives as well as help determine how to move in a more positive direction in the future.
Examples of brands leveraging customer analytics
The concept of customer analytics may feel a little abstract, but when you realize how heavily some companies are implementing it, you'll soon see that you're missing out on the fun.
Netflix
58.8 million subscribers. That's an awful lot of people to keep track of, but this media giant knows the value of their customers.
Netflix uses data regarding subscriber interactions with TV shows, making note of the date a user watched a show, what time of day it was, what device they watched it on, and where the show was paused. If the show is paused, Netflix also takes note of whether a viewer resumes the show after pausing, whether people finish a show at all, and if so, how long it took them to do so.
What does Netflix do with all of this information? It uses it to recommend 80% of what's on your home page.
In addition, Netflix uses data and customer experience analytics to create custom experiences.
For example, with multiple versions of a movie trailer in their pocket, Netflix will show the one that focuses on the older, male characters to users who watch TV shows that have casts of older, male characters. For users who watch mainly content that contained a particular actor that also happened to be a part of that movie, Netflix would show the version of the trailer that mainly featured that actor.
What started out as a company that used snail mail to deliver entertainment is now one of the most looked-up-to businesses when it comes to understanding their customers.
Amazon
E-commerce giant Amazon has 105 million Prime members, and millions more ways to get to know them.
The most well-known way that Amazon uses big data and customer analytics is with their recommendations. Were you shopping for brooms? Did you see all of these vacuum options? Sounds familiar.
Amazon does much more than that when it comes to big data.
Based on what you highlight in your Kindle, Amazon interprets what you like to learn about, and that's how they make book recommendations.
Amazon also has a patented anticipatory shipping model that predicts the products you'll likely purchase, when you'll purchase them, and where you'll need them. Based on this data, Amazon sends those products to your local distribution center so that they're ready to be shipped as soon as you order.
That's just the start of what Amazon is doing with their customer data and analytics.
Big data makes a big difference
With all of the data at our fingertips, it's no wonder why some brands struggle to sort through it all.
But now more than ever, customers value the experience you provide almost as much, if not more than, your product or service. It may sound like a lot of digging, but the companies who know their customers like the backs of their hands are the ones who will succeed in the end.
Are you only looking for the analytics within your customer's journey? See the best customer journey analytics software on the market.