We all hate asking people for money.
But sometimes it's the only way to raise money to finance your brilliant business ideas. That's where crowdfunding comes in. Crowdfunding has transformed the way people raise capital for business start-ups. Not only does it help fund your business, but it also increases brand awareness.
Crowdfunding definition
Crowdfunding is a method of collecting typically smaller amounts of money from a large group of people who want to support your business venture.
Instead of having to go on Shark Tank and convince an angel investor to give you a large sum of money to get your company off the ground, you can harness the power of crowdfunding platforms to raise money for a business, personal financial needs, charitable causes and more.
In this article, you'll learn how to launch your e-commerce business using crowdfunding to gain capital. If you're here for some specifics, feel free to jump ahead using the links below:
What is crowdfunding?
Crowdfunding is a way for people looking for funds to finance a project, business, or personal expense to reach others willing to donate to their cause. It allows you to leverage social networks to collect donations from family, friends, friends of friends, your second cousin once removed, and strangers. Pretty much anyone who sees value in your product or service is able to donate any amount they desire.
This accessible way of financing your project will help your idea come to life if you use crowdfunding best practices. It isn't enough to set up a mediocre page and wait for the money to appear, you have to make a plan and work hard at getting your story heard by many.
There are many benefits of crowdfunding. Your crowdfunding page essentially becomes a marketing campaign, allowing you to measure the success, gain feedback, and really determine that there is a market for your product or service.
If people are loving your product or idea, that's a great sign that it will do great once launched. Building a following through crowdfunding before a launch can be crucial to the success of your business.
How does crowdfunding work?
There are a variety of crowdfunding sites that you can use to host your campaign. Each site has different business models, but for the most part, each platform takes a percentage of your earnings.
That's what the platform gets out of it, but what do the donors get? This also varies per campaign, but often times it's an exclusive promotional item, the ability to access products in advance of launch, public acknowledgment, or access to unique events.
When setting up your crowdfunding campaign you'll be asked to set a fundraising monetary goal and a time by which you must achieve that goal. Some sites let you keep the money if you do not hit your goal, and others return the money to the donors.
In order to start your crowdfunding campaign, you must figure out the type of crowdfunding you're doing, choose a crowdfunding site, and then you begin setting up your campaign page.
Types of crowdfunding
There are four categories of crowdfunding that help people get their businesses started. These methods eliminate the need to go to a bank for a loan.
1. Peer-to-peer lending
Odds are you've probably done or heard of this type of lending before. Essentially, it's someone lending money to you. The only difference is that it's done through online services. This allows people to access the funds they need for their company without including a bank.
2. Donation-based crowdfunding
This is the most well-known type of crowdfunding. It's when you create a fundraising campaign or project and ask individuals to donate a small amount, in hopes that a lot of small donations will produce a lot of capital for your business.
3. Reward-based crowdfunding
As you probably can assume from the name, this type of crowdfunding is a way to source money that involves asking individuals for money and in return they get a reward, whether it be sneak peeks or exclusive events, they got something for their contribution.
4. Equity crowdfunding
Equity crowdfunding is the least popular kind of crowdfunding. It allows people to invest in private early-stage startups through online platforms, giving them partial ownership of the business.
This type of crowdfunding is more official and your second cousin once removed probably won't be giving money in this manner.
Starting your crowdfunding campaign
Let's assume you have your product or service idea set and you decided upon a specific crowdfunding site. It's time you make your crowdfunding campaign, which is very similar to a marketing campaign. Like any good marketing campaign, there are a variety of elements you'll need before getting your campaign off the ground.
Use clear and concise language
Copywriting can be tricky, but if you're passionate about your company I have confidence you can do this. If writing isn't your strong suit, hire a freelancer. Otherwise, make your copy on your campaign stick. Be specific, brief, and memorable. Ensure your crowdfunding page is visually appealing and gives the right information, without overloading your reader with text.
And always… always, have multiple people read your site before clicking publish.
Make your campaign visual
Include lots of high-quality pictures of the product or service. Even go to where your product will be made or pictures of you interacting with your business. Make sure there's a reason for each photo and that it adds to your brand story, not subtracts.
Use video to tell your story
Video is a really good way to tell a brand story in a captivating manner. If you can, put together a short video campaign to tell everyone who you are, why you need funding, and how donating will benefit them.
Make yourself known with outreach and PR
After your site is good to go, it's time to reach out to media outlets. Pitch your story and get people to cover your company. Building excitement before a launch can be a very successful marketing tactic for increasing funding.
Get social
Also, be sure to post your campaign all over social media and encourage your friends to re-share your posts so more people can donate to you. It's not enough to post your campaign once and forget it. Make sure you keep your campaign top of mine by posting about it once or twice a week. Share your progress and goals to help build excitement around your campaign.
Follow through on your promises
The work isn't over once your campaign is a success. Once your crowdfunding campaign comes to an end, make sure to keep your promises, and continue reaching out to your donors with updates and newsletters.
Crowdfunding sites
Below is a list of popular crowdfunding platforms. Exploring what they have to offer and the way in which they do business is important to launching a crowdfunding campaign. Often times there are fees, rules for withdrawing the funds, and other requirements depending on the platform.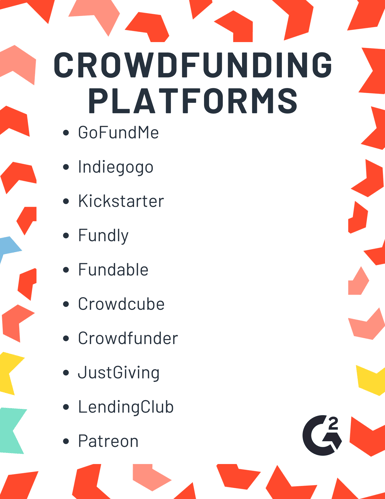 Be aware that many of these platforms can charge expensive fees, such as the case with the GoFundMe fees policy.
If you're in the market for fundraising software, check out the best, easiest-to-use, and high rated software to gain capital for your company.
Make money moves
Successfully launching a business can be tough, but with a crowdfunding campaign, you can determine if your product is ready to hit the market, gain brand loyalists, and have the capital needed to get going.