It's five on a Wednesday afternoon and you're getting ready to head out for the day.
Then the boss hits you with a, "Hey! Before I forget, we need a creative brief for X project by Friday afternoon. Can you throw something together?"
You reply as if it's no big deal, but your palms are already sweating in sheer panic.
The problem? You're not sure what a creative brief is, let alone how to write one. I know this problem from experience, so don't panic, I've got you.
Throughout this article I'll cover:
...and I'll show you examples along the way. After we're through I guarantee your boss will never know you were worried in the first place.
Let's start with the basics.
Preparing a creative brief
Before we can begin discussing what goes into preparing a creative brief, you need to know what one is.
What is a creative brief?
A creative brief, also known as a design brief, is a document summarizing all aspects involved in a creative project. It contains the details that a designer should consider and outlines all the work to be done from start to finish.
Although these are simple documents, they are an essential part of any creative or graphic design project, as they play a huge part in ensuring you get the final product you desire.
Creative brief examples
Below you'll find examples of brand briefs from reputable companies Redbull and Reebok.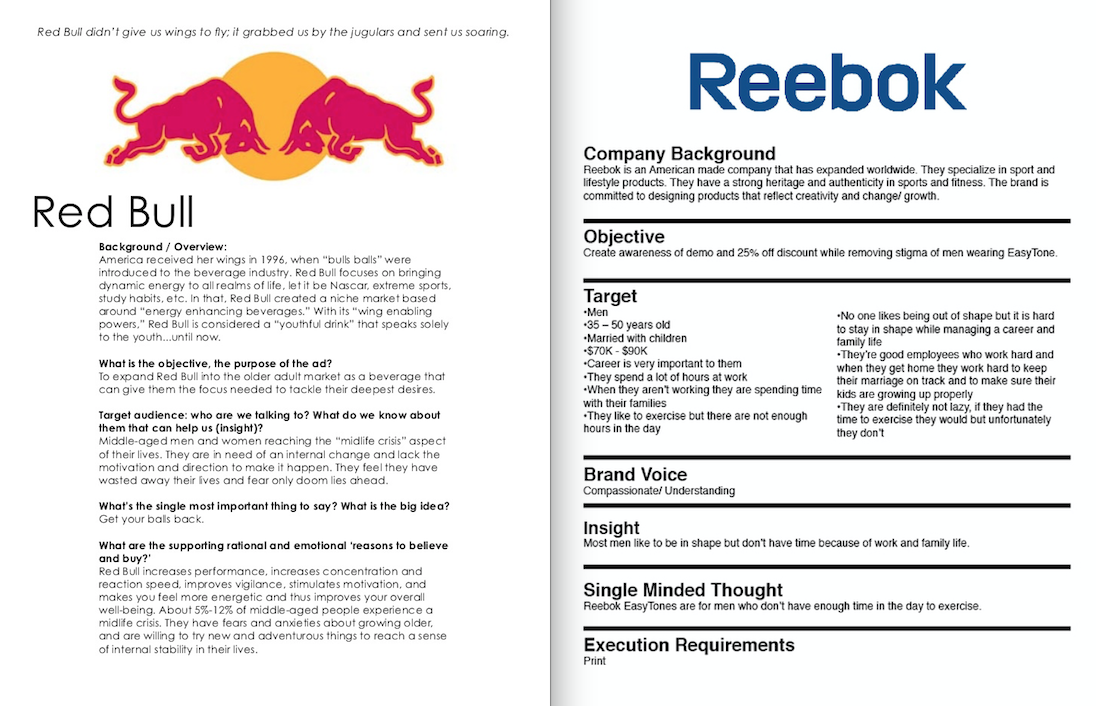 (Creative brief examples from Red Bull and Reebok)
Why should you write a creative brief?
Writing a creative brief can be a daunting task, but there are several reasons why they're important.
First, they make the creative process faster and easier. Not only do they provide a foundation for the designer, but they also align you (or your client) and the designer. They allow you to better understand the design aspects of your project and help the design team to understand your goals for the project, too.
Second, a creative brief reinforces your end goals. By clearly outlining your thoughts and expectations for the project, you're able to look at the big picture, sharpen your message, and focus on why you're orchestrating the project in the first place.
And finally, they ensure a better outcome. A creative brief allows you to define your desired results from the start. Spare yourself the disappointment of a subpar final product by communicating your vision upfront and getting it right the first time.
When should you write a creative brief?
Entering into a design project without a brief is like flying with no instructions: don't even try it. When producing any creative marketing asset, creative briefs are an essential first step.
Creative marketing assets include, but aren't limited to:

What to include in a creative brief
Although every creative brief is a little different, they all share the same foundation. Here are the sections that every brief should include:
Let's take a deeper dive into each of these components.
Background
If you're writing the design brief for a client or a third-party designer (such as an agency or freelancer), you'll need to give background information on the company so the designer has an understanding of the business, who you are, and what you do. For the third party, understanding the client, their background, and their vision is critical to the success of the project.
Provide a link to yours or your client's website, any background material that might be helpful, and contact information in case additional details are needed.
If you're preparing the brief for an in-house designer, this step is not necessary. There is no need to explain who you are and what you do to someone who already knows the company.
Example from Reebok:

Project overview
Before the design process can begin, both you and the designer need to have a clear understanding of all aspects of the project. What is the project? Why do you need it? Does your company need a new public relations kit? Are you revamping your social presence?
Whatever it may be, describe what the project is, what it involves, and why you're moving forward with it.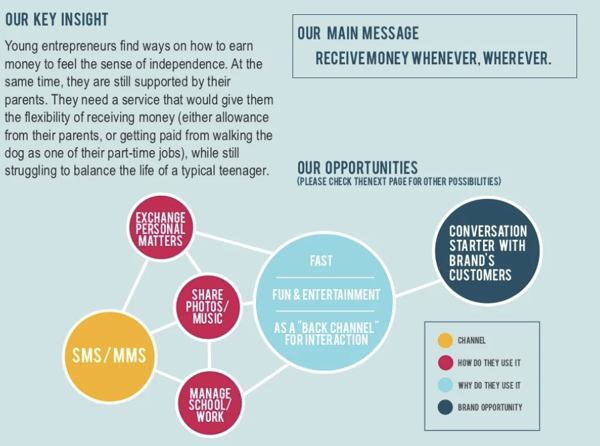 Objectives
These are important in making sure you fully understand your strategy before the project gets underway. Ask yourself, "Why are we doing this?" on a deeper level.
What is the problem you are trying to solve? What are you looking to achieve with this project? What are your specific goals? Really consider what effect you want to have on your consumers with this project.

Target audience
There is simply no way, or reason, to reach every audience. So don't waste your time trying. With that, consider the following: Who are you trying to reach? How will you reach them? What value will this bring them?
Be specific here. Share demographic or behavioral information if possible. Knowing who your target audience is and how to best reach them will set you up to successfully meet your goals quicker.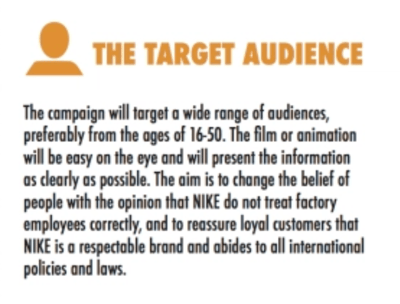 Desired tone/brand vision
Style and tone of the project should be consistent with your brand and your message. To make it easier for the designer, use specific adjectives that describe the mood, voice, and desired personality that you want expressed through the design.
Tip: If you have a brand style guide or past projects, I'd recommend including it here for your designer to ensure your desired impression is conveyed.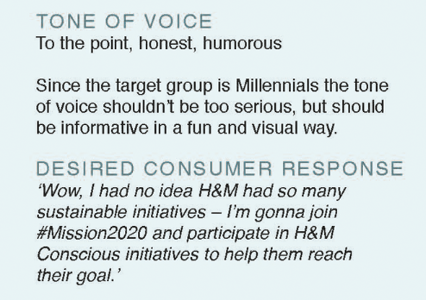 Budget
What are you looking to spend? Are you open to adjustments?
If you have a budget, be sure to include it here. If your company has a strict budget (which is often the case), have the designer give you an estimate, and make sure project costs are clearly detailed and agreed upon before getting started.
Timeline
What do you need and when do you need it? Discussing your timeline early on in the creative process is crucial.
While using a creative brief makes the design process easier and faster for the designer, it doesn't necessarily mean you won't want to make changes along the way. Walk through your timeline, set dates for drafts and samples, and settle on a completion date for the entire project.
Design/creative notes
Is there anything else that might help the creative team? This is where you can include any additional requirements you have that affect the creative direction of the project.
The more direction you can give your designer, the better. Some things to consider here: creative thought-starters, page layout requirements/ideas, result expectations, examples of inspiration, etc.
Tips on writing a creative brief
Be sure to include sources for additional research. Just because you feel you covered all bases doesn't mean your designer won't want more context.
Creative briefs contain a lot of information, but be sure not to provide too much information. The trick is to keep it concise and easy to follow.
Ask yourself, 'Who are you preparing the brief for?' Don't forget to add necessary information for your client, and/or make sure your designer (whether in-house or a third party) has everything they need to begin the creative process.
If you're presenting the brief in-person (which I highly recommend), think of it as an elevator pitch. Keep your initial run-through short and engaging, but allow time for the designer to ask questions and for conversation regarding next steps.
Creative brief checklist
Now that you know what's in a creative brief and have considered the tips I've provided above, it's time to start preparing to write your own brief.
You'll see at the bottom of the page we've provided you with a creative brief template to make the process as easy as possible!
But before starting to write yours, it's important to gather your thoughts and understand what you're looking to accomplish. With that, below we've provided a creative brief checklist to help you start.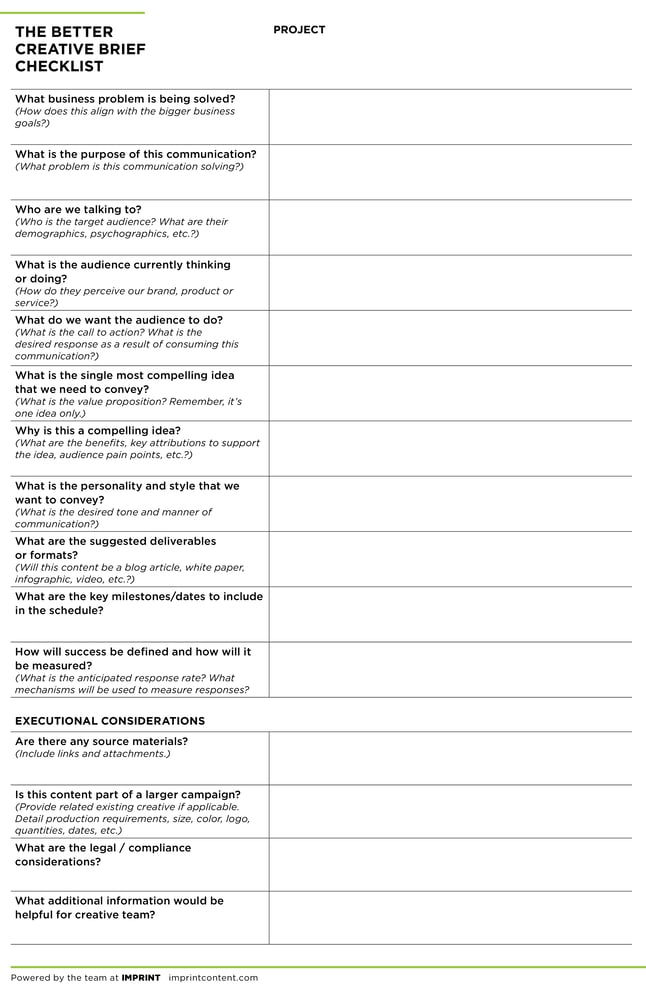 Creative Brief Template
And so you can get a head start on writing your own creative brief, we've created a free template for you! Just download below and use the tips above to finish your very own creative brief.
Wrapping up...
Now it's your turn.
We've talked about what a creative brief is, why you should write them, when you should write them, and everything you need to know to prepare a successful design brief for your marketing assets moving forward.
By following the steps above, you'll be able to produce an effective brief that not only helps the designer deliver great results, but also ensures your project delivers the results your business needs. But remember that this is a creative brief, so let your creative juices flow and have fun with it!
Well that's it! Feeling better? You should be. Now go kill it.