Someone you know and maybe even love has done the unthinkable: they've sent you a Microsoft PowerPoint presentation, knowing you prefer Google Slides.
What feels like an emotional, relationship-ending ordeal is actually quite simple to overcome. Although Microsoft and Google wage their own war for our attention and consumption, they've made it pretty simple to switch back and forth between the two document creation platforms.
Steps to converting a PowerPoint into a Google Slides Presentation
Download the presentation
Open Google Drive to the designated folder
Upload the file to the selected location
Double-click the presentation and select "Open With Google Slides"
Edit the converted presentation to your liking
In this article, I'm going to walk you through how to convert a PowerPoint document into Google Slides.
How to convert PowerPoint to Google Slides
Before we get started, I'll show you my sample presentation. The style of PowerPoint template I chose is called "savon," which is French for soap.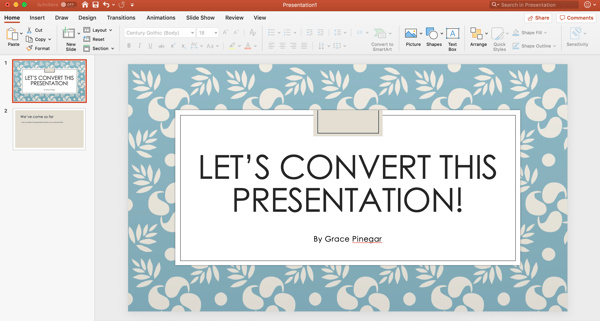 1. Download or save the presentation
Before you get started, you have to be sure the PowerPoint lives somewhere on your computer. Even if you don't have a Microsoft account and can't technically open it on your device, you can still download the file which will then be located in your "Finder" box.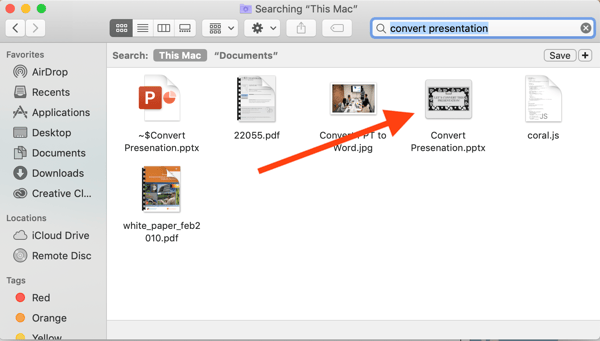 2. Open Google Drive to designated folder
Before you upload the document, be sure to either open or create the folder where you want this file to live. This helps keep things organized and will make it easier for you to find that document later on. For example, I labeled my folder "Converting PPT to Google Slides," because that's what my presentation is about.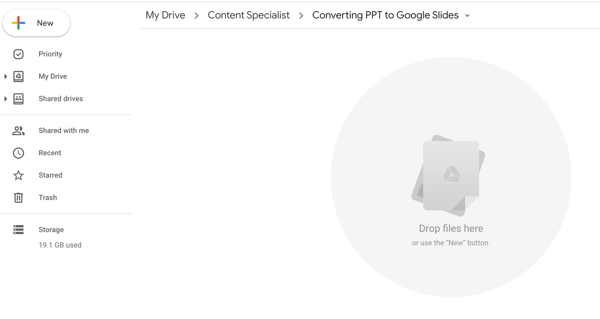 Related: Learn how to spice up your Google Slides presentation by learning how to add music!
3. Upload file to selected location
Next, it's time to upload the file to the selected location. You can do this by dragging and dropping, or by selecting "new" and then "file upload" in the top left corner of the screen. Do not opt to create a new Slides presentation; that is the incorrect next step.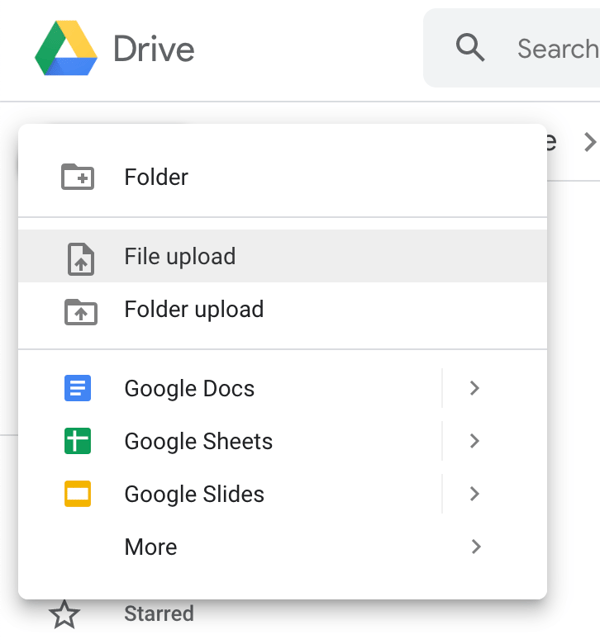 Once you've uploaded the presentation, it'll appear in the designated folder with the orange P symbol, denoting that it is still in the PowerPoint format.
Note that if you want to work on the presentation in Google Slides, you are not done yet! Proceed to the next steps.
4. Double-click the presentation and select "Open with Google Slides"
Open the presentation by double-clicking on the file in Drive. The presentation will open in "view" mode. At the top, you have the option to "open with Google Slides." Click on this.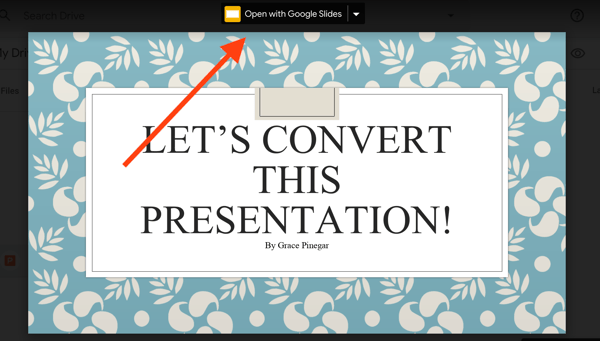 Doing so will convert the file to a Google Slides document, and open it up in the editor for you.
5. Edit the converted presentation to your liking
Now that you've converted the file, you're free to make any additional edits using Google Slides! Note that, because the platforms are different, not all of the features will transfer over flawlessly.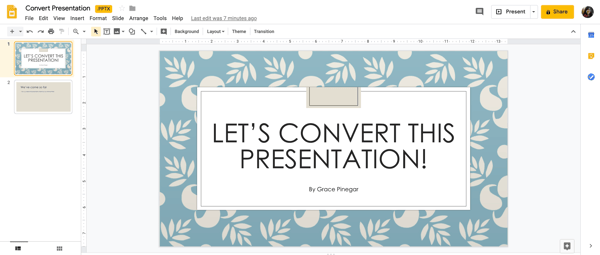 For example, a font that is available on PowerPoint may not be available on Google Slides. Both platforms will always try their best to accommodate what you have uploaded and provide solutions should something be missing.
It is, unfortunately, your responsibility to sift through the presentation and make sure nothing was lost in-transit.
Slide on through
Both platforms are excellent for presentations; it just depends on what you're looking for or which you prefer using. With this quick tutorial, colleagues with different preferences can easily share documents and work how they like.
Want to learn more about using PowerPoint? Check out How to Print Notes in PowerPoint - a subject that is more necessary than you may think.