Remember when you were a kid and agreements were made over pinky promises?
Though that level of trust would be nice in the business world, most professionals prefer written documentation before closing a deal. Whether you're a small business or an enterprise corporation writing a government contract proposal, contracts are the backbone of closing deals and creating new partnerships.
However, you can't just sign on the dotted line and throw your new agreement in a filing cabinet. As with any legally binding agreement, there are stipulations to maintain, processes set in place, and stakeholders that need to be involved: that's where contract management comes in.
Interested in learning more about the ins and outs of contract management? Click the links below to jump ahead:
What is contract management?
Contract management is the process of managing contracts for employees, vendors, and other third parties as it relates to your business. Oftentimes, this responsibility is given to a contract manager whose sole job is to work with sales, operations, and other teams on contract management.
What is the role of a contract manager?
Write, analyze and respond to proposals
Negotiate price, terms, and conditions
Proactively identify risks and compliance issues
Maintain records of existing and past contracts
Continuously improve procedures and policies
Work with sales on renewals or terminations
Most contract managers have a legal background or special certification. This is because the contracts they maintain are legally binding. Something as simple as a missed zero in an agreement for payment could cost your business, which is why, in addition to hiring a contract manager, most businesses employ the use of contract management software.
What are the stages of contract management?
The key to a good contract management strategy is establishing a process that everyone on your team follows. This is especially important for contracts because, as we've mentioned, they are legally binding. Here's a quick look at the contract management process: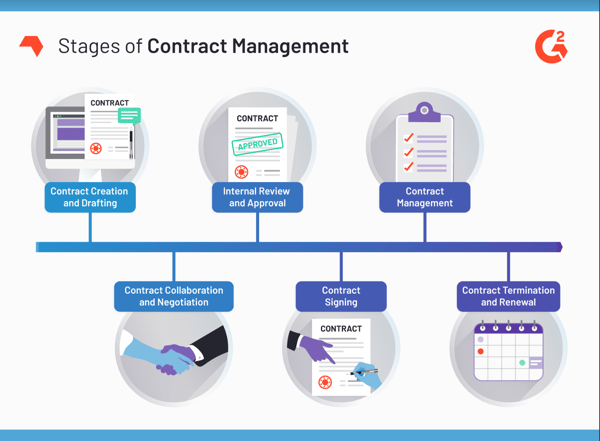 This guide will take you through each part of contract management and give you a clear rundown of what steps should be taken along the way. Let's dive right in!
1. Contract creation
This first step of contract management comes deep within the sales funnel, right around the action stage. The person you're creating a contract with has already made it clear that they're ready to do business with you.
Since that has already been established, you can begin with your first draft of the contract. The contract you create in this stage of the process will likely not be the only version you create, but it should be as complete as possible.
Some things you should include in your contract:
Date of the contract
Names of all parties or companies involved
Payment amounts and due dates
Contract expiration dates
Section covering breach of contract, missed deadlines, or undelivered services
All of this information should be included for both or all parties involved, not just your business. You want to cover all your bases with this contract. Don't paint yourself into a legal corner by not thinking ahead or making your contract too airtight. There's a delicate balance you'll want to strike that both keeps everyone accountable but doesn't allow for exploitation.
Tip: If your legal team isn't creating the contract itself, they should at minimum review everything before the next step.
2. Collaboration and negotiation
Once the contract has been drafted and approved by legal it's time for contract approval. This process is initiated by the team creating the contract. Establish with your business partners a timeline your team will need to review all the documentation before agreeing to sign anything.
Here's a quick checklist of things to review before signing a contract:
Is all the information correct?
Is the amount you're being charged what was agreed upon?
Are the terms and conditions of the contract satisfactory for you?
Is everyone who should be listed on the contract accounted for in the filing?
Are the renewal terms clear? Does the contract auto renew?
Are the breach of contract terms clear?
Are any other required documents included with the contract?
Again, whether you're sending the contract or receiving it, your legal team should be involved in the final approval. Normally, the receiving partner will come back to the team that wrote the contract with any changes they'd like made.
This process can be as simple as a single signature and agreement or it could takes months of back and forth restructuring. Plan on this part of the process to take the longest. This is where deals tend to fall apart! Be patient and don't let a communication breakdown ruin the deal.
3. Contract review and approval
After everyone has agreed to the terms of the final version of the contract, both teams should give it one final review and move the process into approval. Stakeholders from all involved parties will need to provide a written approval of the current contract to move things into the signing stage.
4. Contract signing
Now that the contract has been finalized, it's time to sign on the dotted line. Everyone listed in the contract should sign the final product to ensure there's full acknowledgement from all involved parties.
You have two options for signing. The first being an in-person meeting where everyone signs together, or have everyone provide a digital signature. For teams that are working together either cross country or globally, digital signatures are the most practical solution.
Most contract management software includes e-signature features, however if you're drafting contracts using a PDF or other digital medium, investing in an e-signature software can help speed this process along.
Find a secure, reliable way to close deals and collect contract signatures with the best e-signature software on the market.
5. Contract management
Okay, you've taken a beat to pop bottles in celebration of your newly signed contract, but the work isn't done yet! Now comes the part of the job where you have to actively maintain the contract and hold up your end of the deal.
Remember, when you signed your contract, you agreed to:
Deliver projects on time and on budget
Include all necessary stakeholders in the process
Maintain communication with your business partner
This part of the process is just as important as closing the deal. You have the customer, now you need to keep them. Contract management is about ensuring everyone on both sides of the contract get exactly what was promised. You can do this through open communication, setting deadlines and maintaining expectations.
6. Contract termination or renewal
Every contract has an expiration. This section of the cycle will either end your partnership with your business associate or start you back at the beginning of the process. Depending on the nature of your business, your customer may renew the contract or decide to part ways.
Never miss another contract renewal with G2 Track. Manage all of your contracts in one place, and see where you might be able to cut overlapping software.
Give your customer a three month heads-up about their upcoming contract expiration. This allows them to decide internally if they'd like to renew their contract and gives your team plenty of time to craft and finalize a new contract before the old one expires.
How does contract management help your business?
There are a few obvious benefits to contract management: legal protection, a streamlined workflow, and more. But the hidden benefits lie in how contract management improves the working conditions for your team.
With contract management, your team can:
Increase efficiency within your organization by automating complex contracting processes
Simplify management of contracts by authoring and storing them in a centralized location
Increase communication between internal and external teams
Improve sales cycle times by streamlining the contracting process
Strengthen relationships with business partners
Proactively monitor risk and compliance
Having an established process in place prevents communications, manages expectations, and frees your employees from playing phone-tag over minor details. The right workflow lets everyone know what role they play in the process and keeps things running smoothly behind the scenes, which gives your team more time to maintain relationships and close major deals.
How to choose the right contract management software
If you've never purchased a contract management software before, you may be wondering how to find the right software solution for your business. The key to finding the right software solution is pinpointing what features you need. There are plenty of benefits to implementing a contract management software.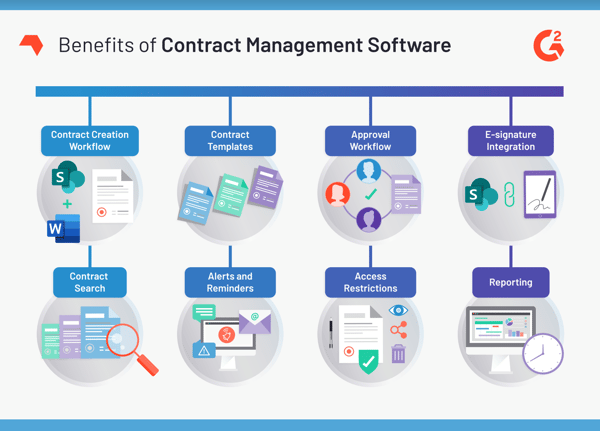 Once you know what you need your software solution to do, you can begin choosing the right product. There are dozens of software options on the market, which can make the purchasing decision tricky.
Understanding what you need your contract management software to do before you shop is very important. Meet with your sales and legal teams to discuss what features and mandatory vs. which are optional.
Ask yourself these questions before purchasing any software:
What is my budget for this software solution?
How many users will need admin access to this program?
What are the top three things this program must be able to do?
This part of the process can seem tedious but it will save you time and money in the long run. You don't want to waste time jumping on a sales call for a product only to realize ten minutes in that it's not the right fit for you. That's why we encourage everyone to read user reviews for the products before moving forward.
Sign on the dotted line
Can you manage your business contracts without a formal process? Sure. But you're likely to let a lot of little details fall through the cracks along with way, which can result in lost business and revenue. Prevent the headache by formalizing your process and hiring the best people to protect your company.
Ready to streamline your contract management strategy? Discover what a contract management software can do for you.