Your brand has a sizable blog. Traffic has steadily increased over the past few months and you decide to ramp up your publishing schedule to target new keywords. But then you hit a roadblock. Traffic flatlines.
What's going on here? No major algorithm update went into effect? Everything looks fine from a technical standpoint, so you maintain course and keep on publishing.
Months go by and traffic still isn't growing, some weeks are worse than others. You conduct a content audit and have a "wow" moment. "How could we have so much underperforming content?"
When it comes to SEO, there could be myriad reasons why your content isn't meeting expectations. Maybe you're not targeting the right keywords. Perhaps your robots.txt file is blocking off sections of your website. You could have an army of spammy websites linking to you. As the SEO community would say, "it depends".
Our story at G2 was similar to the one I described above. After a year of record-breaking traffic growth and reaching one million organic sessions per month, things began to slow down. Even after making minor tweaks to our content strategy, traffic growth was minimal. What gives?
I took a broad dive into the data by looking at every single article we published and discovered a few red flags, but there were two things that stood out to me the most:
There were an abundance of underperforming articles published over the course of four years. Some of these articles we never knew even existed.
We knew our subdomain was big, but we never knew how big until we got a birds-eye view of the data and visualized it.
Also, our underperforming articles far outweighed the high and even average-performing ones. While every article won't perform as desired, the discrepancies for us were too large.
It was time to look at solutions that would both declutter our blog while increasing its content quality. One of those solutions would prove to be content pruning.
What is content pruning?
Content pruning is the process of removing content from your website that has little-to-no value to your business or its audience. In addition to removing content, pruning is also the process of consolidating content or removing content from being indexable by search engines.
Content pruning is popularly compared to the pruning of a tree. Sometimes, trees are pruned to encourage strong growth, improve plant health, and maintain structural quality. More importantly, gardeners may prune trees to avoid decay or even death.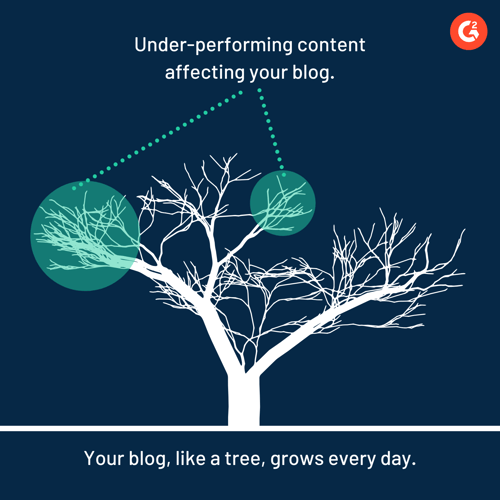 The same practice can be applied to content pruning. You identify a set of underperforming, low-quality articles and prune them from your website. This helps declutter your blog while shedding light on newer, more relevant content for your audience.
A brief background on content pruning
Content pruning isn't new by any means. Back in 2011, Google rolled out its Panda algorithm update, which was aimed at devaluing "lower-quality" websites, particularly content farms.
Like most Google algorithm updates, this sparked concern in the SEO community. Brands who feared they'd take a hit from the update began pruning large quantities of content from their websites.
To dispel some of the fear, John Mueller, a Webmaster Analyst at Google, provided more clarity about the update in a YouTube video. He mentioned that at the time, Google had seen websites with lots of "thin" content, low-quality aggregate content, and low-quality user-generated content.
"If a site wants to keep these articles, maybe they could prevent them from appearing in search. Maybe use a noindex tag."

John Mueller
Webmaster Trends Analyst, Google
Mueller's suggestion helped SEOs focus their content pruning efforts more strategically rather than pulling mass quantities at once.
Why we decided on content pruning
At the time of my content audit, our blog had amassed more than 2,700 articles. The audit showed that a good chunk of these articles was severely underperforming, especially ones that were published years ago.
Our publishing volume was by design. Because G2 is a review destination for both buyers and sellers of software, we had to target and write about many different industry verticals. This strategy was crucial for reaching one million organic sessions per month and becoming an authority on different types of software.
However, it was undeniable that our blog had become bloated. We had an abundance of underperforming content, content that served little value to our core business and its audience, and duplicate content competing against each other.
To ensure Google would stop crawling our low-value content and allocate more crawl budget to newer, more relevant articles, we had to:
Prune, consolidate, and optimize content
Update our editorial standards to ensure only the highest-quality content was being produced
3-step content pruning process
A successful content pruning strategy starts with preparation and pulling the right data.
1. Gather the data
Before pulling the plug on any of your articles, you'll need to gather a few data points on each article. Data will allow you to make more informed decisions on what to prune.
When pulling the data, think about which content metrics are most often tied to success at your company. What is your team's figurative "north star?" Is it total sessions? Is it goal completions? Is it something more specific like bounce rate or session duration? Gather these metrics and format them in a spreadsheet.
How we did it: For our team, the most important content metrics were ones that helped us scale our traffic quickly and effectively. These were total sessions in 2019, total backlinks, total referring domains, and total keywords. Consider using an SEO tool if you're looking to acquire backlink profile data.
In addition to quantitative data, you'll need basic information about each article on the spreadsheet. I recommend the article name, URL, publish date, and author name. You can quickly pull this information from your web publishing tool. Below is an example of what our working spreadsheet looked like: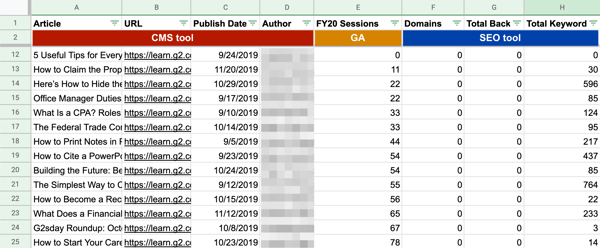 Using the SUMIF function, I was able to easily match the total sessions and backlink profile data to the appropriate article. After that, I filtered the data based on simple criteria I and a member of our technical SEO team came up with.
2. Build a criteria list
If you have a large blog like us and are considering cutting some content, you'll need to build a criteria list for each round of pruning. This will allow you to get a clearer view of which problematic articles to target.
How we did it: Start with the lowest-hanging fruit and create benchmarks for your below-average performing content. Based on what we created, our first round of criteria focused on:
Articles published before January 1, 2019, to allow for at least a year's worth of traffic and backlinks.
Articles with 300 or fewer sessions over that timeframe, equaling less than one session per day.
Articles with no backlinks/referring domains, spammy backlinks, and/or low-quality backlinks.
Your criteria will undoubtedly change with more rounds of content pruning. Just be sure to reference your benchmarks.
For example: Let's say that the click-through rate (CTR) to product pages is your "north star" content metric. If your ideal CTR on articles is 5% and your below-average performing articles have a CTR of 2%, your content pruning criteria should include articles that range from 0-2% CTR.
3. Decide an action
After pulling the data and filtering your spreadsheet to fit your criteria, it's time to assess your underperforming articles and decide an action for each one.
Are you going to completely unpublish from your website? What about removing an article from search results? Maybe an article has good content and just needs a refresh. Dedicate meaningful time and ask yourself these questions when auditing content during the pruning process.
How we did it: I manually sifted through each article on the pruning spreadsheet, categorized them, and then provided some context for each categorization.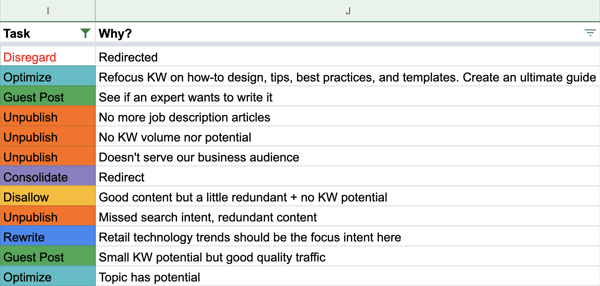 You can also apply conditional formatting and essentially "color-code" the spreadsheet to keep your process more organized. This, of course, is optional.
Disregard the content
If an article has been refreshed recently or is seeing a brief surge in traffic, you may want to disregard it for now and revisit it later based on its performance.
Optimize or rewrite the content
While not all content will perform as desired, I'm a firm believer in finding ways to optimize and repurpose content first before pruning it.
There are many ways to update your content. One way is to replace your old research from 2014 with more current research. You can conduct new keyword research and see what gaps your content needs to fill. Or maybe you need to acquire a few more backlinks to start ranking higher. It's up to you to decide how you want to begin optimizing your content.
Since we have a guest post network at G2, I marked a handful of articles as "Guest Post" to pass on for rewrites. These were lower-funnel articles that could use more of an expert perspective.
Consolidate the content
Remember, pruning is more than just removing an article or making it invisible to search engines. You can also consolidate articles to free up space on your blog. There are a variety of ways to do this, but two of the most common ways are by redirecting duplicate content and consolidating short-form into long-form.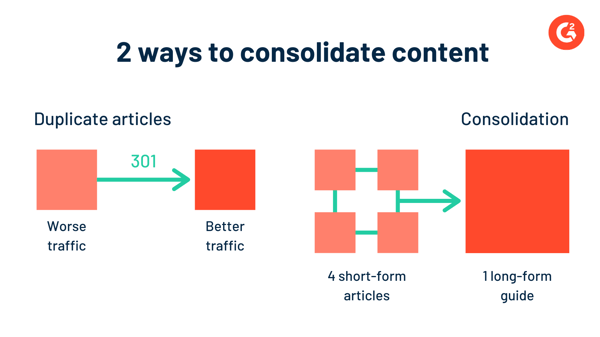 Duplicate content: This occurs when you have two or more articles competing against each other for similar keywords and search results. Redirect the underperforming article into the higher-performing one. Change all internal links from the underperforming article to the higher-performing one.
Short-form into long-form: This occurs when you have multiple short-form articles that can be easily consolidated into a single guide.
For example: If you have articles on how to grow a Twitter audience, the best time to Tweet, and Tweet ideas, you can consolidate them into a guide on "Using Twitter for Beginners". Get creative with it.
Keep in mind, with every 301 redirect you have, you'll lose a bit of link equity, so be sure to avoid long redirect chains.
Unpublish the content
The most straightforward way to prune an article is to simply unpublish it from your blog.
Step 1: Find the article you want to unpublish.
Step 2: Remove any interlinks with that article.
Step 3: Unpublish the article.
Step 4: (Optional) If you have an XML sitemap, ensure the URL has been removed.
I personally don't recommend unpublishing an article until you know it's unsalvageable from a performance standpoint. What is unsalvageable in this case:
An article that completely misses the search intent and its low volume potential doesn't validate a rewrite.
An article with virtually no keyword potential. For example, we found press releases from 2016 that were not worth keeping published.
An underperforming article with no value or relevance to your business nor its audience.
Be sure to clearly define your unpublishing standards before you begin pruning.
Remove from search engines
Another way to prune an article is to remove it from being indexable by search engines. You can apply this method to articles that have OK content but their performance potential is low. Or you can apply it to user-generated content that has gone stale without removing it from your website.
There are a few ways to remove articles from search engines. One of the most common ways is to add a noindex meta tag in the page's HTML code. To do this, paste the following code in your page's <head> section:
<meta name="robots" content="noindex">


This will signal to search engine crawlers that the page should not be indexed.
How we did it: Due to limitations with our CMS, we weren't able to add a noindex meta tag. Instead, we had block pages from being crawled by editing our robots.txt file.
Many websites have robots.txt files. These files act as "traffic control" and basically tell search engines what they can and cannot crawl. We updated our file so that any blog URL with /archive/ in it would be blocked from crawlers.
Content pruning results
Our purpose for content pruning was to free up crawl budget for newer and more relevant content, reduce cannibalization and duplicate content, and improve the overall quality of content on our blog. So, how did we do?
Overview
Over a four-month period, we pruned exactly 200 of our 2,700+ articles on the blog. Below is a breakdown of how this was conducted month-by-month.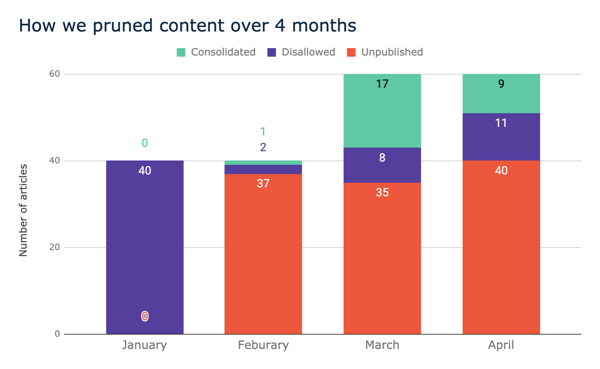 In total, we completely unpublished 112 articles, disallowed 61 articles from being crawled, and consolidated 27 articles.
Web traffic and visibility
In terms of our "north star" metric of driving more traffic to the blog, the results were exactly what we wanted.
| | |
| --- | --- |
| Index | Sessions |
| 4 months before pruning | 5,428,554 |
| 4 months of pruning | 6,303,606 |
| Traffic increase | 875,052 |
| Percentage increase | 16.12% |
By pairing content pruning with our new and improved editorial standards, we were able to increase traffic by more than 875,000 in four months. Pruning removed the old, editorial produced the new.
We also saw an improvement in search engine visibility.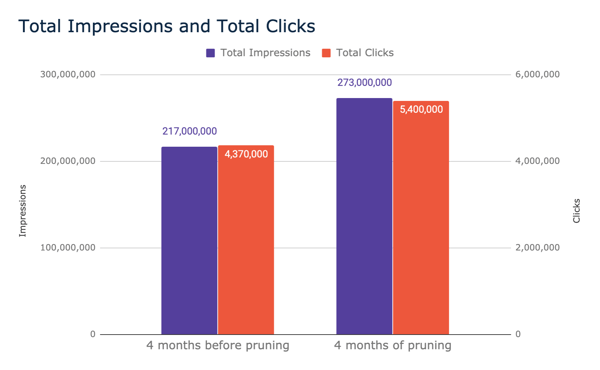 In four months, our total impressions rose by 20%, and our total clicks rose by 19%. Also, our average sitewide ranking position on Google decreased from 17.1 to 15.5, a small but noticeable change.
Crawl budget
Due to our web hosting limitations, we couldn't examine the server logs to get a good look at how crawl budget was being allocated across our website.
However, we did notice our crawled-pages-per-day metric increased throughout pruning, thanks to Google's crawl stats report. You can find this report under 'Legacy tools and reporting' in Google Search Console. It will give you a 90-day report of how many pages Googlebot is crawling per-day.
If you do have access to your website's server logs, work with a developer to pull and examine them. This article from Moz gives a detailed explanation of what to look for when sorting through server logs for SEO.
Content pruning tips and best practices
After four months of content pruning and getting more acclimated to this unique SEO strategy, I came away with a few findings and recommendations.
Success is a joint effort
I can confidently say that our pruning results wouldn't have been as successful if we didn't simultaneously update our editorial standards. It took a joint effort to reduce old low-quality content while producing new high-quality content.
This further reinforces why your content marketing team should always prioritize quality content and quality reader-experience. If your team continues to produce subpar content, pruning will be a wasted effort, and you won't see desirable results.
Involve everyone early
Depending on the structure of your content marketing team, it's likely you'll have to involve other teams like technical SEO and developers in the pruning process.
Get everyone involved early and be upfront about the goals you're trying to achieve through pruning. This also ensures that pruning doesn't interfere with any upcoming technical projects.
Be proactive about content decay
Before reaching the point of content pruning, you should be routinely analyzing the performance of your articles and look out for content decay.
Just about every article on the web right now will experience decay at some point. If an article goes years without being updated or repurposed, then decay will likely set in and that article won't perform as desired.
Search engines crave new content that's relevant to their users. Being proactive about updating your old content on a quarterly basis could prevent the need to prune content later on.
Content pruning isn't the first resort
Just because we had desirable results with content pruning doesn't mean it should be your first resort. For newer brands with small websites and blog sections, pruning shouldn't even be considered.
Instead, focus your efforts from the get-go on producing high-quality content that will resonate with your audience. Build something that'll have readers coming back for more. There are no shortcuts to quality content.
And if you find traffic performance starting to slip, look at your data and see what gaps need to be filled. Stay on top of older content and update when necessary. Find savvy ways to acquire backlinks. Promote your content on the right channels. I recommend all of these content marketing basics before you start chipping away at your blog.