Developing a content marketing strategy isn't just a perk, it's a necessity.
Whether you're just starting to implement content marketing into your social media marketing strategy or you're going back and tweaking an already existing campaign, developing and continually updating your content marketing strategy is crucial. Before we can talk about how you can develop a great strategy, we have to understand what a content marketing strategy is.
What is a content marketing strategy?
Your content marketing strategy is the management of the content you create, own, and share with your audience. Whether that content is written, visual, experiential, or downloadable, your content marketing strategy details why you're creating this content, who you're helping, and why your business' content is the best resource.
Based on a study conducted by Content Marketing Institute, 78% of marketers said that higher quality content creation was the contributing factor to their increased success, while 72% said developing or adjusting their strategy was the key to success.
It's no secret that content marketing is becoming the most effective way to engage with your audience, so having a solid content marketing strategy is just another way you can strengthen your marketing efforts. In this article, we'll discuss why you need to create a content marketing strategy, what to include, and the ways you can set it in motion.
Feel free to skip ahead to the section of your choosing:
Why you need to create a content marketing strategy
Who are you creating for?
Content formats
What problem are you solving?
How to create a content marketing strategy
Content marketing strategy: explained
When you're developing your content marketing strategy, keep in mind that it has to do with more than just social media and marketing. Your strategy is used throughout the customer's journey. It can be used in tandem with other strategies such as customer success, research, and sales.
Why you need to create a content marketing strategy
Nowadays, more and more marketers are realizing how effective content marketing is as opposed to standard marketing. If you can bring your audience value rather than just selling them something, they'll be much more inclined to favor you compared to other brands.
If you're planning on implementing content marketing into your existing marketing strategy, you'll need to create a separate strategy for your content marketing. To put it simply, you'll need to lay down some basic parameters when it comes to the content you'll be sharing with your following.
When creating your strategy, keep these questions in mind:
Who are you creating for?
Who is the target audience for your content? Do you have multiple audiences? What kind of content do they engage with the most? Every customer is different, so be sure to cater to the various types of customers you have within your brand's audience.
It can be as simple as breaking up content between social channels. Customers who enjoy visuals may interact with your content more on Instagram, while customers who enjoy written content may find you on Twitter where you share your blog posts.
Content formats
When it comes to posting on social media, there are endless content formats you can try out. A few include: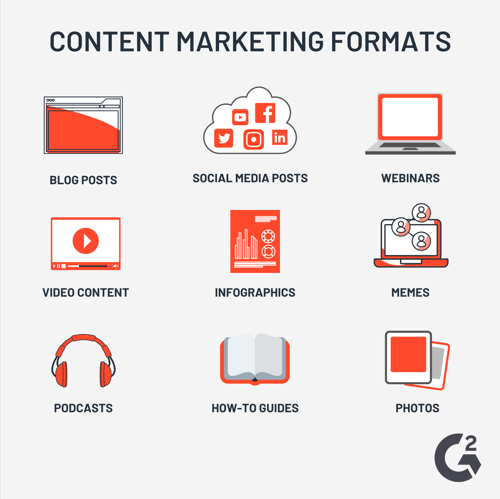 What works best for your brand? Do you see an increase in engagement when you share video content? Maybe your audience is most satisfied with your blog. Maybe memes are the best way you can connect. The better you understand what types of content make your brand successful, the better you'll be able to identify which content format to utilize.
What problem are you solving?
Ideally, your product or service will solve a problem your audience needs help fixing. When you share high-quality content, the idea is that your audience will find it and realize they need to invest in your product to accomplish the goal of solving their problem.
When you develop a solid content marketing strategy, you're assisting people who haven't realized this yet as well as people who are already using your product or brand. Serving them content that leads them to invest in your product is the easiest way to help them and turn them into brand evangelists.
How to create a content marketing strategy
Now that you understand why creating a killer content marketing strategy is necessary, it's time to talk about how you can actually develop one in five easy steps.
1. Set objectives
Why are you sharing content on social media in the first place? Before anything, you need to know what you're looking to accomplish when posting content.
A helpful way to set goals for your business is to reference the SMART strategy.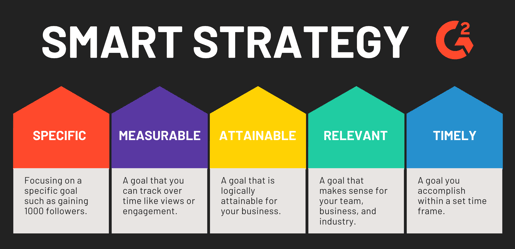 Whether you're trying to drive traffic to your website, reach a wider audience, or increase general brand awareness, go through the SMART strategy and make sure your goals are feasible.
2. Differentiate yourself from the crowd
Think about what sets you apart from the other brands or companies that do what you do. What's your selling point? Why should someone choose your brand over another? There are hundreds of content teams that are taking advantage of content marketing right now, so the room is already crowded.
Brainstorm with your team and come up with a couple of ideas you could execute on social. Maybe you'll develop a video series that brings your customer information in a fun and engaging way. Maybe you'll create a Twitter chat that calls on industry professionals to answer a problem. Develop a couple of ideas and flesh them out.
TIP: Check out five key takeaways from the Content Tech Summit 2019.
3. Get to know your audience
Who are you marketing to? The only way you'll see any engagement is if you get to know your audience. Luckily, it's quite easy for social media marketers to do so. Studying your Facebook Audience Insights as well as your analytics will allow you to target the right customers and get them to convert.
Knowing your demographic plays a crucial role in giving your customer what they want. In order to do this, be sure to become familiar with some common marketing myths and bust them.
Sometimes, it's not as hard as digging into analytics. Simply reading customer reviews can help you determine what kind of content and other materials they're looking to see from you. You could also consider gathering their insight through a user-generated content campaign.
Not only can reading reviews help you determine what kind of content you're going to be writing – if you're writing a piece around a product with reviews, those reviews can be used to generate the content for you.
4. Measure your metrics
Tracking and analyzing your social media metrics over time is a great way to see how successful you are online. If your campaign that includes heavy video content sees increased engagement, you'll be able to see when your customers clicked on it, how long they watched, and if they shared it with their networks. This can help to inform your next campaign (and campaigns to come)!
5. Create a content plan
Planning out when and where you'll post your content can be overwhelming to even the most experienced marketer. Developing specific personas to segment your audience can be useful when you're trying out a new technique.
Additionally, organizing content ahead of time can save you the headache when important deadlines come up abruptly. Download our free social media calendar and start planning your future posts right now.
Seriously. Do it. You'll thank yourself later.
And don't forget – once you start creating content, test everything. Using A/B testing software to try out different headlines, meta descriptions, and copy can help you see faster and better results.
Content is king
At the end of the day, assessing your objectives, setting realistic goals, and sharing high-quality content is the backbone of a solid content marketing strategy. It takes time to develop a strong strategy, so don't become discouraged if you're not seeing results right away. Build a solid foundation first. By doing so, you'll be able to optimize it later and see your engagement soar.
Wondering when you should share your content online? Discover the best time to post on Instagram and the best time to post on Facebook.