The most important thing you can offer your audience is value.
In our current social media age, consumers do a lot of the leg work for the marketer. More often than not, they'll seek out their own information to form an opinion on whether buying a product is worth their time and money.
As a marketer, you can offer more than just a product or service to your audience (and loyal customers). When you start implementing content marketing into your social media marketing strategy, you provide double the value. But what is it?
What is content marketing?
Content marketing is a type of marketing that includes creating, producing, and sharing content (such as social posts, blog articles, videos, experiences, online courses, or events) that doesn't serve to advertise the brand, but to invoke an interest in its product or services.
In this article, we'll break down content marketing, why it's important, how it brings value to your business, and its relationship to social media and SEO. By the end, you'll be able to explain content marketing in full detail. Let's begin.
Feel free to jump ahead to any of these sections:
Explaining content marketing to the layperson
Explaining content marketing to marketers
Why content marketing is important right now
How utilizing content marketing can bring value to your business
Content marketing and social media
Content marketing and SEO
Content marketing: what is it?
Explaining what content marketing is can be difficult. Describing it to someone who has worked in close proximity to a marketing team will be different than how you describe it to someone who has never worked in the field.
Explaining content marketing to the layperson
If you work in content marketing, you may find it challenging to describe your job to a friend or family member. Maybe you describe yourself as a writer or a thought leader. But that doesn't cover the extent of your daily duties.
An easy example you can refer to when explaining content marketing is the company newsletter. Usually, newsletters include company-adjacent information, downloadable content, blog posts, or an invitation to an interactive event. Take G2's Learning Hub newsletter.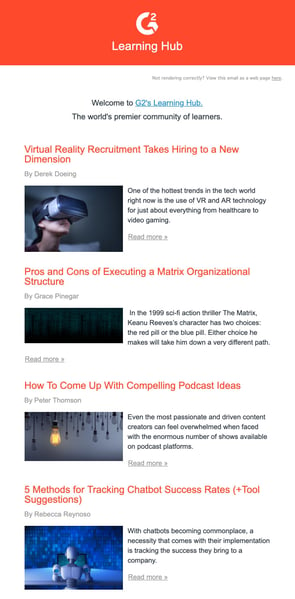 While the articles featured don't directly sell you anything, they provide valuable (and free) information that relates to G2's core mission.
If you're struggling to put that into words, you could say "content marketing is interesting and educational information that is so well-crafted the consumer becomes loyal to the company because of it."
Coca-Cola does content marketing
One of the most obvious examples of content marketing is the #ShareaCoke campaign. Back in 2011, Coca-Cola introduced this campaign and started stocking the shelves of supermarkets, gas stations, and convenience stores with customized Coke bottles. Each one had a different name on the label.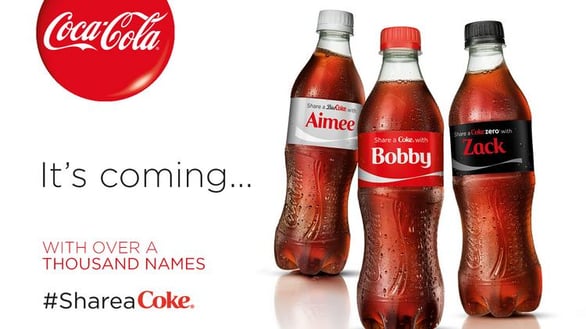 This campaign was (and still is) a huge success. When grabbing a Diet Coke from the fridge of a gas station, people would pause to look for their name. If it wasn't there, maybe they'd see a friend's name or maybe their dad's. In any case, Coke customizing their bottles served as both a marketing campaign and an interactive experience. Although you're purchasing their product, you're also laughing as you try to find a familiar name. This positive experience is priceless to the consumer and fosters strong brand loyalty.
Stay ahead of your competition with daily marketing insights from G2.
Don't worry, we will only send you the good stuff.
Explaining content marketing to marketers
Content marketing is more than just sharing great content with your audience, it's about becoming the most credible source on a topic that is important to your customers.
Say you're a content marketer and your company sells a monthly subscription of pre-made dinners shipped right to the customer's door. You may cover topics that revolve around health, sustainability, and the environment. Your audience is likely to care about these things, and if you're posting content centered around the company's main mission, your audience may feel more inclined to favor you.
Because your team is sharing this content, you're more likely to be regarded as a thought leader in that industry. Becoming a brand that provides content that none of your competitors are providing can turn your company from a means to sell a product to an information hub people can count on.
Content marketing isn't just writing. It can be a video series, an e-book, a webinar, educational resources, downloadable content, or any form of entertainment that offers unique information about a topic the consumer can't find anywhere else.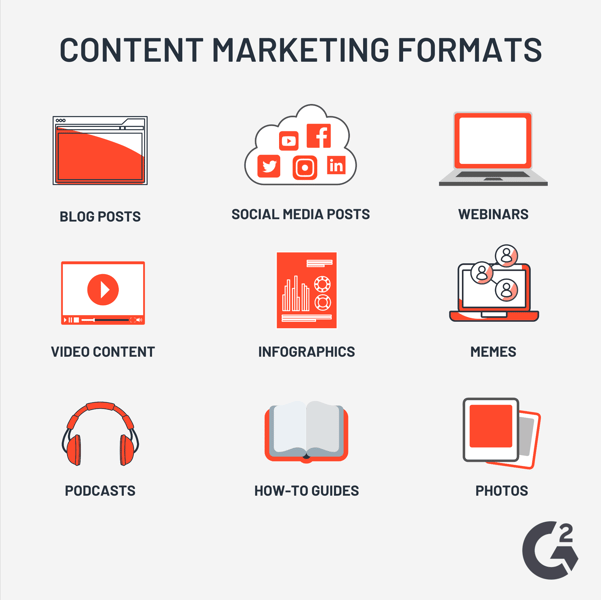 If you work in marketing, implementing content into your overall strategy can be one of the best ways to engage your audience, nurture a relationship with them, grow an active subscriber community, and in turn, generates sales.
Related: Read why deadlines are the greatest source of inspiration for content marketers.
Why content marketing is important right now
There are many reasons why content marketing is important right now. Did you know that the average consumer is already two-thirds to 90% of the way through the buying decision before they pull the trigger and purchase the product?
Within the window of time the consumer is considering purchasing your product, you could be posting amazing content that doesn't directly sell them anything, but rather provides them with information that's useful and engaging. This could be a variety of things: articles, videos, you name it.
Having content that goes along with your product will answer a potential buyer's questions and puts them into the funnel without having to carry out a hard sell. You're providing them with high-quality content they didn't know they wanted.
How utilizing content marketing can bring value to your business
By now, I'm sure you have a good handle on what content marketing is and why it's important in the social media age, but let's talk about how it can bring another layer of value to your business.
Increased brand awareness
One of the main and most obvious goals of using content marketing is increasing your brand awareness. When potential customers search for answers online, they may stumble across a blog post or video of yours. By having this content out there, you attract customers who may not have known about your brand in the first place.
TIP: Implementing buttons and links to your website within your content can also increase brand awareness. Additionally, leading customers to a place (like your G2 profile) from your content increases your chances of receiving feedback, both positive and negative.
Brand loyalty and preference
Sharing valuable content distinguishes your brand from countless others on the web. You establish yourself as a thought leader within your industry while nurturing a relationship with your buyers. If they have a question, they'll come to you for information. Over time, they'll trust your brand and prefer it over others just because you provide them with content they can't find anywhere else.
Evangelists
When someone becomes an evangelist, they don't think twice about promoting and sharing a specific brand, they do it because they truly love it. People become die hard fans of certain brands and companies because they love the products, mission, and even the social media presence. If you have enough evangelists, you can even start running a user-generated content marketing campaign.

Turning potential customers into brand evangelists is a common goal among marketing teams, content can help make it happen.
Content marketing and social media
Social media is the easiest and most efficient way to reach your audience so you should be taking advantage of it. When it comes to content marketing campaigns, social media is its perfect match. Each platform will attract a different demographic so knowing your audience is crucial.
Check out our social media marketing hub to learn everything you need to know about social media, content creation, analytics, and current best practices.
If you're curious about your audience, there are plenty of ways to discover who they are. Take some time to dig into your Instagram analytics, Facebook analytics, Twitter analytics, and maybe even your YouTube analytics. Each platform provides you with valuable information that describes your audience in great detail.
Having this knowledge is powerful when you're promoting a content marketing campaign. If you know that your audience on Twitter engages with blog posts the most, share your articles there. Likewise, you can share your video series on YouTube and handcrafted graphics on Instagram.
Using web content management software will allow you to create, edit, and publish digital content. Browse some of the most highly-rated software tools and try one out for yourself:


Content marketing and SEO
SEO plays a big role in how successful you are online. If you're taking the time to write good content, you should also be taking steps to help it be found by search engines. Ranking on Google can be difficult and confusing, but if you incorporate a few SEO best practices into your content, you'll only be helping yourself. There's really no downside.
Keywords
When deciding on a topic to write about, make sure to identify a strong and appropriate keyword along with a few related ones. Choosing the right keywords is a delicate balance, and avoid keyword stuffing. Search engines catch onto that and it can hurt the chances of your article ranking at all.
When you're creating content, make sure you're keeping the reader in mind. What information are they looking for? Are you providing enough? Take a look at the article that's currently ranking first for your keyword and emulate it. The best way you can assist your content in ranking is to use keywords correctly. Make sure you're using an appropriate keyword and then write the content. Include the keyword in your headers and body. Write for both the reader and the search engine.
TIP:
Learn all about
on-page SEO
and how you can best optimize your content.
Backlinks
If your content is credible, other companies and blogs may start linking it within theirs. Earning backlinks from high-quality websites can lift yours up. You may find that people are linking to you organically (linking because they think your content is useful) but if you're trying to get your content out there, building strong relationships with other industry professionals is a great way to do so. Blogs all over the world share content from other companies and by doing so encourage those companies to return the favor.
Over to you
Content marketing is one of the strongest forms of brand awareness currently available. There are even whole conferences dedicated to content, like the Content Tech Summit 2019. Nobody wants to be pitched to while scrolling through their timeline. To hook potential customers, consider incorporating content marketing into your marketing campaign. Create an experience, serve insightful articles, get behind a cause, make your content human. Treat your audience with dignity and make interacting with your brand fun.
Want to learn even more about content marketing? Read up on how to create a content marketing strategy or get familiar with the content marketing manager job description.