Content is everywhere.
On our social media feeds, in our inboxes, on the websites we visit — we're surrounded by content every day. And whether we realize it or not, the content we see and choose to engage with online can have a powerful influence over our decisions. For example, do you follow any brands on social media, not because you're a regular customer, but simply because you enjoy the content they post?
Many companies, understanding the importance of content marketing in our lives, have developed extensive strategies to create content that will engage their audiences and attract new customers. But for many businesses, the thought of continuously creating original, interesting content is overwhelming.
That's where content curation comes in.
---
What is content curation?
The role of a content curator is similar to that of any other curator. An art curator, for example, is responsible for acquiring and interpreting works of art for a museum, then choosing how those works are displayed to the public. Your local radio DJ is another type of curator, in charge of selecting songs the station's audience wants to hear.
Whether you knew it or not, you've probably participated in content curation. If you use a social media suite, you likely keep an eye on your feed and repost content you think your followers will enjoy. Or perhaps you make a habit of sharing articles written by industry experts with your newsletter subscribers. Curated content can be anything: news articles, images, videos, podcasts, songs — almost any piece of digital content that might interest your customers. That content can be shared through any channels you use to communicate with your audience, like a social media feed, a blog or an email newsletter.
For example, let's say the owner of an independent bookstore reads an op-ed in the Chicago Tribune about the importance of shopping at brick-and-mortar bookshops. She wants to share it with her customers, so she writes a post on her business' Facebook page, linking to the article and throwing in her own thoughts. The store owner found a piece of content she thought her audience would enjoy and added her own voice to it. That's content curation! It's not necessary to write an essay, but personalizing the content you share can provide important context for your audience and strengthen your brand's unique voice.
Another example would be a digital marketing agency that sends a weekly newsletter to its clients. In the newsletter, the marketing manager includes a roundup of recent articles that cover various digital marketing strategies such as on-page SEO, social media tips or web accessibility, briefly describing his thoughts on these strategies and explaining how his agency can help clients execute them.
---
Benefits of content curation
Whether you want to improve your B2B content marketing strategy or create a sense of community around your B2C brand, content curation is a relatively simple and effective method. Even small companies can use it.
Curating content saves time
As people spend more and more time consuming content online — through podcasts, blogs, social media and more — it has become increasingly important for marketers to add content marketing to their strategies. But creating original content requires a lot of time and energy, and for many businesses, those two resources are often in short supply. Incorporating content curation into your business' marketing strategy is a great way to cut down on the time you spend creating content without sacrificing customer engagement. Even better, there are tools that can help you save further time curating content. (We'll touch on those in a bit.)
Curating content engages your audience
You know what they say about all work and no play. Companies that exclusively post their own content can come across as disengaged and out of touch. Sharing other creators' content can help position your brand as part of a community and demonstrate a willingness to engage with that community. High-quality content curation encourages people to follow or subscribe to a brand even if they're not currently interested in purchasing products or services. In addition, contributing your personal voice to new and relevant content within your industry is a great way to start a conversation with your audience.
Curating content builds credibility
You don't need to create your own content to prove you're an expert in your field. It may sound counterintuitive, but sharing other people's content can actually help establish you — and your brand — as a thought leader in the industry. Furthermore, by adding your own insights to the content you share, you'll gradually earn a reputation as a trustworthy and knowledgeable resource.
---
Content curation tools
In essence, there are only two requirements for curating content: the content itself and the channel through which it is redistributed. However, there are tools that can make the discovery and publishing process much faster and easier. Many products offer free versions with fewer features than their more robust, paid counterparts. These free tools are great solutions for small businesses or marketers who are just getting started on their content curation journey. Once you've tested out a free plan, you may want to upgrade to a paid subscription to gain access to the product's full set of features.
Below are some of the highest-rated content curation products on G2 based on popularity and user satisfaction as of June 13, 2019. Products were chosen for their content curation capabilities and availability of free options. These tools come from a few different categories, including content creation software, bookmark manager software and social media monitoring software.
UpContent
Product name: UpContent
G2 star rating: 4.4 out of 5.0
Number of reviews: 77
Overview
UpContent is a content creation tool that helps users find, curate and distribute relevant content for their audiences. Rather than relying on RSS feeds or predetermined categories, UpContent uses a proprietary technology to help customers find new articles and content that match their own custom topics. Businesses can further streamline their content curation process by integrating UpContent with third-party applications such as Hootsuite, HubSpot and Buffer.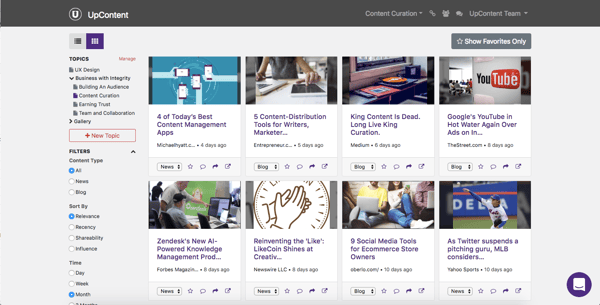 Image courtesy of UpContent
Free option:
UpContent's free plan offers one user the ability to track content for one topic. The company also offers a two-week free trial for its paid plans.
Paid options:
Sharer, $15/month: Unlimited users, 10 custom topics and one collection with limited partner integrations and basic support
Engager, $85/month: Unlimited users, 50 custom topics and three collections with all partner integrations, RSS integrations, custom calls-to-action, custom website and email integration, and premium onboarding and support
Orchestrator, $245/month: Unlimited users, 100 custom topics and nine collections with all the same features as the Engager plan; additional collections at $5/month

---
Scoop.it
Product name: Scoop.it
G2 star rating: 4.7 out of 5.0
Number of reviews: 23
Overview
Scoop.it is another content creation tool that helps businesses discover and publish curated content for their websites, blogs, social media and newsletters. Like UpContent, Scoop.it suggests the most relevant new content based on the user's chosen keywords. Additional features include filtering and ranking results, grouping news feeds and creating curated content emails. The WordPress integration makes it easy to publish new blog posts from content sourced through your Scoop.it feed.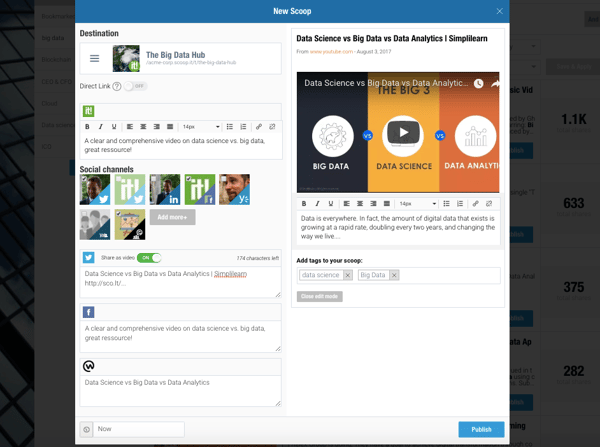 Image courtesy of Scoop.it
Free option:
Scoop.it's free plan provides one user with one topic page, 50 scoops per page, a browser extension and the ability to "rescoop" from other curators. The company offers a seven-day free trial for its Pro and Plus plans.
Paid options:
Pro, $14.99/month: Designed for individuals, freelancers and solopreneurs seeking to boost their online presence
Plus, $67/month: Designed for small-business marketers and owners who want a comprehensive solution to boost their content; includes additional social sharing features and a WordPress integration
Enterprise, contact vendor for pricing: Designed for companies and organizations with advanced content curation and monitoring needs

---
Pocket
Product name: Pocket
G2 star rating: 4.7 out of 5.0
Number of reviews: 19
Overview
Pocket is a bookmark manager tool that helps users save articles, videos and more from all over the web. Once content is saved to Pocket, it can be accessed from any device, including mobile devices, tablets or computers. In addition, Pocket provides functionality for tagging and search, making it easy to categorize and find the content you're looking for.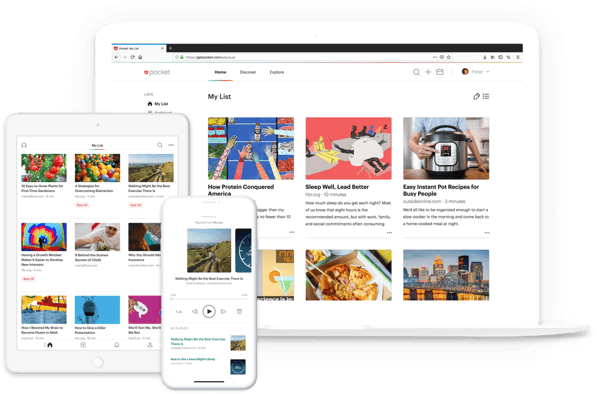 Image courtesy of Pocket
Free option:
Pocket is easy on the pocketbook: The standard version of the tool is offered for free.
Paid option:
If you're looking to upgrade, Pocket has an optional monthly or yearly subscription available with additional features, including the removal of ads, a permanent library and smart search. $4.99/month or $44.99/year.

---
Feedly
Product name: Feedly
G2 star rating: 4.5 out of 5.0
Number of reviews: 61
Overview
Feedly is a social media monitoring tool that brings RSS feed reading into the 21st century. RSS (Really Simple Syndication) is a standardized system for delivering updates of web-based content. Feedly aggregates multiple RSS sources into one feed, so users can find new content from their favorite news sites and blogs in one place.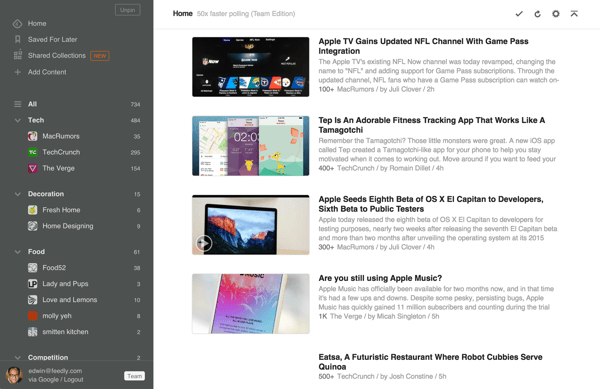 Image courtesy of Feedly
Free option:
Feedly's Basic plan, available for free, provides users with up to 100 sources and three feeds.
Paid options:
Pro, $5.41/month: Unlimited sources, unlimited feeds, Google keyword alerts, notes, highlights, advanced search and social sharing
Teams, $18/month per user: Designed for teams to research and share industry trends, this plan provides everything in Pro with additional features like shared feeds and boards as well as more advanced integrations

---
Hootsuite
Product name: Hootsuite
G2 star rating: 4.1 out of 5.0
Number of reviews: 2,702
A social media suite with a robust set of features, Hootsuite lets users manage and monitor feeds across multiple social networks, including Twitter, Facebook, LinkedIn and Instagram. If your company has more than one social media account, tools like Hootsuite are helpful for staying on top of your feeds and engaging with customers through all your social profiles. With the scheduling feature, you can ensure that you're sharing content with your followers even when you're not online.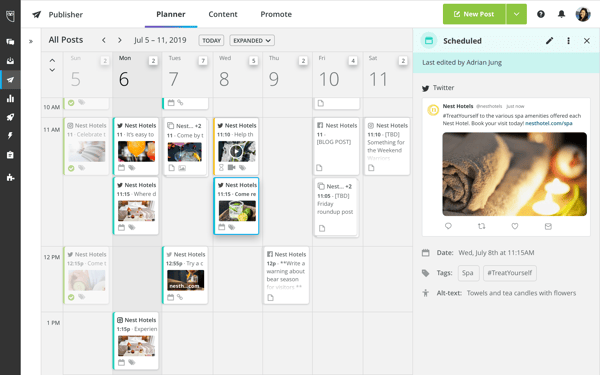 Image courtesy of Hootsuite
Free option:
Hootsuite offers a free plan with limited features: Three social profiles and 30 scheduled messages for one user. Free 30-day trials for the Professional and Team plans are also available.
Paid options:
Professional, $29/month: Designed for entrepreneurs, small-business owners and independent consultants that want to maximize their time on social media
Team, $129/month: Designed for small marketing teams looking to collaborate more effectively on social media
Business, $599/month: Designed for businesses and agencies that want to build their brand, grow followers and manage social media more efficiently as a team
Enterprise, contact vendor for pricing: Designed for large organizations with sophisticated requirements and companies with multiple teams handling social media, where security and workflows are critical

---
Learn more about social media suites
Social media suites like Hootsuite manage and analyze information related to multiple social media accounts through a single product. If you're looking for a platform that can help you manage all aspects of your social media marketing strategy, browse our social media suites category.
*Please note: Reviews have been edited for spelling, grammar and clarity.