It can be difficult to narrow down a career path.
If you've ever wondered if working in information technology is the right fit for you, you may want to consider becoming a computer network architect. But, with any career dealing with cloud computing, you're going to need to put in a lot of work and do a lot of preparation first.
What is a computer network architect?
A computer network architect is someone who designs and builds a variety of data communication networks, including local area networks (LANs), wide area networks (WANs), and intranets.
These networks can range from a small connection linking two offices to a multinational series of global communications systems. In this article, we'll talk about the job responsibilities of a computer network architect as well as the education and training needed to become one.
Computer network architect: job responsibilities
If you've ever saved a photo, video, or meme to the cloud, you've unknowingly depended on the work of a computer network architect. These tech wizards are responsible for the daily infrastructure many of us take for granted. There are a variety of duties that a computer network architect is responsible for on a daily basis.
This can include:
Creating plans and layouts for data communication networks
Presenting strategic plans to upper management and discussing why they are the right move for the organization at the time
Upgrading hardware such as adaptors and routers as well as software such as network drivers as needed to support computer networks
Keeping information and digital security top of mind when designing networks
Researching new network technologies to discover what would best support and sustain the organization going forward
Computer network architects, also known as network engineers, work to design and roll out computer and information networks. After a network has been deployed, the architect may also manage it and record any issues as they arise, troubleshooting as they go.
Computer network architects drive business goals
Along with a myriad of technical skills, computer network architects have a deep understanding of their organization's objectives and business plans. They often work with the organization's chief technology officer (CTO) to feel out where they'll most need new networks. An architect spends the majority of their time planning these new networks, occasionally budgeting the network design and implementation.
Computer network architects are crucial to IT security
Computer network architects also work with computer systems engineers that help them build the network they worked so hard to design. While they build the network together, planning the implementation of security patches must be taken into consideration to ensure data security in the occurrence of a data breach.
Architects also research new networking technologies to analyze current data to estimate how growth will affect the network. They stay up-to-date on new software technology and hardware and run tests to see how they can improve network performance.
How to become a computer network architect
From degrees to personality types, becoming a computer network architect requires a specific set of qualifications you will need to succeed in the industry.
Education
A career as a computer network architect is one you build toward, not one you jump into straight out of college. Most college grads are just trying to figure life out one day at a time (hey, aren't we all?).
Generally, computer network architect positions are senior-level jobs that an individual may land after years of working in information systems. Hopeful network architects can improve their chances of promotion by keeping up with computer/IT trends and gaining management experience.
The vast majority of computer network architects have a bachelor's degree in a computer-related field (computer science, information systems, or engineering) as well as experience in a relevant position such as a network or computer system administrator.
Job boards collect job listings from various sources and organize them in an easy-to-use database for people seeking employment. Start browsing the top job boards and start applying to relevant positions.

Important qualities of a computer network architect
The personal qualities of a computer network architect are just as important as the technical qualities. Certain personality types thrive in information technology and possess most or all of the following qualities: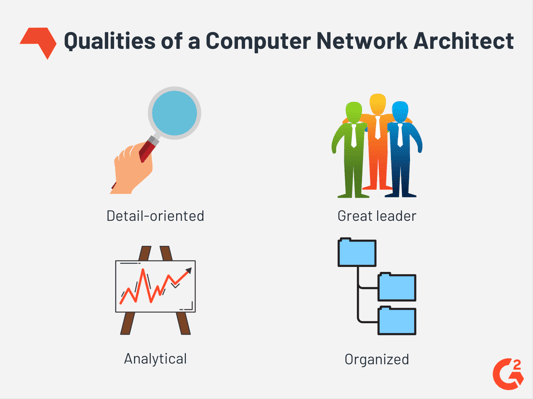 These qualities are more than just fluff. There's a reason why they're so important to the position.
Detail-oriented: Network architects will draw out fleshed-out plans of the networks they're working on that includes meticulous details on how it will work in conjunction with other networks.
Analytical: Network architects will examine dozens of data networks and determine how to best connect them based on their company's needs and allotted resources.
Great leader: A large number of computer network architects lead teams of engineers that help them build the networks they designed.
Organized: Network architects will have to coordinate and connect many types of communication networks to ensure they work well together and run smoothly.
Job outlook for computer network architects
According to the Bureau of Labor Statistics, employment of computer network architects is projected to grow 5% from 2018 to 2028, about as fast as the average for all occupations. As firms continue expanding their information technology networks, the demand for network architects will increase.
The need for architects to design and build new networks (in addition to upgrading existing ones) will create job opportunities in years to come. The boom of healthcare information technology will also add to the position's employment growth.
On the other hand, cloud computing (which allows users to access software, storage, and other computer services across the internet) has the ability to snuff out the demand for computer network architects. Companies may no longer have the need to build networks in-house. Instead, firms that provide cloud services may take over the design and build that architects usually do.
Carve your path
No matter if you're just starting on your journey into information technology or you're a couple of years in, reassessing your career path can be a great way to make sure you're happy with the direction you're headed. Hopefully, you leave this article with a better understanding of what a computer network architect does and the qualifications you'll need to become one.
Ready to start learning more about information technology? Read up about the intricacies of an intranet, what network traffic monitoring is, or why patch management is crucial for network safety.