When a business decides to move its data into the cloud, there is always the underlying question of security.
Especially since it feels like we can't go more than a few weeks without a major company being hit by a data breach. Cyber security and ensuring that all of your data is protected from hackers is an absolute must, and it might be in your company's best interest to move things to the cloud to keep this data safe.
Before that, though, let's explore the inner workings of cloud security, the types you can choose from, plus the benefits and risks of cloud security, before you make the great migration into the sky.
Cloud security 101
There's a lot that goes into cloud security, but first, let's start with the definition.
What is cloud security?
Cloud security refers to the strategies and policies used to protect data applications and cloud system apps.
When cloud security is done right, it's an essential component to a cloud environment that can work for both businesses and customers alike. When it's not, well, that's a different story.
Let's breakdown everything you need to know about cloud security, because let's be real, no one likes a data breach.
Types of cloud security
No, I'm not talking about the Stratus, Cumulus, Cirrus, and Cumulonimbus clouds you learned about in school. I'm talking about public, private, and hybrid clouds used for security. Do you know the difference?
Public clouds
A public cloud is created from hardware owned and managed by a third-party company whose resources are shared with multiple clients.
Examples of public clouds are Amazon Elastic Compute Cloud (EC2), IBM's Blue Cloud, Google App Engine, and Windows Azure Services Platform.
Private clouds
The resources within a private cloud are sourced from systems dedicated to and managed by the people who are using them.
Instead of being defined by location or ownership, they are defined by privacy settings and management responsibilities.
Tip: Interested in going with a private cloud, but unsure which one makes the most sense for you? Check out this complete list of the best virtual private cloud software on the market.
Hybrid clouds
Ready for the best of both worlds? A hybrid cloud is a combination of one or more public or private cloud environment. They are developed partially from hardware owned and managed by a third party, in addition to hardware owned by the owner.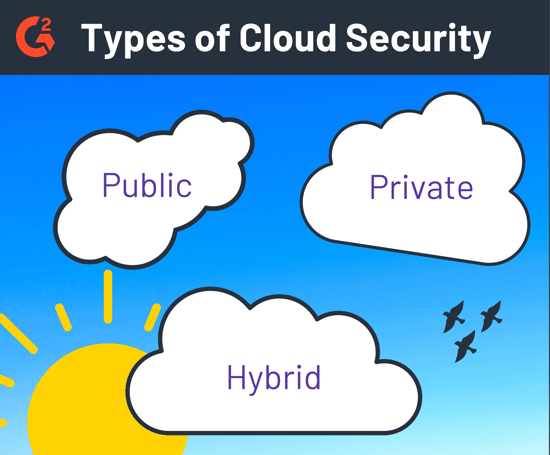 Benefits of cloud security
The great thing about cloud security is the multiple levels of control it provides to protect cloud-based assets, like website and web applications. These security measures also work to protect data and the privacy of a business' customers.
Whether you use a public, private, or hybrid cloud, there are many benefits to using a cloud to secure your data. Let's break them down.
DDoS protection
Distributed denial of service attacks, also known as DDoS, are on the rise, especially if your business falls in the retail or gaming industries. A DDoS attack is done by sending large amounts of traffic to a targeted website or web application using vulnerable systems with the hopes of overwhelming the server so that it is unable to respond to a request by a legitimate user. Basically, your website is flooded with requests until it crashes.
When this sort of attack is successful, your website or application can be down for hours, or even days. Not only can this cause a loss of revenue, but it can also cost you your customer's trust in your brand and its products.
An advanced cloud security network will monitor and identify these attacks before they occur.
Data security
The last thing you want to happen to your organization is a data breach. To avoid this, you may invest in malware protection, anti-virus software, and intrusion protection.
In addition, cloud security networks feature their own protocols to protect communication between the company servers and users of that server, which also covers the protection of sensitive information and transactions that go hand-in-hand with an e-commerce website.
Did you know? 61% of breach victims in 2017 were businesses with fewer than 1,000 employees.
Reduced cost
When you utilize a cloud security network and cloud storage, you eliminate the need to invest in dedicated hardware to do it for you. Not only will this reduce capital spending, but also free up time for your IT department to focus on other issues, instead of chasing down security threats.
Reliability
When your business implements the right cloud security measures, users can feel safe and confident when they access data and applications, no matter the device they use.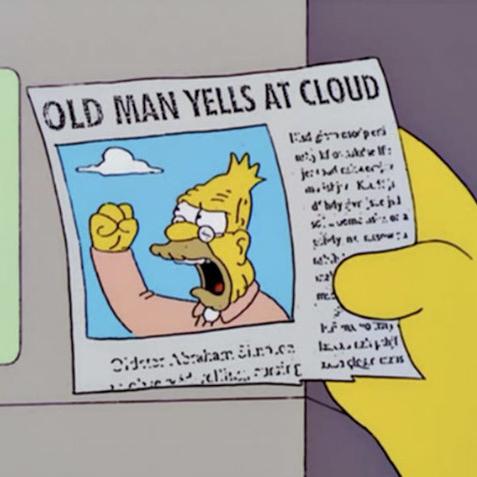 Source: KnowYourMeme.com
Cloud security risks
Just because there are benefits to using cloud security doesn't mean there aren't some risks you could encounter along the way.
Loss of data
This may seem obvious, but even the most robust and secure cloud security systems can get hacked. With all of the sensitive data that companies store in the cloud, any sort of data breach can be detrimental.
Take Facebook for example. In March 2019, they announced that they hadn't properly secured the passwords of as many as 600 million of its users, making these passwords easy for hackers to find and exploit. Worst still, this data was stored in plaintext and could be accessed by over 20,000 Facebook employees.
Contract breaches
Depending on your company, you may run into the issue of contracts with other business parties that restrict how data is used and who has the authority to access it.
If an employee were to move restricted data into the cloud without authorization, the contract could be violated, resulting in legal action taking place.
Loss of customer trust
If a company you used on the regular was a victim of a data breach, and your information was compromised, would you continue to trust them with your business?
My guess is no. Loss of trust is an inevitable result of a data breach. For instance, after Panera's data breach in April 2018, where 37 million customer accounts were affected by the exposure of their names, email addresses, birthdays, and credit card numbers, their customers decided to venture elsewhere for lunch.
Loss in revenue
Along with a loss of trust comes a loss of revenue. In December 2013, Target was the victim of a data breach that affected credit and debit card information of up to 110 million. Since this was right around the holiday season, a time where stores like Target usually see an increase in revenue, the company actually experienced a 46% drop in quarterly profit. They also estimated the breach cost them $148 million.
Keep your head out of the clouds
It's time you made the most of what cloud security can do for your company. As long as you go about it the right way, use a reliable cloud network, and learn from the mistakes of others, you'll float through the air and above the competition.
Now that you're well-versed in cloud security, expand your vocabulary even further with 70+ cyber security terms and learn how far we've come with the history of computers.