PR firm Cision acquired social media platform Falcon.io, a move that speaks to the pivoting face of public relations, the ever-changing digital marketing landscape, and the importance of brand authenticity when building customer relationships.

Micro-influencers, brand ambassadors, and clout connoisseurs all have a profound understanding that consumers need authenticity when it comes to selling and buying products. You want credibility? You need to reach and meet your consumers as organically as possible. It's become a running joke at this point that every day, IoT devices like Amazon Echo and iPhone's Siri are listening to our conversations and then feeding that information to advertisers, who then send you incredibly targeted advertisements on any given social media channel.
That can only go so far and reap only so many benefits.
Consumers want third-party validation about products; only after being equipped with that validation, will they go out and buy.
Happily, the industry has realized that.
Brief Recap of Acquisition Details
On January 3, 2019, Falcon.io, purveyor of a comprehensive social media management software, announced its acquisition by and consolidation with PR firm Cision. Both companies explained that their partnership would "redefine how businesses execute campaigns across paid, owned and earned media." The entire Falcon team (and its product) will join the Cision family; post-acquisition reveal, Cision customers will be able to immediately purchase Falcon.io's social media marketing capabilities. By all accounts, the product will remain a standalone solution that users can leverage in addition to infusing Cision's Communication Cloud with the tools needed to integrate the interests and strategies of PR, marketing, and advertising professionals.
What Does Cision Do Well?
Cision is a PR firm based in Chicago and holds a significant presence within the media industry. However, by taking on Falcon's social media monitoring and management functionalities, Cision very strategically offers its customers PR solutions that aren't as conventional or single-minded as its competitors. Cision is updating old-school PR methods by acquiescing to the power of social marketing. The company has, appropriately, listened to the needs of its customers and added granularity to such features like influencer targeting and KPI tracking.
What Does Falcon.io Do Well?
Founded in Denmark, Falcon.io is a multi-headed beast of a social media solution. Falcon provides marketing professionals with the tools necessary to listen, promote, and measure customer engagement across social media networks. Additionally, Falcon was well-prepped for this acquisition; in February 2018, Falcon acquired social media marketing tool Komfo, beefing up the abilities of its own platform.
Why Falcon.io?
In TechCrunch's coverage of the acquisition, writer Ingrid Lunden theorized that because "social media has completely changed the landscape for how information is disseminated today," players like Cision have had to re-evaluate what exactly they could continue to provide its customers going forward. After all, PR management had been the traditional mediator between media outlets, businesses, and the hoi polloi.
So why Falcon, specifically, for Cision? Falcon is decidedly smaller than its competitors, most obviously Hootsuite and Sprinklr. TechCrunch posited that one factor was in fact its size and reach. Cision will continue to sell Falcon to its customers (about 75,000 businesses), providing its user base with a tool that won't eclipse its own legacy products.
Interestingly, back in February 2018, after news broke of Falcon's acquisition of Komfo, Falcon's CEO Ulrik Bo Larsen foreshadowed his expectation that Falcon would "become a one-stop-hub for all of a company's social media needs." Consolidation would give companies like Falcon an edge against behemoths like Facebook and Twitter. Neatly following that up, Cision's CEO, Kevin Akeroyd, noted that Falcon will "round out" their "holistic" vision. Ideally, Cision and Falcon's partnership equips Cision's customers with an all-in-one solution that helps out everyone.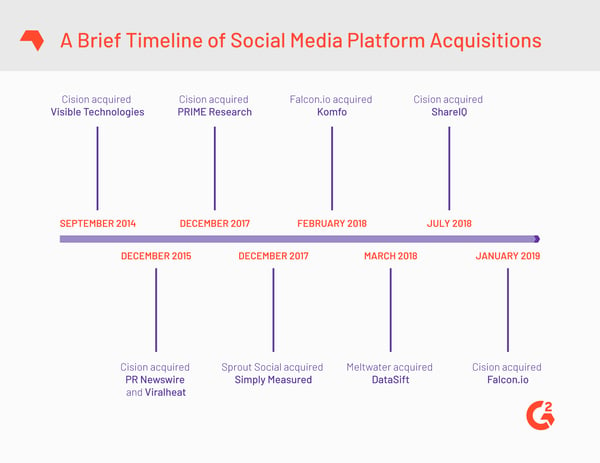 Taking Cues
This matchup isn't the first of its kind. In March 2018, media monitoring company Meltwater acquired social media monitoring tool DataSift to add context to the former's brand building capabilities. In December 2017, social media management player Sprout Social acquired social media analytics company Simply Measured, with the specific intention to leverage the latter's advanced social analytics capabilities.
Equipped with DataSift's ability to pick up on and parse through social media chatter, Meltwater empowers businesses to effectively and productively communicate with customers. Simply Measured's deep social listening capability amplified Sprout Social's mission to provide businesses with actionable analysis on customers' digital behavior. Both Meltwater and Sprout Social ensure that brands get more accurate, deeper insights into their customers, through which they can polish and hone customer interactions and experiences until everyone is satisfied and happy.
For all intents and purposes, public relations and social media have evolved to become partners in crime.
What is Earned Media Marketing?
I haven't explicitly talked about "earned media marketing" yet, which has been the buzzword thrown around with abandon in most, if not all, of the press coverage surrounding the acquisition.
If you're unfamiliar with the term, or at the very least, unfamiliar with the distinction between earned and paid media marketing, earned media marketing is essentially third-party validation of a product, with the intent to garner genuine brand awareness.
Shirley Yang, founder and CEO of MUSES App, a platform that connects brands with creators and influencers, explains:
Earned media is like 'street cred,' when others endorse you without solicitation; that's the best kind of endorsement. One way fashion and beauty companies drive earned media is creating popup experience stores with intricately decorated spaces that induce 'insta-worthy' photo-taking experiences. Influencers are always looking to produce beautiful new content, the brand gets tagged in the photos, and this is a perfect win-win.
Accordingly, social media plays a huge role in earned media. Paid media marketing, on the other hand, are advertising efforts that marketers spend money on and unceasingly promote to get in front of their existing and potential customers. PPC and Facebook advertising are clear examples of paid media. You've seen those ads; polished, strategized to heck, almost cold with lack of true personalization. Why would you trust the smiling face of a stock photo shilling a product over deliberate, choice words and a pleasingly staged photo from your favorite social media persona?
Like any marketing method, earned media does have its drawbacks. The most outstanding drawback is its hands-off nature, and the distinct lack of control that brands have over the final earned media product. Brands cannot control, for example, the review a blogger or user will leave about their product, or the way an influencer will tout a product. A significant worry, then, is the potential for negative publicity and subsequent reaction.
To put it simply, earned media marketing directly correlates to the upkeep of a brand's reputation.
The Value to Customers
Back in April 2018, Forbes concluded that earned media is a vital part of cultivating and nurturing the customer experience. Forbes said that "earned media can impact the emotional appeal people feel with a brand, influencing their behaviors and buying decisions," which in turn helps companies identify new metrics and attributions to best benefit future advertising campaigns.
Earned media marketing is a boon for both businesses and consumers. As mentioned above, earned media is cost-effective because it simply cannot be bought. It's also organic and relies on hands-off publicity from the mouths of partnered influencers or loyal users. For consumers, the efforts of earned media ring true precisely because of that separation.
The value for customers, then, is their potential to combine paid with earned marketing. Marketing Scope claims that "in today's digital landscape, marketing has become a multi-strategy game." In other words: To successfully reach out and grab hold of your customers (even existing ones), you need to break through the noise. Luckily, much of that noise is coming from paid media marketing. Why is that lucky? Because that gives you the opportunity to mix and match how much of paid versus earned media will get you the most impact.
Speculation About Cision's New Communication Cloud
The majority of the press releases surrounding the acquisition discuss Cision's concerted effort in earned media marketing via their Communication Cloud platform. Cision Communication Cloud unifies a business's earned media marketing tactics into a single eco-system. Cision Communication Cloud equips brands with all the tools — for example, social media listening, influencer relationship building, integration with paid and owned media marketing, and media campaign analysis — that marketers and PR communicators may need to better their storytelling strategies.
Cision Communication Cloud has actually existed since 2016, providing media professionals with a centralized platform to, as its tagline boasts, "turn campaign fragmentation into coordination." The intention of Cision Communication Cloud is to identify and collect disparate media sources so that brands are best equipped to embark upon various media campaigns. Notably, Cision Communication Cloud wants to build "rewarding" and "harmonious" relationships with its audience, no matter who they are and which medium they've been sweet-talked through.
This is necessary because social networks and social networking practices continue to change the digital marketing landscape. We may scoff at transparent hawking by Instagrammers, with their blatant #ad at the beginning or end of sponsored posts, but their success is undeniable, mostly thanks to their uber-targeted approach.
In fact, Cision had steadily been making its way towards its status as a comprehensive earned media platform. MarTech Today gave a quick history of Cision's most recent acquisitions, on the company's path toward "actively binding the PR side to the online social and story sharing sides of marketing":
2014: Cision acquired social media analytics company Visible Technologies

2015: Cision acquired PR Newswire and social media management platform Viralheat

2016: Cision acquired media measurement analysis company PRIME Research

2018: Cision acquired visual content performance platform ShareIQ
So what will a Falcon technology-infused Cision Communication Cloud look like?
Cision very briefly touched upon the expansion of Cision Communication Cloud upon the integration of Falcon in its acquisition press release: "to expand social media capabilities to earned media and communications professionals…[enabling them] to fully integrate their campaigns across owned, earned and paid media."
But what does that mean?
Let's break it down.
Falcon empowers marketers to create, publish, and promote content across social networks. The monitoring and managing of those networks becomes simplified and streamlined, which benefits businesses whether they're excitedly pushing new updates or products or scrambling to recover from negative press or feedback. Falcon also makes it easy to merge social analytics data to CRM software to enrich amassed customer data.
That last part is important; Falcon prides itself on unifying and optimizing businesses' social media marketing tactics specifically to enhance the experiences of their own customers as well as the customers of the brands that utilize Falcon.
Cision Communication Cloud is an earned media platform, that helps you create an earned media strategy, best engage your audience and other key relationships. Cision Communication Cloud also lets you leverage the same social media monitoring capabilities that Falcon has always provided.
Falcon's integration with Cision will further strengthen Cision customers' ability to promote a consistent brand experience, act upon gathered media intelligence, and emphasize the most fruitful aspects of the PR and social media worlds. Falcon can also help Cision's customers unify the efforts of all distinct marketing teams, whether one team is focused on local marketing campaigns or another is focused on digital only or another is entrenched in the world of influencer-based storytelling.
Whether you are a marketer that has previously leveraged unpaid, organically generated media sources or are completely new to that mode of advertising, Cision Communication Cloud, powered by Falcon, will be equipped to guide them to ultra-focused customer satisfaction and ultimate brand reputation management.
For the PR and social media spaces overall, Cision's acquisition and leveraging of Falcon's product can turn the tide for earned media. Brands are slowly coming around to the fact that earned media is an asset, but specifically in the framework of cost effectiveness. Cision's investment in Falcon gives even more credibility to such sustainable ways to market to consumers. After all, perception — about supposed threats to established methods of branding and PR, about the role of bloggers and influencers, about the metrics that prove the impact of certain marketing strategies — is everything.
When a company like Cision goes all-in in a smaller, uber-focused product like Falcon, the industry takes notice. The lines are becoming blurred when it comes to both earned and paid media, and PR and social media tactics. For good reason in an era when the customer is king.
Are you a PR, social media, or digital marketing professional? Whether you're a seasoned veteran or brand new to the role, check out our guide to how to build a brand in 2019 with social media.