A killer location can make or break your next event – how do you choose the right one?
When it comes to career paths, few deal with more details and choices than event planning. The stress of making the right choices becomes even tougher when you're using someone else's money to pull things off. It takes careful consideration for what your specific event needs to choose the perfect location.
10 things to consider when choosing an event location
Location

Parking

Capacity

Amenities

Layout

Atmosphere

Accessibility

Insurance

Acoustics

Cost
Sounds simple, right? Of course not. It's no small feat to find a location that fits all of your guests in your price range with free parking and an open space concept. Not every location is going to have everything on the list above. Choosing the right event location is about deciding which features are most important to you.
Best event locations in Chicago
The best time to book a venue for your next event is anywhere from 4–6 months in advance. This gives you time to view the site, make a downpayment, and begin planning the logistics of your event. Luckily, we've done some of the work for you and compiled this list of Chicago event locations.
Methodology: All of these event locations were recommended by Chicago-based event planners or were chosen based on the criteria mentioned above. If you'd like to have your event space considered for our list, please email the author of this piece.
1. Revel Fulton Market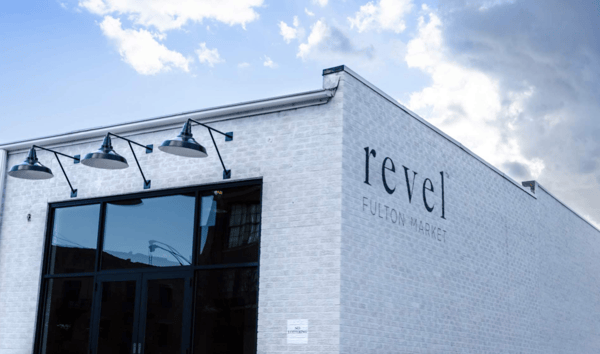 Photo credit: Revel Space
Neighborhood: Fulton Market
Address: 1215 W Fulton Market
Capacity: 1,400
Website: Revel Space
This industrial-chic warehouse boasts more than 30,000 sq.ft of event space with the option to rent the entire space or just rooms at a time. The open format allows for sprawling use of the entire space that can quickly transform into something more private if need be. Revel Fulton Market is located near some of Chicago's highest rated restaurants and is just a five minute cab ride from downtown Chicago.
G2 hosted our first ever conference REACH 2019 at Revel Fulton Market, read about how we pulled it off without an event planning team.
2. Salvage One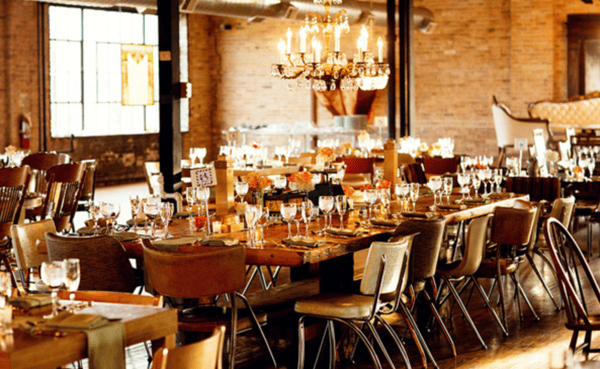 Photo credit: Salvage One
Neighborhood: West Town
Address: 1840 W Hubbard Street
Capacity: 250
Space: Salvage One
Recommended by Kate Lerman, Owner of Chicago Vintage Weddings, this 60,000 sq.ft event location features three floors of spacious open-floor space. Known mostly for hosting weddings, this space offers a perfect rustic vibe for anyone looking to escape the hustle and bustle of the city. The courtyard and outdoor ceremony location provides ample space for intimate soirees, while the four indoor spaces have the right feel for any event.
3. Theater on the Lake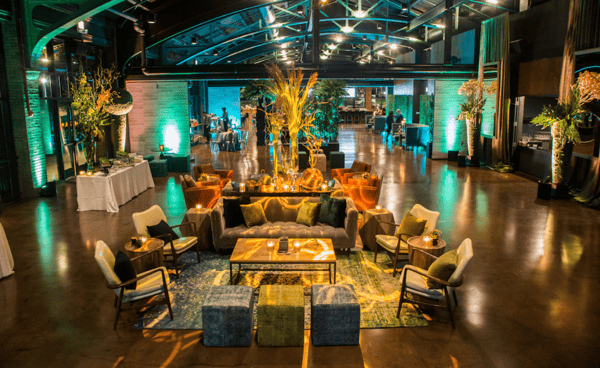 Photo credit: Prevue Meetings
Neighborhood: Lakeview
Address: 2401 N Lake Shore Dr.
Capacity: 1,500
Website: Theater on the Lake
As one of the only lakefront event venues in the city, Theater on the Lake offers something truly unique. The sprawling 12,000 sq.ft space can accommodate plated dinners for up to 500 guests and the outdoor patio can comfortably hold up to 100 guests. Theater on the Lake also has the option to rent the on-site stage and has a grand central bar in the main room. This event space is perfect for weddings, concerts, and social events alike.
4. Mayne Stage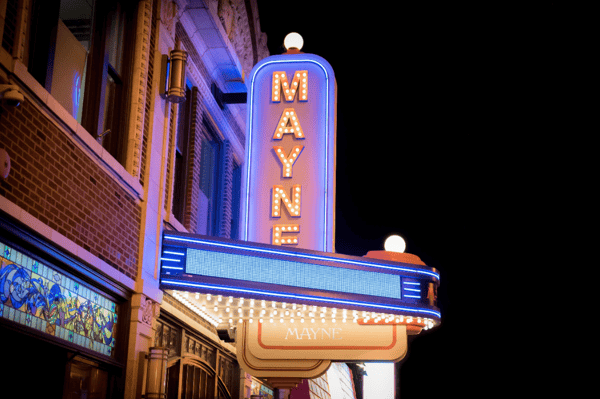 Photo credit: Mayne Stage
Neighborhood: Rodgers Park
Address: 1328 W. Morse Ave.
Capacity: 275
Website: Mayne Stage
This historic theater has been an architectural wonder for more than 100 years. The distinct 1920's art-deco style is championed throughout the space, while still maintaining modern amenities. The three different options for rental, the theater, the mezzanine, and the lounge, provide any event planner with a variety of options for a range of occasions.
5. Emil Bach House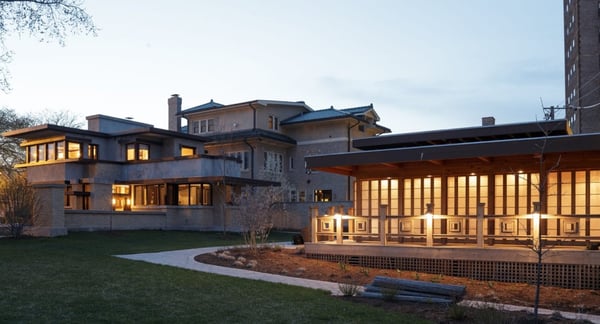 Photo credit: Frank Lloyd Wright Foundation
Neighborhood: Rodgers Park
Address: 7421 N Sheridan Road
Capacity: 130
Website: Emil Bach House
Recommended by Claudia Gutierrez of TawaniEnterprises, Emil Bach House is Chicago's only Frank Lloyd Wright private vacation home and venue rental. It was built in 1915 and lovingly restored in 2013. For events, guests can take advantage of the home's beautiful outdoor space, which includes the Japanese Tea House and gardens. The property holds up to 130 guests for outdoor events, and 25 guests inside the main house. It's the perfect location for an intimate get together or wedding.
6. Moonlight Studios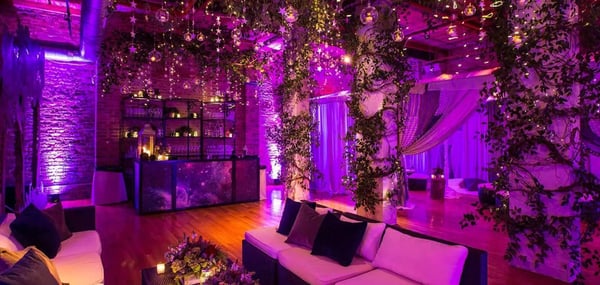 Photo credit: Moonlight Studios
Neighborhood: West Loop
Address: 1446 W. Kinzie
Capacity: 130
Website: Moonlight Studios
Located in the heart of West Loop, Moonlight Studios is easily accessible by public transit. This space features lofted ceilings and more than 15,000 sq.ft of production and event space. While its open floor plan makes it a popular choice for weddings, the added green room and production office make it a popular spot for corporate events and photo shoots.
7. SPIN Chicago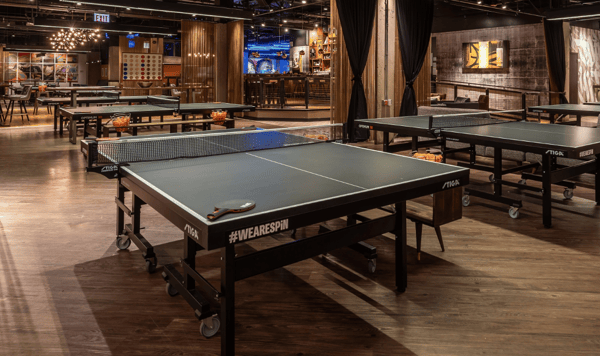 Photo credit: SPIN Chicago
Neighborhood: River North
Address: 344 N. State St.
Capacity: 700
Website: SPIN Chicago
If you're looking for a venue with a twist, SPIN Chicago is the place for you. This ping-pong bar and social club offers large parties of up to 700 people to rent the space out for events. With two full levels of sprawling seated space and ping pong tables, as well as an outdoor patio available, this urban-chic location is sure to wow your guests.
8. The Ivy Room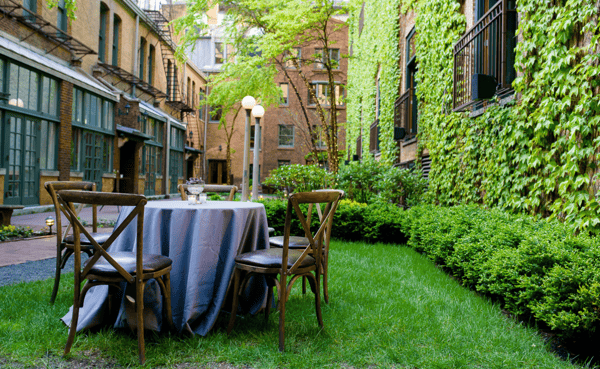 Photo credit: Life in Bloom Chicago
Neighborhood: River North
Address: 12 E Ohio St
Capacity: 180
Website: The Ivy Room
A bright spot settled in the middle of downtown Chicago, the Ivy Room lives up to its name. Stunning green ivy paints the side of this historic building and offers breathtaking views for all your guests to enjoy. Located just two blocks from the Magnificent Mile, the central location allows for easy access for all of your guests. Both the outdoor patio and the ballroom can accommodate more than 150 guests, giving you the flexibility to choose what best suits your needs.
9. Park West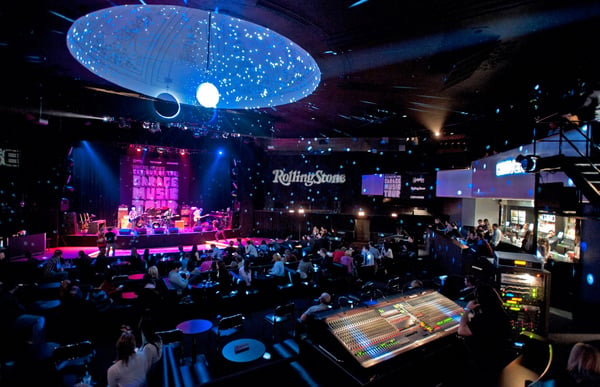 Photo credit: Park West Facebook Page
Neighborhood: Lincoln Park
Address: 322 W Armitage Ave
Capacity: 800
Website: Park West
Looking for a little bit of rock and roll for your next event? Park West is a popular concert venue located in Lincoln Park that has it all. The 11,000 sq.ft facility has 5 tiered levels, 2 balconies, 7 bars, and VIP booths facing the dance floor and stage. And because it's a music venue, Park West is equipped with a state of the art light and sound system.
10. Savage Smyth


Photo credit: Yelp
Neighborhood: River North
Address: 920 N Franklin St
Capacity: 600
Website: Savage Smyth
This 16,000 sq.ft venue offers two floors of luxurious event space that hold a combined 600 guests between them. With a location centered in the heart of the city, Savage Smyth has one of the best views of the city directly overlooking the Chicago skyline. A mix of modern and old-fashioned make this space an eclectic location suited for any occasion.
Location, location, location
Choosing the right event location can be a tough call regardless of your experience in the field. That's why finding the right venue in advance is the most important part of the event planning process. With this guide, you're hopefully well on your way to finding the perfect spot for your next shindig.