The face of retail is changing.
With large department stores like Sears going out of business, and malls and other storefronts closing in record numbers in what is being called the retail apocalypse, retail is becoming more and more digitized.
While storefront retail isn't going anywhere—people will always want to see and hold and try things on in person before making a purchase—it is modernizing. The days of old-fashioned cash registers and spreadsheets are over. Time to switch to retail software.
If you're not already using some form of retail software, it's likely you'll need some convincing. It's unusual to find a store that isn't using one, but there is always the odd store that hasn't changed much in several decades.
How retail software can improve your business
As we all know, change can be scary. If you have decades of records on paper, digitizing them will, of course, sound daunting. The beauty of retail software is that there are a variety of solutions that you can implement in a very short amount of time that will provide immediate benefit. Not convinced?
Saves Time
Forget cumbersome cash registers and manual inventory control. With retail software, many of these processes can be automated or greatly simplified. Retail POS software can check out customers, update inventory, process credit and debit cards, and even perform basic accounting, all from an iPad or other tablet. Retail management systems are designed to manage every aspect of a retail business, from payroll and employee scheduling to purchasing inventory, accounting, and analytics. You name it, retail management systems can probably do it. Rather than spend hours in the back office tackling paperwork, wouldn't you rather spend that time growing your business?
Saves money
It may seem counterintuitive to think that a potentially expensive piece of software will save you money in the long run, but it's true. Implementing retail software saves you and your employees both time and effort, streamlining essential processes so you can focus your energy where it really matters. With accounting features, you never need to worry about losing receipts or having an invoice go missing. And with inventory control features, you won't need to worry about overpurchasing items that will just sit on the shelf. With reports and analytics based on the data gathered during everyday business, you can see exactly where you are losing money and where you can make it up.
Improves growth
Growing a business, especially a small business, is difficult. There's no set formula, and every business is different. Where retail software can help is by providing insights into your business that you would never be able to gain from a logbook (at least not without a lot of time and a lot of math). The analytics and reporting built into many retail solutions take the data from normal, day-to-day transactions and transforms it into usable information. You can see which inventory is moving faster than the rest, what your profit margins are, what times of the day your business is slowest, and more. Basically, you can see the entirety of your business in one place, which empowers you to make informed changes with much less risk.
Increases customers
Marketing is not only expensive, but in today's digital world, it can be completely overwhelming. Between social media and all other digital marketing, there's a lot of juggling of accounts, posting schedules, and tagging. While marketing software is best for those who wish to really dig into creating a marketing strategy, some retail software will have basic marketing tools to help determine customer demographics and which products are successful (or unsuccessful). The major marketing component of retail software is often the ability to create digital loyalty programs. Loyalty programs entice customers to return to your business with rewards and can be housed entirely within a retail POS or retail management system.
Adds channels
Selling your products online may seem daunting, but the added exposure can be a huge asset to your business. With e-commerce software, you can set up and manage a digital shop by yourself. Some retail management systems and retail POS software even help manage both your storefront and your digital store. While there are added logistical challenges to operating a digital storefront in addition to a brick-and-mortar one, there are also many benefits. Retail software can do much of the heavy lifting for you, including automating emails and tracking inventory when a purchase is made. While you will need to arrange for shipping, this is a relatively small aspect of running an e-commerce store.
The main concern for any business owner is, of course, balancing the cost of a new solution with the potential benefits. There are so many products available that it can become an overwhelming challenge to find the perfect solution. One must also consider that with any technology, there is the potential for bugs, glitches, and crashes interrupting your ability to perform business. Implementing software is much like learning a new skill, so time will need to be dedicated to learning the ins and outs. While these are obstacles you may need to overcome, there are many benefits to be gained if you're willing to put in a bit of extra work.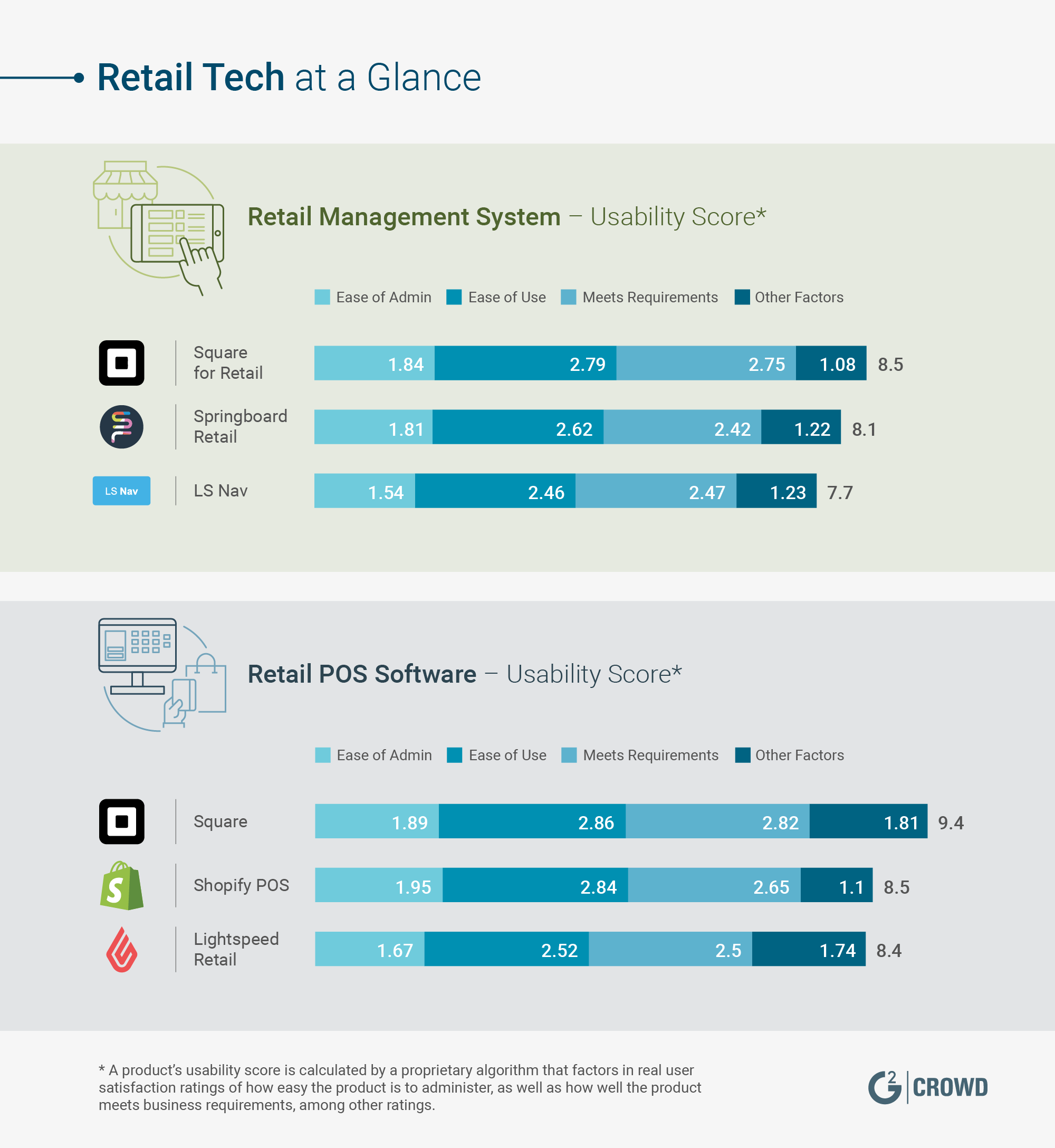 That's where software reviews can be extremely helpful. By reading the experience of real users who aren't software experts, you can weed out the solutions that definitely won't work for you or your business. Once you've narrowed it down to a few choices, don't be afraid to take them for a spin. Many software products offer either a demo or free trial period, so no need to worry that you'll be trapped with a solution you don't like.
Modernizing your business is important, but that can look however you want. If you consider carefully how your business functions and where it needs help, you will be able to find a solution that provides exactly what you need.
Next steps in finding retail tech
And if you're already using retail software, maybe it's time to look at your options and see what else is out there. Obviously, if you have a product you absolutely love, there's no need to change. But usually there's a thing or two that you might want improved, and there's no harm in taking a look around.
But if you're still totally lost, check out 5 Questions to Ask When Buying Retail Software for a good idea of where to start.