Do you have a do-it-all mindset when it comes to your work?
Do you thrive on feeling like you make contributions to a business as a whole compared to one specific team or department? If so, a career in business operations may be a great fit for your professional goals and aspirations.
In this article, we'll go through some careers you can pursue within the greater field of business operations.
Key skills and career fields for business operations professionals
Before looking into different career fields where you can thrive as a business operations professional, we'll first take a look at a few key skills to develop for a successful career in biz ops.
Then, we'll examine four business operations career fields that are perfect for the professional that wants career advice for how to help all aspects of a business run smoothly.
People skills
At the core of business operations is making connections between different employees and teams to make sure your company functions as a single unit. People skills are necessary in being able to facilitate effective communication between two parties that may be in different departments or have different views on an effective path for the business.
If you're interested in a career in business operations, make sure that you're able to connect with different types of people in different lines of work. Being able to find commonalities between employees to put them on a single path towards your company's goals will give you a huge advantage in the world of business operations.
Technical background
A solid technical background can also be of use in a business operations career. For example, one of the many responsibilities within business operations is viewing a company through a critical lens. Looking for what improvements can be made to increase efficiency and performance is a big part of the job.
With a solid technical background, you can contribute a frame of reference to quantify what you are evaluating. This quantitative background, produced by technical skills, will make you more effective in seeing where and when improvements should be made within a business.
Ability to roll with changes
Business operations specialists must be able to thrive in fluid positions within a company. For example, for a smaller company or tech startup, the size and scale of a company can double or triple within a relatively small amount of time. Being able to adapt on the fly to changes in company size, new clients, or other frequently changing elements in business is a huge benefit to any business operations professional.
An eye for improvement
The best business operations professionals are not only effective in assessing current tasks and projects in the workplace but also actively thinking about the best long-term solutions and improvements that a business can implement. If you find yourself always looking for ways to become more skilled or efficient in any areas of work, you have the eye of an expert business operations professional.
HR and training
HR and training professionals are in charge of many key elements of business operations. From hiring and onboarding new employees to ensuring that employees have all the resources and materials they need to succeed (sometimes with the help of HR software), HR and training positions are essential to the success of any business.
They also contribute to a key aspect of employee relations and contributions within a company through instilling company culture. The first week of a job can make a huge impression on a new employee. If the training process reflects a positive and encouraging company culture, the employee will have a significantly better outlook on a company than if a culture like this was not reflected during training. A positive outlook inspires better performance and happier employees, and business operations professionals have the opportunity to directly influence this type of culture.
Compliance officer
Compliance officers work across teams and departments to ensure that a company's employees are in line with the rules and guidelines established by a business. Their presence within a business is vital to making sure that a company is able to maintain smooth relationships between employees, departments, and executives.
Typically, compliance officers will have business operations experience as they enter this role at a new company. This a great role for a professional with extensive business operations acumen to evaluate the ins and outs of employee behavior within a business.
Legal
If you have a background in law and are looking to get into the business world, a legal specialist position within a business is a great way to use these specialized skills in a business operations role. Corporate lawyers handle all of a business' legal responsibilities, from evaluating new business partnerships to protecting the company against legal risks and violations.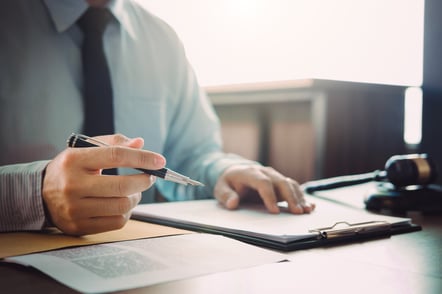 If you have a keen eye for detail and a law background, this role is one where you get to work across departments within a business to contribute to a company's success.
Business analyst
The path to becoming a business analyst can originate in a variety of fields. A background in sales, IT, or consulting can be a great backbone in terms of being able to understand a company's performance and translating this performance into actionable goals.
The duties of a business analyst can also flip this process. Business analysts are able to take a step back and view a company's production from a wider range. They know which metrics to use to see how different employees and departments can work together more efficiently to improve their existing structures.
A business analyst will have a keen eye for noticing elements of a business that can be improved, from profitability and efficiency to culture and team chemistry. Experience certainly helps for anyone looking to enter this role, and an effective business analyst typically will have at least five years of industry experience before entering this role.
Start your job hunt
So, think you're all set with how to change careers, have the skills necessary to be a business operations professional, and see a path for yourself in one of the above career fields? Time to get started! These skills and potential career paths show you the many ways you can contribute to a company through a business operations role.
Take your career by the reigns. Learn how to ask for a raise to ensure that you're being compensated fairly for the work you do.