Business intelligence helps companies establish metrics, compile data, and visualize results. This almost always leads to faster and better decision-making.
But the road to more efficient decision-making takes time, planning, and devising a meaningful business intelligence strategy.
After laying the groundwork for a strategy, it could help to read about the ways other companies are applying their business intelligence.
So, for those still looking for insight before committing to a tool, we asked six business leaders to provide us with examples of business intelligence done right at their organizations with respect to their industries.
6 business intelligence examples
See an example you like? Feel free to skip ahead:
1. Business intelligence in advertising
Giles Hirst, Head of Communications at ExoClick
Our first example encompasses the advertising industry and how business intelligence is used to help companies leverage the highest-traffic ad formats. Here's some insight from Giles.
"Each quarter, our business intelligence team analyzes our network statistics to help our advertisers make decisions on which ad formats are working best for different offer verticals. This is done by showing the average CTRs for different formats and verticals as well as statistics for new platform features.

We compile this information into blog posts for our website, promote on social media accounts, and email newsletters to our advertising clients. Additionally, our team of account managers and client-care-agents also promote the blog posts to their clients."
Giles says feedback from the distributed content is very positive, and it helps their clients establish key performance indicators (KPIs) for future campaigns.
2. Business intelligence in sales
Bruno Verbruggen, Sales & Business Development Manager at Cumul.io
Everyone loves a good dashboard; one that looks clean, unique, and visualizes the right metrics in the easiest way possible. Bruno explains how business intelligence and dashboards allow his sales teams to do their best work.
"One of our most actively used sales dashboards is our 'sales assistant dashboard'. It shows the situation of the sales pipeline, sales process and action points for each sales rep individually. We have internal guidelines on which actions to take in specific sales stages. This dashboard helps everyone on the sales team to be on top of their pipeline and understand in one glance where they need to take action."
Below is an image, provided to us by Bruno, of what a sales assistant dashboard may look like.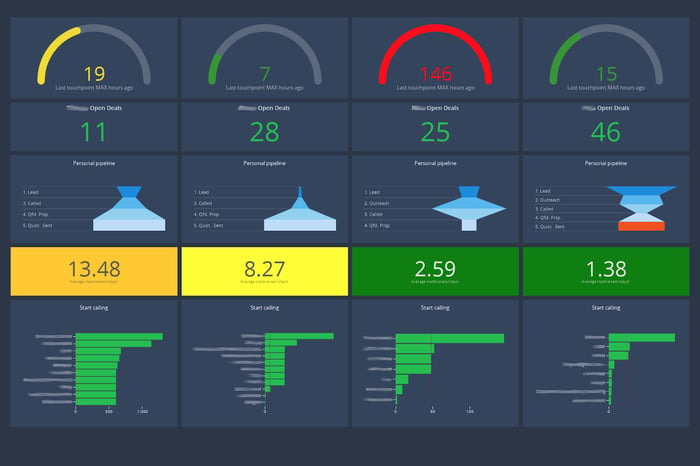 Some of the key elements of this dashboard are initial contact assistant for follow-ups, average days of inactivity for re-engagement, and individual sales funnels for ownership and tracking.
Head to Cumul.io's G2 profile to learn more about its dashboards and embedded analytics for software apps.
3. Business intelligence in digital marketing
Alex Membrillo, CEO of Cardinal Digital Marketing
Business intelligence and digital marketing are uniquely tied together since one focuses on performance and the other focuses on opportunities. Alex explains for us more in-depth the ways business intelligence influences digital marketing strategy.
"Business intelligence is now powering customer segmentation, retargeting, push notifications, click tracking, and even content creation.

Apart from analyzing data, marketers use business intelligence as a means to provide improved customer service. Additionally, companies can use business intelligence for identifying user behavior for personalization, which is a great tool for achieving growth goals. Business intelligence is also used for profiling buyers for advanced targeting."
Buyer profiling with business intelligence can lead to more accurate lead scoring, which empowers both marketers and salespeople.
4. Business intelligence in call-tracking
Nasser Aftab, Director of Business Development at Phonexa
Call-tracking software is a relatively new and niche industry, however, it helps marketers and salespeople predict leads and quantify their efforts done by phone. Here's how Nasser and his team leverages business intelligence in the call-tracking industry.
"Software that offers predictive analytics is key when it comes to call-tracking. Predictive analytics allows marketers to visualize current and future KPIs relating to calls and campaigns. It also helps take the trial and error out of accepting leads in a real-time environment.

Predictive business intelligence with data visualization allows a business to see what the outcome would be if they removed or added key variables and what the impact would be on their ROI."
Learn more about Phonexa and all of its call-tracking features.
5. Business intelligence in PPC
Richard Uruchurtu, VP of Operations at KlientBoost
This particular example comes from the pay-per-click (PPC) industry, although, it's not about advertising at all.
Tip: Check out the 4 ways to enhance your PPC system with artificial intelligence!
Instead, Richard describes how his team utilizes business intelligence to ensure a balanced workload.
"We have scoreboards for every department that help us when making business decisions. Some common metrics we look at is the capacity of team members and the company as a whole, which helps us decide client assignment and when to hire more team members. This helps make scaling the agency more manageable and helps maintain a solid but balanced workload for our fulfillment team."
The uniqueness of this example shows us that business intelligence is more than tracking sales and marketing metrics, it's also great for quantifying employee engagement and day-to-day productivity.
6. Business intelligence in healthcare
Daniel Jebaraj, Vice President at Syncfusion
Going off our last example of how business intelligence transcends sales and marketing, Daniel was nice enough to share some dashboards in regards to the healthcare industry. The dashboard below displays key metrics when it comes to visualizing the patient experience.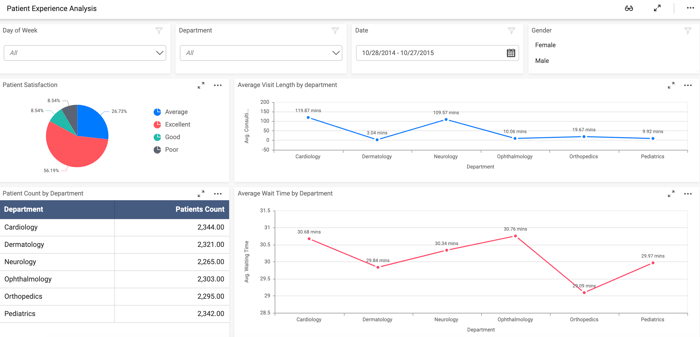 These metrics can be filtered to show how satisfied the patient was with their care, how long the average appointment took, which department they visited, and more. Being able to drill-down these metrics allows for more personalized healthcare.
Explore Syncfusion's line of self-service and app framework products, and read some real-user reviews while you're at it.
Better decision-making everywhere
If we can take away one thing from our contributors, it's that business intelligence can inform better processes and decision-making across many industries. This is made possible by establishing metrics and visualizing results using dashboards, scorecards, charts, and more.
You have the strategy down and some real-world examples, now it's time to look into some tools. Check out our business intelligence software category to compare tools and narrow down results to find one that fits your company's requirements.