Every business wants to acquire more customers, right?
The answer is yes, of course. However, finding new customers is a lot easier said than done. In recent years, more and more companies have chosen to build out business development teams whose sole purpose is to grow sales pipeline. Having a specialized team to serve a specific function helps streamline the sales process and, ultimately, move prospects through the funnel faster.
Sound enticing? In this article, we'll cover all the necessary steps to take in order to build a business development team that is efficient and successful.
How to build a strong business development team
Before we get started, it's important to decide if building out a team specific to business development is going to be a good fit for your organization. Take a look at the existing account executives on your sales team. Are they consistently pressed for time? Could they be more efficient if other team members took over some of their responsibilities?
If the answer to these questions is yes, then it's likely that your sales organization would benefit tremendously from introducing a business development team to the mix.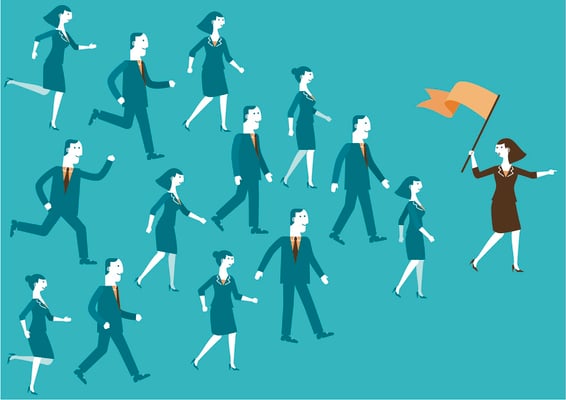 Solidify your goals
The objective of hiring a business development team is to help reach your sales targets faster. It's important to have a clear picture of what those targets are and how this team will help the company reach them. To take it a step further, this is also a great time to decide which sales metrics your team will be measured on. Individual success is what fuels overall team success, so remember that these goals should be realistic and attainable for every team member. For this reason, you should take the time to set clear expectations before moving forward. The goals you set during this beginning phase will be what upper management looks at when they evaluate your future team's performance.
Set up a team structure
A business development team can be structured in many different ways. You'll need to decide if you want to hire sales and business development representatives, or combine the role into one. You might be asking, what's the difference? Let's break it down.
A business development representative (BDR) is primarily focused on outbound outreach. On the other end, a sales development representative (SDR) handles only inbound leads, and isn't doing any cold outreach on their own. The two roles are similar but require slightly different skill sets to fill them.
Additionally, you'll need to decide who these team members will report to. Will they report to a business development manager or a team lead? Who will be responsible for communicating with upper management? Since every business is unique, you'll need to structure your team to fit your company's specific needs.
Hire, hire, hire
Now that you've done all the groundwork, the next step is to begin hiring. In most cases, business development representative positions are entry-level. This means you'll mostly be interviewing recent college graduates or candidates with no prior sales experience. Due to the lack of experience, it can be challenging to predict if a candidate will be successful as a BDR. During the interview process, it's crucial to get a good read on the candidate's soft skills as they are often a good indicator of how they will interact with future prospects.
Hit the ground running
Once you've hired an all-star team of BDRs, then the fun part starts. Up until this point, you've put in a lot of work to build this team and ensure that it's going to be successful. That being said, it's important to remember that it will take time to see results. Each individual team member will have a ramp up period where they are still learning and training. Be sure to set benchmarks for the newly-hired BDRs and help them tackle any potential roadblocks that are slowing down their progress.
The team will need continuous coaching and support to ensure that they are off to a strong start. By being supportive and uplifting, you'll see yourself building rapport and loyalty with them which can massively impact their success in the long run.
Evaluate and re-adjust
Success doesn't happen overnight. As with anything in sales, there are many unpredictable factors that can get in the way of hitting your numbers. If you notice that certain reps are struggling to meet their goals or the team is hitting a roadblock, you'll need to identify the root cause of the problem and adjust accordingly. Because the success of the BDR team has a major impact on both marketing and sales, it's imperative that all three teams are in alignment. On the other end, look at the strategies that are working and try to replicate them.
TIP: Check out these 10 prospecting tips from the experts to help get your team off the ground.
Final thoughts
Rome wasn't built in a day, and a quota-crushing business development team won't be either. However, with proper planning and training, a strong BDR team can help streamline a leaky sales funnel and bring tremendous revenue growth to an organization.
Now that you know the basics of building a business development team, learn which sales metrics will be most important for tracking performance.