Any time I ask my boss if I can attend a marketing conference in Paris, he gives me the same reply: "Make a case for yourself, and if you can prove its value, maybe we can work it out."
It's never worked out, and that's on me. The biggest case I can make for myself is "I want to go to Paris."
But in the realm of project management, project managers (PMs) have a responsibility to prove the value of a project, or the need to invest time and money into a particular endeavor at that particular time.
What to include in a business case:
Table of contents
Executive summary
Project brief
Alternatives
Benefits and constraints
Preferred plan
Analysis
Risks and opportunities
This is where a business case comes in. PMs draft this document at the outset of a new project. It helps ensure everyone is on the same page about elements such as the benefits, risks, timescale, etc. of the project at hand.
If you wish to start a project off on the right foot, you'll want to be well-versed in the process of creating and writing your business case. This is, essentially, a chance for you to prove why your work is essential.
In this article, I will help you understand the basics of a business case, as well as how to write one.
How to create and write a business case
So, what exactly is a business case? Let's discuss.
A business case is a type of documentation created at the beginning of a project life cycle. In this documentation, a project manager outlines various elements such as what business problem they are trying to solve, as well as cost, risk, benefits, and scope.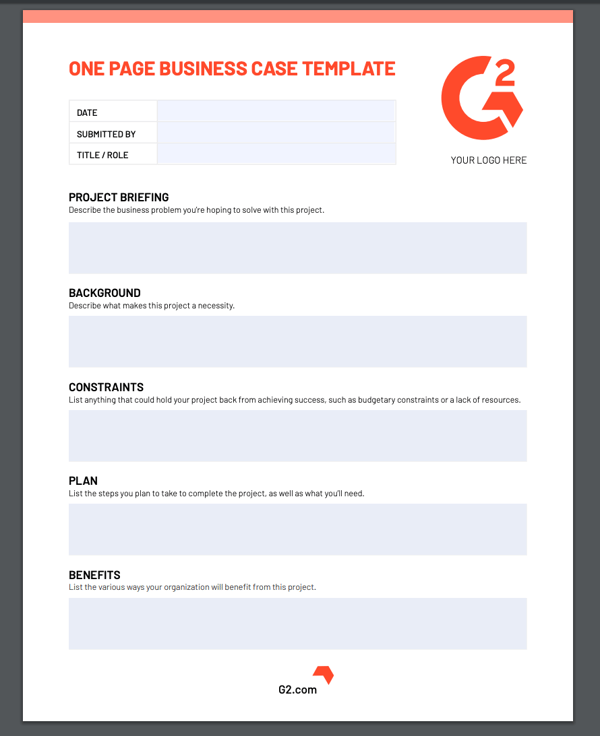 Download this document to print or type here.
The business case is a PM's opportunity to prove the necessity of a certain project. From there, stakeholders and other members of management can review the case and either accept it or reject it.
Project managers will write a business case when it is necessary to prove the value of a project. Essentially, a PM will use a business case to advocate for their project.
How to write a business case
No two business cases will look exactly the same, but they should generally consist of similar elements. Follow the guidelines below to flesh out your own business case.
Preface/Table of contents
Begin your business case by providing a few clarifying lines as to what stakeholders are about to read. One example of a preface would be: "This business case provides solutions for Logistics Company's initiative to improve internal communications."
Then, you'll want to list the table of contents. This lets readers skim through and navigate straight to the page they're looking for.
Executive summary
Although your executive summary is placed very early in the business case, it's the last thing you should write. An executive summary is a brief summation of everything the reader is about to learn.
You will want to have all of your research and findings completed before you write your executive summary.
Introduction or project brief
Now that you've given stakeholders a brief overview, it's time to really go into detail about what this project is and why it matters. In the introduction, you'll define the project and provide reasoning as to why it's an important pursuit for your organization.
Questions to answer in the introduction include, but are not limited to:
What business problem are you trying to solve?
What goal are you trying to accomplish?
How are you going to accomplish this?
Why is this project necessary?
Additionally, don't be afraid to discuss the history of this project. How did it come about? Is your team really struggling in one area and this project is the surefire way to recover from recent failures?
Identifying this immediately helps stakeholders understand the importance of your business case.
Options
Stakeholders want to know you've thought through all the possible solutions to this business problem. For this reason, it is a standard best practice to include alternate solutions in the business case.
Here, you would outline the other ways you think this problem could be effectively resolved.
Benefits and constraints
Although it's tedious, you'll need to research and communicate the benefits and constraints of every option you've thought of. Before approving a plan, your management team will want to know what they could be getting themselves into.
An example of a constraint would be that one option costs significantly more than others and would require more financial support.
One benefit of an option would be that the implementation of a solution would cut down a team's workload by half.
Project plan
It is in this next section of the business case that a PM communicates which solution they prefer and think would best accomplish the aforementioned goals and objectives.
If you as a project manager have a solution you feel strongly about, this is your chance to make it look the most attractive to stakeholders. Granted, be truthful, but you definitely have the opportunity to paint with your own brushes here.
Once you've made your decision clear, show your decision-makers how you plan to carry this solution out. Illustrate that you've done your research and not only prefer this plan, but know exactly the steps you'd take to carry it out.
Analysis
In this section, you need to get down to brass tacks. This is where you outline how long the project will take, the impact the project will have, and how much you think the project will cost. Be sure to include project milestones in your timeline.
What resources are needed? Does one idea involve the rental of a fleet of private jets? Resources will affect cost, so be sure to list those in detail.
Also, be sure to include a cost-benefit analysis with the description of your budget. This shows you've done your research and aren't just throwing random numbers out to your decision-makers.
In addition to a business case, it could benefit you to create a competitor analysis report in order to understand what you're going up against.
Risks and opportunities
Just as you outlined the benefits and constraints, you should now outline the risks and opportunities associated with the various projects you suggested. Could one of your marketing campaigns be conceived as "too edgy?" Say that.
Could it also drive more engagement and revenue than any marketing campaign you've pursued in the past? Say that as well.
Case closed
Once you and management have decided what the best course of action is, it's time to get moving! The business case is only the first of many documents and steps taken in project life cycle.
To learn more about project management, check out 29 Free Project Management Templates for Creative Agencies, Business Case Examples for Every Industry, and learn more about the project life cycle.