You know what a brochure is.
A little trifold piece of paper that's handed out at job fairs, networking events, and so on. It contains all of the information anyone could ever need to know about the services and products a company provides. It's much more impactful to hand someone a piece of paper than provide them a web address.
Brochures can be designed very plainly in black and white.
But if you want to really knock someone's socks off, keep reading.
Brochure design concepts
Done wrong, brochures can be a little dry. But they don't have to be.
Each part of your brochure should be treated differently, from the way it folds to the content itself. If you want your brochure to stand out from the crowd, read below to learn a little bit more about how to make that happen.
DISCLAIMER: This article is not for every designer. If your client is a little more buttoned up, it may not be best to crack those creative knuckles. If you want to keep things more traditional, learn how to make a brochure.
Before you design the brochure
Before we get started on the actual design, it's important to remember a couple of things in regards to your brochure's information. Similar to designing a graphic design portfolio, you should collect all of your business materials before deciding what your brochure will look like.
Don't make any design decisions until you know the following like the back of your hand:
Know the audience
Who is the design is for? Like any marketing materials, your brochure should be targeted at an audience. A brochure for women ages 60-75 should look very different from a brochure for college freshmen.
Know the purpose
Once you've figured out the audience for the brochure, the second step is understanding what you want from those people.
For example, you may want to create a brochure to promote your new online store. If this is the case, include a promo-code in your brochure to encourage people to visit.
If you want to introduce a new service you're providing, include a section that outlines what someone can gain from this offer.
Sometimes, a brochure isn't used to encourage a single action but is instead created in order to promote the brand in its entirety. If that is the case, the very least you can do is keep a focus on your audience.
Designing your brochure
Now that you've collected all of the information to include in your brochure, it's time to have some fun and begin designing.
Folds
The infamous trifold is the most common option for a brochure, but it's far from the only way to do it.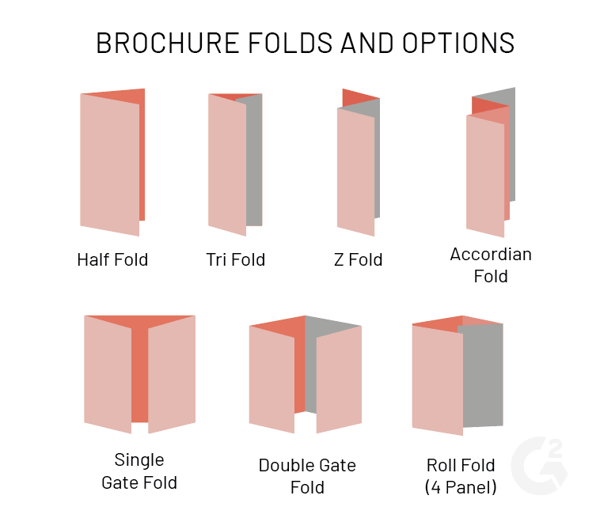 Your brochure design and fold should be synchronized with the components that go within: your copy, images, and brand. If you have a minimal amount of information to put in your brochure, an accordion fold may not be necessary.
If your information would make the most sense being laid out into a roll fold, go for it! Folds are just one of the many ways you can begin to make your brochure unique.
Be mindful of where your brochures are going to end up. If your client wants them handed out at an event, no worries. But if they want them placed in a plastic holder in a hotel lobby, make sure that the way you fold it fits in there!
Texture
Normally, brochures are smooth and glossy.
Why should yours have to be normal?
One of the elements of art, texture, can bring your brochure to life because it plays into a sense that isn't normally stimulated with brochures: touch.
Tactile texture
Tactile, or actual texture is a texture that has a legitimate physical quality to it. You can change up the tactile texture of a brochure with something as simple as altering the weight of the paper you're using.
Or you could do something extraordinary.
3D brochures aren't the easiest to make, but they knock it out of the park. An example of when to use a 3D brochure could be at an architecture conference to make your latest design pop off the page.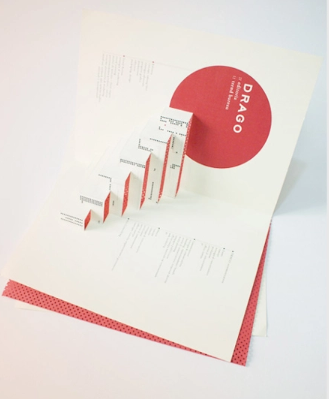 Source: Hative
Die cutting brochures is another popular trend.
This technique is a unique way to make your product and mission a little more obvious by literally stenciling it right out of the brochure. Die cut brochures are unique to each individual company, making them worthy of not only reading but being shared on social media.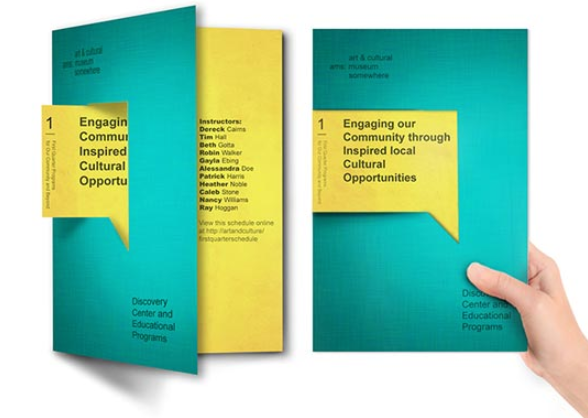 Source: PFL
Tactile textures makes a brochure more memorable, but also makes it more expensive to design.
Visual texture
If you're on a budget, consider using visual texture as an alternative. Visual texture does not add a physical component but instead suggests it, like an illusion. Visual texture can create the feeling of depth and enhance the boldness of the message you're trying to communicate in your brochure.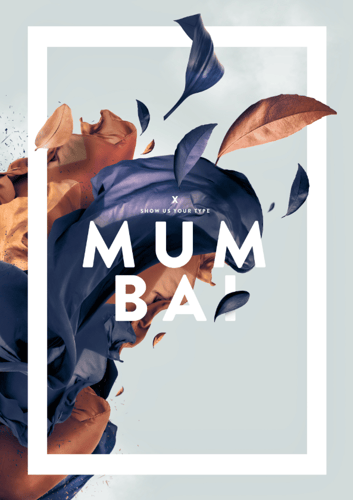 Source: PKG Branding
Can you believe this is 2D? Implementing a design like this into the cover of your brochure is sure to blow readers away before they even open it up.
Color
Just like any design, it's best to avoid overdoing it.
If you're designing for a brand that already has a color scheme, stick to it. The color choices that brands make may not be ones you agree with, but remember who the client is and hold your tongue.
If the brand you're designing for doesn't have a color palette developed or is giving you more creative freedom, lucky you!
Colors have a huge impact on how a message is communicated. To make your color combinations effective, remember to brush up on your knowledge of color psychology in business to make sure that your choices are meaningful.
Additionally, color contrast is something to be extremely aware of in a brochure. Brochures are provided to others to inform them of a company's mission, values, services and other offers. If the person reading the brochure can't actually read the brochure, there's going to be a problem.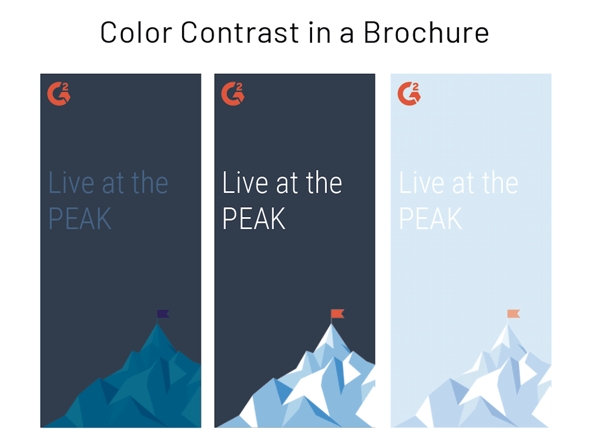 Be mindful of your lights and darks. If you have to squint to read something, you probably aren't alone.
Images
High quality, high quality, high quality.
This can't be stressed enough. If you try to get away with a low-resolution image, you'll be the laughing stock of your consumers and competitors. If you want your brochure to look awesome, you need to be using awesome, high-quality images. Low quality images mean low quality brand to the reader.
That doesn't stop at photographs. Illustrations and logos should be equally as clear and crisp.
Use 300dpi and up for all images and elements in your brochure. No ifs, ands or buts about it.
Printing
Although we've already discussed images, colors, and folds, the most important thing to remember is that function and form have to work together.
Be mindful of where your brochure folds and be careful with the text and elements you place around those folds.
Use CMYK color while designing so that there aren't any surprises in the printing process and create a bleed if you want your elements to run to the end of the page.
Know your limits
These funky designs aren't for everyone. If the client you're representing doesn't necessarily seem like they're interested in pushing the limits with a brochure design, don't push theirs. Creating a unique brochure design is a great way for a company to attract new leads and stand out amongst their competitors. Next time you're asked to design a brochure, remember that the trifold isn't the limit.
Ready to get started? Check out some brochure templates!
If your brochure is really outstanding, it could truly contribute to a positive customer experience.