These days it seems like everything is done online.
But brick-and-mortar stores are the exception. The name brick-and-mortar was created to differentiate physical stores from e-commerce stores.
What is brick-and-mortar?
Brick-and-mortar refers to physical stores, such as department stores, grocery stores, and banks.
The term comes from the physical properties of a building. We all know buildings are often times made with bricks, but the mortar is the paste that binds bricks together.
Back in the day… more like five years ago, it was common for a brick-and-mortar store to make an e-commerce website. But now most stores are starting online, and then they consider making a brick-and-mortar store after proven success.
Benefits of brick-and-mortar stores
In 2018, only 14.3% of total retail sales were represented by e-commerce.
This means that customers still prefer to buy in-store, although e-commerce continues to grow.
People are experience driven, and the experience in a brick-and-mortar store cannot be replicated online.
This is why people go to Starbucks to do work. Or go to Target to grab a few things. You can buy a bag of Starbucks coffee online, heck, you can have Starbucks coffee made to deliver. And Target has an online delivery system called Shipt, but that doesn't stop people from running in and leaving with $300 worth of items.
This is all because of the experience these brick-and-mortar stores provide us.
Aside from the experience, physical contact with an item makes people feel more certain about a purchase decision. There's a higher level of trust with brick-and-mortar stores. When you go to a store, you know what you're getting. The price is there. There's no shipping fee. You can see the item, hold the item, and get the instant gratification you desire from buying the item.
Humans are naturally driven by the senses, and e-commerce strips us from having the same sensory experience we have in brick-and-mortar stores.
If you're considering opening a brick-or-mortar store or trying to make yours more successful, be sure to make the experience pleasant and as seamless as possible.
Check out retail POS software (point of sale) to help improve retail transactions in your store. The more simplicity and less hassle, the better. Premier POS systems are revolutionizing the way brick-and-mortar stores function.
These software systems help with product lookup, multiple payment methods, bulk product imports, and customer data.
Simple brick-and-mortar fixes include fewer lines, more stock, and an organized store will help you keep up with e-commerce's growth.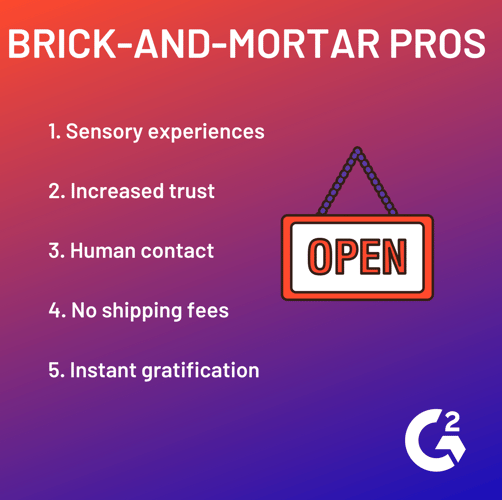 Will brick-and-mortar survive?
There are some downsides to brick-and-mortar stores, as people have already deemed this time as the retail apocalypse.
It's a fact that selling online is cheaper, owning and operating a brick-and-mortar store comes with significant costs:
Buying or renting the property
Gaining licenses and permits needed to sell
Business insurance
Marketing and advertising efforts
Maintenance and design
Expert help
Employees
Store necessities and hardware
This day and age, there's always a need for e-commerce. So even if you open a brick-and-mortar store, you'll likely open an online shop shortly after to gain the audience you otherwise wouldn't with a brick-and-mortar store.
It's not all doom and gloom though, as previously stated, people still go to brick-and-mortar stores for the experience.
A common practice in brick-and-mortar stores is "show-rooming." This is when a customer goes online to see what he or she would like to buy and then goes to the brick-and-mortar store to check it out.
We trust people and not the internet, so this bridges the gap between the two for shoppers.
The future of brick-and-mortar
The future of brick-and-mortar is not as bleak as some may thing. Mobile is the future.
For example, Amazon Go has transformed the way brick-and-mortar stores look at purchasing behavior. Walking into a store and not having to shuffle through your bag or wallet looking for cash or credit is no longer, simply connect to the Amazon Go app and grab anything you'd like and walk out.
You heard that right. You just walk out and the app charges the card you have on file.
Aside from Amazon Go, there are other types of retail technology that revolutionize brick-and-mortar shopping.
Shop 'til you drop
There's a wide variety of ways to sell your products and make a successful business. You can open a brick-and-mortar shop, start an e-commerce business, or even learn how to sell on Etsy, or what to sell on Amazon. No matter what you're starting, the technology that enhances experiences will always be at the center.
Starting to sell on Amazon? Check on Amazon statistics before you get started.