Building a brand is a delicate process.
Just like people, brands are composed of many facets and complex dimensions, making each one unique and distinct from all others in the marketplace.
The ability to hone in on these differences and create a brand strategy that emulates a one-of-a-kind identity is the ultimate measure of success for any company.
However, the fact of the matter is there are a million ways a company can outline its brand strategy, and there is no one right way to do it. To help streamline your efforts, this article will walk you through eight vital elements that should be included in your brand strategy, no matter which overarching direction your company decides to take.
Brand strategy definition
A brand strategy is the blueprint that guides how your brand is communicated with the world. It draws out the way each specific characteristic is portrayed to competitors, customers, and the market.
What is a brand strategy?
A brand strategy is the long-term action plan that keeps order and provides direction to the way you wish to be portrayed to your customers and differentiated from competitors. If done correctly, your brand strategy will build something much more than a name that sells products, but you will have created a multifaceted character that has personality, values and even emotions.
This outcome is the ultimate goal for any company that hopes to build a strong and recognizable brand that lasts in the marketplace for years to come.
There are a plethora of elements that make up a brand, so it is important to remember before any strategy build-out can take place that you're confident that you have already built a strong brand identity composed of cohesive brand elements.
The 8 most important brand strategy elements
Purpose
Experience
Personality
Consistency
Emotion
Loyalty
Values
Employee activism
Your brand strategy is an integral part of your marketing plan. It encompasses every single decision that turns public facing, ensuring that every touchpoint a consumer interacts with is cohesive with the next. Without a thoughtfully crafted brand strategy, consumers would not have a clear understanding of what your brand is trying to deliver, leaving them confused and most likely forgetful of your brand.
8 essential elements for your brand strategy
Now that you fully understand how important a thoughtfully curated brand strategy is to the success of your brand, it is time to build it! As I said, there are a million ways to outline your strategy depending on your goals, mission, and values.
To make this process as seamless as possible for you, I have outlined eight of the most important elements you should have. Use them as the backbone of your strategy, and continue to build off of them as you gain a greater sense of what works best for your brand and customers.
Your big "why"
An excellent way to define your brand's purpose is to write a mission statement. By doing so, you have a succinct statement that provides the direction your brand is going, not only for your customers, but for your employees as well. Your purpose should be entwined with your core values and culture to ensure consistency throughout.
Defining your purpose goes a lot further than just declaring what you do for the people you serve. To create a meaningful brand that makes an impact on its customers, you must provide a purpose that works for the greater good.
For example, Patagonia is in business to sell winter gear, parkas, and fleeces and states that their purpose is to save our home planet. To prove it, the company donates 1% of all sales to the preservation and restoration of the natural environment. What we can grasp from Patagonia's purpose is that they value the Earth and creating sustainably sourced products to push the cause. You have to provide value to your customers, and by working for a greater purpose that your target market also cares about, you show that your values align with their own making it much more likely to retain loyal customers.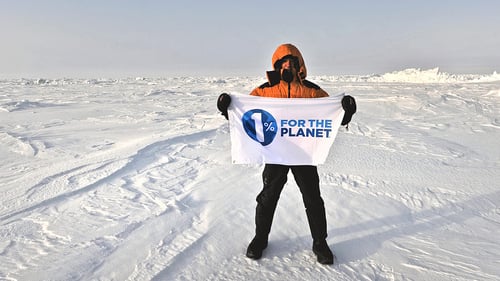 Source: Patagonia
Experience
Let's talk about the specific customer experience your customers will have on your brand's website, direct service interactions, or through any process they will have to complete when engaging with your brand.
You should strive to create a seamless customer journey throughout every touchpoint of the customer cycle to ensure your brand leaves a great impression on your customers. Customer experience is arguably the most important aspect of your brand strategy, because without a good experience your customer will likely never return.
The personalized vitamin company Care Of puts customer experience in the forefront. From an aesthetically pleasing and functional website design to engaging personalization and phenomenal customer service, Care Of is a fantastic example of how a new brand should treat its customers. Bumps in the road happen and some customer disappointment is inevitable, but the way your brand remedies the situation says a lot, and if you do it right, your customers will be rushing back for more.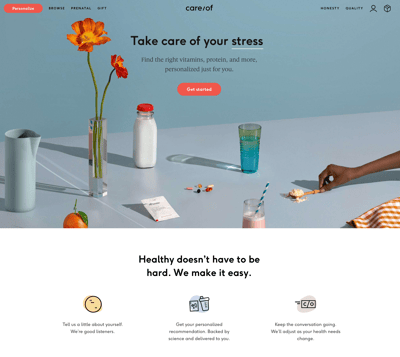 Source: care/of
Personality
Your brand's personality is essentially a set of human characteristics that are adapted to guide elements, such as voice, tone, value, and more. Creating your personality takes time and must be thoughtfully created to encompass who your customers are. A successful strategy allows your customers to see themselves in the brand, thus wanting to buy the products or services your brand sells. Your personality should pay tribute to your established values and emotions, ensuring consistency throughout.
GoPro has a very clear personality. One of excitement, adventure, and boldness, GoPro wants their brand to attract thrill-seekers, so they advertise their brand in such a way that invites current or future GoPro users to find their own adventure. Small cameras can be used in a variety of scenarios, but GoPro makes their use intent obvious, and they have certainly done a great job at pushing that personality.
Source: GoPro
Consistency
Perhaps the main reason you feel like a brand strategy is needed in the first place, consistency is something your brand must strive for with every single piece of collateral, idea or message that turns consumer facing. A consistent identity pushes familiarity and loyalty to your customers and helps them recognize you. To remain consistent, you must avoid anything that doesn't enhance your brand identity. Before you do anything, you must think if the tone, humor, message or even color is on brand. If it isn't, then you better not share it. If you do, you will start to push a confusing message that becomes unrelatable to your core target market.
A powerful example of consistency is from the Disney brand. We see brand consistency with every touchpoint from its parks, resorts, character breakfasts, storefronts and more. When a customer engages in any of those experiences, they know exactly the type of interactions they'll receive. In fact, they tend to expect it, and as magical as a visit to Disney World or Disney Land is, Disney knows it tends to be a special occasion experience. Because of this, Disney works hard to give that one-of-a-kind experience with everything else they do, ensuring that their valued customers receive top-notch experiences no matter how they interact with the brand.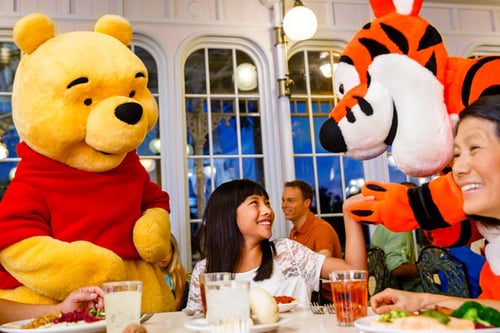 Source: Best of Orlando
Emotion
Although it sounds negative, toying with your customers' emotions is not a negative thing when done correctly. Providing an underlying type of emotion to your brand identity is a sure way to gain loyal customers. Think about it, most brands want to portray good feelings, like happiness, inclusion, trust, love, excitement, the list goes on! By underlying this feeling in every advertisement, marketing campaign and messaging your brand puts out, you will soon have customers who associate your brand with that sort of good feeling that they want to experience again!
Coca-Cola does an excellent job with their emotional triggers. "Open Happiness" seems obvious enough, yet with their feel-good advertisements and personalized marketing, Coke drinkers can't help but associate the soda with anything else and may feel a sense of belonging with the brand. Coca-Cola has connected with its millions of customers by creating a feeling that everyone wants to have.
Source: Coca-Cola
Loyalty and rewards
If you find that your brand has people that love and support it to a fault, then you must reward them for their loyalty. Competition is fierce, and if your supportive customers don't feel like they are valued, they will leave your brand for one that will. Loyalty programs are not just for rewarding current customers. They can be very attractive to newcomers as well. If you can build a loyalty program that rewards your die-hard fans and attracts new customers all at once, then you set your brand up for low customer churn and high brand loyalty for years to come.
TIP: Utilizing a loyalty management software is a smart and efficient way to identify who your loyal customers are so you can start rewarding them!
Examples of loyalty can be as small as simple as sending thank you's, or as extravagant as rewarding customers with free goodies!
Starbucks has an excellent loyalty program. If a customer proves loyal enough to spend roughly $150 in a calendar year, they are rewarded with free drinks, free in-store refills, and surprise deals! Starbucks continues to show the right way to engage and take care of their loyal customers.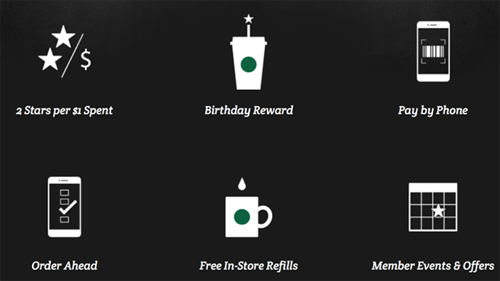 Source: Medium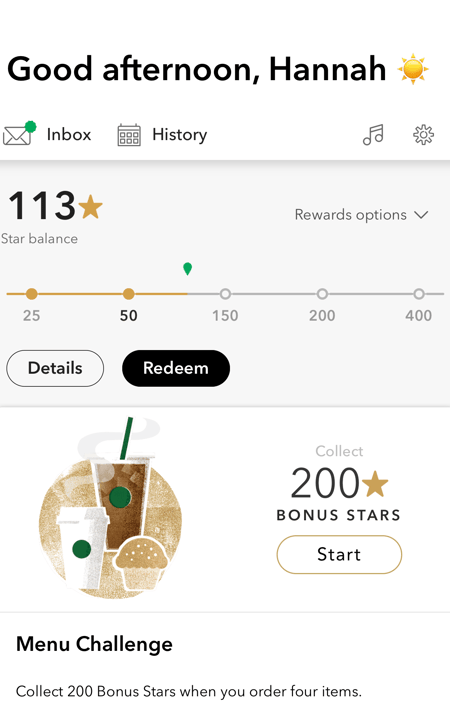 Beliefs and values
Lightly covered in the purpose section, your brand's beliefs and values should be at the core of every single business decision you make. Your values will help guide your brand through conflicts, partnerships, and day to day engagements. This can be small scaled like the beliefs and values that drive the amazing culture your business works hard to nurture, to something large scaled like taking a public stance on a social or political issue and modeling your business decision as a result of that. Some brands commonly practice this through incorporating breast cancer awareness or LGBT marketing.
Yoplait took a stance on the growing social issue of "mommy shaming" that millennial moms face in this day and age. Knowing that there is no one way to be an amazing mom, Yoplait put out a "Mom On" campaign to encourage one of their most supportive target markets to keep doing what's best for them. By doing this, Yoplait pledged to support moms and publicly stand for doing whatever makes them happy. This bold campaign proves to moms everywhere that Yoplait is a brand they can trust, and Yoplait promises to hold that trust by conducting its business accordingly.
Source: Yoplait
Employee activism
This last element plays a lot on consistency, and as you should understand by now, consistency is the overarching theme of a great brand strategy. The employees working for your company should be doing more than just their assigned duties. They should embody your brand's goals, personality, values, and purpose. This is important for company-wide consistency that ensures the customer experience is the same across all touchpoints of the customer cycle.
As a customer, you would be pretty shocked if a kind, happy brand you saw on Instagram turned out to have real garbage customer service that was not at all what you envisioned they would be. Ensure your customers are following through with your brand image by the way they act and converse with your customers at all times.
Chick-fil-A is known for having over the top customer service, and it starts with its employees. Being pleasant to customers is ingrained in their training, and you probably won't catch any one of them without a smile on their face. Each employee embodies the fast food chain's core values, and it is equally portrayed on their social channels where you can find the overall tone to kind, caring, and wholesome.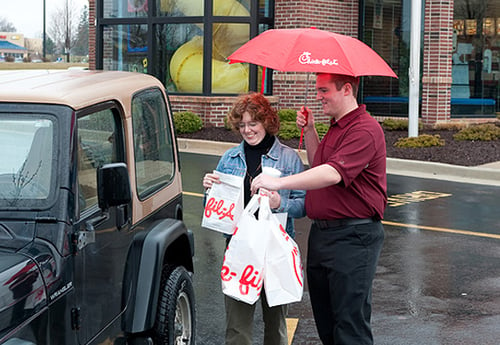 Source: Belly Card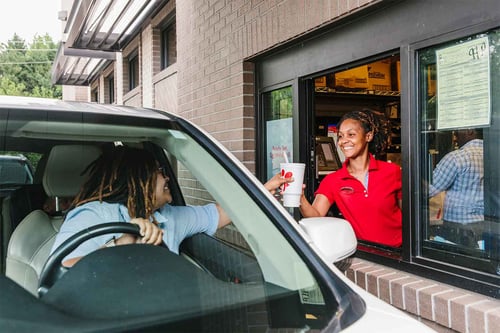 Source: Medium
TIP: Utilizing an employee brand ambassador program is an excellent tactic to improve employee activism and catapult your brand on social!
Time to strategize!
A powerful brand strategy cannot be completed overnight. If these ten elements are thoroughly crafted and properly implemented into your strategy, you will have the security you need to feel comfortable observing what works best for your brand and its customers over time. These core elements will set a strong foundation for your brand to take a prominent presence in the market while allowing plenty of room to grow. You may even find that your customers dramatically help carve the direction your brand should head, and your brand strategy will easily fall into place.
Looking for more information on how important customer experience is? Read up on the best customer experience examples to learn what it really takes!