Stop sitting on the sidelines and get in the Twitter chat game!
You're a seasoned social media professional. You've mastered the basics and you're ready for the next big challenge. Whether you're hoping to increase your brand awareness or just gain a larger social following, Twitter chats are the best kept secret of online engagement.
What are Twitter chats?
Twitter chats are public Twitter conversations centered around a unique hashtag. Users follow the discussion using this hashtag, answer questions, and interact with other users. Most Twitter chats happen on a recurring basis and focus on a specific topic.
Anyone can make a Twitter chat, and that means sometimes it can be hard to cut through the noise and find the right one for you. That's why we've gone through the trouble of combing through the old lists of top Twitter chats to provide you with a list of current and active chats that you should follow. No more waiting by the computer for a Twitter chat that isn't going to happen!
What are the best Twitter Chats for marketers?
Depending on what your role is at your company, certain Twitter chats will suit your needs better than others. We've put together a list of the most active Twitter chats for Fall 2019 and included a brief summary of the topics they cover. Check it out!
This weekly chat is hosted by the folks at @Adweek covering anything and everything advertising. As some of the most active thought leaders in advertising, Adweek brings their expertise to this weekly Twitter chat.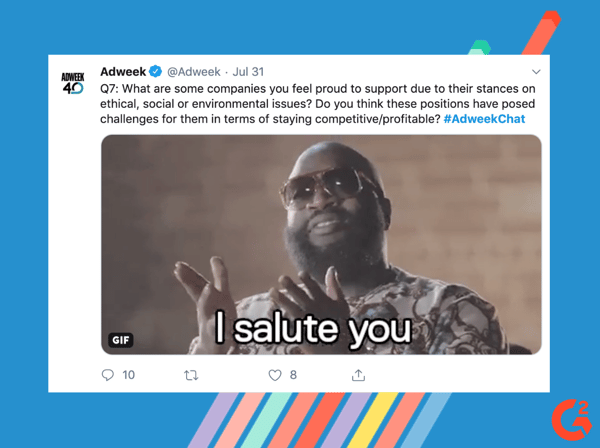 Previous chat topics have included discussing gender inequality in advertising, debating who the modern-day creative icons are, and discussing the different ways technology has changed the face of advertising.
When:
Wednesdays at 2 p.m. EST
BraftonBuzz is run by content marketing agency Brafton. A favorite of many Twitter chat veterans, this chat goes beyond the expected and digs deep to ask unexpected, yet thoughtful questions. With something new to learn every week, this is the perfect chat for content marketers and writers of any experience level.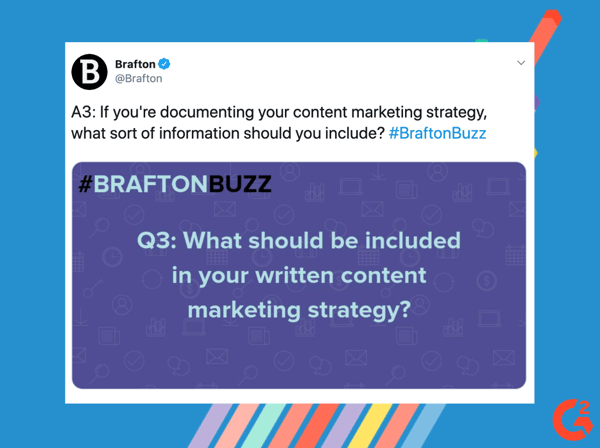 Previous chat topics have included how to craft the perfect headline to attract your audience's attention, how to personalize your content, and how to revamp and bring life to old content
When: The last Wednesday of each month at 2 p.m. EST
Small business marketing coach Maria Duron is the founder and manager of #BrandChat. This chat is your one-stop shop for topics about brand building. With a variety of experts joining the chat each week, you're sure to learn something new about the best way to enhance and evolve your brand.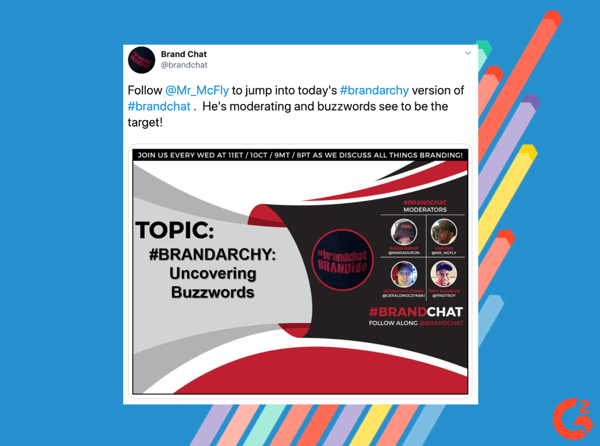 Previous chat topics have included how to maintain your corporate reputation, which buzzwords can best support your brand, and how to find the right consulting agency to do brand work with.
When: Wednesdays at 10 a.m. CST
CMWorld is hosted by content marketing juggernaut @CMIContent. These industry thought-leaders are taking their expertise to the masses through their weekly Twitter chat focused on content marketing and the digital space. Anyone looking to break into content marketing or just sharpen their skills should mark their calendars for this chat.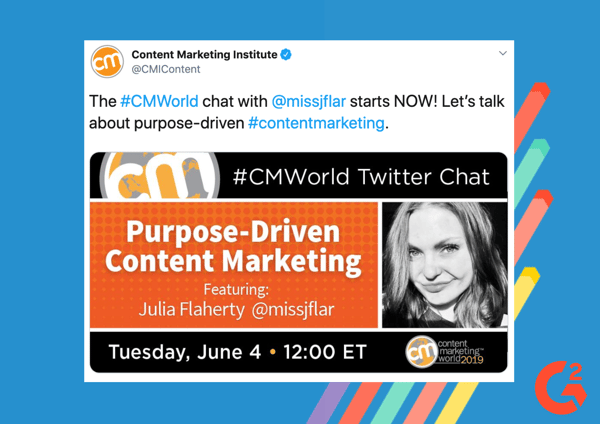 Previous chat topics have included how to create purpose driven content, tips for optimizing your LinkedIn profile, and a discussion about the must-have tools for content marketers.
When: Tuesday at 11 a.m. CST
This Twitter chat is the brainchild of Julia McCoy and her company @ExpWriters. Julia has created a wildly popular Twitter chat focused on content innovation and social savvy. As the owner of two successful content marketing businesses, Julia has experience building an empire from the ground up (twice!)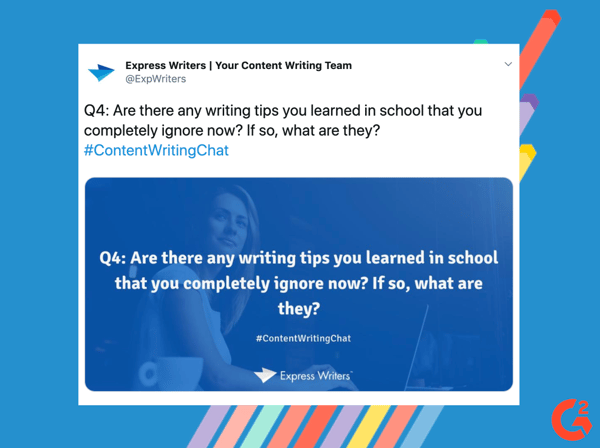 Previous chat topics have included how to focus on using search intent in your content, SEO best practices and beyond, and tips every new writer needs to know.
When: First Tuesday of every month at 10 a.m. CST
Whether you're a content marketing newbie or you've been around the block a few times, this Twitter chat created by startup content strategist Erika Heald has everything you need. As the content manager of Anaplan and Highwire PR, Erika has the real world experience to back up her incredible insights and advice. Full of flavor and personality, this chat isn't afraid to get real about the hurdles start-ups face.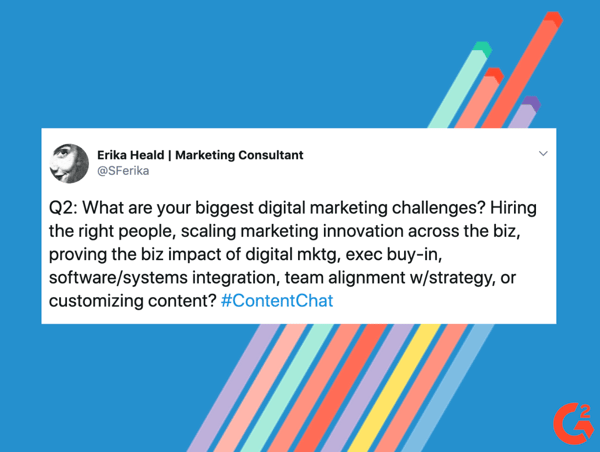 Previous chat topics have included how to source research for content, using proprietary research to work with your sales team, and the best ways to write content for guest blogging.
When: Mondays at 3 p.m. EST
Twitter chat veteran and digital marketing expert, Bernie Fussenegger, is the host if this wildly successful chat. With a specific focus on impressing and delighting customers, #Digital360Chat covers a range of topics meant to challenge the traditional ideas of what it means to be a digital marketer.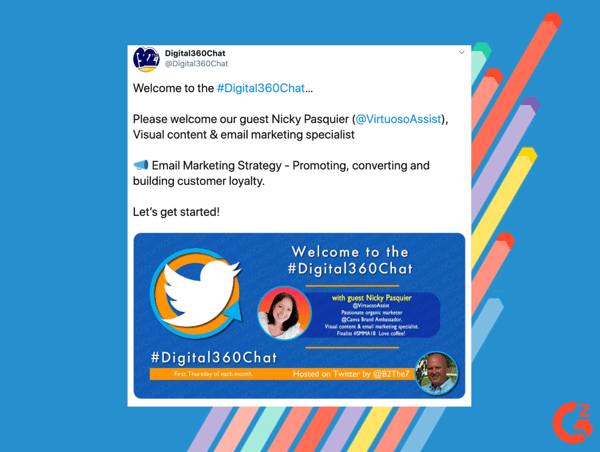 Previous chat topics have included how to get visible online, tips for creating longevity in your digital marketing career, and the importance of relationship marketing.
When: First Thursday of each month at 12 p.m. EST
PR maven and fearless freelancer Michelle Garrett created this Twitter chat as a way to help fellow freelancers share trade secrets and talk about the struggles of freelancing. Michelle has been a guest on other Twitter chats featured in this article and is considered one of the go-to expert for freelancers around the globe.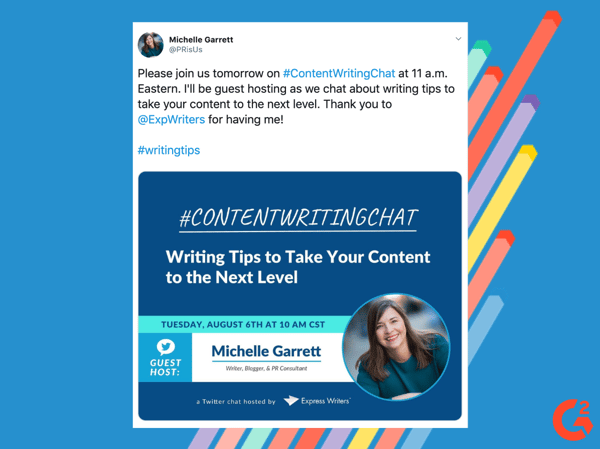 Previous chat topics have included how much freelancers should charge for their services, how to build your personal brand, and how freelancers can navigate the gig economy.
When: Thursdays at 12 p.m. EST
Our very own @G2dotcom runs this bi-weekly Twitter chat focused on everything content and data. With special guests from big name companies like Sprout Social and CMI partnering with our team of content marketers and researchers, this chat is full of experts ready to share their experiences.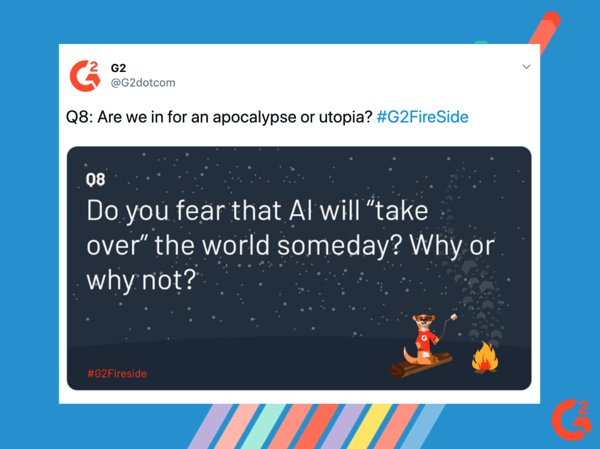 Previous chat topics have included how to leverage data in your social media strategy and how content marketers can use AI and chatbots to automate the user experience.
When: Alternating Tuesdays at 10 a.m. CST
Why would we include a chat focused on millennials in our list of Twitter chats for marketers? The answer is simple. Millennials are now the largest workforce in the United States. Whether you are a millennial or you manage a team of them, this chat hosted by Chelsea Krost covers every topic a young professional might need to know about.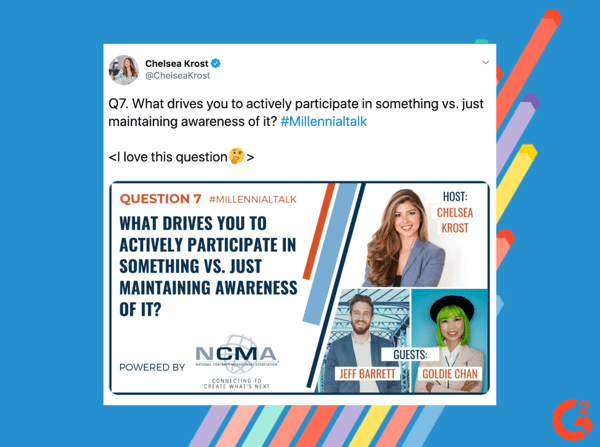 Previous chat topics have included how to use social media to build your personal brand and network, how to build products that can change the world, and how to use technology to boost your brand.
When: Tuesdays at 8 p.m. EST
The team at @SEMrush have created a weekly Twitter chat focused on the importance of SEO in content marketing. As a global leader in SEO best practices they offer a wealth of knowledge to anyone looking to improve their skills. SEMRush has made an easy and accessible Twitter chat that accommodates all levels of SEO knowledge.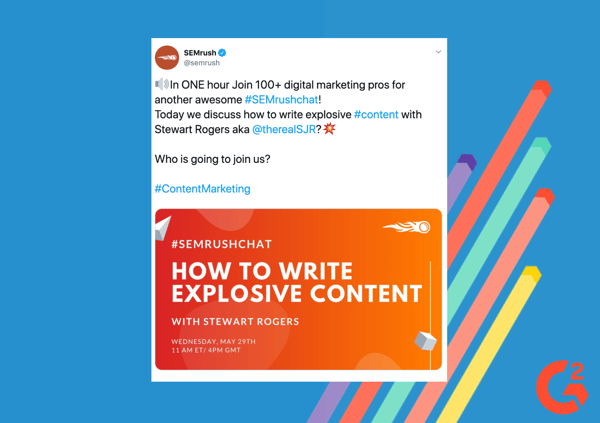 Previous chat topics have included how to hack your competitor's marketing strategy, how to use SEO to enhance your content strategy, and a deep dive into how link-building can boost your SEO.
When: Wednesdays at 11 a.m. EST
Before there were thousands of blogs posting content about social media, there was Social Media Examiner. This veteran of the social media industry has established their Twitter chat as one of the must-participate chats for any social media manager. Each week, @SMExaminer invites world class guests to their Twitter chat to discuss the latest in social media marketing.
Previous chat topics have included how to use Instagram TV in your social strategy, how social media redesigns and affect marketing strategy, and weekly updates to on the new changes made to popular social media platforms.
When: Wednesdays at 10 a.m. PST
Popular social media management tool Sprout Social hosts a monthly Twitter chat covering all topics content marketing and social media. Lead by Olivia Jepson, Sprout Chat dives under the surface to get into the finer details of social media. You won't be bored by the basics with this Twitter chat. Each monthly chat focuses on high-level strategies you can implement at your own company.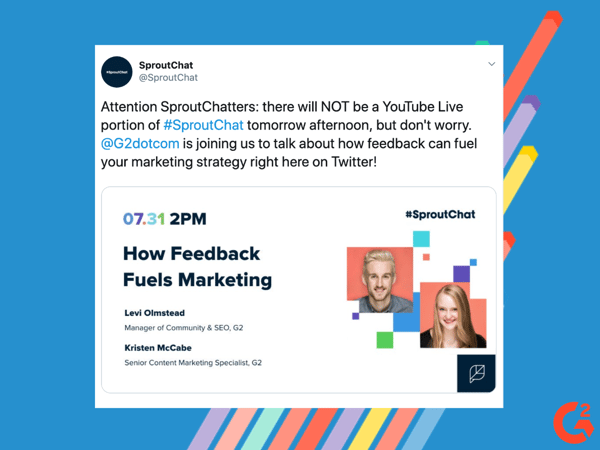 Previous chat topics have included how to amplify your brand through content, the best ways to prepare your company for digital transformation, and how feedback fuels marketing.
When: Last Wednesday of each month at

2 p.m. CST
Say whaaat? A Twitter chat that focuses on content marketing and tacos? You bet. This Twitter chat hosted by The Karcher Group is a weekly look at every marketing topic you can think of. TacoChat thoughtfully covers the ins and outs of every topic from email marketing to web design, all while mixing in a little something about everyone's favorite food: tacos.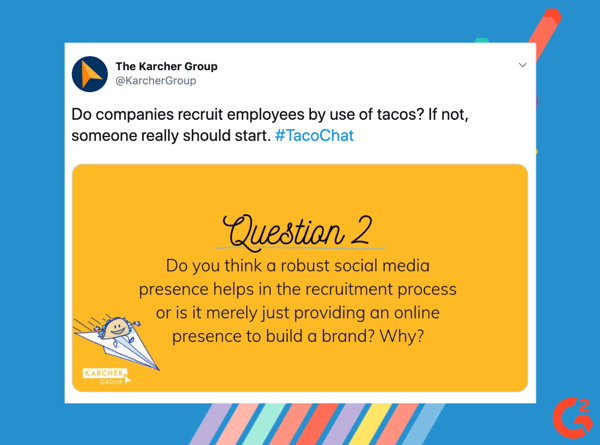 Previous chat topics have included how brands can jump on trending memes to increase social engagement, the best ways to use cause marketing to build your brand, and how to banish negativity from your professional life.
When: Tuesdays at 2 p.m. EST
It wouldn't be a Twitter Chat list without the ever-popular TwitterSmarter hosted by Madalyn Sklar. Madalyn is a Twitter marketing expert and podcast host who has been a guest host on many of the Twitter chats mentioned above. TwitterSmarter is about learning to use Twitter more efficiently, in a way that benefits your business.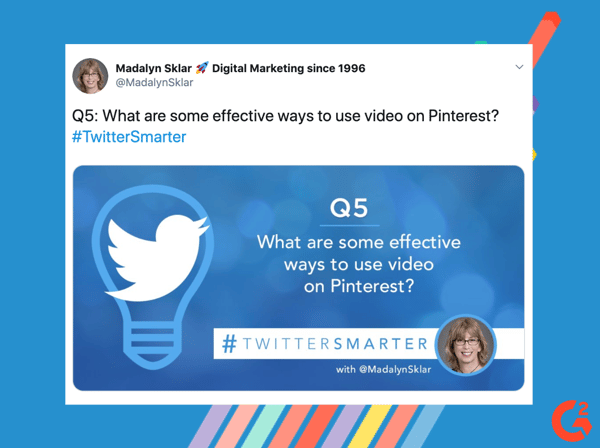 Previous chat topics have included how to extend your reach with social media challenges, ow to use Twitter to build genuine connections, and how to host a successful Twitter chat.
When: Thursdays at 1 p.m. EST
#VidChat is the brainchild of digital marketing expert and Twitter Chat expert, Dan Willis. A self-proclaimed relationship marketing fanatic and video marketing addict, Dan and his guests tackle the trendiest topics in video marketing.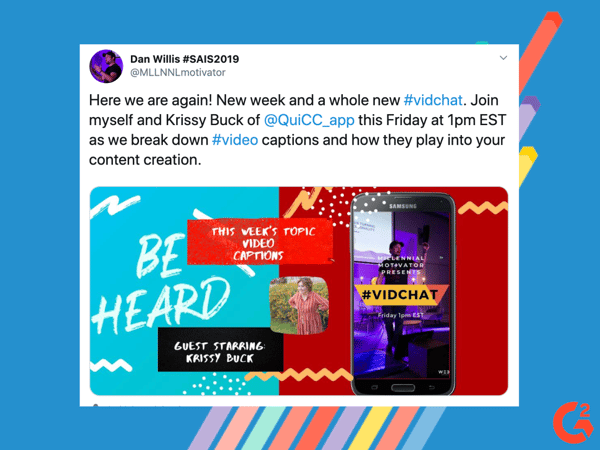 Previous chat topics have included how to master video platform TikTok, the best ways to add captions to your online videos, and how to get your audience to engage with your video content.
When: Fridays at 1 p.m. EST
This chat is one of our only international chats on the list. WomeninTechChat is an initiative intended to inspire, share content and chat about tech. Founded by growth hacker and engagement manager Tiffany Horan, this Twitter chat has all the goods for women in tech looking for a space to share their ideas and connect with other female professionals.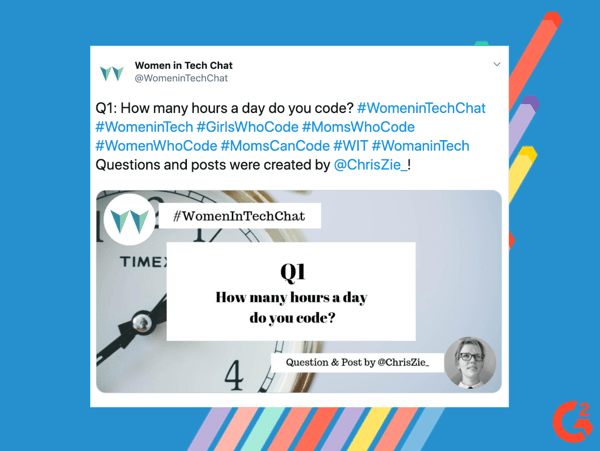 Previous chat topics have included learning to code, the challenges facing women in STEM jobs, and the best programming languages to get the job done.
When: Tuesdays at 12 p.m. CST
Put the social back in social media with Twitter chats!
The best thing about Twitter chats is their ability to bring people together. Use these Twitter chats to build connections, make friends, and learn from your peers. If you love (or host) a Twitter chat that you don't see listed here, Tweet at the author of this article @G2Lauren to be considered for our Winter 2019 edition!
Looking to add some spice to your Twitter chat comments? Learn how to make and upload Twitter videos and check out our social media hub for more articles like this one.