Hosting a website can be expensive.

But it doesn't have to break the bank, and open-source web content management software can be the first step to an affordable website.
I know what you're thinking: Why shouldn't I just use WordPress?
WordPress is a very solid, popular web content management (WCM) option, but it isn't without faults. Before you jump on board the WordPress train, check out some of the other open-source choices and decide if they potentially fit your use case more effectively.
Tip: Read more on what is a CMS to help you better understand a complex topic.
The most important thing to consider when choosing an open-source WCM is the type of website being created. Systems are built using different programming languages; while popular options like WordPress, Drupal and Joomla are based on PHP, others mentioned in the list below are written in other languages like JavaScript, Java and Python.
The language a WCM is written in impacts how it handles content, and some systems might be better at creating certain types of websites than others. Businesses might also require in-house developers with proficiency in the language a given CMS is written in to create functions for a website.
For products with G2 verified user reviews, we have included:
G2 star rating.
User recommendations for those considering the product.
Best open-source CMS in 2019
Product reviews and G2 star ratings were updated as of June 11, 2019
1. Wordpress.org
Product Name: Wordpress.org
Written in: PHP and MySQL
G2 Star Rating: 4.3 out of 5.0 stars (7,138 reviews)
Overview
WordPress.org is the undisputed king of web content management, and part of its success can be attributed to being an open-source offering. One of the major benefits of WordPress' popularity is the multitude of plugins and add-ons available; for businesses, this means less time coding custom tools and plugins in-house and faster delivery.
WordPress can handily support practically any type of website thanks to all of its available plugins, enabling users to manage everything from job boards to online shops to knowledge bases. WordPress is a fantastic choice if you're looking for a functional, fully featured site without getting your hands too dirty.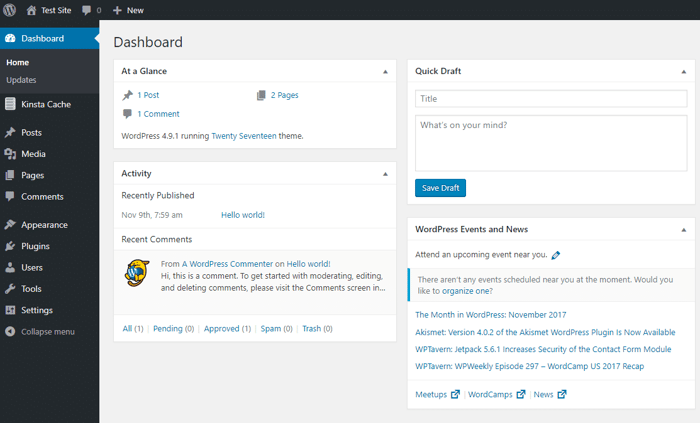 2. Pimcore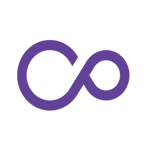 Product Name: Pimcore
Written in: PHP, JavaScript, SQL
G2 Star Rating: 4.3 out of 5.0 stars (15 reviews)
Overview
If you're looking for an open-source CMS capable of more than just web content management, look no further. Pimcore is capable of serving as an externally facing content management system like e-commerce sites and websites as well as internal storage repositories like digital asset management systems and product information management (PIM) systems.
A common complaint among open-source WCM users (with the exception of WordPress) is a lack of support and prebuilt functionality. Pimcore stands out among the as an open-source CMS with dedicated, intentional support for specific use cases.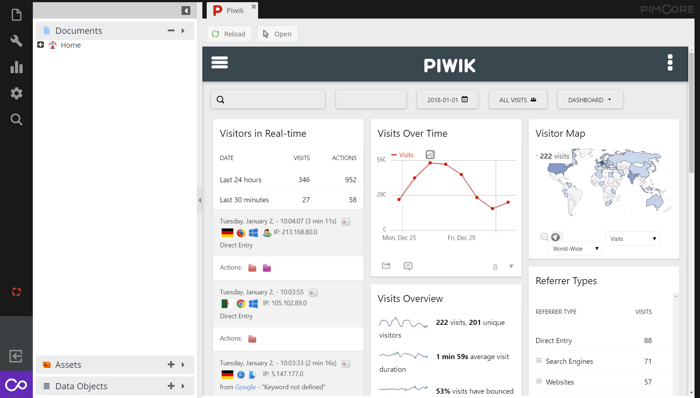 3. Concrete5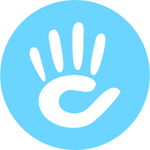 Product Name: Concrete5
Written in: PHP
G2 Star Rating: 4.3 out of 5.0 stars (11 reviews)
Overview
Concrete5 is a hidden blogging gem in web content management. Everyone loves a robust drag-and-drop editor, and Concrete5 absolutely delivers. Designing a website can sound like a daunting task, but Concrete5's WYSIWYG content editor and in-context editing capability take the load off. It even comes with a built-in commenting system and an online form builder, both of which aren't typically provided by WCMs. Concrete5 has been used to create everything from blogs to CMS-based intranets.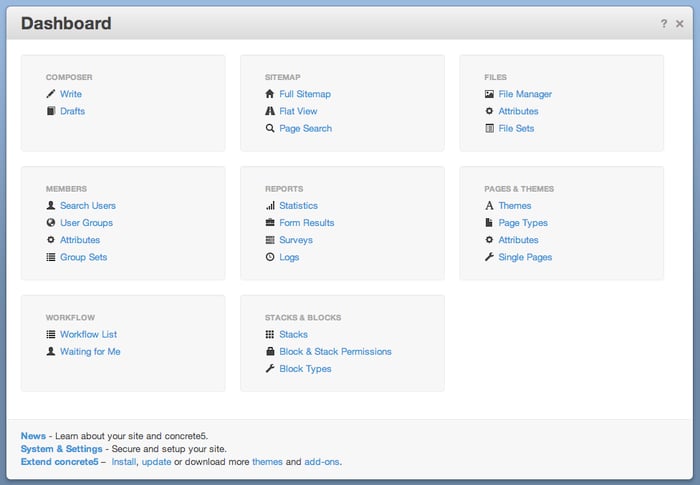 4. django CMS
Product Name: django CMS
Written in: Python
G2 Star Rating: 4.3 out of 5.0 stars (11 reviews)
Overview
Having been released back in 2007, django CMS is by no means the new kid on the block. It may not have the name-dropping power of some of its peers, but it definitely brings as much to the table in terms of usability and performance. django CMS offers many sought-after features like multi-site capacity, drag-and-drop content management, and scheduled publishing.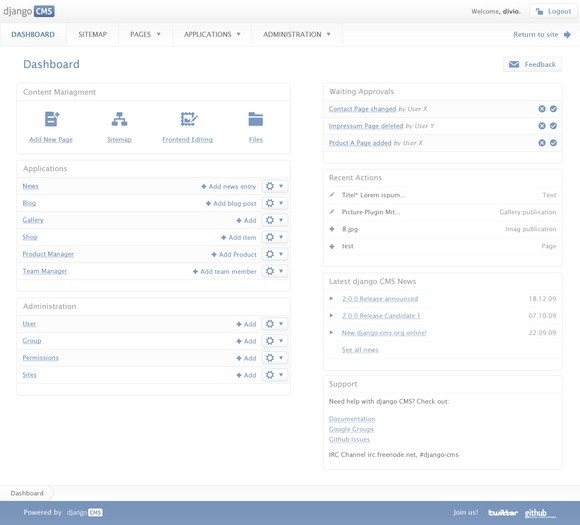 5. dotCMS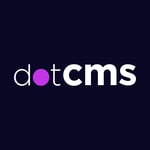 Product Name: dotCMS
Written in: Java
G2 Star Rating: 4.0 out of 5.0 stars (17 reviews)
Overview
People are consuming content on more types of devices than ever before, and headless CMS can accommodate all the display types where content can be presented. For those looking for an open-source, headless CMS, look no further than dotCMS. The Community version of dotCMS is completely free, but its two paid versions, Cloud and Enterprise, come packed with business-centric features. One of the most notable features dotCMS provides is multi-site hosting for all its offerings, a boon for agencies looking for headless CMS options for multiple clients.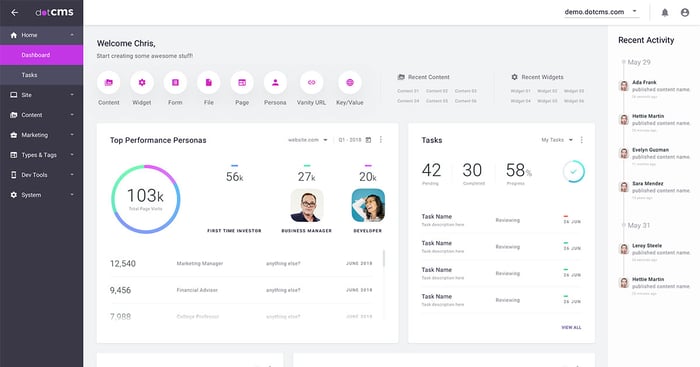 6. Joomla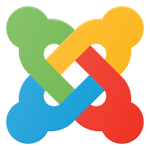 Product Name: Joomla
Written in:PHP
G2 Star Rating: 3.9 out of 5.0 stars (258 reviews)
Overview
Joomla is considered one of the three titans in web content management, accounting for almost a tenth of all known business websites. Joomla has been applauded for combining power with user-friendliness without sacrificing flexibility. The software is supported by a dedicated community that has produced an impressive amount of extensions. Joomla has carved a niche for itself between WordPress and Drupal; it's more technical than the former, but less so than the latter.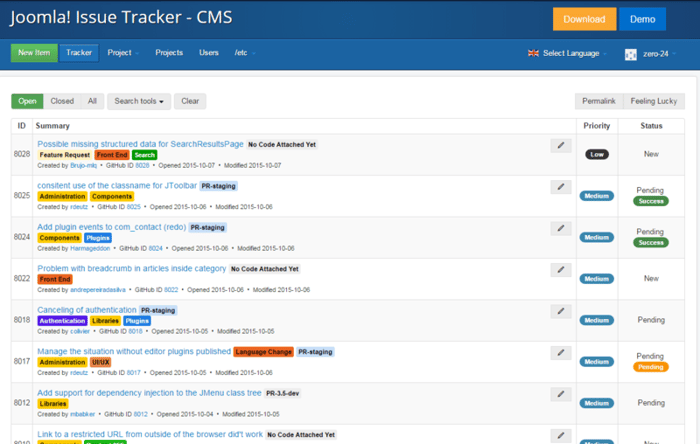 7. Ghost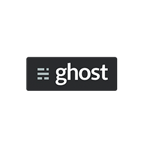 Product Name: Ghost
Written in: JavaScript
G2 Star Rating: 3.8 out of 5.0 stars (15 reviews)
Overview
Blogging has been a staple of the internet for decades, and businesses have adopted blogs as a main focus of their marketing strategies. Ghost delivers a modern CMS framework for online editorials that has become the backbone for several notable blogs. From OpenAI to Tinder, companies trust Ghost's straightforward content and site design editor to create a unique, clean web presence.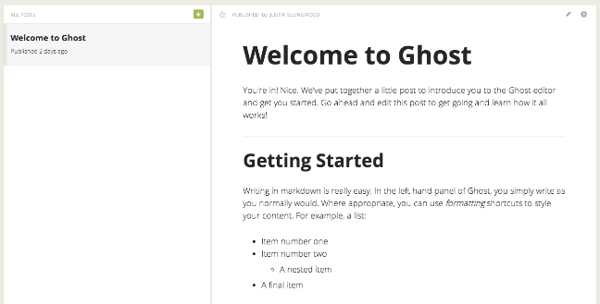 8. Drupal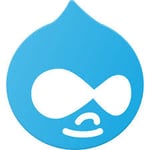 Product Name: Drupal
Written in: PHP
G2 Star Rating: 3.7 out of 5.0 stars (287 reviews)
Overview
Drupal is the third option in the trio of popular WCM systems. It doesn't account for as much of the CMS market as WordPress and Joomla, but this can't be blamed on it being the weakest of the three. Instead, Drupal comes packed with a lot of capability and is the most technically demanding of the popular web content management systems. Drupal is a powerful WCM behind applications and sites used daily. Many government and university websites rely on Drupal to reliably support their sites (and with good reason).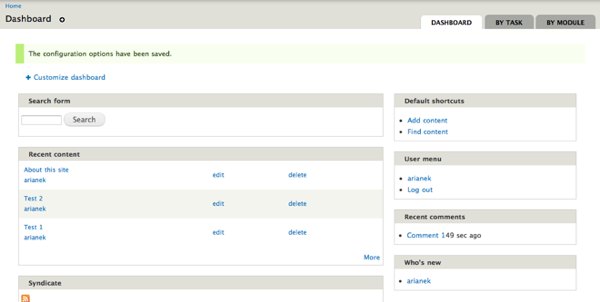 Also looking for a website host? Check out our blog on website hosting and how to pick the best host for your website.
* User reviews may have been edited for grammar and spelling