The very idea of cloud storage was once inaccessible and even ethereal—I'll admit thinking that it had something to do with magic satellites when I first heard the term.

Now, "the cloud" feels much more down to earth, and companies of all sizes benefit from cloud content collaboration software. With all of the cloud-based software tools on the market, collaborating with internal peers and external clients has never been easier.
Cloud storage, a type of cloud computing, allows businesses to streamline their file collaboration abilities by transferring data or sharing it in a centralized online space. Free options usually grant users 5–20 GB of storage space for their data, and sometimes include content creation and simultaneous editing capabilities to make collaboration a breeze. Luckily, if you need more storage space than what a free product might offer, most paid options are available for a low monthly fee per user.
For each qualifying product, we created a profile to give a snapshot of what it is and what it does, and to offer some insight into the product features. To help you narrow down file storage and sharing offerings, we have covered a variety of solutions ranked by user satisfaction score as of July 19, 2019.
TIP:

Still think of the cloud as a confusing, unapproachable sci-fi concept? Check out our recently published article, 11 Myths About Cloud Storage, to better familiarize yourself with the idea.

.
For each product we provide:
An overview
Free and paid options details
Highlighted features
What users like and dislike*
The best free cloud storage products in 2019
Product reviews and G2 Crowd star ratings were updated as of August 22, 2019
1. Google Drive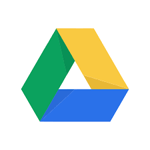 Product Name: Google Drive
Overview
Google Drive is an all-inclusive cloud storage and collaboration tool from a small up-and-coming company you probably haven't heard of. Beyond offering file storage and easy sharing functionality, Google Drive also grants users access to its suite of file creation tools like Google Docs, Sheets, and Slides. Featuring device syncing, a plethora of supported file types, and simultaneous editing capabilities, Google's comprehensive file storage and sharing software has made itself a necessity for individual users and businesses alike.
Free option
Individual users can take advantage of up to 15 GB of cloud storage space for free.
Paid option
Basic, $6/month per user: 30 GB of Drive storage and Google's professional office suite
Business, $12/month per user: Unlimited cloud storage (or 1 TB per user if fewer than 5 users) plus Google's enhanced office suite
Enterprise, $25/month per user: Everything offered in the Business package plus advanced controls and capabilities
Features
Content creation
Cloud data backup
Simultaneous editing
Multi-format support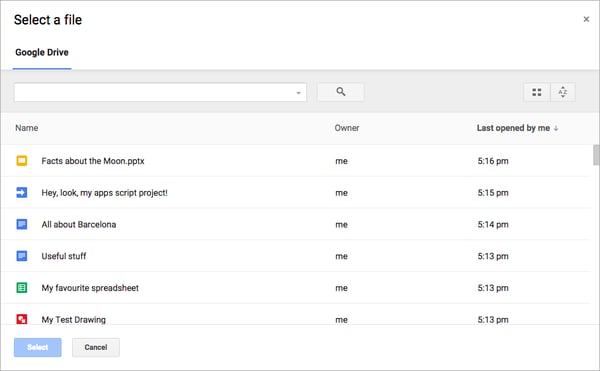 Image courtesy of Google
---
2. Dropbox
Product Name: Dropbox
Overview
Dropbox provides a workplace-oriented collaboration platform with robust file sharing and storage capabilities. Users can easily share work with each other and clients thanks to Dropbox's cloud storage and syncing functionalities. However, unlike Google Docs, Dropbox does not offer any content creation tools. It's simply a place to drop and share files.
Free option
The Basic package with 2 GB of storage is free.
Paid option
Plus, $9.99/month (billed annually): 1 TB of storage
Professional, $19.99/month (billed annually): 2 TB of storage
Features
Intuitive user interface
Simultaneous editing
File syncing
Multi-format support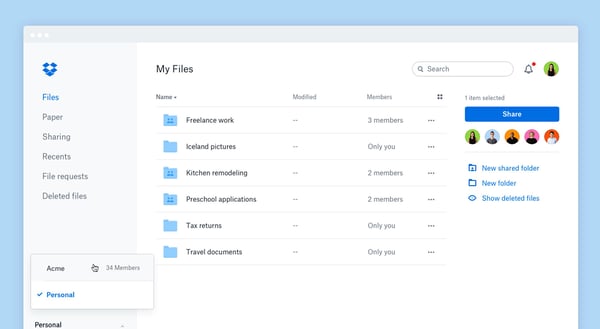 Image courtesy of Dropbox
Related: Learn more about cloud security and how to step up your cybersecurity efforts.
3. Box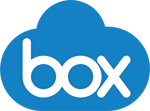 Product Name: Box
Overview
Box brings cloud storage and sharing capabilities to every aspect of a business. Its deep, native integration with a variety of useful products and apps—including Microsoft Office, Salesforce, and Adobe—helps content flow seamlessly across an organization. Box is useful for companies looking to operate within a cloud-based ecosystem.
Free option
The free Personal Starter pack grants 1 user 10 GB of storage.
Paid option
Business Starter, $5/month per user (billed monthly): Up to 10 users with 100 GB of storage per user
Business, $15/month per user (billed monthly): Unlimited storage and unlimited users
Enterprise, custom pricing: Includes advanced features such as premier content security and management
Features
Multi-format support
Integration with hundreds of applications
Security controls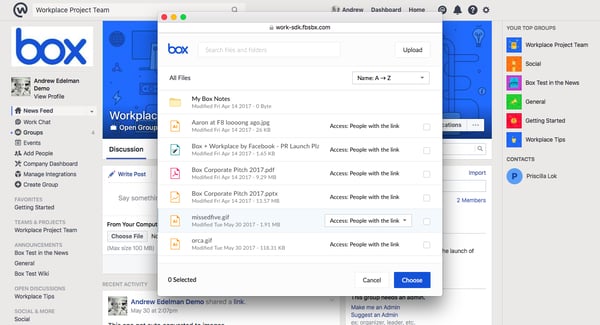 Image courtesy of Box
---
4. WeTransfer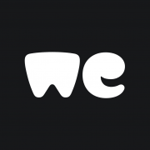 Product Name: WeTransfer
Overview
WeTransfer is a web-based file sharing platform. It's instantly ready to use as soon as you navigate to WeTransfer's site. While the free option doesn't offer cloud storage, it does offer the quick and easy basics on an accessible platform: Simply navigate to WeTransfer's site and share a file with any of your collaborators.
Free option
WeTransfer's free application doesn't feature cloud storage, but it does grant unlimited file transfers of up to 2 GB at a time.
Paid option
WeTransfer Plus, $12/month or $120/year per user: 100 GB of storage and transfers of up to 20 GB at a time
Features
Simple file sharing
Accessible web-based UI
No account necessary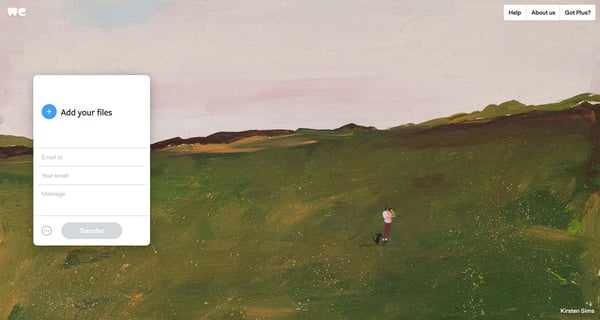 Image courtesy of WeTransfer
---
5. Koofr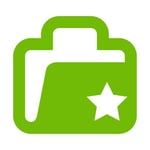 Product Name: Koofr
Overview
Koofr is a file storage and sharing tool that brings all of your files together under one umbrella. Google Drive, Dropbox, and other cloud-based storage accounts can all be linked to Koofr to make everything accessible in one place. All files stored and shared are secured on Koofr's EU-based servers.
Free option
The free basic account grants users 2 GB of storage, with the option to invite friends to earn up to 10 GB of storage total.
Paid option
Upgraded accounts start at €0.50 and offer 10 GB–1 TB of storage, plus added features.
Features
No individual file size limits
No file type limits
Two-step verification
Simultaneous editing
Integration with other cloud services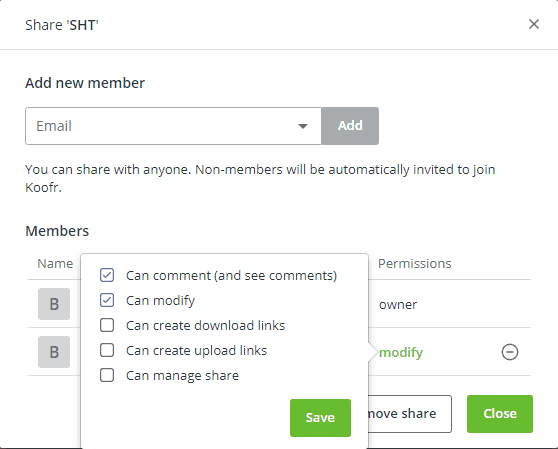 Image courtesy of Koofr
---
6. pCloud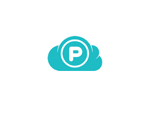 Product Name: pCloud
Overview
pCloud is a multiplatform file storage and sharing tool that gives its users full control over secure day-to-day collaboration. It doesn't offer its own content creation tools like Google Drive, but it does allow collaborators to edit uploaded files.
Free option
The Free option grants 20 GB of storage per user.
Paid option
Premium, $3.99/month per user: 500 GB of storage per user
Best Seller, $7.99/month per user: 2 TB of storage per user
Business, $9.99/month per user (or $49.95/month for 5 users): 1 TB of storage per user, plus shared folder collaboration, client-side encryption, and unlimited file sizes
Features
File versioning
Device syncing
Web interface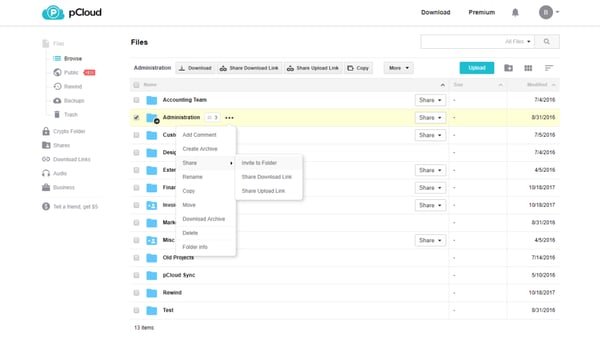 Image courtesy of pCloud
---
7. Zoho Docs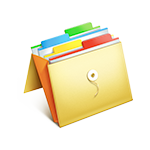 Product Name: Zoho Docs
Overview
Zoho Docs allows users to create, store, share, and collaborate on documents of almost any format. This product sticks to two main functions: document storage and management and document editing and collaborating.
Free option
The free option grants 25 GB of storage per user for up to 25 users.
Paid option
Standard, $5/month per user: 50 GB of storage per user
Premium, $8/month per user: 100 GB of storage per user
Features
No software installation
File preview
Simultaneous editing
Varied template options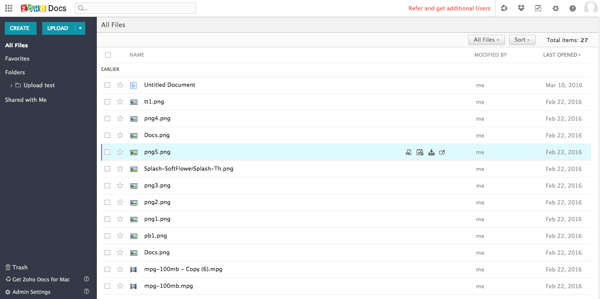 Image courtesy of Zoho
---
8. Apple iCloud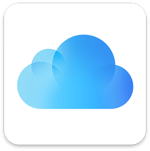 Product Name: Apple iCloud
Overview
Apple iCloud touts itself as a product that goes beyond file sharing and storage. The product is built into every new iOS and Mac device and allows users to seamlessly access their calendar, contacts, and files from whatever device they're on. File sharing works similarly to Google Drive's shareable links, and iCloud enables users to create and edit content together on Apple's Pages, Numbers, Keynotes, and Notes software.
Free option
The free option grants 5 GB of storage per user.
Paid option
50 GB of storage per user for $0.99/month per user
200 GB of storage per user for $2.99/month per user
1 TB of storage per user for $9.99/month per user
Features
Content creation
Seamless integration with Apple devices
Two-factor authentication
Device locator capability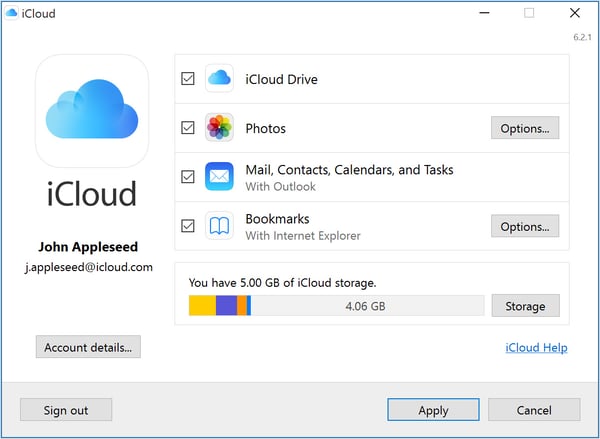 Image courtesy of Apple
9. Axway Syncplicity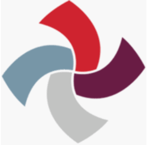 Product Name: Axway Syncplicity
Overview
Syncplicity is a content collaboration platform for cultivating a seamless digital workplace. Like Koofr, it serves as a cloud-based ecosystem for a business' workflow and files. It handles all unstructured data across the enterprise through a choice of public cloud, private cloud, or hybrid infrastructure.
Free option
The Free Personal Edition gives users 10 GB of storage space.
Paid option
Paid Personal Edition, $5/month per user: 100 GB of storage space
Business Edition, $5/month per user: 300 GB total to 3 users, plus 5 GB per additional user
Enterprise Edition, contact vendor for pricing: 10 TB total to 25 users with the option to purchase additional storage
Features
Unlimited file size
Simultaneous editing
Unlimited external collaborators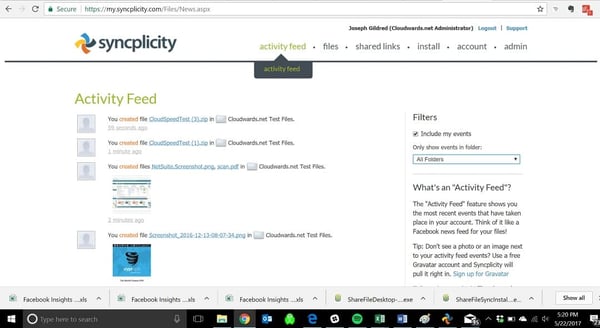 Image courtesy of Axway
10. Tresorit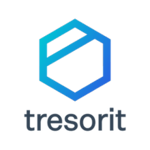 Product Name: Tresorit
Overview
Tresorit is another cloud content and collaboration tool that offers end-to-end encrypted file sync and sharing with a flexible permission system to make cloud collaboration secure. The software allows users to manage who can add, edit, and view shared data. Like Koofr, its EU-based infrastructure makes it an attractive pick for those wanting to follow local European data security laws.
Free option
The web-based application grants 5 GB of storage for personal use.
Paid option
Small Business, $20/month per user (billed annually): 1 TB total of encrypted storage for 2–10 users
Business, $24/month per user (billed annually): 1 TB total of encrypted storage for for 10–100 users, plus added features
Enterprise, $24/month per user (billed annually): Custom encrypted storage for 100-plus users, plus a full feature set
Features
Secure access on up to 10 devices per user
Deleted file restore
Password-protected file sharing links
Flexible permissions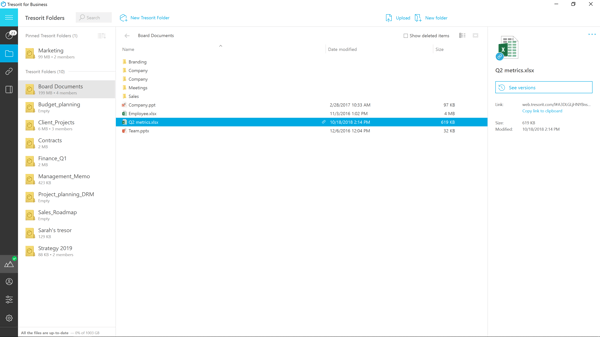 Image courtesy of Tresorit
---
Next steps
When searching for a cloud-based file storage and sharing tool that's right for you, it's important to keep key features in mind. Do you need software that allows for content creation and simultaneous editing to make real-time collaboration snappy and intuitive? Or do you simply need a place to store your files and enable other users to access them? Do you need the storage space, or are you just looking for a way to securely transfer files between collaborators? All of these considerations make some software a better fit than others. Be sure to read through verified user reviews to make the best choice for your needs.
If you're concerned about keeping your company's cloud content secure, you can learn more about cloud security to put your mind at ease.
Want to learn more? Discover what cached data is or check out the women in cloud computing that are making waves.
*Reviews edited for spelling, grammar, punctuation, and clarity.