Your Apple Watch can do a lot to make your life easier. But where do you start?
First, you have to rid yourself of the notion that the apps available on your Apple Watch are the same as those available for your iPhone.
While there are plenty of options for both, the app design varies greatly from one device to another. In other words, just because you love an app on your phone doesn't necessarily mean it's the best app for that same task on your Apple Watch. The user experience (UX) and user interface (UI) are completely different for that tiny wrist computer.
With the latest iOS 13 update, Apple Watch is getting its own glow up. The all-new watchOS 6 makes the device more independent than ever, with a dedicated app store and ability to download apps without an iPhone. Now, let's see what's topping the charts!
EDITOR'S NOTE: This list has been updated for 2020.
What are the best Apple Watch apps?
The following list is curated from the top rankings in the App Store as of September, 2019, as well as several Apple factory apps that are preinstalled on your Apple Watch.
Best apps for Apple Watch by category
Fitness: BeachBody On Demand
Nutrition: MyFitnessPal
Meditation: Headspace
News: CNN
Sports: Bleacher Report
Music & Podcasts: Spotify
Productivity: Evernote
Weather: CARROT Weather
Travel: Uber
Games: Peak - Brain Training
Social: WeChat
But there are tons of awesome apps for your Apple Watch and a lot of the differences greatly depend on personal preference. Here's an overview of the App Watch categories we'll cover:
And last but not least, my personal picks that didn't make Apple's top charts are listed at the bottom. Let's dig in!
Exercise Apps
Probably the most popular Apple Watch category, exercise apps allow users to live track and record workouts – including strength training, cycling, swimming, yoga, and more. With a few of these options listed, you can challenge and compete with others in your network.

1. Beachbody On Demand
4.9-star rating, 160,875 reviews
The Beachbody On Demand (BOD) fitness app for Apple Watch gives users access to popular Beachbody programs. The workouts range from just 10 minutes a day to intense strength training courses and even yoga. The clean interface makes it incredibly easy to use on your watch during your workout.
2. Strava
4.8-star rating, 91,271 reviews
With Strava, you can track your fitness activity and record your workouts. Map your routes and find new ones with the world's largest trail network. The history data allows you to compare your training over time to better see your performance. Strava also offers workout plans and training feedback so it's great for people on a committed fitness journey.
3. Seven - 7 Minute Workout
4.8-star rating, 66,443 reviews
With over 30 million users, Seven is a unique training app that focuses on quick, effective workouts in just 7 minutes. Using only bodyweight exercises, you can get your gym time in anywhere, anytime with no equipment necessary. This is the perfect exercise app for the busy bee.
4. Nike Training Club
4.8-star rating, 151,815 reviews
This training app has a library of different exercises to choose from including bodyweight and full-equipment workouts to improve strength, endurance, and mobility. This app isn't just a tracking app, but it's great for users just getting started that need extra guidance.
5. Activity Tracker
4.7-star rating, 39,046 reviews
As the name implies, Activity Tracker monitors your exercise levels throughout the entire day. The app tracks your steps, distance, daily calorie burn, active time, and more! Sync your steps across your devices and even import your historical data from the Apple Health app.
6. Activity App
Built-in Apple app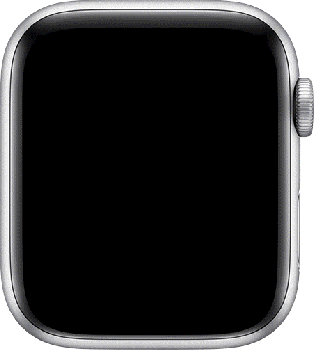 Image courtesy of Apple
The Activity app is a gamification fitness app by Apple. Users 'close their rings' to meet recommended daily move, exercise, and stand goals. These goals are adjustable based on your activity level and can accurately track heart rate and calories burned for a range of exercises such as traditional workouts like strength training and outdoor walks to others like basketball. Users can share their activity data with friends as well as compete in challenges with them to earn badges.
Nutrition Apps
Nutrition apps for your Apple Watch offer an on the go solution to an age-old problem. These apps make it quick and simple to log your food and stay on track with your diet.

7. MyFitnessPal
4.7-star rating, 830,577 reviews
A hit for iPhone users as well, MyFitnessPal is a calorie counting app that takes the guesswork out of eating healthier. Set a calorie goal and log your meals with this easy-to-use UI design. Your watch will display your progress throughout the day, including a nutrients breakdown.
8. Lifesum: Diet & Macro Tracker
4.6-star rating, 72,462 reviews
Lifesum is a diet planning, food tracking, and calorie counting app all in one. It also has recipes available to users with specific dietary needs like low carb, keto, or high protein. Lifesum is great for users looking to make healthy habits really stick.
9. YAZIO – Diet & Food Tracker
4.6-star rating, 11,348 reviews
With over 10 million users, YAZIO makes calculating calories easy. You can add items meal by meal, right from your Apple Watch. There's even a homepage widget for quick access to the food diary.
Meditation Apps
Whether you need a quick break to gather your thoughts throughout the day or are having trouble getting to sleep at night, one of these mediation Apple Watch apps might be just what the doctor ordered.

10. Headspace: Meditation & Sleep
4.9-star rating, 582,164 reviews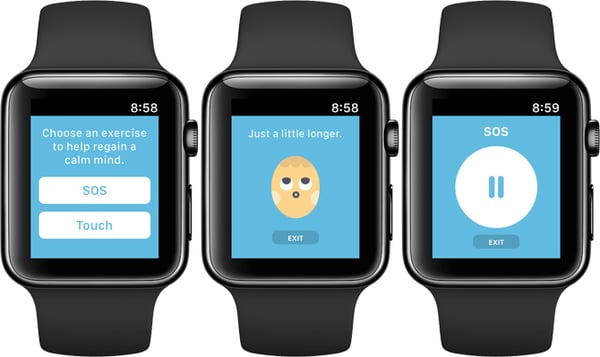 Image courtesy of The Better Parent
Headspace is a guided meditation app that helps you reset, anytime and anywhere. The Apple Watch app has two options: SOS and touch. The SOS option is a monologue session and the touch option is a breathing exercise. This meditation helps the user be more mindful in their everyday life.
11. 10% Happier: Meditation
4.8-star rating, 47,687 reviews
An Apple "Best of 2018" Award Winner, 10% Happier is a meditation app that focuses on sleep and mindfulness to help users become – you guessed it – 10% happier. The library includes meditations, talks, videos, and sleep content – there's even a meditation of the day.
12. Calm
4.8-star rating, 610,478 reviews
The Center for Human Technology called this app the "Happiest App in the World". Users can expect to find hundreds of programs, from beginner to advanced levels. Calm also has exclusive Sleep Stories sure to quickly lull you into a deep sleep.
13. Breathe App
Built-in Apple app
Apple's breathe app has more of a "take a step back and relax" focus as opposed to other meditation apps. You can set the timer for one- or five-minute intervals, where it then coaches you through breathing exercises with visual aids on the watch face. You can set up notifications where you Apple Watch simply tells you to breathe.
News Apps
Get the news as soon as it breaks. These news apps for your Apple Watch make it easier, and less rude, to check the headlines when you're in a meeting or otherwise busy. This category is the most subjective of those listed; where do you get your news?

14. CNN: Breaking US & World News
4.7-star rating, 367,818 reviews
The CNN Apple Watch app gives users the daily headlines and allows them to save articles for later reading. There is a home widget for CNN that will display the goings-on right on your watch face below the time.
15. The Wall Street Journal
4.5-star rating, 71,755 reviews
The Wall Street Journal brings the latest news and insight to you, even if you don't have your phone on you. WSJ gives you the headlines and an excerpt of the piece right on your watch.
16. USA Today
4.5-star rating, 205,641 reviews
With the USA Today app, users can stay on top of the latest news and keep your finger on the pulse. You can scroll through stories on your watch and save them for later reading. The USA Today app also allows you to personalize your feed, bringing you the news that's most important to you.
17. Apple News
Built-in Apple app
Apple News gives readers the top stories from trusted sources. There's more than just words; this news app includes pictures, too. As you read, the app learns your interests and suggests more stories for you to personalize your feed. You can manually customize the Apple News app further in the settings.
Sports Apps
If you're a sports fan, then you'll want the latest scores and highlights as fast as possible. Get live stats and overviews from your watch with one of the top Apple Watch sports apps.

18. Bleacher Report
4.8-star rating, 217,997 reviews
Bleacher Report offers push notifications and updates for scores, alerts, and social mentions. Many reviews even boast that the app's breaking news is better than the major sports outlets. Plus, personalize your experience by adding your favorite teams to never miss a move.
19. ESPN: Live Sports & Scores
4.5-star rating, 358,288 reviews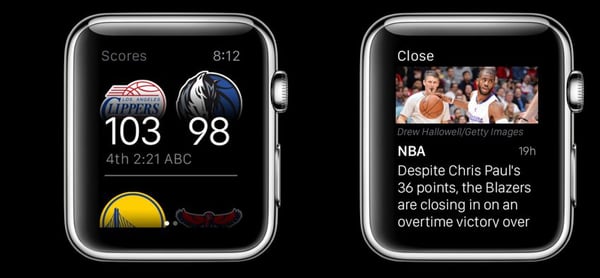 Image courtesy of mashable
This Apple Watch app is integrated with your ESPN iPhone app to show you scores and news updates from your favorite teams. Set notifications on your watch to stay on top of the latest happenings.
20. MLB At Bat
4.5-star rating, 42,699 reviews
Get an in-depth view of live baseball games and listen in right from your watch. You can also get team news and standing stats throughout the season. The app requires an MLB At Bat subscription.
Music & Podcast Streaming Apps
With these streaming apps on your Apple Watch, you won't have to go digging through your bag in search of your phone to change the song or rewind a podcast. Again, this category heavily leans on personal preference and subscription status.

21. Spotify
4.8-star rating, 9,568,468 reviews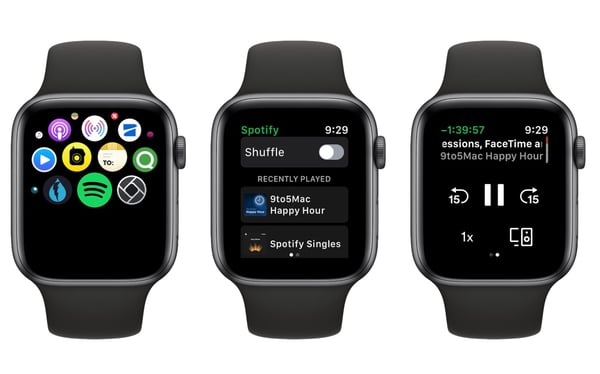 Image courtesy of 9to5Mac
With the Spotify app, you can play, pause, and change the song all without touching your phone from a simplified interface on your watch. Spotify for Apple Watch will tell you which playlists you've listened to recently so that you can quickly access and control your favorite tunes.
22. Pandora
4.8-star rating, 6,048,821 reviews
The popular streaming app is available on your watch to listen to music from your favorite artist or genre. With Pandora, you can find playlists, skip ahead, rewind, and shuffle songs from the app.
23. iHeartRadio - Radio & Podcasts
4.5-star rating, 201,269 reviews
On top of playlists, the iHeartRadio app lets you listen to live and local radio stations. The watch interface features a play/pause and skip buttons, along with a volume control toggle.
24. Overcast
4.7-star rating, 19,682 reviews
This podcast player offers an intuitive interface to search and browse new shows. Easily add podcasts to your queue and switch control back and forth between your phone and your watch.
25. Apple Podcasts
Built-in Apple app
The Apple Podcasts app for Apple Watch features a similar interface to the iPhone app, just on a smaller scale. Add episodes to your queue, speed up the tempo, or skip ahead from the same screen. Plus, the podcast cover art is on full display in your search to help find something that catches your eye.
26. Apple Music
Built-in Apple app
With over 50 million songs available from Apple Music, there are so many choices for users. The app features what's playing now on most screens and syncs up with your iTunes library.
Productivity Apps
Productivity apps keep you organized and on task to make your day easier. These types of apps range from calendars to note-taking apps and everything in between.

27. Evernote
4.5-star rating, 24,212 reviews
The Evernote Apple Watch app allows users to quickly check on notes they have previously created and create new ones with Siri. Quickly scroll through the synced to-do lists and check off items as you go.
28. Hours Time Tracking
4.5-star rating, 6,487 reviews
Designed by an Apple Design Award winning team, Hours Time Tracking gives you a visual timeline, smart reminders, reporting, and more. Sync across multiple devices like your iPhone, App Watch, and Mac.
29. Fantastical 2
4.3-star rating, 2,429 reviews
Fantastical is a calendar app with smart features like natural language parsing, reminders, full-week view and more. The homepage widget makes checking your schedule simple.
Weather Apps
Don't get stuck in the rain! Get live and future weather updates for your favorite locations. There are a ton of different weather widgets available on the watch face, depending on how you want to see the weather data.

30. CARROT Weather
4.7-star rating, 20,795 reviews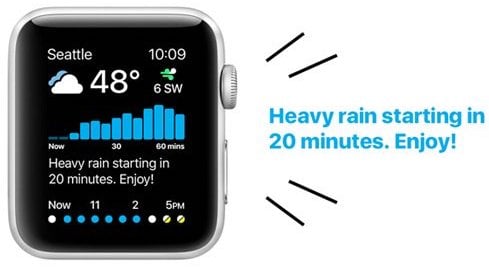 Image courtesy of iDownload Blog
CARROT Weather is a high-powered, data-centric weather app for your Apple Watch. This app packs it all in, with charm and witty messages about upcoming weather in your area. Enjoy that rain!
31. Hello Weather
4.7-star ratings, 3,661 reviews
This icon-forward weather app says a lot within a little interface. The developers even made it easy to read, translating all that weather jargon into plain English. Get the weekly breakdown so you know what to expect for days ahead with Hello Weather.
32. The Weather Channel
4.6-star rating, 880,997 reviews
Receive quick updates of weather in the area with The Weather Channel app. The app displays current temperature, daily high/low temperatures, the chance of rain, and more.
33. Weather app
Built-in Apple app
The Apple Weather app is a scaled-back version, which includes only the essentials. You can ask Siri questions such as "What's the weather like today?" or "How windy is it out there?"
Travel Apps
When you're traveling, you can never have too many tools at your disposal. Having these apps accessible is the key!

34. Uber
4.7-star rating, 1,154,229 reviews
The Uber Apple Watch app works in conjunction with the iPhone app. It gives you multiple updates such as how far away the driver is and when they've arrived. You can see the full map on your watch to see the pick up and drop off locations.
35. App in the Air
4.6-star rating, 7,464 reviews
With the slogan "Fly Smarter," App in the Air has a lot to offer its users. On the Apple Watch, you can get security and departure times, airport navigation maps, and explore landmarks and places you're flying over.
36. Citymapper
4.3-star rating, 1,758 reviews
Real-time departures and travel times make this the perfect everyday travel Apple Watch app. You can even save places on the interface and see updates from your home screen.
37. Elk Travel Currency Converter
4.0-star rating, 946 reviews

When you're traveling, it's always good to have a currency converter accessible when you're out and about. This Apple Watch app has a location feature built-in and automatically picks the right currency for you.
38. iTranslate Converse
4.0-star rating, 1,837 reviews
Even more handy to have on your trips is a language translator. You simply pick from one of the 38 languages listed and then tap to speak. The Apple Watch will take your input and translate it into the language of your choice.
Game Apps
If you're bored, your Apple Watch can be a nice distraction. Get sucked into a building a new world or stay at the top of your game with daily brain training games.

39. Peak - Brain Training
4.7-star rating. 107,476 reviews
Stay sharp with brain training games from Peak. This app offers 40 unique games to push you toward peak performance. It tracks your progress and keeps you coming back for more.
40. Bubblegum Hero
4.6-star rating, 11,667 reviews
This game is simple: blow the right bubble. Some are big and some are small, depends on the player! Choose from over 20 heroes to climb that leaderboard.
41. Trivia Crack
4.5-star rating, 379,190 reviews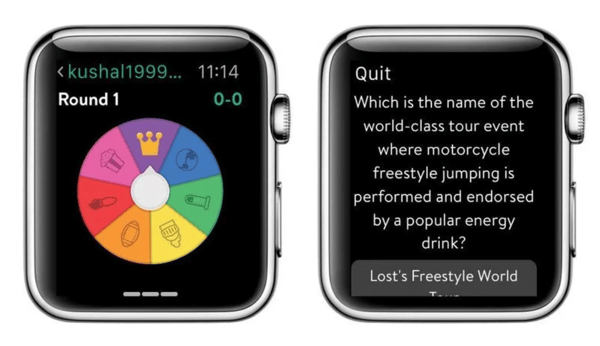 Image courtesy of Macworld UK
The popular trivia game can now be enjoyed on your Apple Watch. There are six categories to choose from to test your knowledge and challenge your friends to a game – but watch out for that rematch!
42. Micropolis! - Idle City Game
4.2-star rating, 1,634 reviews
Micropolis! is a game that you can play entirely on your Apple Watch. Use the digital crown to scroll around to build your very own city.
Social Networking Apps
Stay in touch with your friends and family with social networking apps. You can send messages, receive updates when someone posts a new photo, and even find your friends on your Apple Watch.

43. WeChat
4.4-star rating, 48,816 reviews
WeChat is a messaging app that allows users to talk to people across the globe. Send and receive messages on your Apple Watch with voice-to-text technology. With certain watch faces, you can put WeChat on your homepage with the custom widget.
44. Messenger
4.2-star rating, 943,208 reviews
You can use Facebook Messenger on your wearable tech, too. Chat with your friends and groups, plus send enhanced messages like stickers. The Apple Watch app syncs with your iPhone app to create a seamless experience.
45. Find My Friends
Built-in Apple app
Easily locate your friends with Find My Friends. Note that these friends have to share their location with you first. Once you find who you are looking for, you can call or text them from the same watch screen to make the process faster.
Personal Picks
We made it to the bonus round! These are my favorite Apple Watch apps that didn't make the list above. I like these apps because they are convenient and easy to navigate.

46. Cheatsheet Notes
4.8-star rating, 449 reviews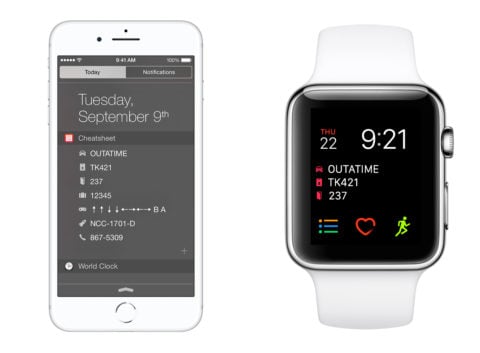 Image courtesy of TapSmart
The Cheatsheet Widget app is a lifesaver, helping you remember passwords and little notes that you most likely will forget – think license plates, gym locker combinations, and bathroom passcodes. It's a simple place to jot things down that you will need to reference later.
47. Rules!
4.2-star rating, 48 reviews
This daily puzzle game is sure to get your brain moving. Rules! is a memory game that gets harder as you make your way through the stages. There is a rule given on every level, and as you progress, you have to follow every rule you've learned thus far.
48. V-CAF Stay Awake Stay Alert
New app, not enough ratings
V-CAF, or virtual caffeine, keeps you awake and alert! This app integrates with the Apple Health app to work with your body's natural rhythm to notify you when you're extra tired and even falling asleep.
49. Wallet & Apple Pay
Built-in Apple app
The Wallet & Apple Pay app on Apple Watch allows users to make purchases on the go with their watch. Use the iPhone app to add debit cards, boarding passes, loyalty cards, and more.
TIP: Learn how to use Apple Wallet across all of your devices, including your Apple Watch.
50. Now Playing
Built-in Apple App
The Now Playing app gives you complete control of audio playback on your Apple Watch. When you're listening to a podcast or your favorite song, tap the red icon at the top of the Watch Face for a shortcut to a play/pause, next, back, and volume button.
It's about time
Get it? Your Apple Watch can do so much more than just tell you the time. It can track your hard-earned workouts, remind you to call mom later, and even help you get a good night's sleep.
Want more Apple news? Learn more about iOS 13, the newest features you can expect to see for Apple Watch, iPhone, and iPad.