The 'cloud' is one of those fashionable words that has dominated tech discourse as of late, thrown around with all the regularity and skill of a four-year-old with a hand grenade.
While there are plenty of solid explanations of the cloud to be found on the internet, very little time is given to discussing why you should care and what specific, actionable benefits can be seen by your business should you choose to give this technology more than a cursory glance.
While the term 'the cloud' has been used to refer to a wide range of technologies over the years, the simplest explanation is that it is a revolution in data storage; making use of third-party computing capabilities in order to remotely deliver services.
Most notable benefits of cloud computing
According to the 2018 IDG Study into cloud computing, nearly 73% of organizations have at least one application in the cloud, with another 17% planning to join them at the time of reporting. Furthermore, the growth of cloud computing spending is estimated to eclipse traditional IT spending growth by over 600% by 2020. Clearly this is something people are investing a lot of time, money, and faith into developing.
What are 3 common reasons to use the cloud?
It makes it easier to secure your data
You can access your work wherever you are
It allows for ease of collaboration across teams
The ascendency of this technology has brought a whole host of new capabilities to cloud computing. It originated as a simple data-storage platform but has transmuted into a multi-billion dollar industry that is capable of delivering processing power, storage, and even applications to countless points across the globe.
With this, new horizons of technological revolution have been unlocked which demand exploration by any business looking to stay competitive in our rapidly evolving digital landscape. Understanding how this technology can be utilized to propel your organization into the future is a vital step in near-term planning.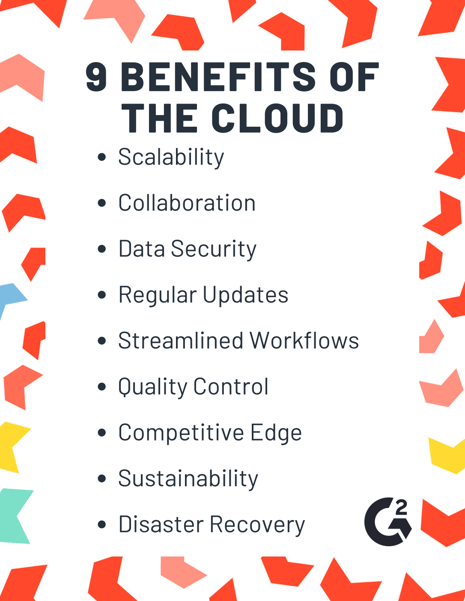 1. Scalability
No matter the size or type of your company, one thing is for certain: your IT needs are going to change over time. In a society constantly orienting around technological disruptions, being able to "future-proof" your tech stack is one of the most powerful things you can do to prevent headaches down the road. Cloud computing allows you to increase or modify your computing capabilities without having to invest in the physical infrastructure. Not only does this reduce spending on costly hardware, but it allows for changes to be made to your IT stack much more quickly.
TIP: Looking for a solution to prevent data breaches? Keep your tech stack compliant with the help of G2 Track.
2. Collaboration
Due to the cloud being accessible basically wherever you have internet, it's easier than ever to remotely access your organization's data. This also makes it extremely easy for dispersed employees to meet virtually and share information.
3. Data security
Data security is one of the greatest issues facing many businesses. There's even an entire role dedicated to it in the CIO! Luckily, the cloud alleviates some of these concerns by providing top of the line data security features with their storage and computational services so that your business doesn't have to constantly keep updated with the ever-expanding list of malware that could lead to a data breach. Let the experts handle your security so you can focus on your vision.
4. Regular updates
Cloud services live and die by their relevance in the computational space, so it's imperative that they keep on top of all the newest developments in both features and security. This benefits their clients by freeing up resources that would otherwise be spent researching and implementing updates to their tech stack.
5. Streamlined workflows
Another benefit of the cloud is that it allows you total control over and visibility into your data by deciding which employees are able to access what. This helps cut out the confusion and streamline workflows by setting clearly delineated guidelines on what individuals and/or roles can access specific documents.
6. Quality control
Ensuring quality has ever been one of the key hallmarks of success for any business. The centralization brought on by cloud storage means that everyone is working off the same data, with no duplicates or old versions of a file floating around that could potentially result in the production of a sub-optimal deliverable for one of your teams.
7. Competitive edge
With the increasing adoption of cloud technology by the majority of businesses will ensure that your business is positioned to take advantage of new breakthroughs and capabilities that are continuing to emerge with this technology.
8. Sustainability
A side benefit of reducing on the cumbersome tech stacks of individual businesses is a reduction of demand for environmentally-damaging materials that are required to build such infrastructure.
9. Disaster recovery
Even if the worst happens and disaster strikes your data, the cloud has a solution for you. The centralization of your data means that all the otherwise dispersed work from your various employees will have been automatically backed up in a hub for a speedy recovery. Using the cloud for your business can go a long way towards recovering from a security breach.
Cloud Power
Knowing about the myriad of options and possibilities that become available to you when your business harness the flexibility of the cloud is crucial for making a decision about the future of your tech stack.
Check out our roundup of the best cloud storage products of 2019 to start revolutionizing your data storage now!