If you haven't noticed, bots are taking over the world.
Okay, not taking over, but it can seem that way at times. You may not even notice how many times you come in contact with a bot in one day. Have you ever ordered Starbucks using their mobile app? You've interacted with a chatbot. Ever requested an Uber or Lyft? Bot.
You can even request a ride from Lyft in Facebook Messenger, Slack, or on your Amazon Echo. In fact, many companies have bots living inside Facebook Messenger (appropriately named Facebook chatbots) that make ordering and purchasing almost too convenient. It's possible to order a pizza, buy movie tickets, and get a customized playlist all through the popular messaging app.
All of this is considered automated customer service.
What is automated customer service?
Automated customer service is the process of integrating tools that use techniques like canned replies, smart redirecting, email automation, and more to save the customer service team time, improve the overall workflow, and guide the customer in the appropriate direction.
Many think that by implementing automated customer service into almost all industries, customer service representative jobs are going to go extinct. This isn't true. We'll discuss why as well as how automated customer service can be a huge benefit to your business.
The main difference between automated customer service and traditional customer service is that automated customer service has the ability to run indefinitely. If you implement automated tools into your customer service strategy, you'll be able to assist customers no matter the time of day without an additional cost. Instead of finding the budget to hire another employee, companies can use chatbots that can cover those late-night hours.
Why you should implement automated customer service
There are a variety of reasons why automated customer service is useful to a company's customer satisfaction. Let's go over the main reasons why it's so widely loved.
1. Can lower your costs
As we mentioned earlier, it can be difficult to find the budget to hire additional employees to help assist your customers when they have questions. If you just launched your company, chances are you only employ a few people and taking care of customer service issues can be difficult to handle. Customer service automation can be a great option to operate more efficiently when in reality, your team may only be comprised of a few people.
So, what does it cost to use a customer service automation tool? Some can be costly but others are available on a subscription basis! You can use CRM software and you won't have to pay for more than you use.
2. Can work for any size company
Automation can be useful no matter the size of the company. Small businesses often use automated customer service when just starting out. Because they may not employ many people, using chatbots or automation tools can be the best move for them to stay in communication with their customers at all times.
On the other hand, large companies almost always have to use automated tools to keep up with the massive amount of customer questions and inquiries they receive each day.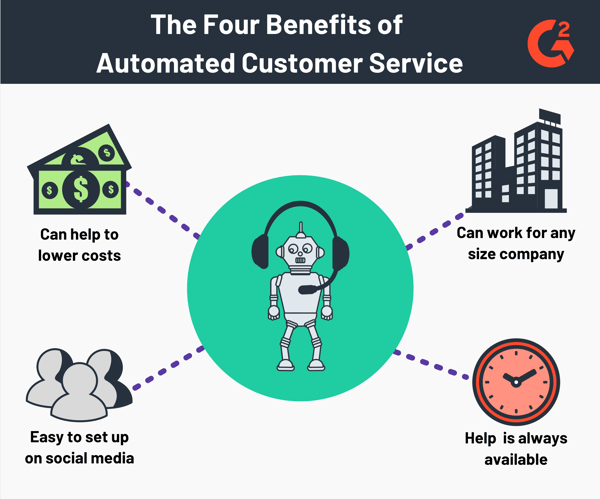 3. Easy to set up on social
Social media has quickly become the means of communication for a large majority of the world. One of the main ways people communicate with friends and family is on messaging apps like Facebook Messenger, Whatsapp, and Kik. Customer service workers saw the rise in popularity of these apps and began integrating chatbots within them. Enter the birth of social media customer service.
In the past five years, there has been a steep increase in customers interacting with brands on social messaging apps and it doesn't seem to be slowing down. Companies from a plethora of industries have flocked to Facebook Messenger. Now, customers can purchase airline tickets, order food, and organize hotel accommodations all within a messaging app. All thanks to automated customer service.
4. Customer service that's always available
You know what they say… the customer is always right. Customer service is all about delighting the customer, and that shouldn't stop once you go to sleep. Automating your customer service allows companies to resolve customer issues the minute they arise. This can be infinitely easier and much more convenient for both parties. The customer can ask a question whenever they need to, (even after business hours) and within one day, the problem is solved thanks to an intelligent bot.
Having 24/7 service can impact customer satisfaction and brand reputation in a big way. If they know you're there for them at all times and you work to give them the best experience possible, they'll be more likely to value your brand above others, trust you, and come back to purchase again.
No matter if you're looking to implement live chat software or a help desk into your customer service strategy, the number of tools available can be daunting. Read dozens of unbiased G2 reviews on customer service software to help make your decision easier.
Bots are hot
At the end of the day, your customer service automation process should serve three purposes: it should be helpful to customers, work to alleviate stress from your team, and should benefit your company's bottom line. It's important to ask for feedback to make sure your customer service is performing the best it can.
If customers are frustrated with your bot or close the window after ten seconds, you've got a problem. The best way to improve your relationship with your customers is to listen to them and pick up on their cues. Go back, tweak your strategy, and see how it changes your results. And then go back and do it another dozen times.
Want to expand your knowledge on the future of automation? Check out how AI is being used in customer service today.