Augmented reality is changing the way we see the world – literally.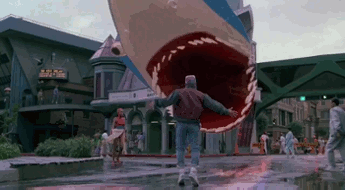 Great Scott!
Remember this life-like billboard from Back to the Future? For many of us, that was our first exposure to augmented reality technology. Of course, it wasn't called that in 1989. In fact, the term was coined a year later in 1990 by Thomas P Caudell of Boeing.
It has taken quite some time for mixed reality to get its start. However, as mobile hardware and software have become more advanced in recent years we're starting to see this digital trend take off in many different industries.
What is augmented reality?
Augmented reality (AR) technology adds layers of digital snippets on top of an existing environment, bridging the gap between the virtual and physical world. Using a device's camera, digital content such as graphics, sound, and video, is displayed on-screen to deliver augmented experiences. Unlike virtual reality, augmented reality isn't a fully immersive, artificial experience. Instead, it's comprised of virtual components placed in your immediate surroundings.
What is augmented reality used for?
Augmented reality is used to enhance everyday experiences, manipulating digital content to transform physical space. There are several industries that are leveraging the power of AR to create better learning environments in educational settings or customer experiences for retail purchasing and other business objectives.
Augmented reality is altering the way people consume content, whether they are learning about geography in a classroom, playing a video game, or building new products and parts.
Types of augmented reality
There are several types of augmented reality in use today. From marketing to gaming, there are a lot of businesses in the exploration phase of utilizing this emerging technology. The question is… how? Easier asked than answered.
To get a better understanding of how you can use AR, let's walk through the different types and see examples of each.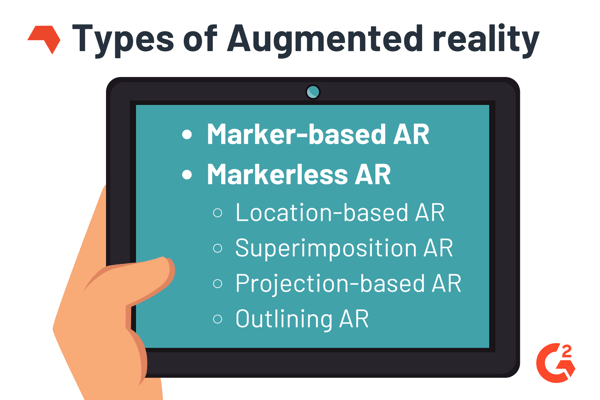 Marker-based AR
Marker-based AR uses markers to trigger an augmented experience. The markers, often made with distinct patterns like QR codes or other unique designs, act as anchors for the technology. When a marker in the physical world is recognized by an augmented reality application, the digital content is placed on top of it.
Marker-based augmented reality is commonly used for marketing and retail purposes. Think business cards that speak and brochures that move.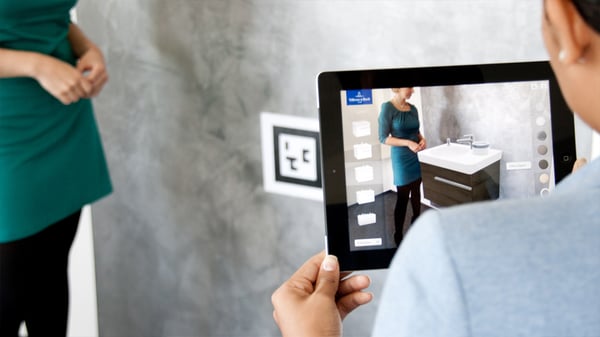 Image courtesy of Villeroy & Boch
In this example, marker-based AR is being used for retail purposes in someone's home. Imagine if you could see what your new bathroom vanity would look like before you actually buy it. Plus, with this application, you can swipe through the various sink options to see what looks best in the space.
Markerless AR
Marker-less AR is more versatile than marker-based AR as it allows the user to decide where to put the virtual object. You can try different styles and locations completely digitally, without having to move anything in your surroundings.
Markerless augmented reality relies on the device's hardware, including the camera, GPS, digital compass, and accelerometer, to gather the information necessary for the AR software to do its job.

Image courtesy of AnyMotion
In this example, the virtual car can be positioned anywhere, regardless of the surrounding area. You can customize the Mustang itself, adjust and rotate the view, and learn additional product information.
The following types of augmented reality technically fall under the umbrella of markerless AR in that they don't need a physical marker to trigger the digital content.
Location-based AR
Location-based AR ties digital content and the experience it creates to a specific place. The objects are mapped out so that when a user's location matches the predetermined spot it is displayed on the screen.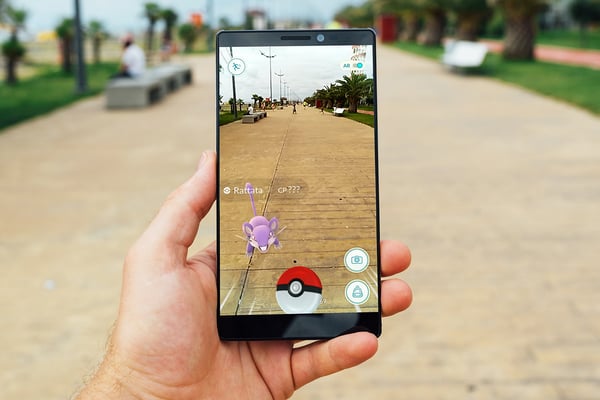 I don't think this is what Mom meant by "Go play outside."
The game that brought augmented reality to the masses, Pokemon Go, is an example of location-based AR. The experience brings virtual Pokemon to our world through your smartphone and users are encouraged to find as many of the characters as possible.
Superimposition AR
Superimposition AR recognizes an object in the physical world and enhances it in some way to provide an alternate view. This can include recreating a portion of the object or the whole thing in its entirety.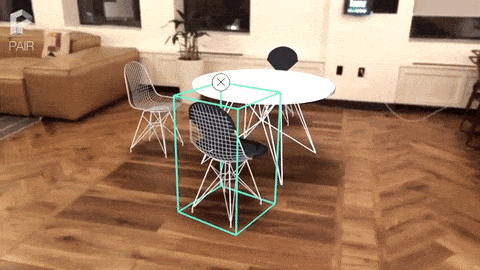 In this example, the chair is copied, rotated, and placed in another location around the table. The user can do so many things with this technology, like decide if they want to have four chairs and a little elbow room or if they can comfortably seat six at the same table.
Projection-based AR
Projection-based AR is a little different than the other types of markerless augmented reality. Namely, you don't need a mobile device to display the content. Instead, light projects the digital graphics onto an object or surface to create an interactive experience for the user.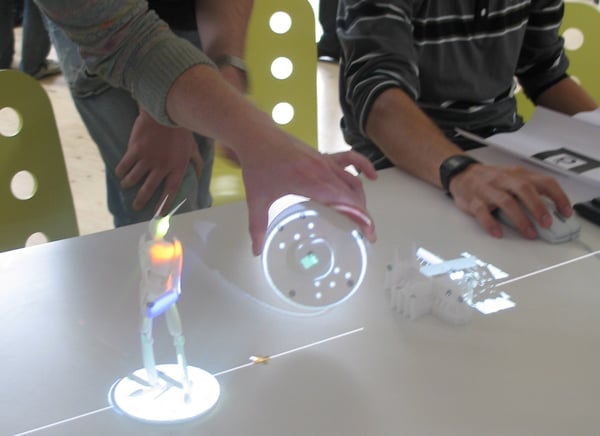 Yes, that's right, holograms! Projection-based AR is used to create 3D objects that can be interacted with by the user. It can be used to show a prototype or mockup of a new product, even disassembling each part to better show its inner workings.
Outlining AR
Outlining AR recognizes boundaries and lines to help in situations when the human eye can't. Outlining augmented reality uses object recognition to understand a user's immediate surroundings. Think about driving in low light conditions or seeing the structure of a building from the outside.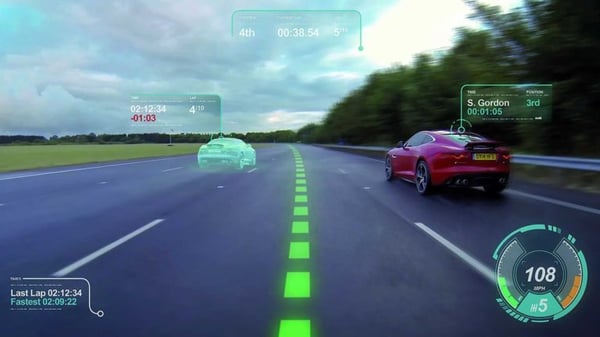 This example of outlining AR tells the driver exactly where the middle of the lane is to keep them out of harm's way. Similar applications include parking your car and having the boundaries outlined so that you can see exactly where the parking space is.
The future is here, McFly
Consumers are using augmented reality technology without really even knowing it. Popular Snapchat filters like the flower crown and dog face use AR to create altered photos. Augmented reality will continue to be applied in our everyday lives to better our digital experiences in our physical world.
Learn more about the future of augmented reality and virtual reality in this roundup of 2019 trends.