More often than not, mobile apps are discovered through a quick search in the app store, that's it.
So, how do you optimize an app, or make it more discoverable to increase downloads? First things first, you need to know the difference between web apps vs mobile apps. For mobile apps, marketplace listings are crucial to the success of your app – and this is where app store optimization (ASO) comes into play. However, web apps don't have a formal app store, so you would usually optimize it like a website.
App store optimization basics
Only a general knowledge of ASO is necessary to get started, and potentially make an impact on your app store ranking. Before we dive in, let's cover some frequently asked questions.
What is app store optimization (ASO)?
App store optimization, also known as app store marketing or mobile app SEO, is the process of increasing the ranking of a mobile app directly within an app store. The higher your app ranks, the more visible it becomes to users. As apps become easier to discover in the app store, the potential for downloads grows.
Why is ASO important?
Aside from encouraging app downloads, there are other benefits of app store optimization. Including ASO in your mobile app marketing strategy can help you do the following:
Increase brand exposure
Grow user engagement
Gather customer reviews
App store optimization is just a piece of the marketing puzzle. It's another avenue for your team to explore and test to see what moves the needle.
How does ASO work?
What affects your app store ranking? Similar to how SEO works, there are a lot of factors that weigh into search results of all kinds. Let's take a look at some items that are particularly important in app store searches.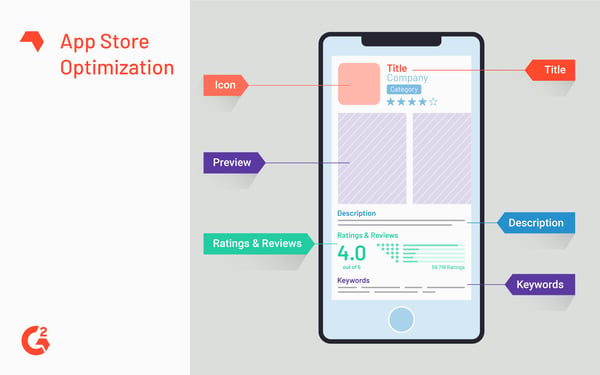 App title
Based on the title alone, how discoverable is your app? Titles should be clear, yet concise. Think about the user scrolling through a list of similar apps. Make sure it's a title that you can stick with, through updates and possible feature additions. You don't want to be in a position where you have to make a title change, just as your app is starting to pick up steam via other marketing tactics or word of mouth.
Keywords for app stores
Learn what terms your target audience is most likely to associate with your category or type of app. Doing your research ahead of time can give you an initial leg up, but it's also important to consistently monitor the market for additional keywords.
TIP: See what the app marketing experts have to say about keyword research.
Number of app downloads
Although the number of app downloads isn't public knowledge, it does have an effect on app store rankings. Only the developer and the app store itself know the exact number of downloads. While you can influence potential app downloads, you have no actual control over them.
App store ratings and reviews
It's also hard to control the ratings and reviews you receive from users in the app store. However, you can create campaigns to incentivize customers to rate your app and leave a review.
How to increase app downloads with ASO
There are a variety of tactics you can use to make your app rank highly in the App Store or Google Play Store, which typically leads to more downloads. App store optimization software helps improve your app's ranking overall, with app store keyword tools, competitive data, and more.
Here are a few app optimization best practices to keep in mind before, during, and after the development of your app.
Put keywords in your title
Adding your primary keywords to your app title will help make it more discoverable. Keep in mind, your title should also reflect the value of the app. Think about your user personas and how people will search for your app. Depending on your category, it could be something as broad as "productivity" or "travel".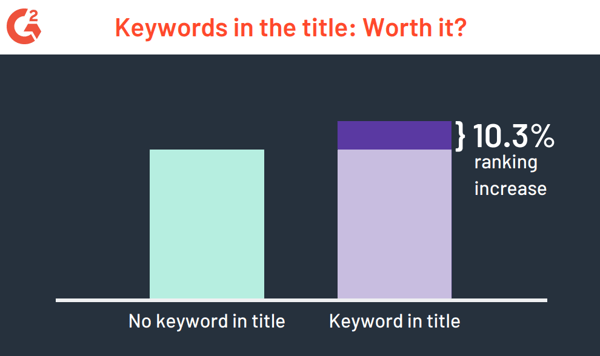 Apps with relevant keywords in the title ranked 10.3 percent higher on average than apps without, according to a study conducted by TUNE of the top 25 ranking positions.
Create a unique app icon
While there might not be an apples to apples relation between your app and others in the same space, that is how search results are perceived by users. In order to effectively convey the differences between your app and a competitor's, you have to get the user to select it and learn more. What makes your app stand out in the listing? Do a quick audit to see the colors and graphics that competitor apps are using, because chances are theirs will also rank in similar search results. However, it's obviously important to keep your app icon on brand with your color choice.
Include app store images
Give your potential users a sneak peek of what the app looks like with screenshots and even videos. Highlight your best features or the differentiators that make your app idea better. Show them the user experience they can expect if they download your app. This visual addition will significantly boost click-through rates (CTR).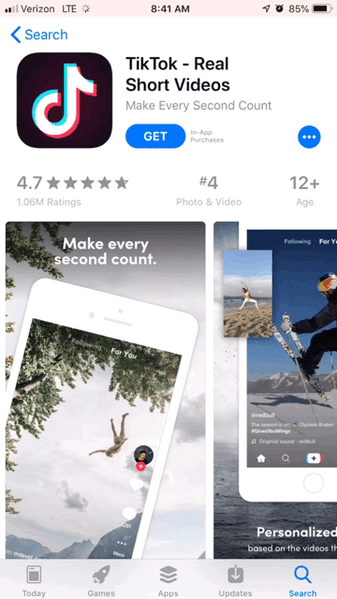 TikTok not only utilizes the preview section for images and videos, but also to display headlines that walk the user through the app's popular features. App store screenshots make your listing more interactive for the user, encouraging them to download.
Update your app frequently
The app store ranking algorithm does factor in how updated your app is. Plus, your users deserve fresh content. With continuous updates to the operating systems, your app will most likely need to be updated at least as often as these releases to function properly. Top-performing apps are constantly evolving, whether the updates include brand new features or just a quick bug fix. These apps also tend to be more relevant and drive more positive reviews from users. Be sure to keep this ongoing expense in mind when you're budgeting for your app.
Increase traffic with other app marketing tactics
Outside marketing efforts can help bolster app store rankings as well. The algorithm takes total page visits and the number of backlinks into account, so try to drive additional traffic to your app with landing pages or social media. Another popular app store optimization tactic, app indexing makes your app store content searchable on the web. It allows users to click from general search listings into the app store, from mobile and desktop devices.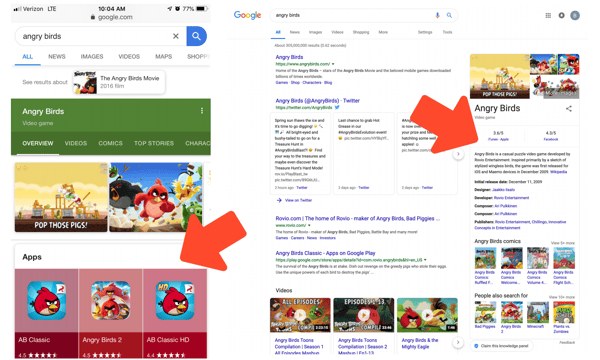 With a simple browser search for "angry birds", the popular game shows up in the "Apps" section, and clicks through directly to the app store listing. Google app indexing adds an additional layer of searchability to your app.
Final Thoughts
Which in-app tactics will you implement in your app store optimization strategy? A unique combination of these ASO tips can go a long way in boosting your App Store and/or Google Play rankings. A word of advice, or three, never stop testing.
Hungry for more? Learn how to market an app 47 different ways and discover how you can stand out in a crowded space.