There can be no growth without change.
This mantra holds true for any business looking to stay competitive in today's fast-paced society.
Revamping a marketing strategy to catalyze growth may seem like a daunting task, but the Ansoff Matrix makes it simple and can be the perfect tool for any business that needs guidance when choosing the proper growth plan.
This article will answer what the Ansoff Matrix is used for, how the four strategies relate, and prove how simple it is to implement the methodology into your marketing plan!
What is the Ansoff Matrix?
The Ansoff Matrix is a marketing planning tool that aids businesses when deciding the correct product market growth strategy.
The Ansoff Matrix
Also recognized as the product and market growth matrix or the expansion grid, The Ansoff Matrix helps businesses organize and plan growth efforts through four main strategies while taking into account the associated risk.
Ansoff determined that there are two ways to approach a growth marketing strategy: adjust the product or adjust the market. Depending on the growth approach your team chooses to take, you will fall into a specific quadrant that explains the proper strategy you must utilize to successfully conquer your goals.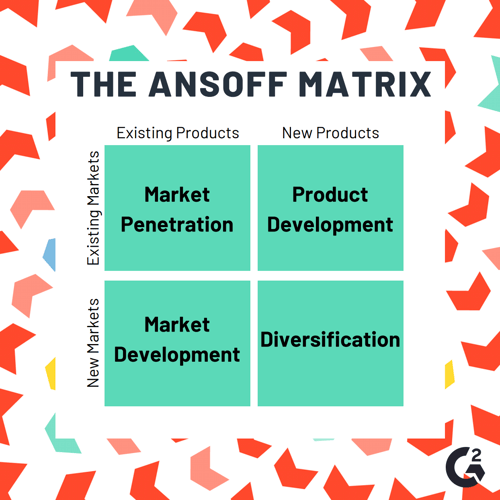 For example, your company would utilize the diversification strategy located in the bottom right quadrant of the matrix if you were looking to introduce a newly developed product to a market you have never reached before. This is also the riskiest strategy, but we will get into the reasons for that later.
Or, if you and your marketing team have been playing around with the idea of developing a new product for your current customers, but aren't quite sure how to proceed, you would look at the product development strategy and determine the best plan to go along with it.
The Ansoff Matrix makes it simple to pinpoint the next steps for any type of growth your business is looking to accomplish.
The backstory
The Ansoff Matrix was created by Harry Igor Ansoff, a Russian-American mathematician and business manager, widely known as the father of strategic management.
Ansoff first published his acclaimed tool in the Harvard Business Review in 1957 under an article titled "Strategies of Diversification". He later went on to publish a book called "Corporate Strategy" in 1965, where his growth matrix was explained even further.
The Ansoff Matrix was developed to analyze and guide the choices every business must make when developing a new growth strategy. This planning tool has been utilized since its creation by businesses everywhere to quickly, yet effectively judge and plan the next marketing iterations essential for future growth.
The four strategies
The Ansoff Matrix has proved to be a very popular and useful marketing tool due to its straightforward approach to a seemingly complicated task. Ansoff recommends four different strategies depending on the specific way a company wishes to attack its new growth plan.
Market penetration
The lowest risk option for any business, market penetration asks the question: how can I sell more of the same products to my existing customer base? This is the simplest strategy to implement since it typically does not require any new resources, and the market is familiar with your product.
The main objective when utilizing this strategy is to increase the current market share. This strategy can only be used, however, if the market is still growing. Once the market reaches saturation, another strategy must be used.
A market penetration strategy can be implemented by changing up the current marketing mix. This can be done by adjusting pricing tactics, updating promotional efforts, and more.
Market development
Market development focuses on selling existing products to a new market. You may also look to target new types of customers in your current market through a different market segmentation strategy.
Ensure you fully understand your new customer base before marketing to them. This task alone is the reason it's a riskier strategy than market penetration.
There are many ways to approach this strategy. You may wish to revamp your product's packaging, adjust your distribution channel, or expand your product into new countries or cities.
Product development
Exactly as it sounds, product development is the strategy of creating a new product and offering it to your existing target market. This is a great strategy to consider when the market is saturated with heavy competition because it gives your brand a differentiation point.
Ensure you understand your market thoroughly. What do your customers need from you? What are their pain points? How can you appeal to their wants? These are excellent questions to consider before devoting time and money on the creation of a new product.
Brand extension can be a useful strategy for this approach. Leverage your brand's success in your current market by creating complementary products that can fill the additional needs of your customers.
Diversification
Diversification is the riskiest strategy of them all since you're attempting to get a new product in front of a completely new target market. This approach is high risk but can yield high rewards if done correctly.
A diversification strategy can be related or unrelated. Related diversification is when a company stays within a familiar market or extends its product offerings while keeping common similarities.
The riskier of the two, unrelated diversification is when a company extends into a market or industry they have zero experience with.
Before proceeding, guarantee that your business has the resources to not only develop a new product but also complete the necessary market research to confirm the need.
Risky business… or not
The Ansoff Matrix has been an incredibly popular tool used by marketing teams for decades due to the streamlined approach it provides. No matter which growth strategy your business is looking to accomplish, ensure the risk associated with each strategy is understood before moving forward.
Cover all your bases when planning new marketing strategies. The Ansoff Matrix is just one of many strategies you should utilize, and it may surprise you to see how seamlessly it integrates with the other tools in your marketing mix.
Want to learn more about marketing growth strategies? See how co-branding can boost your brand awareness and market share!